---
The world has always been hit by immense level stupidity. Neither you nor I can confidently say that there were times when the world was free of stupidity. And in today's time, the internet and media play vital in spreading the stupid trends like wildfire. While we aren't completely revived from 'Isme Tera Ghata' virus just yet, there comes something really extraordinary that has created buzz internationally. You what I'm talking about, the Kiki Challenge. Although I'm least interested in such brainless deeds, still I thought of sharing my views on it in order to get my food digested.
So, what is Kiki Challenge?
While the music videos these days are doing to their best to showcase utmost stupidity, there comes Drake the Canadian rapper with Kiki Do you Love Me song. The song features this particular dance move in which the dancer deboards the slow-moving car and moves along with it while dancing. And that is all people are getting mad about. And now the song has a new name 'The Kiki Challenge Song'. Watch the video song if you haven't till now.
Celebrities doing Kiki Challenge
Well, we live in a world blatantly lead by celebrities, their lifestyle, their tips and everything else. When the song wasn't enough to spread the stupidity, the celebs filled the gap.
Hot girls doing kiki Challenge
Now we are talking about the end result. Yup! It's time for the girls all around the world to reflect what has terribly influenced them.
---
The Best & Worst Kiki Fails
Before you leave, don't forget to watch the best Kiki challenge performances and fails too!
What's your take?
So that is everything I can say about the Kiki Challenge. I don't even know what is so challenging in it for which it has been named after.
For people who are actually the fanatics of the Kiki Challenge, I feel sorry for them. At the same time, I seek their apology and welcome all the readers to share their opinion about the Kiki Challenge and this article in the comments section below.
---
---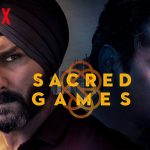 Netflix Sacred Games Review & its International Buzz