---
The Race 3 Trailer has just come out on 15th May. It is one of the most anticipated Bollywood movies for the year 2018. Directed by Remo D'Souza, this movie is a promising box office hit awaiting a June 15th release. The third installment in the Race franchise has action-packed scenes in the newly released trailer. And now what we have the opinions from the fans and critics.
The scene by scene
The 3 minutes long trailer opens with the clichéd protagonist overlooking the horizon scene. Blackout. Gunfight. Blackout. Another gunfight. You guessed it, another blackout. With probably 15 seconds of transitions, a minute of the trailer passes by. By the 1:30 mark, it's apparent that the original Race slickness is lost in the murky dialogue and Salman's out of the world delivery.
A femme fatale
Race films have always had strong female characters. It's a pleasant surprise to see Jacqueline Fernandez have that upbeat "Imma-Kickyo-Ass" swag while in high heels and a skirt. It's a tough job to kick people in the face with heels on, but it delivers the appeal it was meant for. It's just plain and refreshing.
What's the Deol Deal?
Bobby Deol has returned with a new look… and a pack of abs. He single-handedly brought attention to the Race posters after being mistaken for Salman Khan by Sylvester Stallone. Apart from his promotion, his addition to the Race trailer comes off as an afterthought.
This Race is very Fast and Furious
The trailer for Fast and Furious 8 stood out for using the buzzword 'family'. This drew attention during its release last year. In 2018 the trend continues in Race 3. Parivaar. It's used more in the trailer than the word 'Race' itself! The action sequences in the trailer bear resemblance to previous Hollywood releases similar to Mission Impossible, John Wick, Atomic Blonde and the trademark swag of Rajnikanth from Kollywood.
With an Eid release and the fresh Salman controversy, Race 3 will certainly have to race to the box office records. But from the trailer. will it give Bollywood a new scope for movies? We would like to know your opinion in the comments section below.
---
---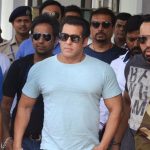 Salman Khan's Blackbuck Poaching Case – The Bhai's Story of Bails and Jails