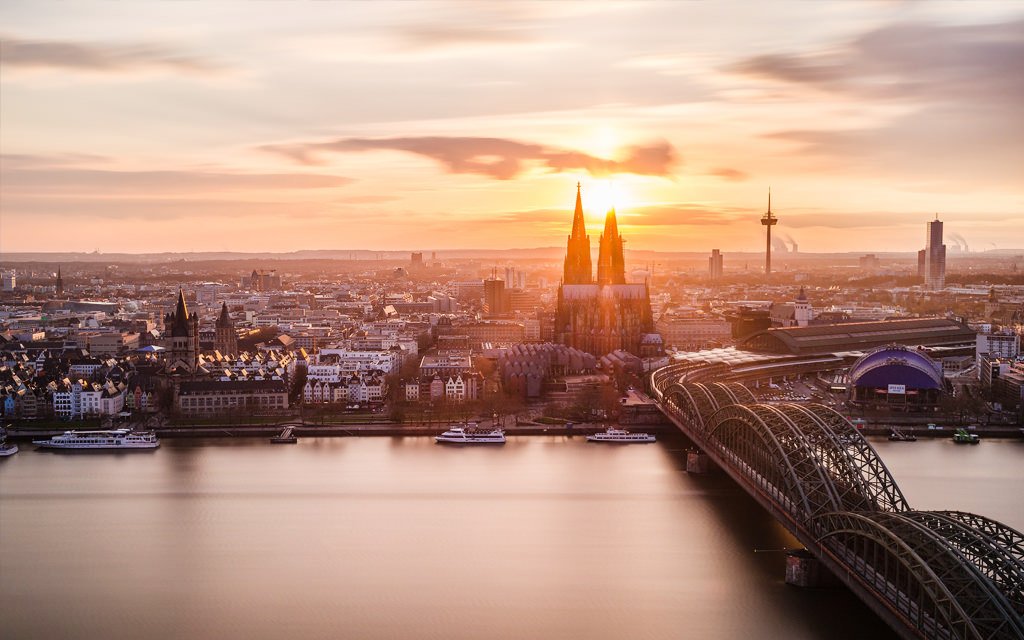 Germany is a Western European country which is rich in beautiful landscape, cultural cities, and historical landmarks and monuments. With an infinite number of things to do, Germany is a perfect place for tourists to visit and explore the rich environment and history associated with it. In the North, you can enjoy sandy beaches. The central Germany is rich with forests and millennia-old pre-Roman historic ruins. The cities are rich with local cuisines and nightlife. If you fancy mountaineering and trekking in the Alps, southern Germany is the place to go. There are certainly thousands of things to do here. Read this article and get to know a few of them.

Cologne is the fourth most important city in Germany. A priori, do not worry too much about what to do in Cologne. Famous for its cathedral, for many the most beautiful in the world, it also has other treasures. After losing more than 95% of its population and remaining practically in runes after the Second World War, Cologne has emerged and your visit is essential. In this post we present you 25 things to do in Cologne. In addition we leave you the best areas to stay in the city so you can enjoy it as it deserves.
1. staying stony in front of Cologne Cathedral
There is no word or expression that defines the feeling you have when you observe it. A magical and unique monument. It took more than 600 years to complete it and it became the tallest building in the world until 1884, when the Washington Monument was built. Only one note, after receiving the impact of more than 70 bombs, has remained intact. It is made by the hand of God.
2.  Another essential thing to do in Cologne is to walk around the Schildergasse
It is the main shopping street in the city where the most famous shops are. If you like shopping, you cannot miss a good walk. One of the most liked was the Köln FC. If you like soccer, I'm sure you'll get a detail.
3.  Visit the National Socialism Documentation Center
If you want to know more about the cruelty of war and put yourself in the shoes of those who lived it, you cannot fail. The price will not be an excuse, since it costs € 4.50 for adults. Going down to the basement of the museum, which was in the hands of the Gestapo, left us very impressed. It is very well preserved and you will be able to discover thousands of stories enclosed in those walls.
4.  Attend a concert at the Philharmonie
If you are looking for something different to do in Cologne and you like music, it is something you cannot miss. It is a unique experience.
5.  Take a walk along the banks of the Rhine River
The river that crosses Cologne is one of the most important in Europe. Undoubtedly, appreciate the beauty of the bridges that cross it is a pleasure. It is also a good time to look at the contrast between the modern, located on the other side of the river, and the old houses that are next to the road. It is a good moment to reflect on a country, and a city, that have managed to rise up after the atrocities of the war.
6. Visit the Shokoladenmuseum
Do not be scared with this name! The Shokoladenmuseum is the chocolate museum in Cologne. Your visit is very curious and even let you try a little chocolate, being a perfect choice for the sweet tooth. The price of the ticket is € 8.
7.  Cross the most famous bridge in Cologne, the Hohenzollern Bridge
Surely you've seen thousands of postcards of the Cologne Cathedral located at the end of a bridge. This is the Hohenzollern Bridge, the most used railway bridge in Germany. Although before it was also used for cars, now it is exclusive for trains and pedestrians. Also, as a curious fact, if you thought that there were only padlocks in Paris or Rome you will see that you were not right.
8. Take advantage to get the best photo of the city
If you want to have one of those postcards of Cologne with the bridge and the cathedral in the background, you will only have to cross this famous bridge. We advise you to do it in the evening: seeing how the night falls with this landscape is another essential to do in Cologne.
9. If you want good views, go up to the Koelntriangle
If you are a lover of good views, you cannot miss the Koelntriangle, the quintessential viewpoint of the city. Although it is true that there are more spectacular, 360º views are not bad. The building itself is already an attraction and the entrance costs € 3.
10.  Relax in the botanical garden of Cologne
It has more than 11 hectares of land and is spectacular, especially in summer. Also you will have no excuse not to visit it since it is free. It has more than 10,000 types of plants, some of them considered as natural monuments.
11. Soak up modern art at the Museum Ludwig
If modern art is of your interest, you have to visit the Museum Ludwig. They have very interesting exhibitions and works by artists such as Kandinsky, Picasso, Miro or Dalí. Do not miss it. The entrance is a bit more expensive than the average and costs € 11.
12. Discover the authentic Eau de Cologne
You cannot leave Colonia without visiting the building where the colony water was invented. Now there is a small shop and a museum with free access. Do not leave without smelling the fountain. Also, if you want your family and friends to be happy, a small bottle of cologne never fails.
13.  Do not miss the Gross St. Martin
It is one of the twelve Romanesque churches in the city. Near the Rhine, it is next to some very nice houses. If you are looking to relax the mind, its interior is perfect.
14. Get lost in the historic center of Cologne
It's not very big, but it's beautiful. If you have the opportunity, get lost at night to enjoy its incredible nightlife.
15. Visit the Wallraf-Richartz Museum
For art lovers, another thing to do in Cologne is to get lost in this art gallery.  It covers many periods and artistic styles. You can see from Rubens and Rembrandt to German Expressionism. The entrance costs € 8.
16. Be amazed by the details of the interior of the Cologne Cathedral
As we have said, it took more than 600 years to complete its construction. When you go inside, you appreciate every detail. In addition, inside the same cathedral is the Tomb of the Three Magi. It is a good attraction, especially for Catholics.
17. Go see a game of Köln FC at the RheinEnergyStadion
If you like football, surely you will not miss it. Although it is not as good as Bayern Munich or Borussia Dortmund, you will see that they have a great hobby.
18. Visit the Neues Rathaus in Cologne
Cologne is full of pretty squares. However, the new city hall and the cathedral of Cologne are the most beautiful. If you want to drink something, doing it in this beautiful square is a great option
19. Count how many shoe stores there are in the Schieldergasse
This is a curious thing to do in Cologne. If you are not focused you will lose the account. Above all, in Schieldergasse you will find footwear shops. So if you are looking for shoes, you will have a lot of variety of prices and models.
20. Buy a souvenir from Cologne Cathedral
If you want to remember your visit to the city all your life, do not hesitate to buy one of the typical souvenirs. You will find them in all the stores and in the dining room of your house it will be ideal.
21. Visit Globetrotter
Another thing to see in Cologne is this large outdoor shopping mall. It is located in the heart of the city, so if you like shopping, you will love it. The most curious thing is that it has a pool in the center of the building. Pre-dominate the products of adventure sports. And a tip, do not expect to find bargains since everything is quite expensive.
22. Visit some of its spas
If you are looking for a bit of relaxation, Colonia also has hot springs. A good option is to visit the Claudius Therme, which in addition to good is not expensive, or the Neptunbad, a little more dated and nudist. In Cologne you will not get bored!
23.  Stroll through the StadtwaldPark, on the outskirts of Cologne.
Although Colonia is a cold city, it has plenty of green spaces. One of them is the Stadtwalk Park, located on the outskirts of the city. Inside there are several lakes and a space with animals ideal for the little ones. If you want a space where you can relax and unwind, you have to go to this park.
24. Escape to Bonn, the former capital of West Germany
If you have already seen everything and do not know what to do in Cologne, a day trip to Bonn is not a bad option. We are sure it sounds good to you. Bonn has a lot of history: apart from being the capital of West Germany until 1990, there was born one Ludwig Van Beethoven.
25. Take a trip to Düsseldorf
As you have seen, Colonia is a city that looks pretty fast. If you want a different activity, you can take a train and visitDüsseldorf, a modern city about 40km away. In less than half an hour you will be walking in the most modern city of the country. The ticket costs around €10 each way.
So if you are planning to visit Koln, then don't wait, pack your bags and get ready to travel this wonderful German city. You can find cheap flights as there are many travel agents providing the service but deals prices will not be low as London to Frankfurt flights are. It's the time to make your mind and discover the world of happiness in Cologne.
---
ⓘ LAFFAZ is not responsible for the content of external sites. Users are required to read and abide by our Terms & Conditions.