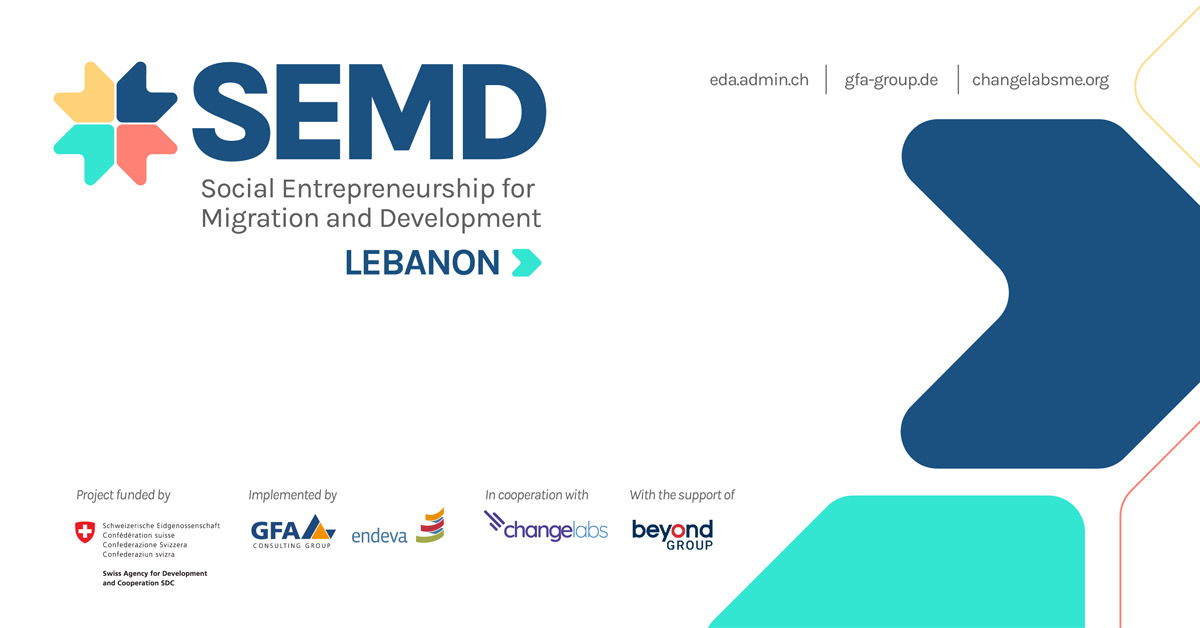 This flagship new program will admit 30 scale-ups over two cohorts, and provide in-cash and-kind funding in addition to heavy operating support to admitted scale-ups
---
Changelabs is announcing the launch of its flagship scale-up accelerator targeting top Social Enterprises in Lebanon, within the framework of the SEMD (Social Entrepreneurship for Migration and Development) project implemented in Egypt, Lebanon, and Jordan. The program is funded by The Swiss Agency for Development and Cooperation (SDC), implemented by GFA consulting group and ENDEVA, in partnership with Changelabs, and with the support of Beyond Group. Its overall goal is to contribute to strengthening the entrepreneurial ecosystem that enables the initiation, development and implementation of innovative social entrepreneurial solutions for migrants, refugees, and Lebanese communities.

In Lebanon, Changelabs is running the program in partnership with FMO (the Dutch Entrepreneurship Development Bank), Al Asfari Foundation, Amazon, and a group of Lebanese corporations, NGOs, and other partners. The program will admit and work closely with 30 leading scale-ups in Lebanon, across 2 cohorts (1 per annum). Each scale-up will receive funding, technology and product build-out support, and day-to-day hands-on operating partner that will help scale their businesses.
"Lebanon is at the epicentre of the Middle East's myriad struggles, and this has been a tremendous handicap for economic stability and growth – we've designed a one-of-a-kind program that takes a novel perspective, looking at the country's challenges as potential opportunities. Where others see refugees and migrants draining the economy, we choose to see tremendous human capital and a growing target consumer. In addition, though accelerators and VCs are relatively common in Lebanon, there's a huge gap in the scale-up and operating segments of the start-up support menu – we aim to bring together the right stakeholders to fill that gap," says Karim Samra, founder and CEO at Changelabs
The program will focus on Lebanese impact-centred scale-ups that develop products and services that serve migrant workers, refugees and the national communities, or are founded by migrants, or that provide 'gig' employment. This is particularly suited to the Lebanese and MENA markets. In this region, unemployment reaches skyrocketing levels leaving both nationals and refugees in dire need for support.
"Changelabs decided to step into this untapped area to make a difference via empowerment and creating opportunities for growth and employment. This is at the core of our mission. We seek to establish synergetic impact through close partnerships with the key stakeholders and major players in this ecosystem" says Hasan Youness, Lebanon Lead and head of programs at Changelabs.
The program is currently in discussions with various local and regional partners from civil society, the private sector, academic institutions, and other members of the ecosystem to help achieve this ambitious task and deliver inclusive results.
Applications are currently open through the Changelabs website and will be considered on a rolling basis starting mid 2021.
About the program
The program is funded by the Swiss Agency for Development and Cooperation. In the Middle East, Switzerland contributes to protect and empower conflict-affected and vulnerable persons, to save and reconstruct lives, to reduce fragility and prevent and transform violent conflicts and to create economic perspectives. Switzerland focuses on four domains of intervention in the region: Protection and Migration; Education and Income; Conflict Prevention and Peace Promotion; and Water and Sanitation.
About GFA
Based in Hamburg, Germany, GFA Consulting Group is one of the leading European consulting firms active in the development cooperation sector. GFA has a sound track record of providing effective solutions to the challenges in the global consulting market. Since 1982 GFA implemented about 3,000 projects and studies worldwide. Leading development agencies, ministries and public clients have entrusted GFA with helping them to manage projects financed through bilateral and multilateral funds. Working in cooperation with stakeholders in government, the private sector, NGOs and citizens' groups, GFA balances innovation and reliability to meet local needs. The company's international recognition as a dependable partner is incorporated in a set of values, which focuses on performance, innovation, credibility and quality. Having implemented a multitude of projects in the MENA region, GFA has acquired substantial contextual knowledge and has established a comprehensive network of contacts at national, regional, and local level in the employment, private sector development and entrepreneurship sector. Notably, GFA counts 60 past and current projects in Lebanon, Jordan and Egypt.
About Changelabs
Changelabs is a MENA market leader that helps start-up and scale up companies succeed through various on and offline learning programs. The company has worked with major European development banks, governments, and regional private sector partners. With financial headquarters in Cyprus and operating programs in Amman, Cairo, and Beirut, the firm has trained over 10,000 youth, launched over 40 start-ups, channelled more than $4m of funding, and provided more than 400 job opportunities thus far. Changelabs' mission is to give impact entrepreneurs the tools they need to succeed while delivering lasting impact on the MENA region.
---
ⓘ LAFFAZ is not responsible for the content of external sites. Users are required to read and abide by our Terms & Conditions.