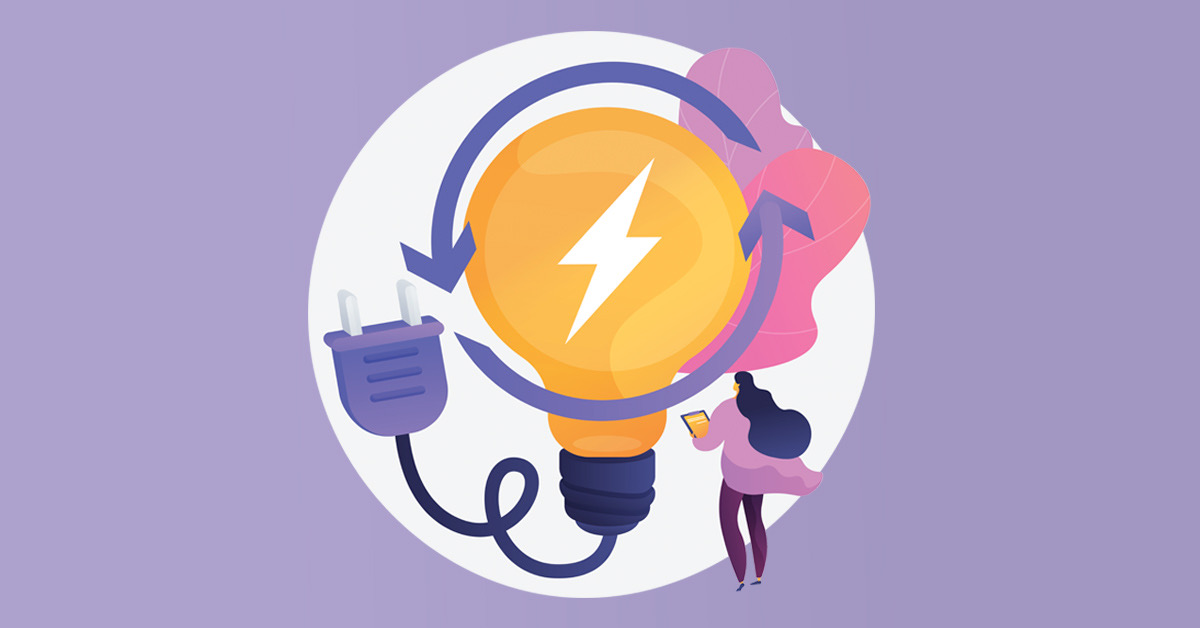 Every business does its best to use its budget as efficiently as possible. While thinking of ways to save money, companies look for "best deals" that they can economize on. Be it office supplies and delivery services, internet providers or Magento PWA pricing for running an eCommerce site, every penny counts. But one of the main items on the list of expenditures is electricity. And there are many options to get creative here.

As energy costs rise, artificial intelligence and sustainable technologies become priority objectives in addressing the issue. Business energy efficiency has become a prime concern on the agenda of companies and a pleasant bonus to attract customers. By rethinking even minor habits, you can optimize a significant portion of your spendings and increase efficiency. Most importantly, it will reduce the carbon footprint and have a positive impact on the environment.
How energy costs can be reduced?
There are many reasons to change your energy consumption attitude from money to environmental stewardship. This article casts light on the ways how switching to wise energy consumption helps to jumpstart your cost savings or even grow revenues.
1. Reasonable Energy Usage
This fundamental method includes the techniques that every office worker can do. Let's go over some of the main ones.
a. Turn off the lights and gadgets that are not being used
As simple as it is, turning off computers, monitors, printers, copiers, and lights at the end of each working day may save a third of your budget. During the working day take advantage of the sunlight or keep an eye on the light in the rooms that are not occupied.
b. Work on laptops
Laptops are known to be more energy-efficient than desktops for one simple reason: they do not require a constant flow of electricity. The average electricity consumption for laptops is 20 to 50 watts compared to 60 to 200 watts for desktop computers. And even this minor figure can be reduced by putting laptops in power save mode.
c. Check your energy performance
HVAC (which stands for heating, ventilation, and air conditioning) can be checked with the help of free auditing teams. Professionals will advise on the air leaks, insulation issues, or opportunities to install energy-efficient lighting. Taking control over the leaks, drafts, and other waste of energy sources enables you to have more predictable costs.
d. Clean and maintain your equipment
Out-of-date models use more electricity than their modern counterparts. Besides, dirty filters allow dust to enter the system, obstruct airflow, and force the system to work hard, which wastes energy.
e. Switch to green energy
First of all, consider replacing your old fluorescent or incandescent lighting fixtures. LED bulbs and lamps use 75% less energy and work 50 times longer than a standard lightbulb.
Think if you could equip your office with Energy Star or similar rated appliances that use less power. Who knows, maybe you can install solar panels on the roof of your facility and even sell some energy back to your local utility at a profit.
Unilever, Verizon, and Siemens, alongside other 50 companies and individuals signed The Climate Pledge. It is a commitment to reach the Paris Agreement 10 years early and become completely carbon neutral by 2040. Amazon, in its turn, has now invested in 6.5GW of wind and solar projects. It aims to supply its corporate offices, fulfilment centres, and Amazon Web Services (AWS) data centres.
2. Employee productivity boost
Research published in the Journal Frontiers of Psychology demonstrates the link between energy efficiency and employee productivity. As stated in a Cornell study:
"If the temperature in the office is not optimal, the number of errors rises to 44%."
Furthermore, the American Lung Association has provided a report that says 21.5% of working adults experience work-related respiratory diseases. To prevent this, the HVAC filters must be kept clean. This will help improve the quality of work, reduce staff turnover, increase employee loyalty, and facilitate the search for new employees.
The 2016 Cone Communications Millennial Employee Engagement Study showed peculiar results:
Three-quarters (76%) of millennials prioritize a company's social and environmental commitments.
Nearly two-thirds (64%) won't take a job if a potential employer doesn't have strong corporate social responsibility (CSR) practices.
It's best to think about your lighting in advance, as the very fast blinking of fluorescent and CFL bulbs can cause stress and headaches, as well as disrupt the circadian rhythm. Warm lighting, LEDs, and the use of natural light in the office will make employees happier and healthier. In addition to this, energy-saving lamps will last over ten years.
3. Marketability of your products, services, and brand image
Today consumers show a growing interest in environmental protection and other social concerns. Companies come under scrutiny for their environmental impact and strive to create a positive image among their target audience.
The American cosmetics brand retailer Kiehl's, as we can see from the screenshot, stresses its commitments to the sustainable future.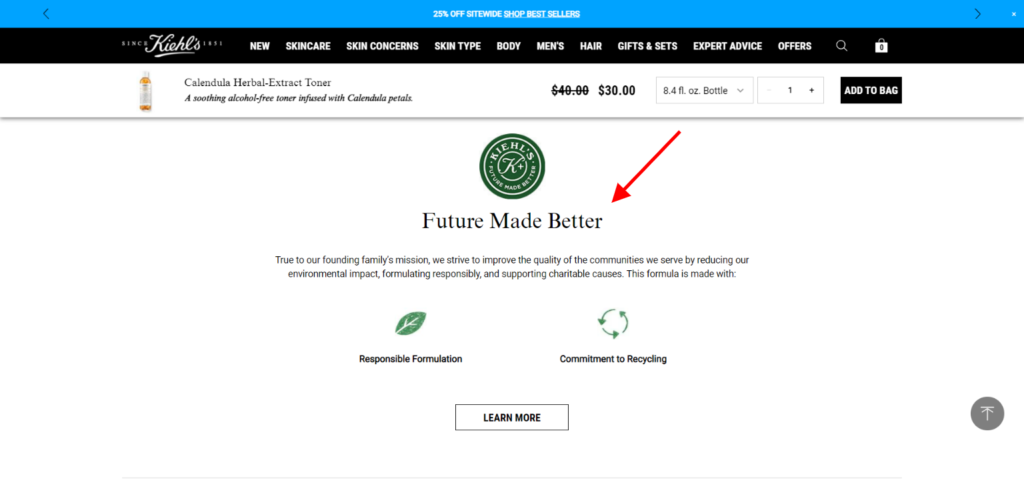 Coronavirus became a catalyst whether brands are interested in a more value-driven and sustainable future. According to a 2020 survey by management consultancy firm Accenture:
60% of the respondents focused their minds on more environmentally friendly, healthier, or ethical purchases since the start of the pandemic.
And nine out of 10 of that percentage said that they were likely to sustain this tendency.
Meanwhile, 65% of global respondents told a survey by pollsters Ipsos Mor that climate change should come first in the economic recovery.
Promoting sustainable and inclusive economic growth and climate action can give a fresh spin to your marketing strategy as much as draw attention to your social media campaign. As a result, you will thrive on a better business' image and attract more dedicated customers. In this case, you will also shorten the payback time of energy-efficient improvements.
4. Compliance with governmental projects
Governments worldwide focus on carbon reduction targets and force everyone to be more efficient with their energy use. In terms of households, for example, The European Investment Bank (EIB) is granting €150 million to the Spanish bank Bankia to encourage purchasing energy-efficient and low emission buildings in the country.
As far as business carbon dioxide emissions are concerned, in 2019 they comprised 64.7 million tons in the UK only. So, enterprises certainly have a big responsibility to reduce their energy use.
Governments will consider various measures to force businesses to rethink their consumption. For example, by introducing Display Energy Certificates (DEC) for all commercial buildings.
At the same time, there are various state and local tax incentives if you decide to invest in the energy efficiency of your business. It is possible to take advantage of the investment tax credit (ITC), especially when purchasing energy-efficient appliances and equipment.
With time, authorities will introduce even stricter energy use regulations. Therefore, it is reasonable to start improving your business's energy efficiency right now.
Conclusion
The impact of energy efficiency on your business is clear: it enables you to take control of your costs. This doesn't only include using less energy but such unexpected aspects as improving your brand's reputation, enhancing employee productivity, and saving the planet. There are so many ways to save on your utility bill, from simply turning off electrical appliances when they are not needed to installing solar panels. By highlighting the environmental problems and the ways how to overcome them, you secure brand loyalty to the company and help to create a better, healthier world.
But at the same time, business energy efficiency is a painstaking process that won't come overnight. It often takes months to reduce energy consumption and years to see a return on investment. It requires investment and payback, but in the future, the efforts will come to fruition.
---
ⓘ LAFFAZ is not responsible for the content of external sites. Users are required to read and abide by our Terms & Conditions.