The renowned reality-TV star and entrepreneur Kylie Jenner who is the founder of Kylie Cosmetics has reportedly been dropped from Forbes list of billionaires.

Jenner founded her cosmetics empire in 2014 and she graced the cover of Forbes as the world's youngest self-made billionaire in March 2019.
The news came yesterday when a spokesperson from Forbes Matthew Hutchison in a statement claimed,
"extensively-reported investigation was triggered by newly-filed documents that revealed glaring discrepancies between information privately supplied to journalists and information publicly supplied to shareholders. Our reporters spotted the inaccuracies and spent months uncovering the facts. We encourage her attorney to re-read the article."
The publisher came to this decision after reviewing financial data released by Coty Inc, a company that acquired 51 percent stake in Jenner's company in November 2019. Forbes believes that as per the filings, Jenner's business is significantly smaller and less profitable. Talking about which the Forbes added in its statements,
"Kylie's business is significantly smaller, and less profitable, than the family has spent years leading the cosmetics industry and media outlets, including Forbes, to believe,"
Forbes claims that Jenner has been pocketing an estimated $340 million after taxes from sale, thus not a billionaire. At the same time they mentioned that the COVID-19 crisis has a radical impact on Kylie Cosmetics.
The publisher now estimates Kylie Jenner's net worth at around $900 million.
Jenner's lawyer Michael Kump in a statement said Forbes' claim is flase and the story is filled with outright lies.
"Forbes' accusation that Kylie and her accountants 'forged tax returns' is unequivocally false and we are demanding that Forbes immediately and publicly retract that and other statements,"
In response to Forbes, Kylie took on to Twitter to bash the magazine's claim by saying,
Kylie further tweeted,
Audience's opinion
Within a short instance, Kylie's Tweet thread got bloated with numerous responses from people as – blaming Kylie for ignoring police violence against black people happening in various parts of the US and also the death of George Floyd.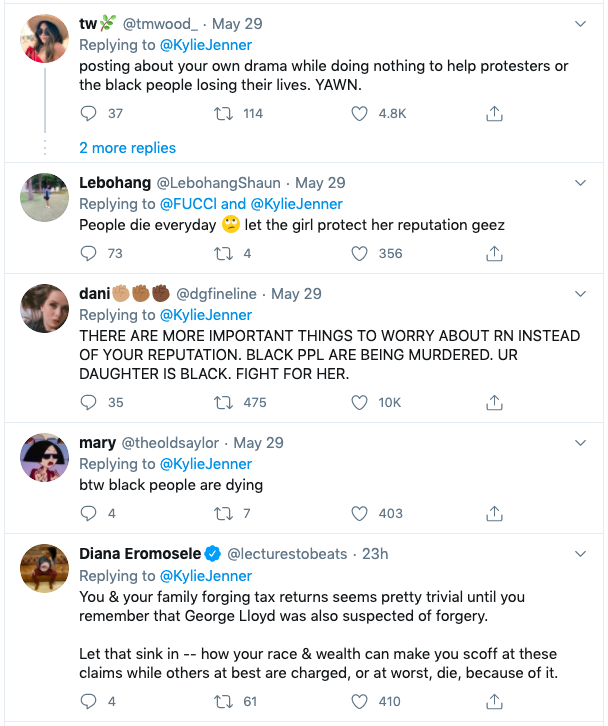 While there were few numbers who talked neutrally or in favour of Kylie.