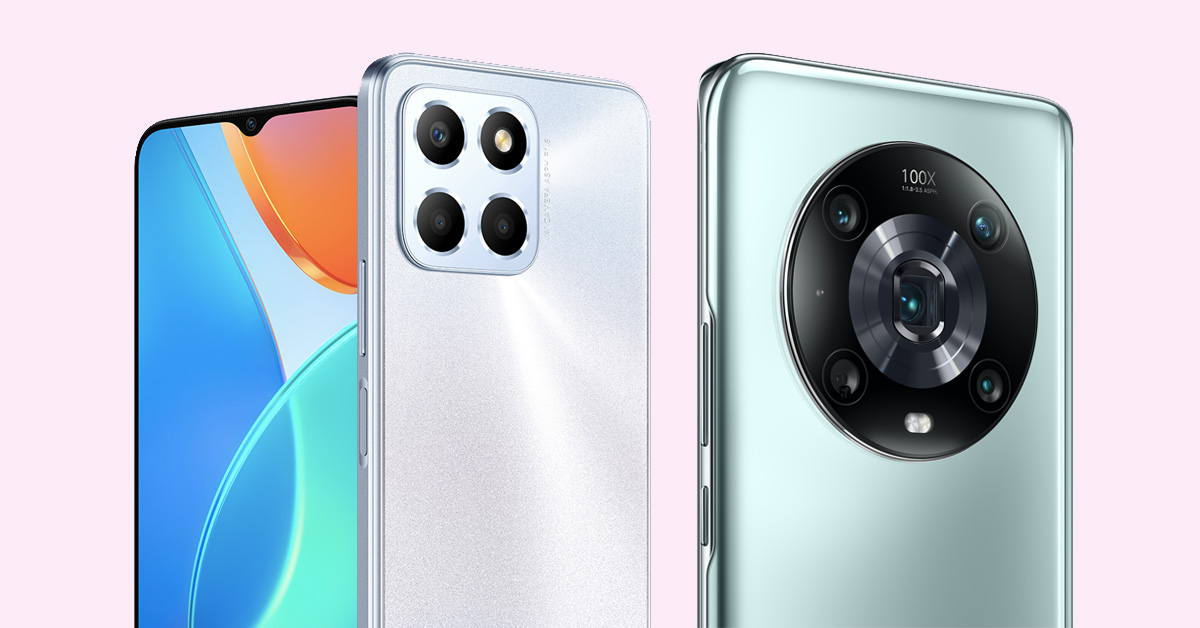 HONOR has recently announced its Double Mega Sale 'HONOR 11.11 sale 2022'. Here are the offers that you ought to know about – your wild card to grab the best discounts on your favourite HONOR devices.

Subscribe to the newsletter and win
Subscribe to the Newsletter between the 3rd to 10th of November and get a chance to win the newly launched HONOR X6 4GB+64GB phone.
---
Double 11 Mega Sale Vouchers
Valid from 11 to 14th Nov 2022. Just copy these voucher codes and use them on the checkout page.
The below-mentioned coupon code is applicable to HONOR X9 5G, HONOR X8, HONOR X9, HONOR X7
Coupon Code: AA1111
The below-mentioned coupon code is applicable to HONOR 50 5G, HONOR Magicbook 16, HONOR Magicbook 14 AMD
Coupon Code: AB1111
---
Lowest Price Ever – 11 to 14 Nov 2022
HONOR MagicBook 15 AMD – RM 1,779 RM 2,499
HONOR MagicBook 14 AMD – From RM 1,799 RM 2,499
HONOR Magic4 Pro 5G – RM 3,579 RM 3,999
HONOR Band 6 – RM 99 RM 189
HONOR X8 – RM 809.1 RM 899
HONOR X9 – RM 899.1 RM 1099
HONOR MagicWatch 2 46mm – From RM 386 RM 649
HONOR X9 5G – RM 1,169.1 RM 1,299
HONOR X7 – RM 629.1 RM 699
HONOR MagicBook 16 – RM 3,879 RM 4,299
---
Latest HONOR mobile phones – At Glance
HONOR X6
50MP Triple Camera
The Honor X6 smartphone features a triple camera system with a 50MP main camera, a 2MP macro camera and a 2MP depth sensor. The impressive camera combination makes it possible to record all their favourite memories and easily capture wonderful moments in life.
5000mAh Battery
Equipped with a 5000mAh battery, the Honor X6 mobile phone offers up to 17 hours of online video streaming, 18 hours of navigation on social networks or 31 hours of music playback, everything is charged once to power the device throughout the day.
6.5″ HONOR FullView Display
With a 6.5-inch FullView display, the Honor X6 phone offers an immersive visual experience. With a wide range of eye protection features, including eye comfort mode and dark mode, it provides a pleasant viewing experience in a variety of scenarios, perfect for reading, watching videos or for searching photos.
Expandable storage
The Honor X6 has 64GB of memory and also supports large expandable microSD memory of up to 1TB (not included). You can always download your favourite content without having to delete your beautiful photos.
HONOR X7
6.74″ HONOR FullView Display
The 6.74″ HONOR FullView Display gives you an immersive theatre-like experience in the palm of your hand.
5000mAh Battery
The 5000mAh large battery offers you 20 hours of online video playback or 49 hours of uninterrupted audio calls. The HONOR X7 will be available for you, just when you need it.
22.5W HONOR SuperCharge
The 22.5W HONOR SuperCharge lets you watch videos for 3 hours after just 10 minutes of charging. Your HONOR X7 will spend more time in your hands and less time on your shelf.
90Hz Screen Refresh Rate
The HONOR X7's display with up to 90Hz refresh rate makes your content smoother and with less lag.
Professional Eye Protection
The phone is TÜV Rheinland low blue light certified, which helps protect your eyes.
CPU: Snapdragon 680
Powered by a power-efficient Snapdragon 680 6nm processor, the HONOR X7 delivers long-lasting and seamless interactions, whether you're watching videos or playing games.
HONOR X8
6.7″ HONOR FullView Display
The super narrow bezel delivers a superb 93.6% screen-to-body ratio. The front camera is centred for pure symmetry and harmony.
90Hz Screen Refresh Rate
Enjoy a silky-smooth visual experience with up to a 90Hz refresh rate. The screen refresh rate is intelligently adjusted to balance the performance with power consumption.
22.5W HONOR SuperCharge
With HONOR SuperCharge, a 10-minute charge brings 3 hours of video playback.
CPU: Qualcomm Snapdragon 680
Powered by a Snapdragon 680 SoC built on the 6nm process, the HONOR X8 is fast and efficient.
Smart Memory Expansion
The smart memory expansion technology lifts HONOR X8's 6GB memory by a whopping 2GB to an equivalence of 8GB capacity so you can run more applications smoothly.
64MP Quad Camera
Shoot for greatness in every daily scenario with the multi-functional quad camera. Take stunning, high-resolution shots with the 64MP main camera. Expand your horizons with a wide-angle camera.
HONOR X9
6.81" FHD screen
With a 6.81-inch FHD screen and a screen-to-body ratio of up to 94%, you can now see, and do more. With a dynamically adjusted refresh rate of up to 90Hz, and a touch sampling rate of 180Hz, immerse yourself in a smooth experience.
Qualcomm Snapdragon 680
Featuring a power-efficient Snapdragon 680 6nm chip with a multi-core smart engine, the HONOR X9 responds instantly as you move between tasks.
66W HONOR SuperCharge
The high-speed 66W HONOR SuperCharge allows you to fill 81% battery capacity within 30 minutes. Whether you're a jet setter or power exec, it follows you wherever you need to be.
4800mAh Battery
The large capacity 4800mAh battery, along with the HONOR Smart Power Saving Technology, brings you a longer battery life: 13.75 hours of social media exploring or 16.8 hours of online music playback. Endurance for that extra mile.
HONOR RAM Turbo
With 8GB of efficient RAM and the HONOR RAM Turbo technology, 2GB of ROM are available for RAM extension. Smoother performance in multi-tasking makes for a perfect experience.
64MP Rear Quad Camera
The advanced 64MP Rear Quad Camera, coupled with an optimized imaging algorithm, lets you frame and freeze the beauty of life.
---
ⓘ LAFFAZ is not responsible for the content of external sites. Users are required to read and abide by our Terms & Conditions.