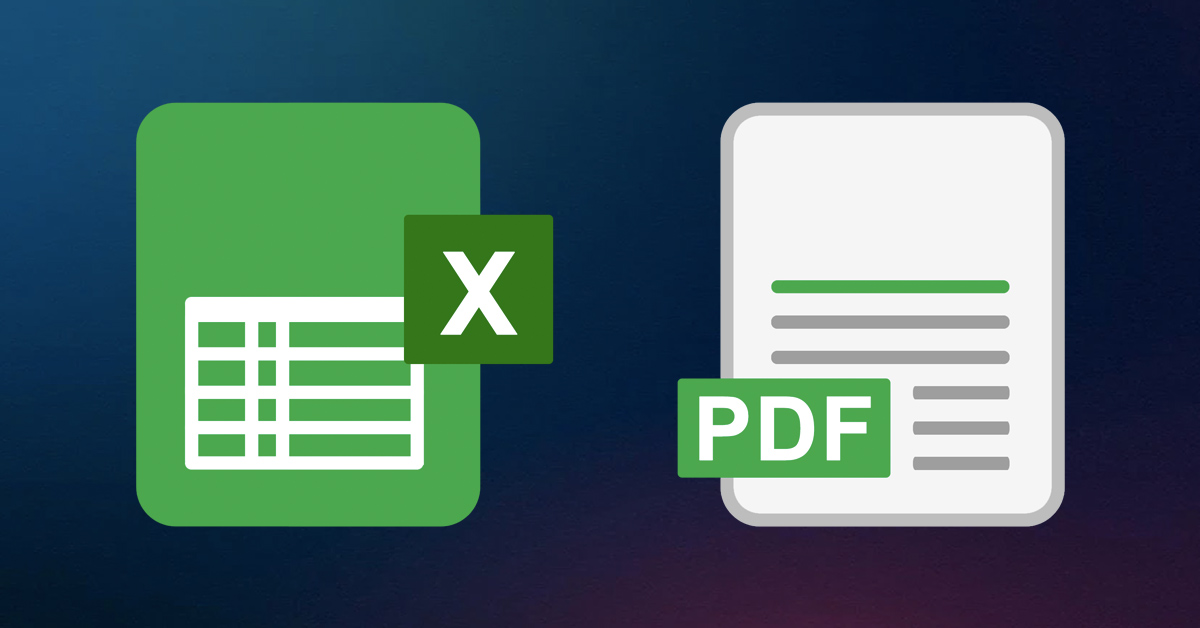 PDF editors can do a lot of things, but did you know you can convert important Excel files into PDFs? Have you ever wanted to send a large Excel file but couldn't because it was too large? If you have, then you know how difficult it can be to send large files of any kind (Excel, PowerPoint, Word) to someone without losing vital information, which is why many PDF text editors also let you convert files to make them smaller and more manageable. PDF editors let you modify PDFs online, but you can also use a PDF changer to convert PDFs into other files like Word or Excel to make changes in those programs, then convert them back to PDF. In this article, we'll show how to convert Excel and files into PDFs.

Why Do I Need to Convert Excel to PDF?
Excel worksheets are excellent for gathering and collecting important types of data from work hours to quarterly earnings, but they are difficult to share since they contain so much data. PDFs are also great at storing and organizing important business information, but they can be difficult to edit without a PDF text editor online, which is why PDFs are often converted into other files to make them easier to change or modify.
The solution to the flaws of both Excel files and PDFs is to convert them so you can edit PDF files online or share your Excel file with colleagues via email or through a shared drive account like Dropbox or Google Drive. An easy-to-use online PDF editor can convert any of those, large, hard-to-share files into PDFs so you can share or store them.
How Can I Convert Excel to PDF?
There are many ways you can change Excel files into PDFs and vice-versa. The first step is to use Microsoft Excel to make the changes you need. You can go to the Save As option in the File menu, and search for the drop-down list under Save As. There you can click on PDF as your file type and choose whether to convert the entire workbook, active sheets only, or selected cells, pages, or sheets. The process is more or less the same regardless of what OS you are operating, macOS or Windows.
Another way to convert an Excel file into a PDF is to use an easy-to-use online PDF editor, which can help you convert many file types aside from Excel files. One PDF editor online is the Adobe Acrobat conversion tool that you can use for free. This tool lets you upload or drag and drop your XLS or XLSX file into the browser, which begins the conversion process automatically.
Benefits of Converting Excel into a PDF
Given the inherent challenges of working with Excel files (large file size, difficult to send or share), and the limitations of PDF editing, it only makes sense to be able to change these file types so they are easier to work with. A PDF changer can take any of your Excel files and turn them into smaller, more manageable PDFs while doing the same for PDFs you want to turn into Excel files.
In either Excel or PDF format, you can do things you can't do in the other format. In Excel, you can add information, a new worksheet, and insert more data to your file, but in PDF you can make it easier to share, send, and view without losing any of the quality but getting rid of the parts you don't need like extra margins, unnecessary text or unused worksheets.
Another benefit of converting Excel files into PDF is the lack of compatibility issues. You can save the format of your Excel file, but the person you send it to does not have to have Excel or Office installed on their computer. They can use a bare-bones PDF viewer or PDF editor to view the information easily, but they can also make modifications or add comments without disturbing the original file.
---
ⓘ LAFFAZ is not responsible for the content of external sites. Users are required to read and abide by our Terms & Conditions.