This blog was live from 23 to 25 April.

Here is the live blog incorporating all the latest updates about Sri Lanka Massacre, 21 April 2019 aggregated from various news sources. You can bookmark this blog to stay updated.
Note: The original source of every newsfeed is mentioned at the bottom of every feed along with the link.
---
25 April 2019
▶︎ 03:55 PM Onwards
Police: Over 70 arrests made in Sri Lanka since Sunday bombings
‣ From CNN's Sandi Sidhu and James Griffiths in Colombo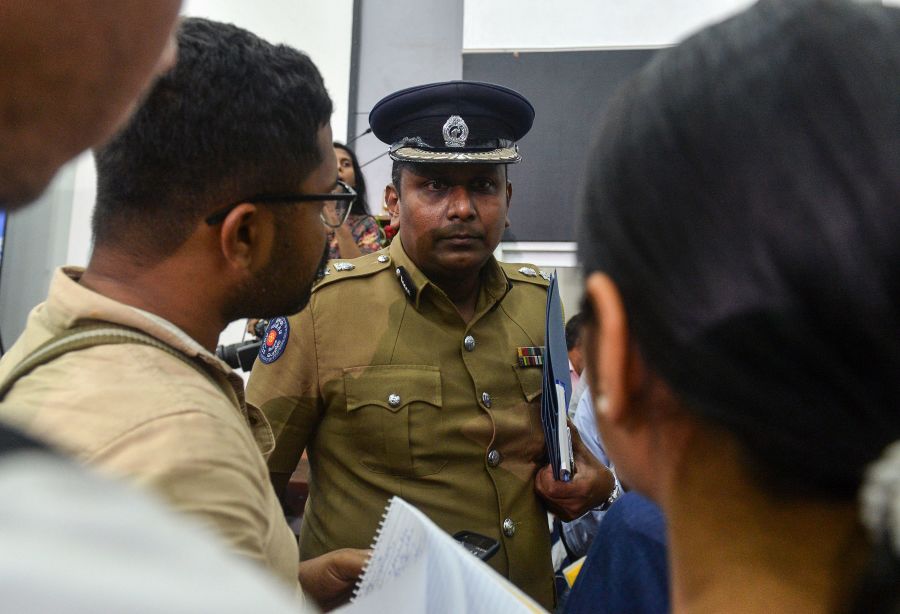 More than 70 suspects have been arrested across the country since Sunday, Sri Lankan police spokesman, Ruwan Gunasekera, told CNN.
He said the suspects have been arrested on suspicion of terrorism, aiding and abetting and conspiracy to commit terrorism.
He also says the four most serious cases are in the custody of the Terrorism Investigation Department (TID). A further 33 suspects are in custody of the Criminal Investigation Department (CID). All remaining suspects are being held by local police.
The majority of the suspects were arrested in Colombo, four of which are women. All of the suspects are from Sri Lanka and most are family members and friends of the suicide bombers.
Source: CNN
---
▶︎ 04:50 PM Onwards
Police forces from at least 6 countries assisting Sri Lankan investigation
▸ From CNN's Sandi Sidhu and James Griffiths in Colombo
Police forces from at least six countries and Interpol are helping Sri Lanka with the investigation into Sunday's bombings, Sri Lankan national police spokesman Ruwan Gunasekera told CNN.
The forces involved are:
Scotland Yard, UK
FBI, USA
New Zealand Police
Australian Federal Police
Danish Police
Dutch Police
Interpol
Source: CNN
---
▶︎ 03:30 PM Onwards
BREAKING: Sri Lanka's Cinnamon Grand Hotel bomber was previously arrested and released, official says
One of the Sri Lanka suicide bombers was previously arrested by police and then released, a senior Sri Lankan government spokesman told CNN Thursday.
Ilham Ahmed Ibrahim — one of two sons of a spice tycoon who blew themselves up in Sunday's attacks — detonated a device at the Cinnamon Grand hotel in Colombo, Sudarshana Gunawardana said.
"It was the suicide bomber of the Cinnamon Grand bomb attack who was released earlier," Gunawardana said.
Ilham Ahmed Ibrahim and his brother Imsath Ahmed Ibrahim were previously identified as two of the suicide bombers in Sunday's attacks, which left at least 359 people dead across the country.
Police have confirmed to CNN that they are holding the brothers' father, Mohamed Yusuf Ibrahim, a wealthy spice trader, on suspicion of aiding and abetting his sons.
Police spokesman Ruwan Gunasekera said the elder Ibrahim was is in custody, as are all other members of the Ibrahim family police are aware of in the country.
CNN has not been able to reach Mohamed Yusuf Ibrahim or other members of his family for comment.
Source: CNN
---
▶︎ 02:00 PM Onwards
Israel warns of "high concrete threat" in Sri Lanka
‣ From CNN's Oren Liebermann and Amir Tal
Israel's Counter-Terrorism Bureau issued a travel warning for Sri Lanka on Thursday, raising the threat level to indicate a "high concrete threat," advising travelers to leave the country and avoid visiting Sri Lanka in the near future.
The elevated alert level comes after consultations with security and foreign ministry officials, according to a statement from the Counter-Terrorism Bureau.
Level 2 is the second-highest threat level. A threat level of 1 indicates a "very high concrete threat" in which travelers are urged to leave the country immediately.
Source: CNN
---
▶︎ 02:00 PM Onwards
Sri Lanka PM: Some terrorists were under surveillance before Easter Sunday attacks
Some of the suspected attackers responsible for the Easter Sunday bombings in Sri Lanka were being monitored by the country's intelligence services, Sri Lanka's Prime Minister Ranil Wickremesinghe told CNN's Ivan Watson in an interview Thursday.
There was not "sufficient" evidence to put the suspected attackers in custody prior to the attacks, Wickremesinghe said.
He reiterated that the attackers were middle- and upper-middle class and had been educated abroad. He added that the profile of the suspected bombers was "surprising."
Source: CNN
---
▶︎ 01:50 PM Onwards
Spice tycoon, father of two attackers, in custody
▸ From CNN's Sandi Sidhu and James Griffiths in Colombo
A prominent spice trader and father of two suicide bombers, Mohamed Yusuf Ibrahim, is in custody on suspicion of aiding and abetting suspects, Sri Lankan police spokesman Ruwan Gunasekera tells CNN.
Ibrahim is the founder of Colombo-based Ishana Exports, which describes itself on its website as the "largest exporter of spices from Sri Lanka since 2006."
Ruwan Gunasekera added that all other members of the Ibrahim family are believed to be detained.
Ibrahim was among dozens of people arrested in the wake of the attacks.
Source: CNN
---
▶︎ 12:35 PM Onwards
Police have raided 5 houses connected to terrorists
‣ From CNN's Sandi Sidhu, James Griffiths, Rebecca Wright, and journalist Ajith Wickremesinghe in Colombo
Sri Lankan national police spokesman, Ruwan Gunasekera, tells CNN the country's Criminal Investigation Department (CID) has raided 5 safe houses connected with terrorists in the following areas:
Negombo
Dehiwala
Sharikamulla, Panadura
Colpetty, Colombo 3
Wattala
The safe houses have now been sealed for forensic investigation.
Meanwhile, police say search operations have increased today and searches are currently underway across Colombo, including the set-up of roadblocks.
Police have asked the public not to panic, a police spokesperson told CNN.
Source: CNN
---
▶︎ 11:15 AM Onwards
Catholic services across Colombo suspended
▸ From CNN's Jo Shelley in Colombo
All Catholic services across capital city Colombo have been suspended until April 29 because of security concerns, according to Fr. Edmond Tillekeratne, media director of the Archdiocese.
The decision was made at the direction of Archbishop of Colombo, Cardinal Malcolm Ranjith.
Source: CNN
---
▶︎ 10:25 AM Onwards
One man's story of unbearable loss in Sri Lanka attack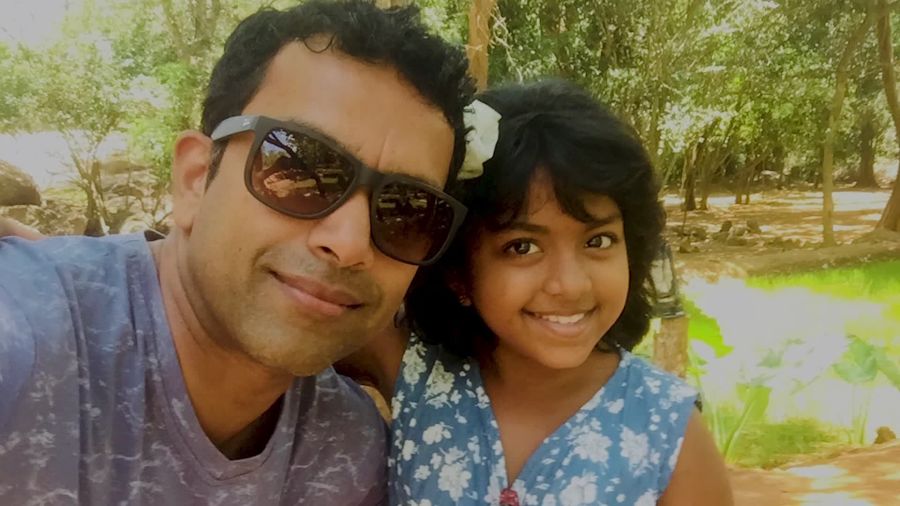 Sudesh Kolonne's is one of hundreds of families destroyed by acts of unspeakable violence wrought on worshipers and tourists on April 21, Easter Sunday.
On the morning of the attack, Kolonne's family was at St. Sebastian's Church in Negombo, north of the capital Colombo, when a suicide bomber detonated an explosive. The blast killed dozens of people, including Kolonne's wife and daughter.
"These two were so excited that Sunday we'd go to church for the ceremony," he told CNN's Ivan Watson, fighting back tears. "Both died in front of me."
He showed CNN the last video he ever made of his daughter, singing a song to her father as she played an oversized guitar.
"She loved to sing, she loved to dance. She loved to create songs, you know?" he says.
"We had a really good family, especially my daughter. Now they're gone. It's very hard."
See more of his story here.
Source: CNN
---
▶︎ 09:20 AM Onwards
What we know about the bombers: Two sons of a wealthy spice mogul, another studied in UK
Two of the suicide bombers involved in the Easter Sunday attacks in Sri Lanka were members of a prominent and wealthy family in Colombo, sources have told CNN.
The brothers, Imsath Ahmed Ibrahim and Ilham Ahmed Ibrahim, were among the band of extremists who blew themselves up in Sunday's attacks, two sources with knowledge of the investigation said.
Their father, Mohamed Ibrahim, is the founder of Colombo-based Ishana Exports, which describes itself on its website as the "largest exporter of spices from Sri Lanka since 2006." Authorities have not announced any charges against him.
A third suicide bomber, has been named as Abdul Lathief Jameel Mohamed. British security sources told CNN that he had studied in the South East of England in 2006-2007.
Read more here.
Source: CNN
---
▶︎ 09:00 AM Onwards
Sixteen people have been arrested for 'suspicious behavior'
A Sri Lankan police spokesperson said this morning that 16 people had been arrested from "a number of areas." The arrest locations stretch from the east to west coasts of the island nation.
At least one suspect was accused of having a terrorist link. Others had weapons and walkie-talkies seized.
It is not clear whether the 16 are an addition to the 60 apprehensions announced yesterday.
Source: CNN
---
24 April 2019
▶︎ 09:45 PM Onwards
Bombings intelligence row exposes tension in Sri Lanka government
Defence minister says there was a 'major lapse' in intelligence sharing and attacks 'could have been avoided'.
Read more on Al Jazeera ➤
---
▶︎ 07:00 PM Onwards
Sri Lanka president asks security officials to stand down
Sri Lanka's president has moved to replace the defence secretary and the national police chief after security forces failed to act on warnings before the Easter suicide bombings.
President Maithripala Sirisena's office announced that he requested the resignations of defence secretary Hemasiri Fernando and Inspector General of Police, Pujith Jayasundara. It wasn't immediately clear who would replace them.
Source: Al Jazeera
---
▶︎ 06:20 PM Onwards
President's advisor: Inshan Seelavan is the mastermind of the attacks
‣ By CNN's Ivan Watson, Bex Wright and Ajith Champika in Negombo
An advisor to Sri Lanka's President has told CNN that he believes one of the suicide bombers who detonated his explosives at the Shangri-La hotel in Colombo on Sunday was the ringleader.
Inshan Seelavan was the "mastermind" of the attacks, said the advisor, Shiral Lakthilaka.  Other officials on Tuesday identified a radical extremist, Zahran Hashim, as a key figure in the attacks.
Lakthilaka, advisor to President Maithripala Sirisena, told CNN's Ivan Watson the terrorists' "entire network has been dispersed." Other officials have warned that some suspects may still be at large.
"The most important thing is to look into the radicalization process,"

Lakthilaka said.
Lakthilaka also confirmed the President asked for the resignation of the one of the country's defense ministers, Hemasiri Fernando, and the country's police chief, Pujith Jayasundara. He added that constitutionally the president doesn't have the authority to dismiss the police chief.
Source: CNN
---
▶︎ 05:25 PM Onwards
Sri Lanka's President asks for resignations in wake of attacks
▸ By journalist Ajith Champika and CNN's Bex Wright in Negombo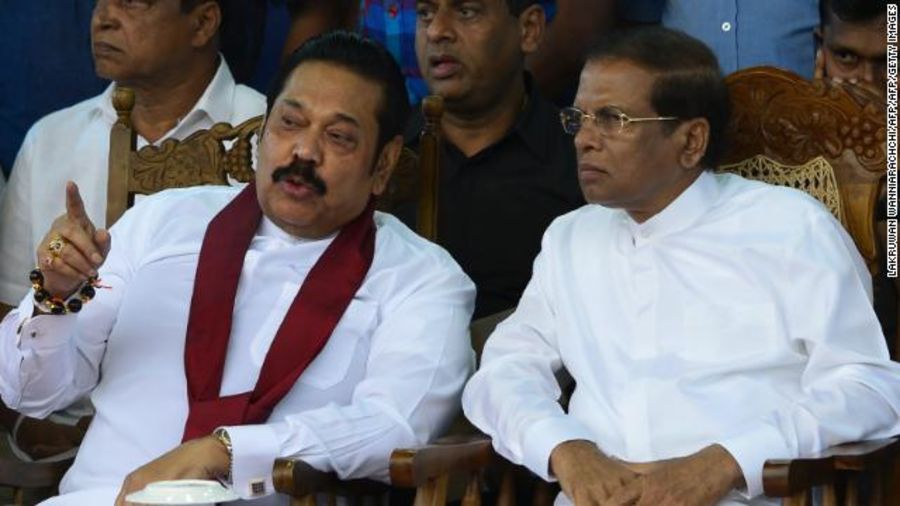 Sri Lanka's President Maithripala Sirisena has asked for the resignation of one of the country's defense ministers, Hemasiri Fernando, and the Inspector General of Police Pujith Jayasundara, over the mishandling of the intelligence reports in the lead up to Easter Sunday's attacks, according to sources with direct knowledge of the matter.
Warnings had been shared with Sri Lankan security services – including one memo addressed to the Inspector General of Police – ahead of the attacks but no measures had been implemented to thwart them. President Sirisea, who is also the country's Defense Minister, said yesterday that he had no prior knowledge of the advance warning.
On Wednesday, Sri Lanka's opposition MP Wijedasa Rajapaksa told a press conference on Wednesday that he forwarded a letter to President Sirisena asking him to arrest both men.
Source: CNN
---
"Nonsense to link attacks to New Zealand": Senior Muslim official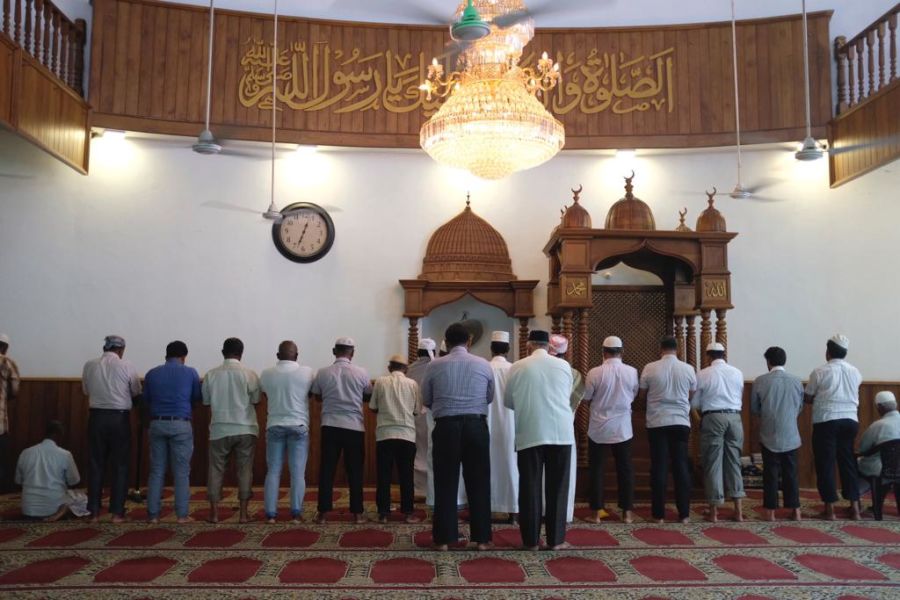 A senior Muslim leader in Colombo dismissed the Sri Lankan government's claim that the attacks on Easter Sunday may have been a retaliation for last month's massacre of Muslims in Christchurch, New Zealand.
Pointing to the relatively short period of time between the attacks, the Muslim Council of Sri Lanka's vice president, Hilmy Ahamed, said it was impossible for the bombings in Sri Lanka to have been planned in the period, saying it was likely in the works for longer, with foreign influence.
ISIS has claimed the attacks in Sri Lanka, but did not mention New Zealand as a justification.
"It is nonsense to link (the attacks) to New Zealand," Ahamed said.
"The New Zealand attack opened the eyes of the world to the crisis the Muslims are facing," he said, adding it was something of "blessing" for drawing attention to growing Islamophobia worldwide.
He praised New Zealand Prime Minister Jacinda Ardern for her response to the shootings, particularly for building connections between communities.
"We sent letters to the Nobel prize committee to award the peace prize to the New Zealand prime minister," he said.
"She definitely deserves the Nobel peace prize."
Source: CNN
---
▶︎ 12:05 PM Onwards
Police: Nine suicide bombers, including one woman
Nine suicide bombers took part in the Easter Sunday bombings, Sri Lanka's Criminal Investigation Department (CID) confirmed today. Out of the nine, eight have been identified by CID, Police Spokesman Ruwan Gunasekara said.
The ninth bomber was confirmed as the wife of one of the suicide bombers.
Source: CNN
---
▶︎ 11:45 AM Onwards
Around 60 arrests made: Police spokesman
Around 60 people have been arrested for possible links to the multiple attacks carried out on Easter Sunday. Of them, 32 are in custody with the Criminal Investigation Department (CID). All of those arrested are of Sri Lankan nationality, officials said at a press conference today.
Source: CNN
---
▶︎ 11:10 AM Onwards
Defense Minister: One of the suicide bombers studied in the UK
Speaking at a press conference today, Sri Lanka's State Defense Minister Ruwan Wijewardene revealed that the majority of Sunday's suicide bombers were from well-heeled families. They were also well-educated, including at least university graduate who had studied abroad.
"Most of them are well-educated, and come from maybe middle- or upper-middle-class. So they are financially quite independent and their families are quite stable financially,".
He added, "We believe that one of the suicide bombers studied in the UK and maybe later on did his post-graduate in Australia, before coming back to settle in Sri Lanka."
Most of the Sri Lankan suicide bombers were "well-educated" and it is believed that one of them studied in the UK, according to Sri Lanka's State Defense Minister https://t.co/hqZmNJAzRm pic.twitter.com/fGGk6f2CEe

— CNN (@CNN) April 24, 2019
Source: CNN
---
▶︎ 11:10 AM Onwards
"We are not against any kind of religion," says lawmaker calling to debate a burqa ban
‣ From CNN's Angus Watson in Hong Kong
Ashu Marasinghe, a Sri Lankan member of parliament, told CNN that he called yesterday for a parliamentary debate on banning "the burqa, niqab and any other religious face covering."
He said he believes face coverings are a threat to national security because they make it difficult to identify people, adding that facial covering was not traditional in Sri Lankan Muslim communities. No date has been set for his proposed debate.
People have their own reasons for wearing face coverings but they are all threats to national security. We need to start the discussion in parliament and we can move toward a ban of face coverings.
Face coverings would be banned in public places. This is the point we should discuss in parliament. Some restaurants and shops are already placing signs up asking their customers to remove their burqa or niqab. This is not good for social harmony, for the Muslim community or any other community. There should be one rule which covers all places.
I fully respect peoples religious freedom and freedom of expression, but this is a different angle. We are facing international terrorism for the first time in Sri Lanka – and face coverings are a security issue.
Source: CNN
---
▶︎ 11:00 AM Onwards
US Embassy closes to the public
"The US Embassy and all American Spaces in #SriLanka will be closed to the public through April 26," the embassy in Colombo tweeted this afternoon.
The U.S. Embassy and all American Spaces in #SriLanka will be closed to the public through April 26. Emergency American Citizen Services will be available. Continue to exercise increased caution. Travel advisory remains unchanged. https://t.co/c1flM652fO #EasterSundayAttackSL pic.twitter.com/g90vAw94ha

— U.S. Embassy Colombo (@USEmbSL) April 24, 2019
Source: CNN
---
Hotel bans facial coverings, including the burqa
‣ CNN's Jenni Marsh and Caitlin Hu in Hong Kong
At least one Sri Lankan hotel has banned facial coverings in the aftermath of the attacks.
A British guest at Ella Flower Garden Resort in the small mountain town of Ella, about 200 kilometers (about 125 miles) east of Colombo, told CNN that the rule began on Tuesday, and described it as "a hijab and burqa ban."
Signs on the hotel's glass door depict a variety of banned facial coverings, including icons of a helmet, an eye mask, a balaclava, an eyeless full-figure shroud, and an apparent Islamic burqa.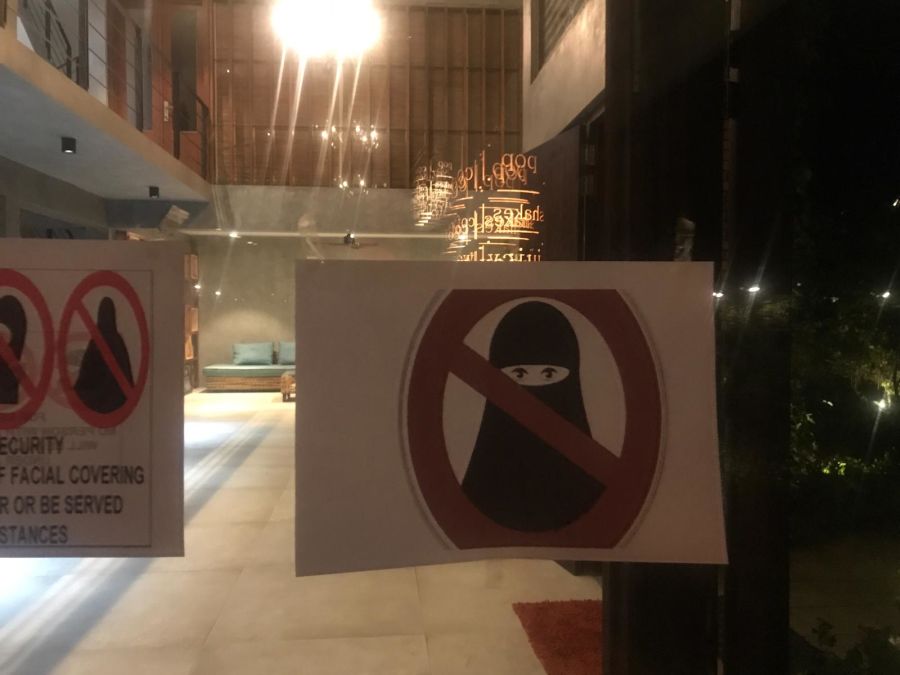 Kosala Dissanayake, the hotel's director of sales, confirmed the rule, and emphasized to CNN that the ban extended to all face coverings.
"We mention on signs in here about full-face helmet and fully-covered jackets," he said. "Because of the current situation going on Sri Lanka, we have to take some tough decisions," he added.
The hotel's ban follows allegations that Muslim extremists were responsible for the coordinated attacks, which killed at least 359 people in churches and luxury hotels.
The Sri Lankan government has warned that attackers could still be at large, and several countries have issued travel warnings for the country.
Source: CNN
---
▶︎ 10:35 AM Onwards
Sri Lankans turn to VPNs in massive numbers as social media ban continues
‣ CNN's James Griffiths in Colombo
Facebook and WhatsApp are still blocked in Sri Lanka, days after the Easter Sunday terrorist attacks.
Many Sri Lankans are turning to VPNs to get around the ban, with a massive uptick in searches for VPNs and information on how to get around the blocks, according to Simon Migliano, head of research at Top10VPN.com.
The problem is that for most Sri Lankans, Facebook is the internet and how friends and family communicate. Given how integral the social network is to their daily lives, it's to be expected that Sri Lankans are finding ways around the shutdown, such as by using Virtual Private Networks (VPN).
What is surprising however is the sheer size of the spike in demand: our global monitoring data shows that over the two days following the attack the daily average number of VPN searches surged by over 12,000% compared to daily searches over the 30 days prior.
Experts and locals have criticized the ban as counterproductive and illiberal, and questioned the government's justification for the ban as preventing the spread of "false information."
"As facts are developing it's becoming clearer that the government of Sri Lanka has a lot to explain owing to its failure in keeping its citizens secure," said Mishi Choudhary, legal director at the Software Freedom Law Center.
"Shutting down social media at such a time when people whose loved ones have died are seeking answers seems selfish and politically motivated," she added.
Source: CNN
---
▶︎ 10:15 AM Onwards
Counterintelligence expert: "The first question you have is imminent threat"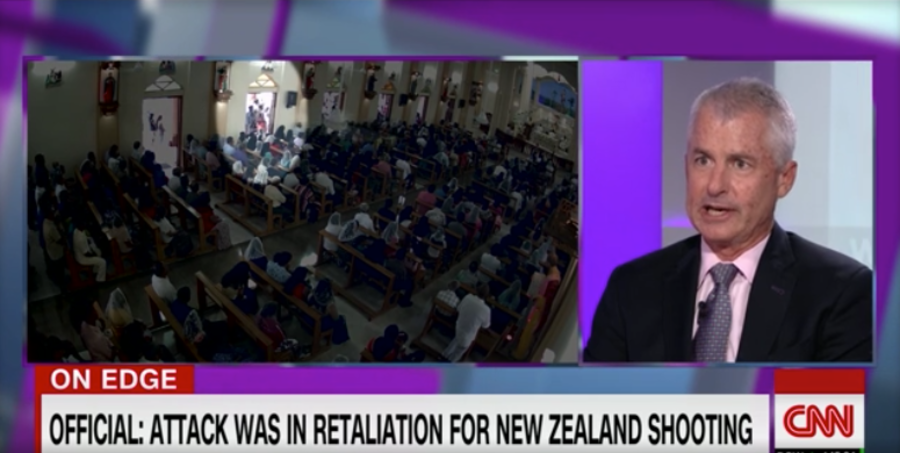 Former FBI Senior Intelligence Adviser and CNN contributor Phil Mudd warned on Tuesday that focusing on local group National Tawheed Jamath (NTJ), which has been accused of carrying out the blasts, could leave the country open to another attack.
NTJ has not claimed the attacks. Meanwhile, ISIS did claim responsibility for the bombings last night, but its involvement has not been proven.
"If you have an ISIS claim of responsibility, given ISIS and what they've done, in places like Europe, the Middle East and elsewhere, you gotta sit back and take it seriously," he said.
Mudd later added:
If you're talking about an attack of this magnitude, the first question you have is imminent threat. Are there other people running around with detonators who are going to kill people? You can speculate later on what the motivation is… but right now, focus on the threat, motivation comes later.
Sri Lankan Prime Minister Ranil Wickremesinghe told reporters on Tuesday that there were "still people on the run with explosives."
Watch the whole exchange here ➤
Source: CNN
---
▶︎ 09:45 AM Onwards
"Maybe I should have stayed and covered them with my body": Father who lost two teenage kids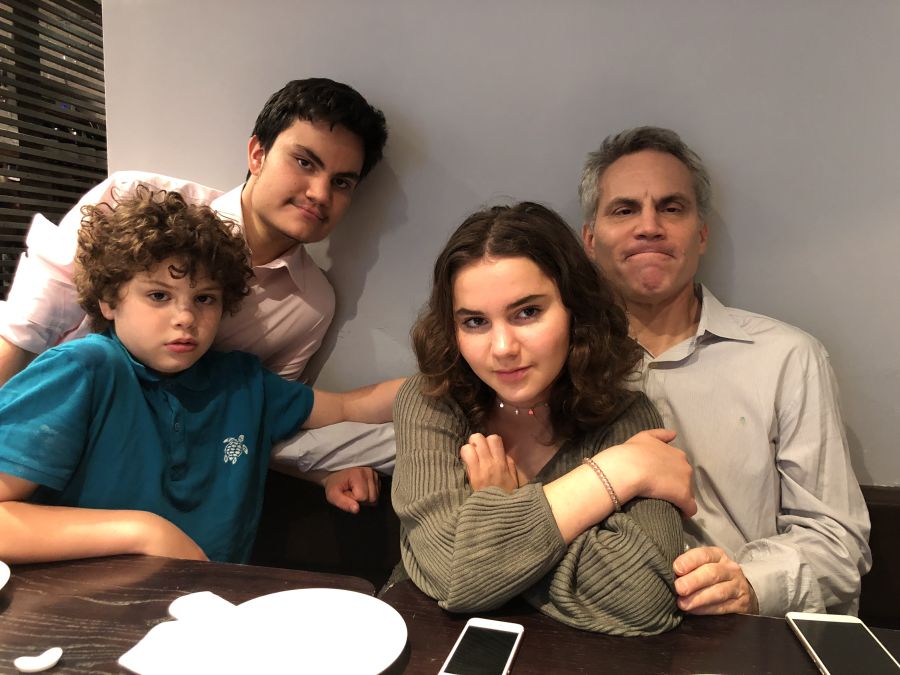 Matt Linsey lost two of his children in the Shangri-La hotel bombing. The London-based investment banker fled the hotel restaurant as the first bomb exploded, shepherding his children Daniel, 19, and Amelie, 15, out of the room.
But a second explosion detonated near the elevators on the third floor of the upmarket hotel, and killed them both.
His face peppered with minute scars from shrapnel and debris, Linsey is tormented by what he could have done differently.
"Maybe I should have stayed and covered them with my body," he told CNN.
"They both were unconscious," he said. "My daughter seemed to be moving. My son wasn't. A woman offered to take my daughter downstairs to the ambulance. I needed help moving my son." Thinking his daughter was in safe hands and less injured, Linsey traveled with his son in the ambulance to the hospital.
There he tried to revive his son, unsuccessfully. "I tried to massage his heart," the father said.
He tried to find his daughter, he explains, his voice a hoarse whisper of exhaustion. "This was the worst part… because I yelled for help. That's why I've lost my voice." Amid the overflowing hospital, Linsey found a lifeless Amelie under a hospital sheet.
Source: CNN
---
▶︎ 08:00 AM Onwards
New Zealand and France spearhead efforts to end use of social media for acts of terrorism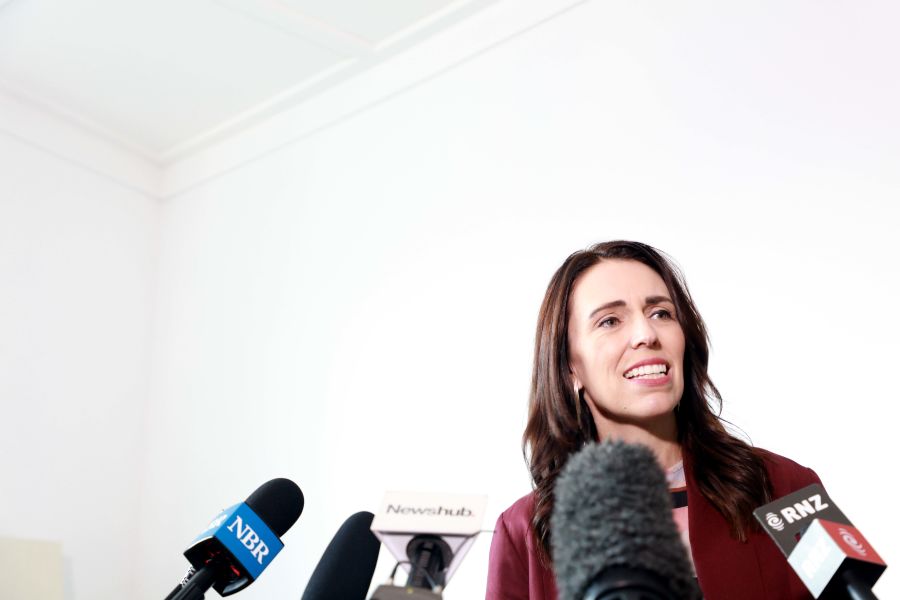 New Zealand and France are convening world leaders and tech giants to end the use of social media platforms for organizing and promoting terror acts. The meeting, co-chaired by New Zealand Prime Minister Jacinda Ardern and French President Emmanuel Macron, will take place in Paris on May 15, the New Zealand government has announced.
The meeting was prompted by the March terror attack on mosques in the New Zealand city of Christchurch, and aims to get tech giants pledge to "eliminate terrorist and violent extremist content online," a statement says.
Social networks were also blocked in Sri Lanka after Sunday's attacks, with the government citing "false reports." Facebook and Whatsapp continued to be unavailable on Wednesday, say CNN staffers on the ground.
Ardern has urged tech companies to get on board with the initiative:
The March 15 terrorist attacks saw social media used in an unprecedented way as a tool to promote an act of terrorism and hate. We are asking for a show of leadership to ensure social media cannot be used again the way it was in the March 15 terrorist attack.
We're calling on the leaders of tech companies to join with us and help achieve our goal of eliminating violent extremism online at the Christchurch Summit in Paris.
Source: CNN
---
▶︎ 08:00 AM Onwards
Early warnings from India's intelligence services to Sri Lankan officials ahead of the Easter Sunday bombings were based on information gleaned from an ISIS suspect, CNN has learned.
Delhi passed on unusually specific intelligence in the weeks and days leading up to the attacks, Sri Lankan officials have said, and at least some of it was gleaned from material obtained during interrogations of an ISIS suspect arrested in India, an Indian official told CNN.
The suspect gave investigators the name of a man he trained in Sri Lanka, who is associated with a local extremist group implicated in the bombings, the source said. The man, Zahran Hashim, was identified in a video of the purported attackers released Tuesday by ISIS, which claimed responsibility for the Easter Sunday killings.
In a statement published by the ISIS-affiliated news agency Amaq, the group said the attackers were "fighters of the Islamic State."
The involvement of a foreign organization would explain how a previously marginal domestic extremist group blamed for the attacks, National Tawheed Jamath (NTJ), could have pulled off one of the worst terrorist atrocities since 9/11.
Source: CNN
---
▶︎ 08:05 AM Onwards
Sri Lanka to restructure security divisions in wake of attack
Changes in top positions in Sri Lanka's security divisions will be made within 24 hours, President Maithripala Sirisena said Tuesday in a video message to the nation.
"I expect to conduct a complete restructuring of security divisions," including the army and police, in the coming week, he said.
"Mainly within the next 24 hours I expect to make changes in top positions of security divisions," Sirisena added.
Source: CNN
---
23 April 2019
▶︎ 06:15 PM Onwards
UK foreign secretary to address parliament about Sri Lanka attacks
▶︎ 06:00 PM Onwards
UN: at least 45 children killed in terror attacks
▶︎ 05:45 PM Onwards
Video of suspected suicide bomber moments before attack
Source: The Guardian
---
▶︎ 04:21 PM Onwards
Colombo police issue alert for van carrying explosives
This from the Guardian's South Asia correspondent, who is in Negombo, Sri Lanka.
Police in Colombo have issued an alerts warning that a van or lorry carrying explosives may currently be in the city. Security, which was already high, has been stepped up at government buildings and police stations.
At least 45 children were among the more than 320 people killed in the suicide bomb attacks in Sri Lanka, the United Nations said Tuesday.
"The total now is 45 children who died," Unicef spokesman Christophe Boulierac told reporters in Geneva, stressing that others "are wounded and are now fighting for their lives," meaning the toll among minors from the Sunday attacks could rise.
Source: The Guardian
---
▶︎ 04:18 PM Onwards
Islamic State claims responsibility for Easter Sunday attacks
---
▶︎ 04:05 PM Onwards
This man and his family overslept on Easter Sunday. It might have saved their lives
Akshat Saraf was vacationing with his wife and young child over the Easter holidays in Sri Lanka. Having enjoyed a restful holiday, the family overslept on Sunday morning in the room on the 25th floor of the Shangri-La Hotel in Colombo.
---
▶︎ 03:32 PM Onwards
Video shows suspected bomber briefly stopping to pat child on the head
Footage provided to CNN shows a man identified as a suspect by Sri Lanka state TV SLRC walking around St. Sebastian's church on Easter Sunday morning, shortly before it was rocked by an explosion.
The blast at the crowded service in Negombo was one in a series of coordinated attacks which targeted churches and luxury hotels within minutes of each other across the country.
What you can see: The suspect can be seen carrying a large backpack as he makes his way across the courtyard towards where the busy service is already underway.
At one point, the alleged bomber can be seen briefly stopping to pat a child on the head before continuing on his way.
Making his way through the throngs of people perched outside the service, he enters a side door of St. Sebastian's, close to the altar.
The next frame, according to police but not provided publicly, shows the suspect detonating his bomb.
Sri Lanka police said they would not comment on the video until the conclusion of the investigation.
Source: CNN
---
▶︎ 02:41 PM Onwards
State Defense Minister: Bombings were retaliation for Christchurch killings
Islamic extremists carried out Sunday's coordinated attacks in retaliation for a March attack on two mosques in New Zealand, said Ruwan Wijewardana, the Sri Lankan State Defense Minister.
Addressing parliament today, Wijewardana said that initial investigations showed "the chain of bombings" was carried out by "a radical Islam group" which he named as the National Tawheed Jamath (NTJ).
No group has yet claimed responsibility.
Last month's mosque attack in Christchurch, New Zealand, saw at least 50 people murdered in a shooting rampage by a white supremacist. The rampage began at lunchtime on a Friday, when mosques were full of worshippers.
Source: CNN
---
▶︎ 01:50 PM Onwards
BREAKING: Death toll rises to 321
Sri Lanka Police tell CNN the death toll has now risen to 321 in the Easter Sunday bombing attacks. Speaking in parliament in Colombo, Wijewardene said the toll included 38 foreigners. About 375 people are still being treated in hospital.
---
▶︎ 01:30 PM Onwards
Priest who narrowly avoided bombing urges Christians not to retaliate
CNN's Will Ripley is at St. Anthony's Shrine in Colombo, the scene of one of Sunday's bombings. It remains an active crime scene and the interior is so badly damaged that investigators haven't been able to examine it all yet.
Ripley spoke to Fr. Jude Fernando, the administrator of the holy site, who said that when the blast went off around 8.45 a.m., he was in his office and just about to walk into the church.
"I came inside the church and I saw people screaming, crying and I started, with the help of the community, and staff and priest, to send each and every one to the hospital," he said.
He said the church was packed because it was Easter Sunday — around 1,000 devotees were in attendance, he estimated.
Fernando appealed to Sri Lankan Christians to "please be calm and quiet and pray, because our God is not a god of revenge, he's a god of love, he's a god of peace… let's follow our master and spread the good news.
"Continue to pray for one another, and don't do any harmful acts," he said.
Source: CNN
---
▶︎ 09:47 AM onwards
The US embassy in Colombo has also issued a warning about a suspicious package and advised people to avoid the area of Kopetty Railroad station.
Suspicious package found at Kolpetty Railroad station in #Colombo, #SriLanka. Bomb disposal unit is on site. Avoid the area, remain vigilant, and report any suspicious activity to authorities immediately. #lka pic.twitter.com/HiN76qbFrJ

— U.S. Embassy Colombo (@USEmbSL) April 23, 2019
Source: The Guardian
---
▶︎ 09:46 AM Onwards
Sri Lankan media outlet RepublicNext is reporting that the bomb disposal squad has been called to Kollupitiya railway station in Colombo after an unattended package was found in a compartment of a Puttalam-Mount Lavinia train.
Police investigating a suspicious parcel found aboard a Mount Lavinia-bound train at the Kollupitiya railway station. #lka pic.twitter.com/hDhQIyCCRs

— RepublicNext (@RepublicNext) April 23, 2019
Source: The Guardian
---
▶︎ 08:45 AM onwards