The popular Netflix Squid Game, a K-drama that broke all the records – standing at 111 million views worldwide in its first 28 days is beyond explanation. The show's popularity led to a real-life murder-free squid game event that was held recently in Abu Dhabi, UAE.

The Korean Culture Center in Abu Dhabi, (KCC) organised the event on Tuesday, 12 Oct in two individual sessions. The two sessions of 1-hour and 45-minutes respectively and included 15 players each – competing against each other for a cash prize. The competition involved most of the games from the Squid Game show including 'red light green light', 'Dalgona candy challenge', paper-flipping games, Marbles and Ddakji.
Based on media reports, the official KCC event page mentioned a cash prize but it is not clear how much was won and by whom.
The event saw similar outfits to what was portrayed in the Netflix Squid Game show as there were players wearing green-and-white T-shits and guards wearing pink-coloured jumpsuits with black masks.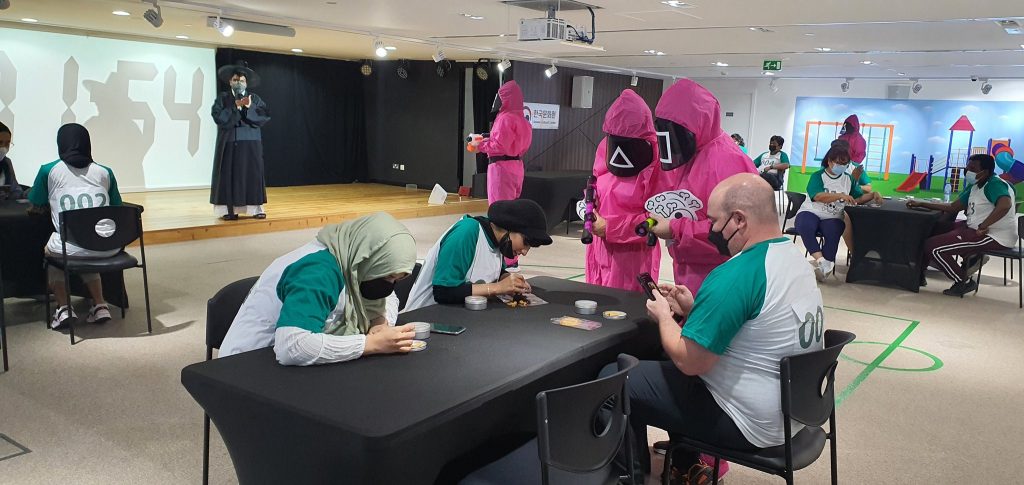 As mentioned on the event's offical page of KCC, only the UAE residents were allowed to participate in the games. The Korean nationals in the UAE were also not eligible to participate in the event. According to Khaleej Times, around 338 people applied for the KCC Squid Game but only 30 were selected.
KCC after the games posted a tweet, saying, "Thank you all for participating in today's event with KCC UAE."
The tweet also encompassed some pictures from the event.
This is surely the first real-life squid game that we know about, we certainly hope that this won't be the last.