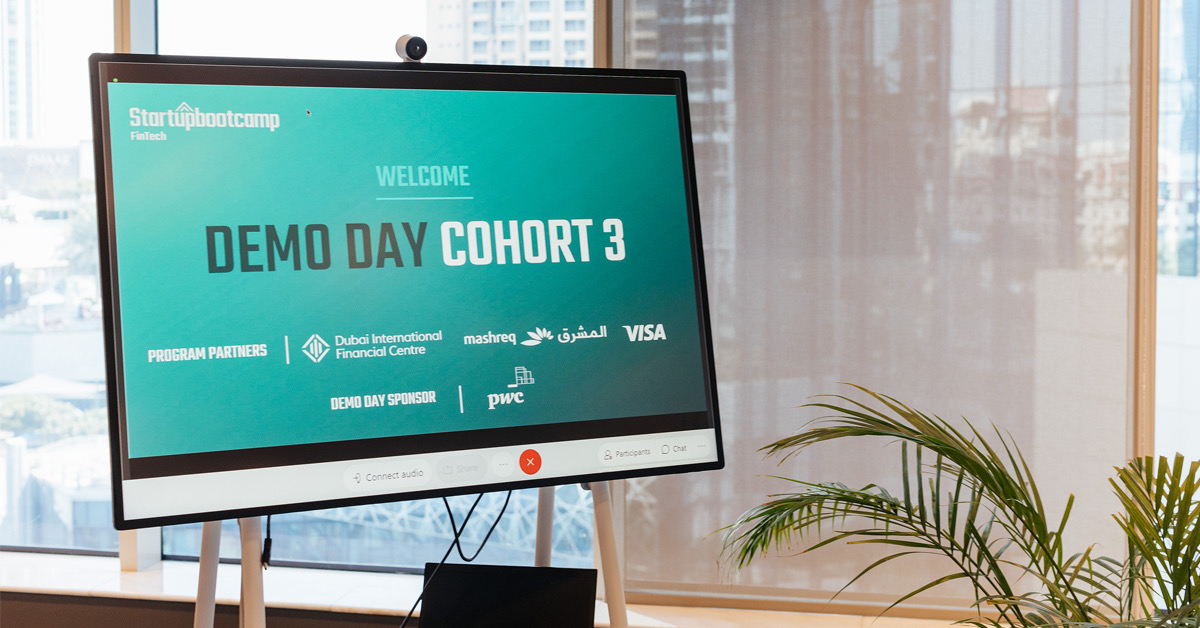 The third cycle of Startupbootcamp FinTech Dubai's industry-focused accelerator programme has successfully concluded during the annual Demo Day, with 11 startups pitching ideas to investors, corporate partners, mentors, experts and a general audience.

Startupbootcamp FinTech Dubai was launched in 2018 in partnership with Dubai International Financial Centre (DIFC), VISA, Mashreq bank and HSBC and to date has successfully graduated more than 30 FinTech startups in the fields of payments, lending and Islamic digital banking across three cohorts.
Supporting Dubai's 2021 plan to become a pivotal global hub for financial services, innovation and technology and the program partners' vision to drive the future of finance, Startupbootcamp FinTech Dubai's Demo Day has swiftly become one of the most highly anticipated events on the industry calendar for founders and entrepreneurs as well as corporate partners seeking to discover the next generation of financial innovation firms.
The Demo Day was exclusively live-streamed from the recently launched PwC Experience Centre located in Dubai; providing attendees with an unforgettable immersive hybrid experience. The Demo Day concludes an annual intensive three-month growth programme to support the business growth of the participating startups and prepare them for operations and future scaling.
The event launched with an opening note from Lars Buch, CEO of Rainmaking in MENA & Russia, providing inspiration and anecdotes from his tenure at one of the world's most active industry-focused startup accelerators. This was followed by a keynote from Moussa Beidas, Director of Ideation at PwC Dubai who shared words of wisdom with the founders of the 11 firms participating in Demo Day.
The 11 startups graduating from the programme have benefitted from mentorship and access to comprehensive resources, insights, technology and world-leading expertise during the three months of the programme, enabling them to secure proof-of-concepts to validate their business models. With the startups predominantly at seed stage, raising between USD 250,000 and USD 1.8 million and the programme's strong focus on developing partnerships between startups and corporates and building investor relationships, the Demo Day provided a solid springboard for startups to commence 2021.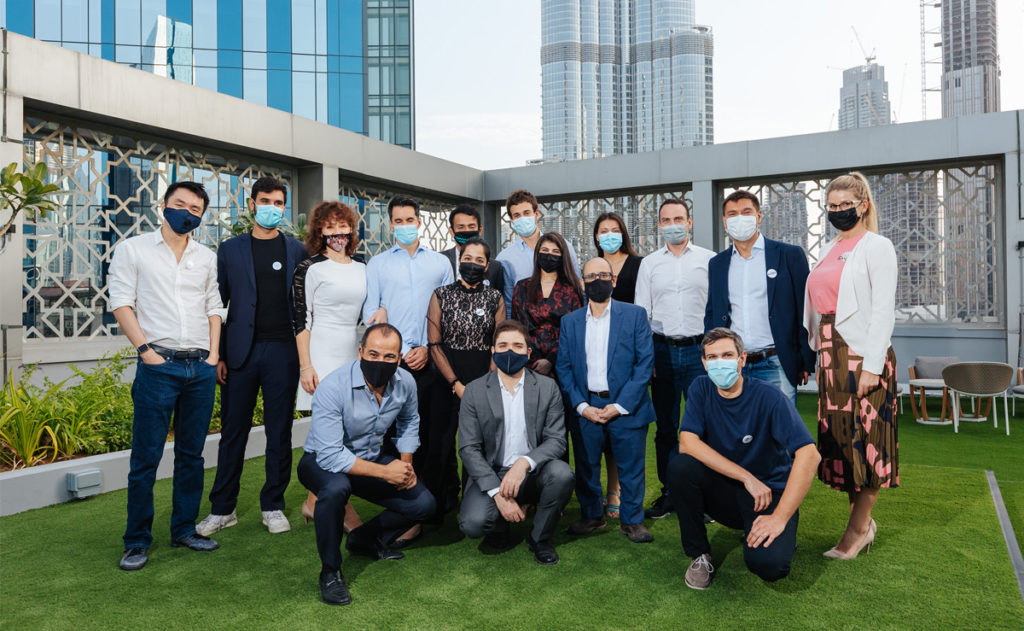 Ranging from financial wellness app for Gen Zs to an Insurance-as-a-Service platform which allows to purchase insurance in less than eight seconds – all startups have the ability and ambition to make the finance and banking sector in MENA smarter, more innovative and agile.
Mohamad Sabouneh, the Managing Director of Startupbootcamp FinTech Dubai commented,
"Over the past 12 weeks the startups have perfected their business models, implemented new go-to market strategies, streamlined the operations, among many other growth areas. I'm confident in their continuous success and we, at Startupbootcamp FinTech Dubai, are very excited for the journey ahead for this cohort."
The 11 startups include:
Absolute Collateral (UK): a securitized trading platform for financial institutions.
Aura Technologies (UAE): an enabler for non-insurance businesses to distribute insurance to their customers.
Compliance as a Service (UK): a RegTech firm providing compliance management software to FinTechs and challenger banks.
Finllect (UAE): a financial wellness app for Gen Zs to build credit, automate their finances, and prequalify for financial products.
Flaist (USA): a digital toolkit of APIs and SDKs fast-tracking banks and financial institution's digital experience.
Kilde (Singapore): a regulated private debt investment platform raising debt capital for digital lenders from investors.
Open CBS (Hong Kong): an agile cloud-based core banking system for financial institutions.
Raseed (USA): investment platform that makes it easy and simple for millennials in GCC to buy and sell shares in US stock markets.
Singular Capital (Malaysia): an active investment management app that's looking to give users superior market returns.
Stornest (UAE): a digital legacy planning tool designed to share information with your loved ones that you would like to keep private while you are alive.
Tajjir (Jordan): a white labelled online trading application that helps stock brokers increase trade volume
Throughout the programme the corporate partners of the Startupbootcamp FinTech Dubai have been a key part of the programme. All throughout from the start of the programme to the Demo Day they have been actively involved with startups, from taking part in the Partners Day, to meeting the startups and advising them all with a focus of developing proof of concept for fruitful partnerships.
Raja Al Mazrouei, Executive Vice President of FinTech Hive at DIFC, said,
"Startupbootcamp FinTech Dubai's programme has attracted hugely ambitious and innovative FinTech start-ups from around the globe since launching in 2018. Congratulations to the 11 participating start-ups graduating from the current cohort who join over 100 likeminded businesses who have been through one of the three programmes we currently offer through DIFC FinTech Hive. They all have the potential to help us shape the future of finance in the Middle East, Africa and South Asia region."
Subroto Som, Senior Executive Vice President – Group Head of Retail Banking Group, Mashreq Bank, said,
"We are pleased to participate in another edition of the Startupbootcamp. Now more than ever, consumers increasingly value digital solutions that help to meet their daily needs. This is no different in the financial services industry – and as a leading financial institution focused on providing an outstanding customer experience, at Mashreq, we consider our collaboration with the FinTech community as a cornerstone of our larger strategy. This year's cohort once again displayed the varying applications of cutting-edge technologies by FinTechs to solve complex problems – as well as their ability to provide intuitive and innovative experiences for customers."
Otto Williams, Head of Strategic Partnerships, Fintech and Ventures at Visa for Central and Eastern Europe, Middle East and Africa, said,
"Yet another great experience for us – we've seen lots of exciting concepts and ideas and have formed lasting relationships with some great innovators. We are delighted to have had the opportunity to mentor and work closely with this third cohort of this FinTech Dubai Accelerator. Startupbootcamp continue to be great partners and we look forward to working with them to nurture future waves of global start-ups in growing the payment innovations and digital experiences that consumers and ecosystem partners can expect to see in the near future."




Ali Hosseini, Chief Digital Officer at PwC Middle East, shared,
"We are thrilled to host the Demo Day of Startupbootcamp FinTech Dubai in our Experience Centre, and witness 11 startups showcase the rise of the FinTech space in the MENA region. Our Experience Centre encourages innovation and is inspired by startups' co-working spaces, the Centre keeps collaboration and co-creation at its heart. We built the space around our client's needs and experience, meant to disrupt traditional workspaces and to promote creativity to solve our clients most important problems."
---
ⓘ LAFFAZ is not responsible for the content of external sites. Users are required to read and abide by our Terms & Conditions.