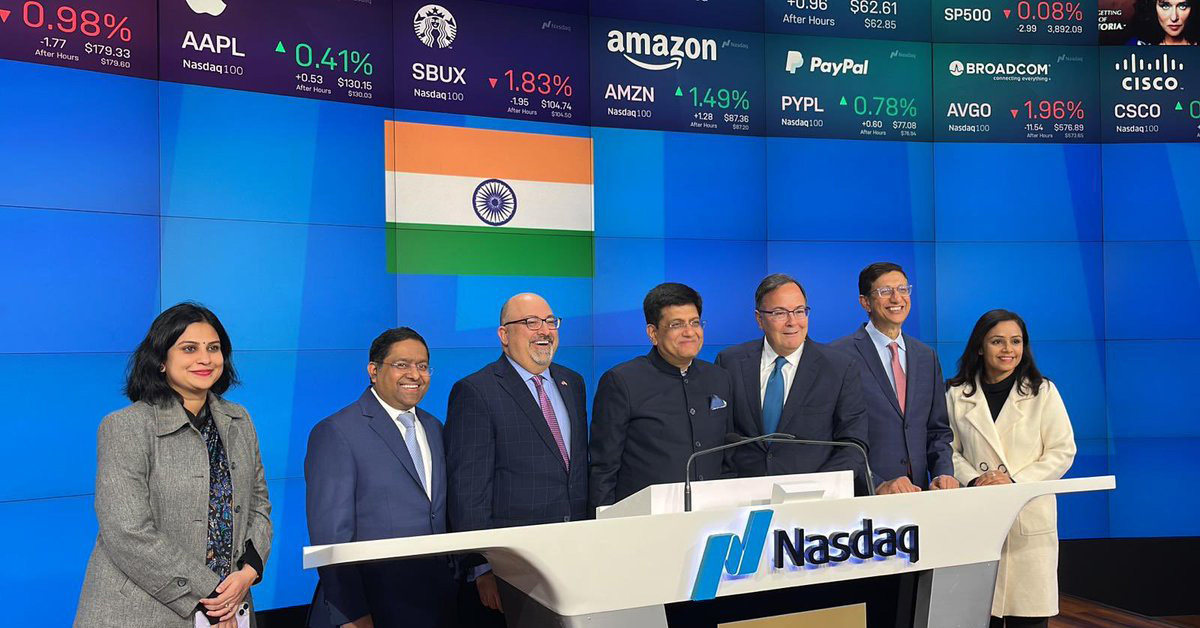 The U.S.-India Business Council (USIBC), part of the U.S. Chamber of Commerce, and Nasdaq co-hosted the Honorable Piyush Goyal, Minister for Commerce and Industry, for an exclusive roundtable with USIBC members at the Nasdaq MarketSite in New York City.

Officials from the Government of India also in attendance were Randhir Jaiswal, Consul General in New York; Shruti Singh, Joint Secretary of DPIIT; Suja Menon, Head of the Commerce Wing at the Indian Embassy in Washington, D.C.; Ambassador Atul Keshap, USIBC President; and Edward Knight, Executive Vice Chairman of Nasdaq and Interim Chair of USIBC's Global Board of Directors, led the discussion, titled "Friend-Shoring and the U.S.-India Trade Partnership: Forging Shared Economic Resilience" which featured C-Suite executives across the supply chain & logistics, manufacturing, healthcare, digital economy, and financial services sectors.
Key topics of discussion included expectations from the upcoming TPF, ways to further strengthen India's intellectual property regime, and India's progress in improving the ease of doing business. USIBC members highlighted Prime Minister Narendra Modi's flagship National Logistics Policy as a "game changer," and as a major step to lowering the costs of doing business in the Indian market and unlocking India's potential as a global manufacturing and export hub. Notably, several USIBC members signaled major new investments in India and plans to expand their manufacturing presence in the country.
In November, U.S. Treasury Secretary Yellen visited India to discuss the administration's "friend-shoring" agenda with the Hon'ble Nirmala Sitharaman, Minister of Finance and Corporate Affairs. USIBC supported Secretary Yellen's visit and members of the Council have sought ways to align their new investment plans with the initiative as they diversify their supply chains and exposures to foreign markets.
"India and U.S. relations have been at an all-time high. In addition to strong bilateral relations, we are working closely under platforms such as Quad, I2-U2, IPEF etc. For the U.S. companies looking for 'good times', this is the time, this is the right time, to look at India, and engaging more with India," said Minister Piyush Goyal.
The Minister added, "There are limitless opportunities all across: from semiconductors to infrastructure to healthcare to manufacturing to innovation to renewables to defense and so on. I am confident that the U.S. industry will make use of these opportunities to grow in India and grow with India."
Ambassador Keshap stated that "under Prime Minister Modi and Minister Goyal's leadership, India is taking an entrepreneurial approach to its trade partnerships and embracing an agenda focused on promoting India's rise as a global export hub, an ambition our member companies support and appreciate. The upcoming U.S.-India Trade Policy Forum presents a strong opportunity for both of our countries to advance their economic convergence. Progress on harmonizing investment and commerce policies, intensifying cooperation on critical and emerging technologies, and lowering barriers to trade will enable industry to deliver sustained growth, job creation, and economic resilience for both our nations."




Emphasizing the common strategic challenges faced by democracies around the world, Ambassador Keshap added,
"as the United States and other like-minded democracies seek to fortify their supply chains, India is a vital friend-shoring partner. This meeting between Minister Goyal and our member companies intensifies cooperation between government and industry to ensure reliable and secure access to the materials, talent, and manufacturing capacity we need to power our high-trust ecosystem of like-minded democracies."
Edward Knight of Nasdaq highlighted the existing and potential future role of American capital markets in powering India's economic rise, and in connecting India's talent, startup ecosystem, and rapidly expanding industrial capacity with global capital.
"We are proud to have hosted this thought-provoking roundtable at the Nasdaq MarketSite with Minister Goyal," said Edward Knight. "There is a tremendous opportunity to introduce the longstanding culture of innovation and entrepreneurship that exists in India to the global capital markets and global investors. We look forward to continuing our diplomatic relationship with the Government of India as we look for more ways to facilitate growth between our nations."
Denoting further, Keshap said,
"American companies are increasingly looking to India as a growing consumer market, critical talent pool, and a high-trust geography for resilient and secure supply chains. With the business community facing a volatile geopolitical environment and a potentially challenging year for growth, strengthening U.S.-India trade ties is an essential and pressing responsibility,"
"The business community is hoping that both governments approach the U.S.-India Trade Policy Forum with a sense of vision, urgency, and ambition. To sustain progress on trade, both governments can usefully work together to make steady and incremental progress that sends signals of confidence, convergence, and trust to both our business communities. Implementing already negotiated agreements will also bolster investor confidence. Waiting for all-or-nothing comprehensive agreements will only slow our shared goal of achieving a $500 billion trade relationship,"
"An enabling trade environment will help our societies sharpen their edge in critical and emerging technologies and retain competitiveness on the world stage. As both governments negotiate difficult and intricate trade provisions, we are encouraged by their awareness that greater commercial engagement between the world's two largest democracies is vital if free societies are to shape the future of global prosperity."
---
ⓘ LAFFAZ is not responsible for the content of external sites. Users are required to read and abide by our Terms & Conditions.