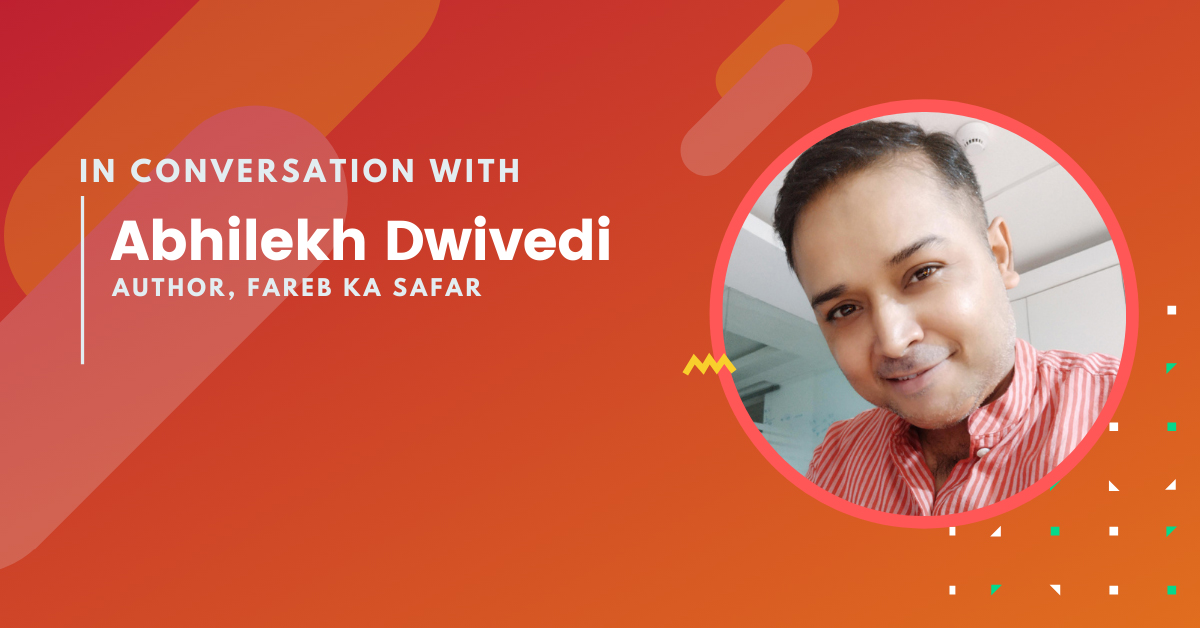 At LAFFAZ, we bring conversations with technology veterans, and business leaders time and again. At the same time, we find it really significant to educate people about the repercussions of today's technologically-driven world. The 'Misuse of Artificial Intelligence' is a trending subject nowadays, and to lay an effort in the direction of establishing awareness, we are proud to present this exclusive conversation with the renowned Indian author, Abhilekh Dwivedi, who has recently rolled out his title 'Fareb Ka Safar' – throwing light on the crucial subject 'misuse of artificial intelligence' through an interesting story.

So without further ado, let's dive into the conversation with Abhilekh.
LAFFAZ: Please brief us about your early life, educational and professional background, books you have written, awards and achievements etc.
Abhilekh: My life has always been like a nomad. My dad had a transferable job I developed the tendency to be a wanderer and I adopted the lifestyle of minimalists. With living in cities like Kolkata (my birthplace), Dhanbad, Asansol, Durgapur, and few other places, I learnt how a cosmopolitan life could be. And all these always helped to garner some great experiences and thus, I developed the interest in art & humanities. Though I pursued Bachelors of Commerce but my interest was more into graphic designing, music, and films but there was no direction or opportunities. Later, while being in profession, I started writing and in 2010 when I got my first article published, it gave me the idea to explore this hobby. And from there, I started reading more and every kind of book. This helped me write in differently.
Initially, I used to write articles and poetries – all those used to get published but after participating in 4 anthologies of poetry, I was getting typecasted as a Poet, so I started writing more articles and stories in order to build awareness around my writing skills. My first book as an author was "Khayalo Ka Abhilekh (2017)" and then came my first novel "Char Adhuri Baatein (2018)". Till date I have written 5 books, have been awarded by few literary authorities, went as a Judge for literary events to different colleges like IIM Lucknow and few more. I also work as the Senior manager – Copywriting for Mirchi FM and have been invited at various colleges as a Guest Speaker on Creative Writing and opportunities. The journey is still on, let's see how far it will go!
---
LAFFAZ: How did publishing your first book change your process of writing?
Abhilekh: It helped me understand how an image is built and changes. It gave me so many reviews and from different kinds of people, which helped me cognize that writing is not just about getting published. The content, presentation and marketing also hold sumptuous significance. My first book made me understand that efforts should be made in the right direction and writing what nobody else is writing. It also helped me ascertain the nuances and nuisance of book publishing. I learnt how vocabs and word weaving creates great impact.
---
LAFFAZ: What's your favourite book out of the ones which you've written?
Abhilekh: Every book that I have written is different from each other, but yes Char Adhuri Baaten could be in that category as this is first of its kind in any Indian language and that too by an Indian writer. It is the first Hindi novel which is based on psychological counseling. The effort was great and so was the response.
---
LAFFAZ: What triggered your mind to come up with a title that emphasizes on the misuse of artificial intelligence?
Abhilekh: There was a time when telecom operators were criticized for data privacy policy and later when I interacted with one of my friends who is a founder of an app, I came to know about AIs. I read a few articles and saw that there's no story/novel around this. So, the idea kicked in and started working on the plot. Though I started writing a script on this, later I developed it into a Hindi Novel.
---
LAFFAZ: How does your latest novel 'Fareb Ka Safar' brings light to the misuse of Artificial Intelligence?
Abhilekh: The novel shows you the dark side of AIs. Here, the user is not aware how things are being tracked, who is watching the user and saving their behaviour and activity. The novel shows how an update in an app accesses your info and users never mind knowing the aspects of the update or how the access gets granted to an authority. No matter how intelligent you think of yourself, there's someone who is smarter than you and every human being is a pawn to AIs.
---
LAFFAZ: Well, the misuse of artificial intelligence is indeed a valuable subject, but do you think that AI and deep tech is highly likely to face criticism despite the technological augmentation that AI has brought in to the world?
Abhilekh: Everything has 2 sides, positive and negative so is with AIs. No doubt, AI and deep tech enhances the efficiency but it's a truth that somehow and secretly they're controlling the lives of people. Whatever we discuss or search, everything is being tracked, assimilated and used. so I am sure that in days ahead definitely it would create furor and the process will face criticism. With AI, one can rule over the world so it's going to be one biggest topic in days ahead.
---
LAFFAZ: How much time have you deployed in research and building an understanding of AI for yourself?
Abhilekh: I took almost a year to understand, research and write on this. I met a few people, discussed about apps and AI, and developed understanding for myself about how this technology is helping and what could be the loopholes which could affect people's life.
---
LAFFAZ: Many people claim that Artificial Intelligence is not very much practical but it is more of a science fiction utilised as a buzzword to generate engagement around a business solution. Please enlighten us on that.
Abhilekh: It's not like that. An AI system needs information and content that has been carefully curated and is of high quality. Bad data provides bad results, no matter what the system is. So, if anyone thinks that AI algorithms can magically make sense out of anything and all of your messy data, it is a myth. It totally works on the input data. It's not just a buzzword. The use of AI is an iteration of an ongoing evolution. It needs to be thought of as a future's program.
---
LAFFAZ: We've been hearing for almost a decade now that AI is helping suppress cybercrimes. But as we are moving ahead in time, we realise that AI is actually being leveraged as a weapon by cybercriminals. So, how according to you, common people can prevent damage to their digital personas in today's time of AI?
Abhilekh: Saving private info is quite tricky because somehow the info is shared. It's we only who give access, so it's up to us to limit/restrict or allow the info to pass. One needs to check the list when we grant access, and one needs to check the authenticity of the app. Check how ads are displayed on your screen, need to check the settings of electronic gadgets. Seek cyber experts' help to protect your valuable info.
---
LAFFAZ: So, will we be witnessing more great titles like 'Fareb Ka Safar' in the future?
Abhilekh: Definitely. I am working on 2 more novels with more interesting plots and titles. Hope, those also would help generate interest among the audience and readers.
---
Abhilekh extending his kind regards to LAFFAZ, said,
"I was very much impressed with the portals as it brings out vital info and introduces people in extraordinary ways. I read about a few great people through LAFFAZ only and felt that there's a great workforce behind this great brand. Kudos to the great work LAFFAZ has been doing. Wishing you great success."
If you wish to read Fareb Ka Safar, please head over to Amazon and choose from your favorite versions i.e. Kindle and Paperback.
Fareb Ka Safar novel
The fifth title by Abhilekh Dwivedi, Fareb Ka Safar is a Hindi novel with a contemporary theme. A gamut of metro city, startup culture, ultra modern lifestyle with bold and edgy situations. A story that involves trickery, love, sex, and betrayal – highlighting the backlash of today's technologically-driven world, social media, dating apps where the youth is busy swapping right-left without knowing the person behind the mobile screen. A complete zine for today's generation that takes risks unknowingly and falls prey to the consequences.
---
ⓘ LAFFAZ is not responsible for the content of external sites. Users are required to read and abide by our Terms & Conditions.