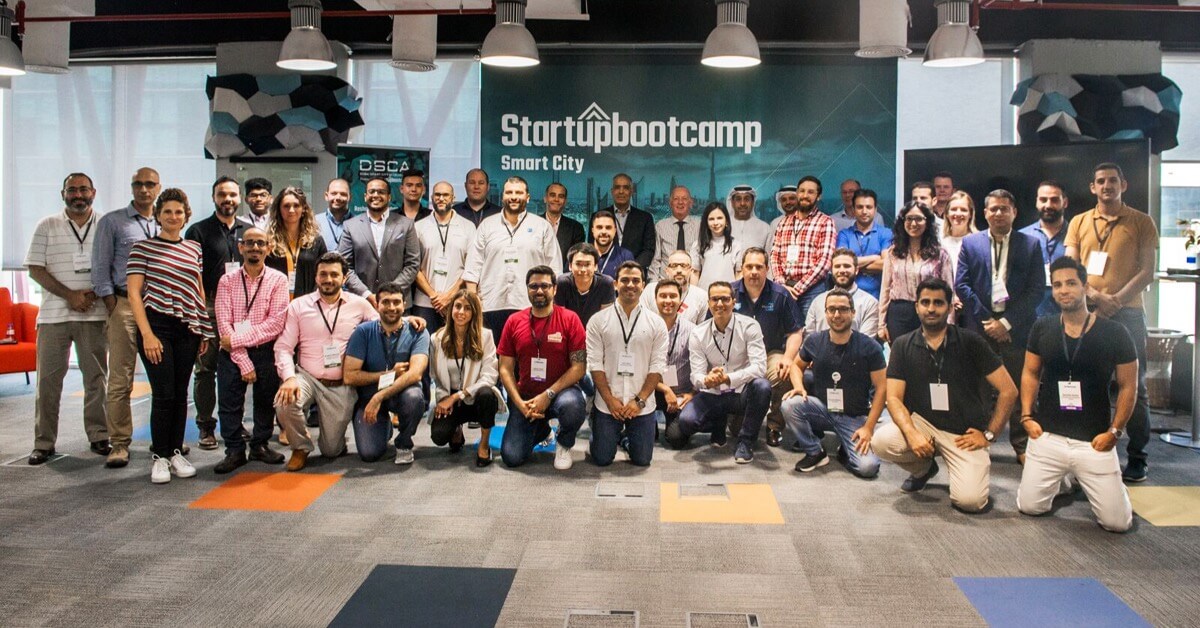 Dubai Silicon Oasis Authority (DSOA), on Sunday announced that the Startupbootcamp has selected 11 startups to take part in its third cohort of the Dubai Smart City Accelerator, a three-month program focused on building Smart City innovation in Dubai.

Launched in 2017, the Dubai Smart City Accelerator is powered by Startupbootcamp and hosted at the Dubai Technology Entrepreneur Campus (DTEC), the largest tech co-working space in the Middle East that is wholly owned by DSOA. DSCA is an award-winning program established by DSOA, du, Dubai Chamber, Smart Dubai, Visa, Orange Business Services, and RIT Dubai. In addition to funding the program, these key partners provide expertise, exposure channels, and unparalleled access to their deep smart city network of industry professionals and mentors from around the world.
The 11 winning startups were selected from over 800 applicants from 74 countries. During a four-month recruitment period, the Startupbootcamp team hosted Office Hours and Fast Tracks in 28 countries globally to identify the most promising Smart City-focused startups aligned with the Accelerator's verticals: IoT & Connectivity, Urban Automation & Mobility, Artificial Intelligence, Blockchain, Open City Data, Sustainable Cities & Living, Smart Government, and Smart Retail.
"We are excited about this cohort as it marks a shift from bringing in international startups to the region as done in previous years," said Ibrahim Seksek, Managing Director, Dubai Smart City Accelerator
"Now that we have a cohort with a majority of regional companies, our value proposition changes for the startups. We are now a Dubai hub that is a stepping stone to the world for regional startups." Seksek added
The winners selected for the 2019 cohort:
Carers (Jordan) A family care marketplace dedicated to connecting households and caregivers
BasilLabs (USA) BasilLabs helps organizations tap into digital and in-store consumer intelligence to craft stronger brands and target their audiences with pinpoint accuracy.
Controlcast (Jordan) A digital out of home advertising platform that's accessible to everyone 
Dressire (India) AI for retailers to know & acquire users online & in-stores and forecast trends
Global Miles (Turkey) World's First Blockchain Frequent Flyer Program & Platform
Lightified (UAE) Professional lighting. Simplified. 
Monocle Reality (UAE) Remapping the world in Augmented Reality 
Near Motion LLC (Saudi Arabia) Connecting Dots With Mobile Engagement Solutions
Receet (Palestine) Digital Receipts pushed instantly to consumer smartphones
Revotonix (Lebanon) Specialized in developing fully autonomous mobile robots
Shorages (UAE) An on-demand storage & warehousing platform
The Accelerator program has successfully graduated two cohorts thus far and is running its third cohort from October 2019 to January 2020. Over three months they will receive hands-on mentorship from over 100 industry experts, office space in Dubai Technology Entrepreneur Campus, seed funding, and access to a global network of investors and corporate partners from across the Smart City industry. The program concludes with Demo Day on January 14th where the startups will pitch to over 200 investors and partners.
Once accelerated, the startups join Startupbootcamp's global alumni network consisting of more than 800 enterprises from 50 countries worldwide.
Dubai Smart City Accelerator Partners
All Partners involved in the Dubai Smart City Accelerator program confirmed their support for the new Accelerator cohort.
Smart Dubai
Dr. Aisha Bint Butti Bin Bishr, Director General, Smart Dubai, said… "Our support for startups reflects the vision of our wise leadership and its dedication to be the largest commercial incubator empowering entrepreneurs to succeed and carry on with their projects". 
Dr. Aisha added… "We, at Smart Dubai, are delighted to be among the partners working on the Dubai Smart City Accelerator, and look forward to the ideas and projects the participants will put forth – plans that have the potential of driving forward Dubai's efforts to establish itself as the happiest and smartest city on earth." 
Dubai Silicon Oasis Authority
Eng. Muammar Al Katheeri, Executive Vice President of Engineering and Smart City at DSOA, said… "DSOA plays an integral role in championing Dubai's ambition to become the smartest and happiest city on earth. To help achieve this goal, initiatives such as our award-winning Dubai Smart City Accelerator contribute to fostering an enabling environment for entrepreneurship and innovation. These initiatives also create ideal conditions for embracing the brave new era of the Fourth Industrial Revolution through leveraging breakthrough technologies to provide enhanced services for customers."
Eng. Muammar added… "We are committed at DSOA to offering initiatives at Dtec that support the directives of the government in building a sustainable economy and motivate young talents and entrepreneurs to adopt innovation, in several technology verticals. Since its launch in 2015, the DSCA program has helped several startups harness their ideas and achieve fruition and we are pleased to see 11 start-ups representing eight countries attend this year's event."




RIT Dubai
Dr. Youssef Al-Assaf, President of Rochester Institute of Technology Dubai, said… "Rochester Institute of Technology in Dubai (RIT Dubai) joined its partners in supporting the Dubai Smart City Accelerator not only to support the creation of a futuristic ecosystem and a mindset of innovation and entrepreneurship within DSO and UAE but also to give its students the opportunities that would expose them to the future. The work of Startupbootcamp has reflected on our curriculum and students' learning and projects in many positive ways, and we look forward to seeing the work of the third cohort startups and the contributions they will make towards the innovation ecosystem."
Orange Business Services
Sahem Azzam, Vice President Middle East & Africa, Orange Business Services, said… "Sustained innovation is essential to a smart city and the Dubai Smart City Accelerator Program is playing an important role in this. All three cohorts of startups have demonstrated their innovation, speed and agility, and talent. Orange Business Services is proud to support the smart city startup ecosystem and have seen real benefits from our collaboration with the program through co-innovation with our team of mentors and entrepreneurs, and as a pilot customer taking ideas to proof of concept and commercialisation."
---
ⓘ Source: Press Release
---
ⓘ LAFFAZ is not responsible for the content of external sites. Users are required to read and abide by our Terms & Conditions.