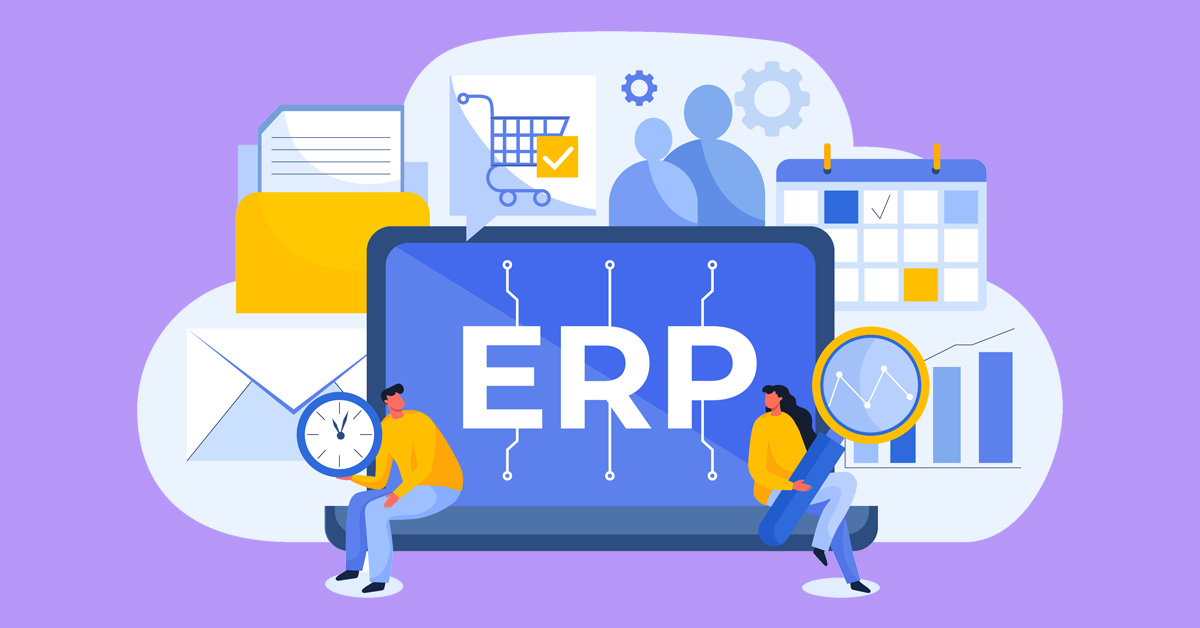 Enterprise Resource Planning (ERP) software helps companies manage their business processes. It is a software solution that incorporates all your operations, like EDI, analytics, financials, warehousing, importing, etc. Besides, many ERP vendors have personal solutions that help businesses manage each department.
But will a generic ERP software be able to meet all your unique requirements?
That's where distribution ERP software comes into the picture! Let's understand more about distribution ERP systems.
What is a Distribution ERP Software?
A distribution ERP is a software solution that directs logistics operations, distribution, and wholesale company's front/back office activities. It meets the demands and needs of your industry and its verticals.
For example, distribution ERP software handles forecast product demand, tracks inventory levels, manages shipping and logistics, etc.
With the right ERP, like FirstBit's distribution ERP software solution https://firstbit.ae/distribution/ designed in Dubai UAE, you get much more! You can get help handling shipping goods from supplier to consumer, managing chargebacks, breaking down customer alliances, etc.
ERP for distribution businesses fulfils the needs of trading companies, distributors, wholesalers, third-party logistics providers, and food distributors. The software ensures that your team works with accurate real-time information to streamline distribution businesses.
What are the Essential Features of Distribution ERP Software?
The demand for distribution ERP software is ever-rising. According to Statista, the distribution software market saw a benefit of around $10.4 billion in 2020!
A distribution ERP software solution provides a centralized solution to streamline your business processes, regulate workflow and help you seek control over your operations.
But, with the essential must-haves, your ERP distribution software will prove beneficial.
Some must-have features of ERP distribution software include:
Forecasting and Demand Planning
Warehouse Management Process
Electronic Data Interchange and Retailer Compliance
Sales Order Management
Business Intelligence
Forecasting and Demand Planning
Keeping accurate inventory levels to meet current and expected demands takes time and effort. Moreover, doing such tasks have higher risks of errors.
Most firms use spreadsheets and rely on the sales team for order input data. But, it is a bad idea because the data may need to be more accurate and current. A demand planning ERP is crucial because it helps to cut excess inventory, avoid supply chain disruptions and meet consumer demand.
A distribution ERP software with forecasting and demand planning tools incorporates sales forecasts and historical sales data to improve purchasing decisions.
Besides, the tool makes inventory management more efficient with facilities like automated buy/supply orders and supply plans.
As the distribution ERP synchronizes all supply, sales, and purchasing functions, it is easier to get accurate forecasting. It'll also help improve inventory sales management and enhance customer service.
Warehouse Management Process
Warehouses are the central part of any supply chain. With supply chains becoming more complex, customer expectations are rising higher than ever! So, staying competitive in the new fulfilment economy is a must.
If the warehouse management process is inbuilt into your ERP, you can analyze the best use of floor space using your customized aspects. Besides, your team will no longer have to waste time locating products; they'll know where everything is.
Also, your team members will know the current status of proper inventory levels. The automated processes improve packing, picking, and shipping accuracy. You can track products from incoming shipments to outgoing orders with batch, lot, and serial numbers.
Electronic Data Interchange and Retailer Compliance
Electronic Data Interchange (EDI) is data transfer between business partners without human intervention. With EDI, companies can create and send all information and documents. As a result, EDI improves accessibility, and security reduces the risk of data loss and enhances transaction speed.
ERP built with EDI will help firms manage supply chain contacts. EDI helps begin processing and ensures standardizing of all the documents.
A distribution ERP built-in with EDI manages shipping labels, in-full shipments, and various other compliance requirements. Also, EDI ensures the safeguarding of customer ties and reduces fines.
Sales Order Management
Sales order management ensures the automation of all the steps of the sales process. The automation includes receipt, fulfilment, tracking, and approval. Also, you can see detailed inventory, shipment information, order status, and customer interactions in real time.
Your company can also create specific rules for how your business receives, delivers, and fulfils orders. Also, your company's financial team has an idea of the impact on gross profit as the sales come in.
The sales process, indeed, has many challenges. But with the distribution of ERP software, things become easier. Real-time monitoring access and automated workflows across inventory can help you get accurate quotes and billing information. Then, you can determine the best fulfilment options with a touch.
In addition, the self-service customer portals make clients feel in control of their orders as they can make changes and track progress anytime. The ERP software helps maintain profit rates and enhance customer satisfaction.
Business Intelligence
With a distribution ERP solution, you can grow your business. Your company can achieve new heights with Business Intelligence (BI) built into your distribution ERP.
BI will give your company strategic insights into the performance metrics and help you unravel new trends. With BI, you can map out strategies and grow your business.
A distribution ERP solution with BI will help you organize, store and analyze heaps of data into clear insights. To grow your distribution business, powerful BI capabilities are a must. Your company can see the patterns and trends, forecast market shifts, and adjust plans.
When Do You Need A Distribution ERP?
If you need clarification on whether you need to install distribution ERP to improve your business processes, we're here to help.
The following five points will help you understand whether you'll enjoy the distribution ERP software.
1. Your Data is Not Organized
Clarity and detailed breakdown of data are essential elements for a distributor in today's market.
If you work with an ERP that isn't designed to meet your specific industry requirements, your data will be all over the place. In such a way, there are high risks that you'll be working with inaccurate or old data.
But, with a distribution ERP, you can maintain all your data in a centralized platform, where a single source of information will be available to all the departments.
2. Your Customers Aren't Satisfied
Happy customers equal successful business. It's as simple as that!
But, if you need help to keep up with the demands, fill orders and deliver them on time, and communicate, it's time for you to consider distribution ERP.
With an appropriate distribution ERP, you can streamline all your processes and keep your customers happy.
3. Your Company Can't Grow
With the growth in your customer base, your business grows. So, don't you think your software should too? With outdated software, your business won't be able to reach new heights.
With distribution ERP software, you can scale your business and maintain everything in one centralized location. Invest in a distribution ERP that enables your firm to grow without increasing overhead and labour.
4. Your Business Processes are Hefty
By streamlining your business workflow, your company can grow. But, if your team spends much time working on mundane tasks because they don't have a specific ERP to help them, it's a failure for your business.
Without distribution ERP, your team will have less time, resources, and energy to bring about better customer experiences resulting in poor business growth.
5. You Can't Keep Up with Business Demands
Industry-specific tools are the best option to keep up with the competitive pace and high demand of businesses. Yet, if your company still needs to change or adjust its business processes, a distribution ERP can help.
With a distribution ERP, you can meet your specific industry needs and improve your operational processes, visibility, agility, and profitability.
What are The Benefits of Distribution ERP Software?
While there are countless benefits to the distribution ERP, we'll focus on three crucial advantages:
Increase Revenue Growth
Drop Errors and Data Redundancy
Improve Inventory Management
1. Increase Revenue Growth
With distribution ERP merged into your business, all your sales data are available and updated in real time. And, with organized data, you can understand business revenue in-depth. As a result, your team will be in a better position to manage and identify cost variances.
You can also divide operational, human, and financial resources better. And, with streamlined processes, you'll see upward business growth, revenue expansion, and other benefits.
2. Cut Errors and Data Redundancy
Errors and redundant data are common when you use disparate software for such tasks. With a distribution ERP, companies can drop such mismatches and have complete visibility of all their business processes and operations. And it'll help companies manage their businesses better.
3. Improve Inventory Management
With an ERP for distribution business, you can save yourself from the tedious task of processing inventory management. By including distribution ERP, you can improve your management process. The end users can manage and track data across various warehouses giving real-time visibility to current inventory in costs and transit.
How to Adopt the Implementation of Distribution ERP Software?
To adopt the implementation of distribution ERP software, the following steps will help:
1. Involve the Team
Distribution ERP implementation will affect everybody in the company, from the CEO and business analyst to the warehouse manager. The departments using the system must have a representative in the implementation process. Users need to understand the ways ERP will affect their daily operations.
2. Understand your Business Needs
Your company must be clear about your business needs and goals. Learn about the reason why it's necessary to install a distribution ERP.
An ERP streamlines operations, adds value, and creates efficiencies. But, unfortunately, a distributed ERP isn't cheap. So, ensure that you have valid reasons to get an ERP.
3. Develop a Realistic Timeline
Implementation isn't a one-day process. But, the time it takes is worth it. Manage your expectations in meeting your deadlines. Including time for training and testing to work through your implementation is also crucial. Learn every nook and corner of the ERP and ensure complete adoption. In the long run, you'll see an improvement in the ROI.
Final Words
From the above analysis, it has become clear what a distributed ERP is and how it benefits the various sectors of the distribution business.
Distribution ERP software offers industry-specific features that'll help you boost efficiency, enhance business processes and heighten customer satisfaction. Get in touch with the best vendor of distribution ERP and speed up your business.
---
ⓘ LAFFAZ is not responsible for the content of external sites. Users are required to read and abide by our Terms & Conditions.