FAAD Network is a Gurgaon-based Investor Network that helps early-stage ventures by providing them access to the right network and capital. The firm is sector agnostic and deals with ticket sizes starting from $50K to $1 million.

Origin of FAAD
Started in 2015 by Dr Dinesh Singh and Karan Verma as a one-stop solution for all entrepreneurial needs such as content services, public relations, co-founder matchmaking and more; FAAD later was transformed into a member-based investor network handholding early-stage startups.
Aditya Arora, CEO of FAAD in a conversation with LAFFAZ earlier said…
"Two years into the investment business and we already have a healthy and quality portfolio of about 7 companies,"
"Our team is made up of seasoned investors and experienced entrepreneurs from a variety of backgrounds and disciplines, who collaborate with partners to help foster innovative ideas into successful businesses," he added.
Solutions offered by FAAD
Through its network, FAAD not only manages their portfolio but also ensures a steady and quality deal flow along with curating promising and the next game-changer startups and also helping them with documentation preparation. FAAD provides almost all startup solutions under one roof which includes:
Investor Deck documentation
Detailed Business Plan
Financial projections with Valuations
Building Term Sheets & Shareholding agreements for Investors
Fundraising through Angel Investor's/HNI's/VC firms/Fund houses.
Brand Equity (Celebrities, Newspapers, TV Channels etc.)
"We are not just working with startups for one fundraising round, but also helping them to grow the business and take them to blitz scaling and growth stage quickly. Opening these startups to our close network of active investors helps us to achieve that," said Aditya to LAFFAZ.
Unique propositions
FAAD works with flexible working models depending on the stage of the business and the kind of engagement required to be conducted. Every transaction is operated on a deal-by-deal basis. Apart from that, FAAD's stringent selection and curation of startups is what makes it unique.
Target audience
The firm operates PAN India with investors and startups to help solve the problems of early-stage fundraising in India. The key clients of FAAD include early-stage firms seeking to raise seed or Angel capital.
Growth Plans
This Investor Network firm is currently in the advanced stage of setting up an early-stage investment fund in a move to directly invest in our companies through this route and take its portfolio to 20 companies by the end of the first quarter of 2020.
Editor's note
In my opinion, the youth-led startups whether big or small, make the best startup stories. The time and age at which most of the students hunt for placement opportunities, 22-year-old Aditya made his breakthrough by collaborating with the right people at the right time to deploy his knowledge and ability in the sector. Our interview with Aditya earlier streamlines his journey and vision for FAAD – which I believe is really inspiring for the students and the young aspiring entrepreneurs of today's era.
Brand Digest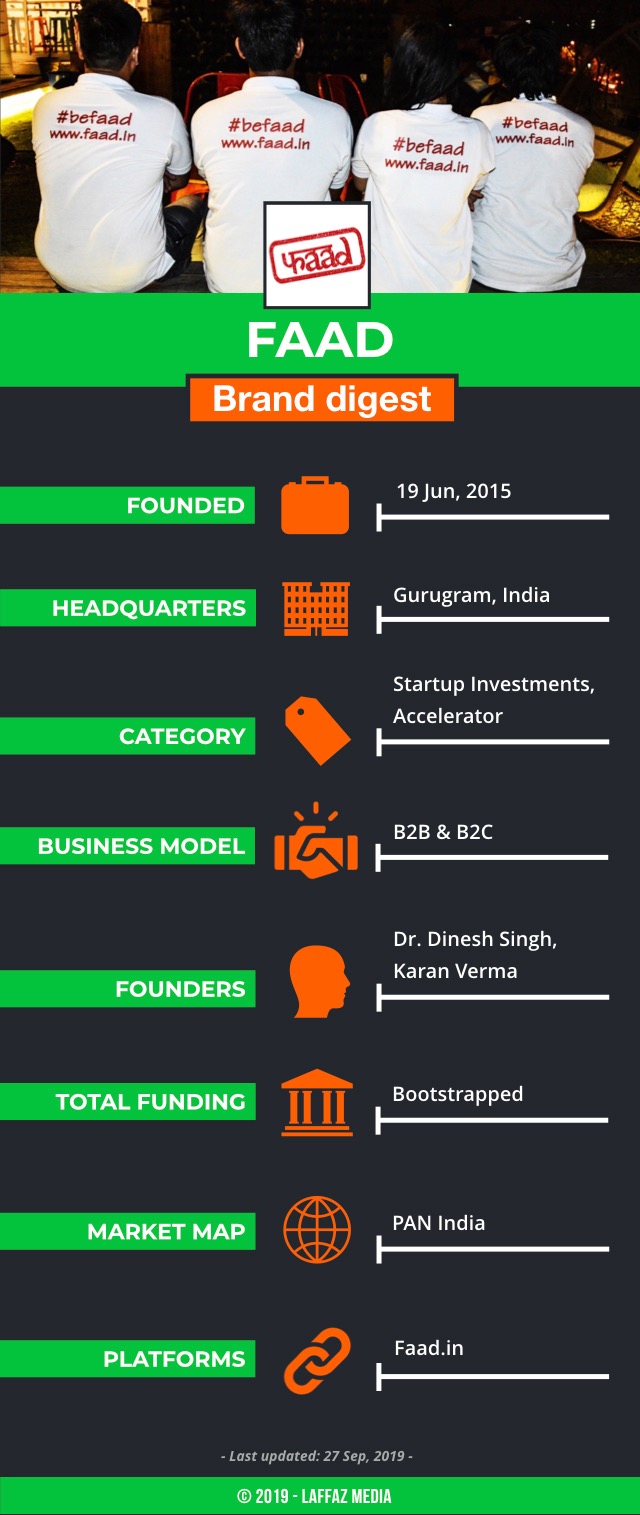 ---
P.S.- Read more startup stories like this under our startup stories column. If you wish to get your startup story covered, simply submit your startup details here ➜