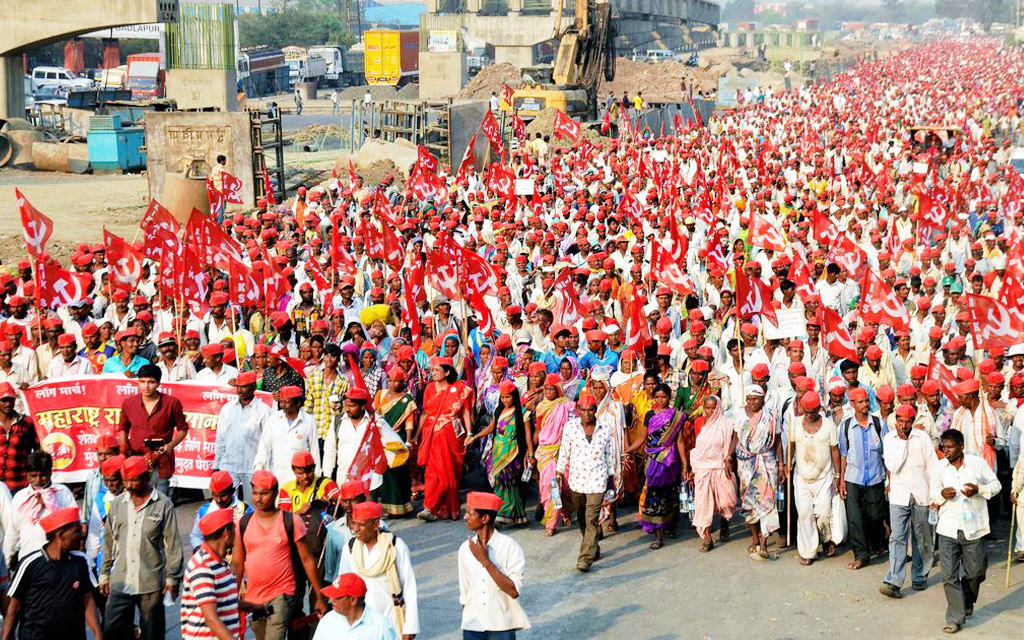 We often quote that, "If you ate today, thank the farmers," However, the increase in suicides and oppression on them surely speaks otherwise. The farmers protest in Maharashtra has become a subject of conversation and cause lately.

On 11th March 2018, after covering 180km on foot for over five days, 35000+ protesting farmers from across Maharashtra reached Mumbai and converged at Azad Maidan in south Mumbai. The protests were an outcome of a long-time pressure and came in with quite a few demands. Members of the All India Kisan Sabha (AIKS), the farmers' wing of Communist Party of India-Marxist (CPM), along with other farmers' unions were the ones holding the protest march, which launched from Nashik.
Cause and Demands of protests
Basically, the farmers wanted the state government to stop forceful acquisition of farmlands for projects such as superhighways and bullet trains. According to NDTV, they also wanted a compensation of Rs. 40,000 per acre for farmers whose crops were hit by hailstorm and pink bollworm. The reason for these demands was that crops that had been destroyed on a large scale due to unpredictable weather and poor rainfall.
While the state had announced a loan waiver scheme, the implementation had been patchy. The demands included implementation of the Swaminathan Commission recommendations which works in the favor of the farmers and hasn't yet been implemented. including an announcement of minimum support price for agriculture produce and a pension scheme for farmers.
The Scenario
Even though the farmers planned to begin their march towards the Vidhan Sabha after 11 am, they chose to walk at night so that the students appearing for their Board exams weren't affected and the traffic ran smoothly.
The Distressed farmers who didn't give up even in the difficult had earned the empathy of urban residents. As thousands of farmers, waving red flags, strode into Thane on Saturday night, residents flocked to the streets to interact with them.  
Three to four farmers collapse due to fatigue and heat, taken to JJ hospital in an ambulance. Vishwanath Bagare and Mirabai Mohan Badade, both aged men were among the thousands of farmers protesting. They said that they will not go home until their demands are met. Bagare's another reason to have an active participation in the protest was quite an emotional one. His 38-year-old son Somnath had committed suicide by consuming poison in 2011, as he was unable to repay the Rs 1.5 lakh loan taken in 2008. Many such cases had piled up to make the farmers put forth certain demands.
Outcome
Maharashtra chief minister Devendra Fadnavis held a high-level meeting to review the situation. After the meeting, he quoted that, "We are positive on the demands of the farmers. We have set up a six-member cabinet committee to discuss their demands,". He also said that he will pursue the matter with the Centre over its assurance of a minimum support price 1.5 times the cost of production.
Arrangements were made for two special trains on Monday evening to take back the protesters to their hometowns. The Central Railway has kept two trains ready. Around 100 railway police personnel had been deployed across CSMT, Byculla, Dadar, and LTT to assist farmers. So thus, the farmers had taken back their protests.
In conclusion
The Media Coverage of this situation seemed to be not as hyped up or concerned like other celebrity journalism. However, the issue this time seemed to have been taken under control and we hope the promises this time are met and rather not forced into another set of protests.
---
ⓘ LAFFAZ is not responsible for the content of external sites. Users are required to read and abide by our Terms & Conditions.