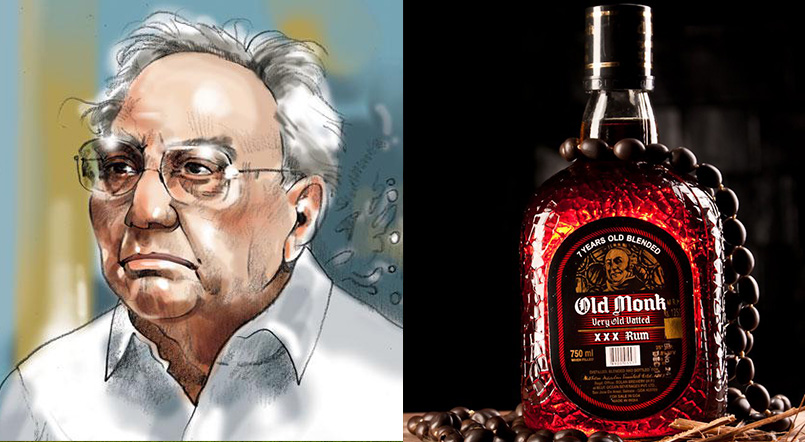 It was not a very pleasant day on January 6, 2018 when the news spread like wildfire about the unfortunate demise of the long standing chairman of India's first brewery brand Old Monk, Brigadier (retd.) Kapil Mohan at the age of 88.

People all around India were mourning his death and expressing their emotions over different platforms especially Twitter.
A big cheer to the legend for transforming Hercules into Old Monk. #KapilMohan pic.twitter.com/7HRQ8PNGCd

— Social Sonu (@SocialSonu) January 8, 2018
Rest in peace Brig #KapilMohan, the man behind #OldMonk. You have touched millions lives pic.twitter.com/klyAcCy1CH

— Gautam Chintamani (@GChintamani) January 8, 2018




Out of all the rueful tweets that were dedicated to him, what created a stir in my head was the fact that all of the tweets regarded him as the guy who created Old Monk, a well-known rum brand. Of course he did that and nobody can take his credit away from him. I already knew that he was retired army personnel but when my curiosity to find out more about him kicked in and I searched for his achievements on Google, I was disappointed with the results. I felt as the articles and pages written on him did not do justice to him. But why only remember him for this one achievement. One should not overlook his procurements in the field of Indian army.
His Achievements as an Army Personnel
So here I am, highlighting his contributions in Indian Armed forces and the achievements that are much more salient than the only one he's known for.
He was a recipient of the Vishisht Seva Medal which is given to recognize "distinguished service of an exceptional order" to all ranks of the Indian armed forces and served till the rank of brigadier until he retired.
And one can just not ignore the fact that he was the recipient of the fourth highest Indian civilian award — Padma Shri for his distinguished service in the year 2010. In addition to this, he was also a patron of the General Mohyal Sabha, the apex body of the Mohyal community. Also, he had attained a doctoral degree (a.k.a. Phd).
The other side of the story
Now let's flip the coin and look at the other side of the story. Everybody is lamenting India's  "Rum Guru's" death, but did anyone put any concern on what is getting conveyed into the world.
Though he was made the chairman after his elder brother Colonel Ved Ratan Mohan, who gave birth to the infamous rum brand the creation of Old Monk wasn't a thing of greatness or prosperity as the world perceives it. It made people drunk retards. And it is evident in a tweet posted by one of the Twitteratis.
#RIP Brig Dr Kapil Mohan, chairman of Mohan Meakins Breweries, makers of the iconic Old Monk dark rum passed away; let's mourn tonite with a bottle of rum and thumsup#oldmonk #kapilmohan pic.twitter.com/RmO3qOc18S

— Nushka (@ghosh_anushka) January 8, 2018
And this is a fact that this man was celebrated only and only because of his rum brand. Seriously? Then what is the sense of the honorable Supreme Court putting advisory on hoardings and on clippings that showcase consumption of alcohol. Aren't the government's efforts to aware people of the ill effects of alcohol consumption going a waste of time? Is it fair to call it a "contribution to the mankind"?
We have to move in the forward direction when it comes to awareness and education regarding such topics, not to drift back again. Even if the advertisements of the so called "Music CDs" and the social media posts containing alcoholic beverages seem to be appealing; but it isn't, at least for your health!
Presumably, it was Kapil Mohan's responsibility to manage and take up his family business in his hands. Similarly, we as the youth of the nation have a bigger responsibility. And ours is to figure out what is good for us and what is certainly not. We should not succumb to a practice just because it is a "fad".
The alcoholism is on the high rise but I totally don't want to spend the first half of my life behaving like a retard and making mistakes while drunk and then regretting all of them during the rest half. Trust me, I have seen people doing that, sometimes instantly.
Over to you
I seriously have no concrete issues with Old Monk; what piss me off is the fact that a man is being remembered for an alcohol brand instead of the actual contribution to the country. This is my side of opinion, let me know about yours in the comments section below.
Also, try sharing this article instead of your drinks 🙂
---
ⓘ LAFFAZ is not responsible for the content of external sites. Users are required to read and abide by our Terms & Conditions.