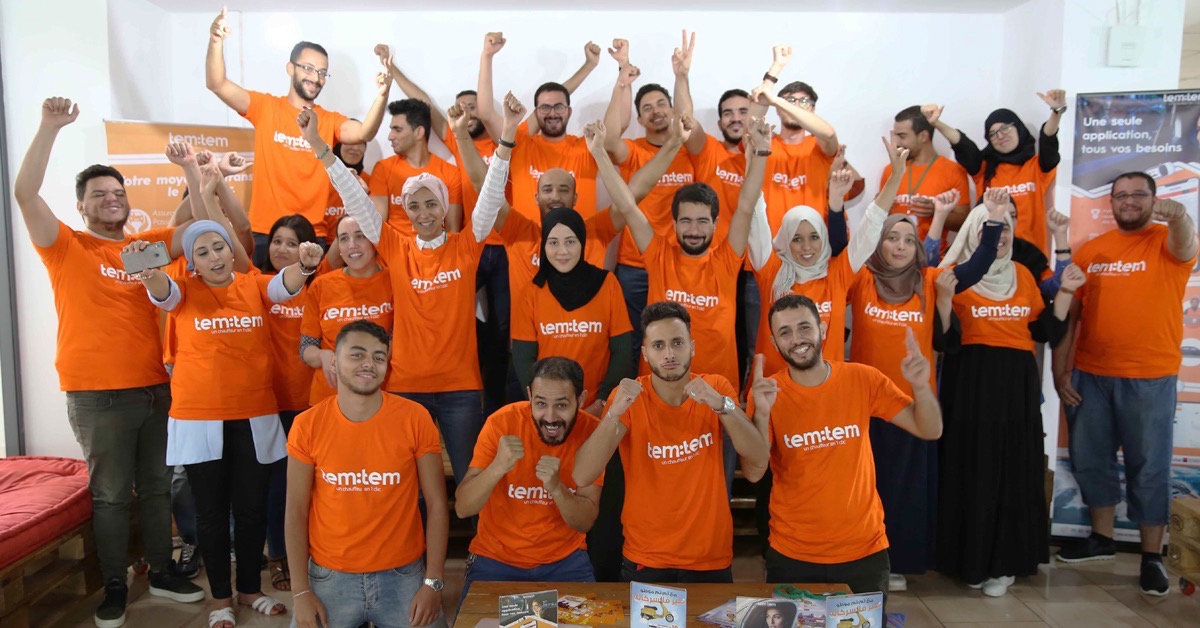 Algiers, Algeria-based ride-hailing startup was started by the serial entrepreneur Kamel Haddar in 2018 to fill the dearth of on-demand mobility services in the region. temtem deploys multiple vehicle types and options such as Economy, Premium and Bike for the users to choose as preferred. But that's not all temtem has to offer. The company also provides delivery services via bikes, cars and trucks. Both individuals and businesses can leverage the benefits of temtem through its seamless mobile app and web portal.

Core Cognition behind temtem
The serial entrepreneur and investor Kamel Haddar, recognized the need to revamp Algeria's transport infrastructure and address the logistical concerns throughout the congested and developing cities in the region; and deployed his years of expertise in IT and consulting to finally come up with a technological avenue that can benefit the country.
In a conversation with LAFFAZ recently, temtem CEO, Haddar commented…
"Algeria requires an infrastructural revamp and the most viable and effective approach is to build technological avenues that can address the need and grow as time and technology evolve"
Unique propositions
Superficially, temtem is about fulfilling the logistical concerns, but what makes it stand out is its prudent focus on quality, that encompasses: Rigorous driver selection, proper driver onboarding procedure, continuous coaching, 24/7 customer service, exceptional B2B experience, diversified options, and strong and stable technologies for seamless user-experience. Very soon, the company is also launching a driver procurement application to facilitate insurance and other benefits for its drivers.
"We value our drivers above all as they are the key executors of temtem, thus we wholeheartedly go an extra mile to take care of their daily lives and families – very soon we'll be launching a driver procurement application through which our drivers will be able to opt for services like health insurance, car insurance, after-sale service with car manufacturers and more."

Says Lies Mollard, COO of temtem to LAFFAZ.




Userbase
The startup targets students, work commuters and everybody falling between 15 to 70 years age-group. Currently operational in all big cities of Algeria including, Algiers, Oran, Constantine, Setif and Annaba. So far, temtem has able to attract a gigantic number of 200,000 clients and growing rapidly.
Growth Plans
The company had raised $1.7 million seed funding in July last year and also a whopping $4 million in a Series A round from Tell Venture Automotive in September – that marks the biggest Series A funding in Algeria until now. At present, the startup is taking giant leaps in improving customer experience and collaborating with strategic partners and telecommunication authorities and audiovisual industries. The company will be raising its next round of funding from Tell Venture Automotive next year to tap into other Western and Northern African countries within two years.
Editor's Note
While we come across mobility and logistics startups daily, but what makes any business strong is its quality, and focus on bringing the change. temtem beats all constraints in terms of making the much-demanded services available for the people, effective utilisation of technology and also, building a team-focused strategy.
Brand Digest

---
P.S.- Read more startup stories like this under our startup stories column. If you wish to get your startup story covered, simply submit your startup details here ➜
---
ⓘ LAFFAZ is not responsible for the content of external sites. Users are required to read and abide by our Terms & Conditions.