Since the financial year has come to an end, it is the right time to be talking about the drastic growth of the MENA startup ecosystem in 2019. According to the recent report by Magnitt, the 2019 Venture Investment Summary, the startups of the region attracted a total venture capital of $704 million across 564 startups where UAE, Egypt and KSA topped the list.
Country-wise distribution of VC funding
Egypt stands at 141 deals out of total 564 VC funding deals – raising $98.6 million; with UAE raising a whopping 60 percent of the total VC investment i.e. $422.4 million; and KSA having 9 percent share of the total VC investments – showing a 3 percent growth compared to 2018 followed by Jordan and Lebanon.
Most active investors
500 Startups, OQAL, Pride Capital, Vision Ventures and Wamda Capital tops the VC investors list of MENA in 2019 by investing in over 10 startups across the region.
When it comes to accelerators, Changelabs, Falak Startups, Flat6Labs, Misk500, Seedstars, Vision Ventures, Oasis500, Oman Technology Fund (OTF), Savour, and Startupbootcamp topped the list by accelerating over 10 startups across the MENA region.
2019 MENA – Top Startup Fundings
The following list of startups can undoubtedly be regarded as the soonicorns of the MENA startup ecosystems for earning gigantic rounds of funding and reputation in the region.
EMPG (Emerging Markets Property Group): UAE-based real-estate giant, also the parent company of multiple real-estate platforms Bayut (UAE), Zameen.com (Pakistan), Bproperty.com (Bangladesh), and Mubawab (Morocco) raised $100 million in a Series D round from Exor Seeds and KCK group in February 2019.
Yellow Door Energy: A gigantic Series A round came for UAE's sustainable energy provider in January 2019 from a pack investors including IFC, Mitsui, Equinor, APICORP and Adenium.
Swvl: The mobility giant raised marked a benchmark for the Egyptian startup ecosystem by scooping the largest ever funding round in the country of $42 million from an assembly of investors including Arzan, BECO, Bluestone, DASH, Endeavor Catalyst, MSA, OTF Jasoor, Sawari, and Vostok
awok.com: Dubai's e-commerce soonicorn raised $30 million in a Series A round led by Al Faisaliah Group, Endeavor Catalyst, and StonePine Ace Partners.
TruKKer: Dubai's logistics startup raised $23 million in a Series A round led by Endeavor Catalyst, IFC (International Finance Corporation – World Bank), ILIAD Partners, OTF Jasoor, RTF, Shorooq Partners, and STV
Ekar: UAE's pay-per-minute car-sharing startup raised $17.5 million in a Series B round from Al Yemni Group, Audacia Capital, and Polymath Ventures.
Bayzat: UAE's real estate platform owned by EMPG raised 16 million in a Series B round from Endeavor Catalyst, Greyhound Capital, Mubadala, Point72 Ventures, and Tech Invest Com
Adzily: Hailing from the Sheikh Zayed City, Egypt, the the indoor advertising startup raised $12.2 million from Saudi's Al-Tharawat Private Investment Holding Company.
Jamalon: Who doesn't know about the online book retailer from Jordan, Jamalon raised $10 million in a Series B round from 500 Startups, Anova Investments, Aramax, Endeavor Catalyst, and Wamda.
Mawdoo3: Jordan's online Arabic content journal, often regarded as the Wikipedia of the Middle East raised $10 million in its second Series B round led by Adam Tech Ventures, Endeavor Catalyst, Kingsway Capital, Endure Capital, and Choueiri Group.
Fetchr: Dubai, UAE-based logistics giant raised $10 million from Iyad Malas (former CEO of Majid Al Futtaim), and Hussein Hachem (former CEO of Aramax).
Top sectors
Taking two clear metrics into account i.e. Number of Deals and Funding Amount, Fintech, E-commerce, Delivery & Transport, IT Solutions, Food & Beverage, Real Estate, Renewable Energy were the hottest sectors of MENA startup ecosystem in 2019.
Top sectors by number of deals
According to the Magnitt report, in terms of the number of deals, the top sectors which stood at top are Fintech (13 percent), E-commerce (11 percent), Delivery & Transport (9 percent), IT solutions (8 percent), and Food & Beverage (6 percent).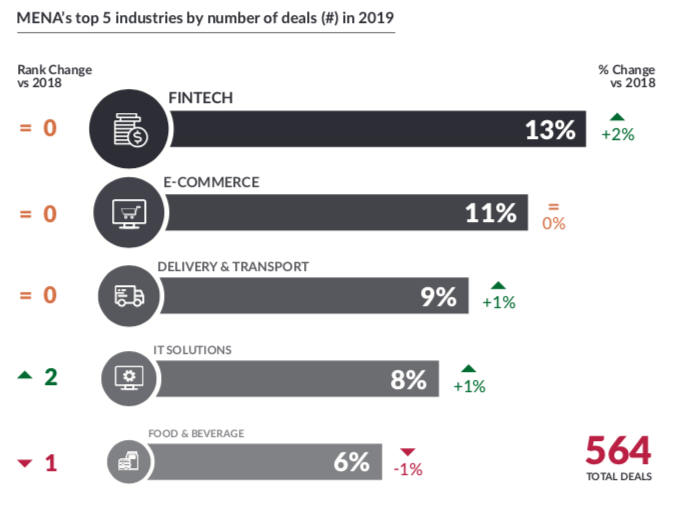 Top sectors by funding amount
The funding share in terms of the amount raised by startups across sectors is Delivery & Transport (19 percent), Real Estate (15 percent), E-commerce (14 percent), Fintech (11 percent), and Renewable Energy (9 percent).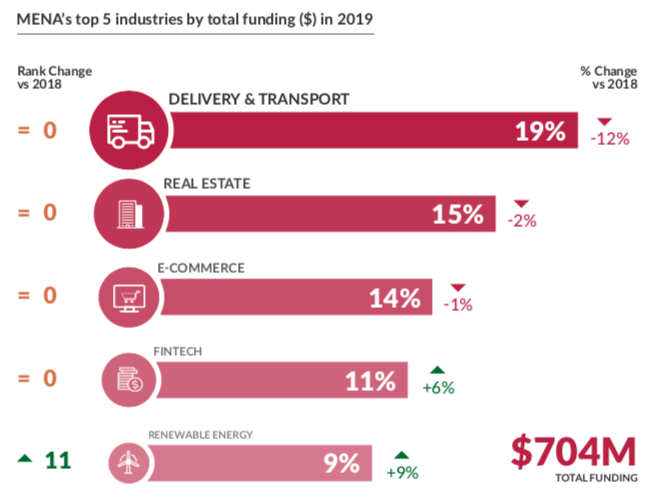 Biggest acquisition
UAE's ride-hailing unicorn Careem by the end of 2019 witnessed the final talks of the acquisition with Uber who surpassed regulatory hurdles from various competition watchdogs, the final one out of which was the approval by Egyptian Competition Authority (ECA) which came on 29th December leading to the acquisition of Careem by Uber for $3.1 billion on January 2 2020 – marks the first-ever unicorn exit in the MENA region.
Keynotes
The rise in accelerators is a reflection of the increased maturity of entrepreneurs and startups, but also the concentration of funding in later stages, creating a bigger need for the steady pipeline of high-potential entrepreneurs coming out of the accelerators, making them essential for the growth of the whole industry.

– Dina El-Shenoufy, Chief Investment Officer (CIO), Flat6Labs
The establishment of new venture capital firms, as well as VCs launching follow-on funds, is a very positive step for the region – it increases the ability for regional funds to lead larger rounds as their portfolio companies grow, furthering self-reliance for the ecosystem. That said,
the gap to global benchmarks of capital deployed into ventures is still significant.

– Noor Sweid, Managing Partner, Global Ventures
Many corporates in MENA are risk-averse and still hesitant to explore the entrepreneurial landscape, as they prefer to focus on improving their core business. In the age of digitization, it is imperative for corporates to shift their mindset to accommodate for new technologies, rapidly changing consumer behaviors and new channels. Working with startups can be the most agile approach for corporates to execute faster, outsource R&D and change their internal culture.

– Roberto Croci, Managing Director, Microsoft for Startups MEA
The bottom line for any business is that it must keep pace with the rate of change in its industry, while trying to achieve a competitive advantage at the same time. Being actively involved in the region's start-up ecosystem is one way to ensure this. In many cases, it allows us to provide services much more quickly than if we had to develop them ourselves. We deal with entrepreneurs who bring fresh approaches and ideas, and by interacting with start-ups our own teams gain new skills and insights.

– Joe Abi Akl, Chief Corporate Development Officer, Majid Al Futtaim
FinTech will continue to be a popular industry for investors and entrepreneurs as new FinTech startups emerge to enable financial services across the value chain. We'll also see mature ones raise larger rounds as they look to become fully regulated, since there has been no traction in partnerships with traditional players.

– Talal Bayaa, Chief Executive Officers (CEO), Bayzat
Saudi Arabia has shifted up in the GCC and MENA ranking by both number of deals and total funding. There are three main reasons – first, the realization of the importance of SME investment; second, the availability of risk capital, resulting in creation of new or larger VC funds and third, embracing entrepreneurship as a respectable career path. We expect the invested capital to increase very significantly in the next five years.

– Ivo Detelinov, Head of Private Equity Funds, RTF
Money goes where opportunity exists. In Egypt, we have seen an increase in deals – not only because we have more local capital investing, but we are also seeing capital inflows from investors in the GCC and elsewhere. Local entrepreneurs are becoming more mature and they are solving larger scale problems in the country and beyond.

– Ahmed El Alfi, Chairman, Sawari Ventures
The logistics and mobility sector offers a lot of opportunities for technology-based efficiencies and innovation. I am confident that the sector will continue to attract significant investor attention given its fundamental value in the real economy and industry in general.

– Gaurav Biswas, Founder and Chief Executive Officer (CEO), TruKKer
The primary reason for the acceleration in exits is that tech companies in the region are starting to have scale, becoming attractive for global strategic players. Secondly, the Gulf countries offer emerging market growth rates without the currency risk, as they're mostly pegged to the Dollar. Finally, the average ticket size in the region has significantly increased in the last year, which allowed local players to make acquisitions.

– Michael Lahyani, CEO and Founder, PropertyFinder
Our region is one of enormous opportunity – half of the population is under 25 years and people are connected and receptive to new technologies. When we launched Careem back in 2012, we quickly realised that in order to succeed in scaling across the region, we would need to develop deep knowledge for each and every city we operate in. Every market has its nuances – from the regulatory framework it operates under, through to the physical infrastructure, through to the way customers prefer to interact and pay for our products and services. We hope that our efforts have set the way forward for other tech startups to approach expansion across the greater Middle East and that our deal with Uber will act as a catalyst for further investment into the ecosystem.

– Magnus Olsson, Co-Founder and Chief Experience Officer, Careem
Over to you…
Through this feature article, we tried bringing forth all the growth aspects and highlights of the MENA startup ecosystem from 2019, whilst accumulating cornerstone information from Magnitt – the leading startup and investments data platform of the MENA region.
---