According to a recent report by Magnitt, 2019 Saudi Arabia Venture Capital Snapshot, 2019 is a record year for the Saudi startup ecosystem with a total of 71 investment deals raising over $67 million. This comes as 92 percent growth in terms of the number of deals and 35 percent growth in terms of the amount of VC fundings raised compared to that of 2018.

Now Saudi Arabia stands on the third position in MENA after UAE ($426 Mn) and Egypt ($95 Mn) in terms of the total funding raised in the year 2019; followed by Jordan ($41 Mn), Lebanon ($29 Mn), Kuwait ($21 Mn), Bahrain ($6 Mn) and Oman ($6 Mn) among others.
The founder & CEO of Magnitt considers the government's clear focus on boosting entrepreneurship and startup ecosystem of KSA and its alignment with Vision 2030 as the key factor behind this growth.
"With the government clearly identifying innovation and entrepreneurship as one of their key focuses in line with Vision 2030, many new initiatives have been launched in 2018 and 2019. Usually, these initiatives take time to come to fruition, but we have already seen their impact on the ecosystem in the country and the wider MENA region."

– Philip Bahoshy, Founder & CEO, Magnitt
Most active investors
The two newly established accelerators, Misk Innovation was among the most active investment facilitators in Saudi Arabia in 2019, with 500 Startups investing in over 20 Saudi startups – followed by OQAL and Saudi Venture Capital Company among others.
Top startup fundings
The Riyadh-based Noon Academy stands to the top with total funding raised $8.6 million followed by Nana Direct ($6.6 Mn), Dokkan Afkar ($5 Mn), TmmmT Tech ($4 Mn), Foodics ($4 Mn) and Nejree ($4 Mn).
Top Industries
According to the report, E-commerce and Delivery & Transport sectors have shown the highest growth both in terms of the number of deals and amount of VC funding raised. The numbers and percentages are given as: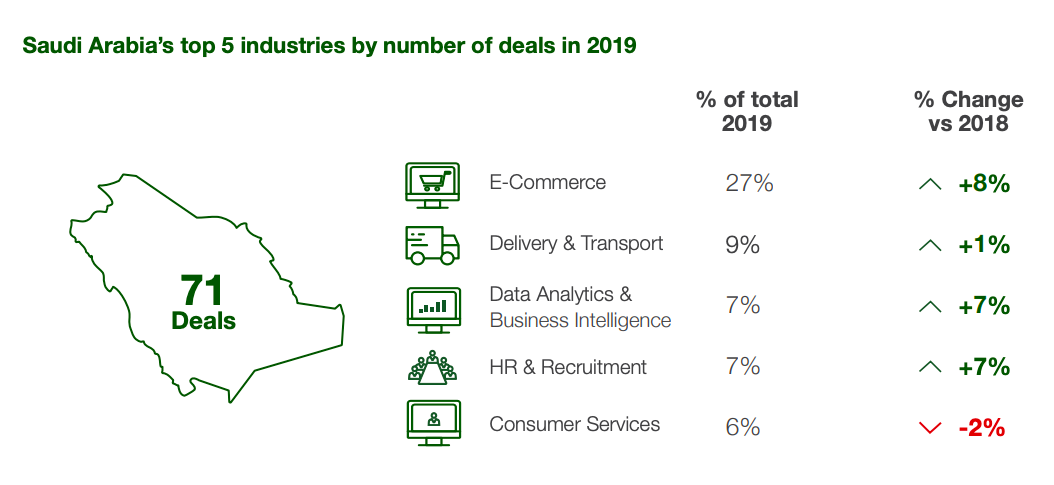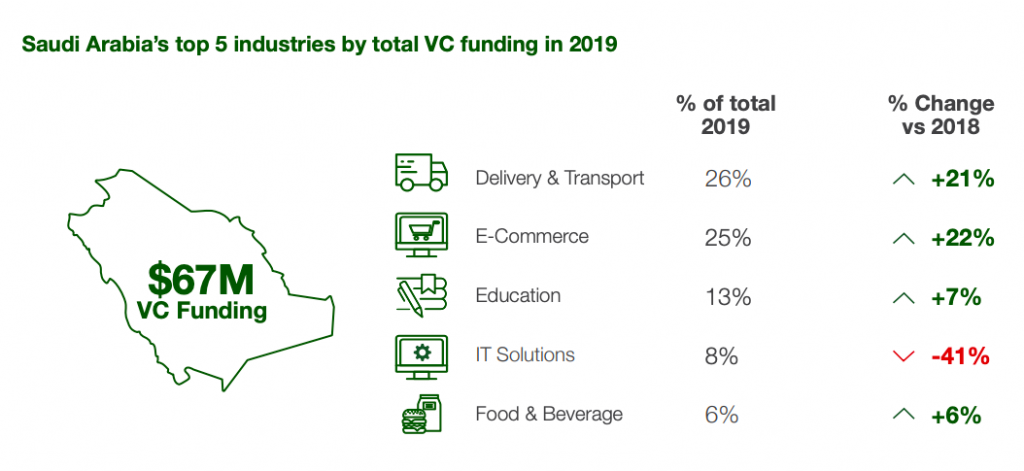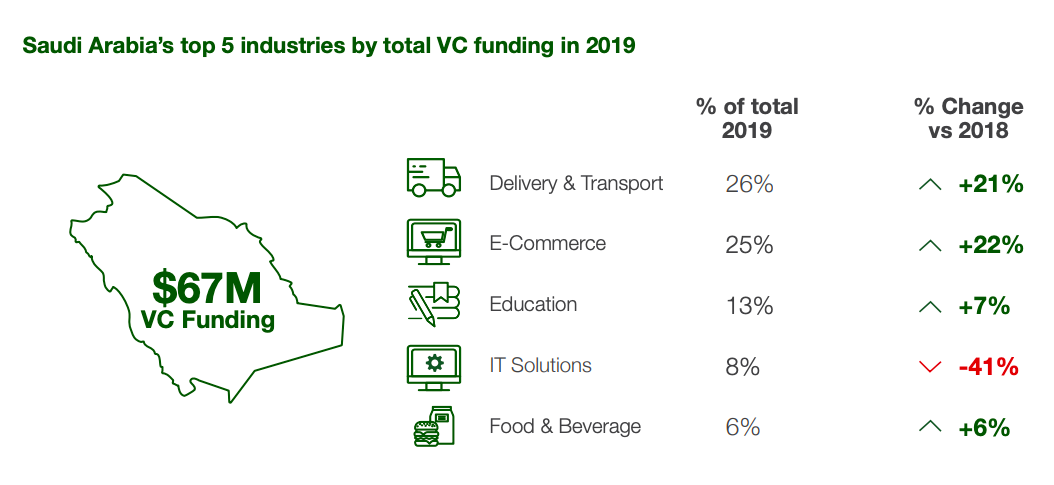 Keynotes
"We are proud of the remarkable increase in value and volume of early-stage investments in Saudi Arabia via the Saudi Venture Capital Company (SVC) and its partners. SVC, which was initiated by Monsha'at to address the needs of entrepreneurs and SMEs by increasing access to financing across all stages, makes it easier to conduct business and ensure long-term success by deploying a total of ~SAR 2.8B across different investment vehicles. In 2020, we are eager to establish a bank for SMEs, with the aim of providing financial resources and solutions, including lending, capital funding, and advisory services in line with the best practices. We anticipate a more effective entrepreneurial environment through business incubators, accelerators and innovation centers which will result in higher quality startups and will lead to better deal flow and consequently a more dynamic venture capital environment with greater activities carried out by VCs."

– Mohammed Almalki, VP of Funding, Monsha'at
"The fact that SVC have access to funds enables us to push forward quality investments in the market, because of the stringent criteria that we apply in deciding which investment to match. Furthermore, SVC is well-placed to be the spearhead of quality investment by covering the capital gap in the market and by providing a strategy to mitigate failures through diversification of the risk for investors."

– Nora Alsarhan, Investment Director, SVC
As Saudi moves forward to achieve the Vision 2030, we will see a few trends. First, more investors will continue entering the market, utilizing government support. Second, we will see corporates evaluating their innovation strategy, which has been sorely missing in the ecosystem from a startup engagement perspective. Third, experienced employees will leave their jobs to start companies within their field of expertise, disrupting some industries such as FinTech.

– Ahmed AlJabreen, Venture Partner, 500 Startups
---
For more insights, download the 2019 Saudi Arabia Venture Capital Snapshot