Founded in 2009 by the two IITians Pradeep Chopra and Kapil Nakra – Delhi-based edtech startup Digital Vidya is one of India's leading Digital Marketing education platforms. But what makes Digital Vidya a pioneer institute is the wondrous story behind its genesis. Let's know more about it.

The genesis of Digital Vidya
In the year 2000, after graduating from IIT, Pradeep and Kapil were trying to sell a product that they had created. But nothing worked despite trying all Marketing and Sales mechanisms. One fine day, they witnessed one conversion from the US – which actually happened as a result of a random SEO activity that they had implemented on the website.
That was the Eureka moment that unlocked their way to sell their product steadily and progressed further, passing the learning curves and numerous discoveries of the Online Marketing domain. Their digital way of marketing and selling products ushered them to consult business owners and brands. For a couple of years, they obliged and imparted Digital Marketing knowledge informally.
It was in the year 2009 that they decided to offer formal training sessions. Initially, they began with Social Media Marketing workshops for which they were able to attract a massive audience and great response.
In the year 2013, Digital Vidya launched its first Digital Marketing Course called CDMM – entailing students, marketers and business owners to register and gain access to the study material and online instructor-led training sessions.
Funding and Acquisitions
Currently a team of 60 people, Digital Vidya has been bootstrapping successfully until now. Back in 2015, they acquired one of their competitors Digital Academy India whilst recruiting its existing resources and expertise to expand into the market bypassing time cost.
Products and Features
Digital Vidya has been leading customized Digital Marketing workshops for corporates since 2009, launched its first Digital Marketing course in 2013 and the first Data Science course in 2017. Here's a closer look into the company's major offerings.
1. Certified Digital Marketing Master Course (CDMM)
▸ Digital Marketing course with a practical approach of teaching.
▸ Digital Marketing trainers with up to 18+ years of experience.
▸ Online Training encompassing flexibility to learn from anywhere in the world.
▸ Lifetime access to the revised content.
▸ Exclusive Digital Marketing Internships on offer.
▸ 100% Placement Support.
▸ Digital Marketing Certifications by Internet Marketing Authorities.
2. Data Science Courses
▸ Data Science Master Course – Python specialisation.
▸ Data Analytics Certification Training with Excel and Power BI.
▸ Extensive hands-on assignments and in-depth curriculum.
▸ Industry-relevant content with systematic delivery.
▸ Individual attention and collaborative learning.
▸ 100% Placement Assistance.
▸ Capstone projects to put the learning to test.
3. Cyber-Security Courses
▸ Online instructor-led training with world-class content.
▸ Global cyber-security experts and mentors.
▸ High-value assignments and collaborative learning.
▸ Awareness of the latest cyber-security trends.
▸ 1-1 mentoring for placements.
Market Map
Digital Vidya is operational in over 55 countries and has trained 250+ corporates including Nokia, Sony, Discovery and IIM – touched 12,000+ brands through individual trainings and 35,000+ students till date, a big chunk of the userbase remains active to consume the updated content via Digital Vidya's learning management system.
USPs:
The founders of the company are one of the earliest to crack the digital marketing domain and serving the market for a very long time. Thus, Digital Vidya comes up with the adaptability to the ever-evolving industry and updated courses to address the market impactfully.
In a recent interview with Laffaz, Pradeep Chopra – CEO & Co-founder, Digital Vidya said…
We believe in transparency. We are committed to keeping our customer at the top of the pyramid. In our pursuit to becoming a product-driven company, we ensure that our trainings are the best in the industry. We are committed to delighting our customers and take a leap to help them wherever we can.
Growth Plans
The company is already serving globally and targeting students, junior-level professionals and corporates. In the coming years, Digital Vidya is planning to target more age-groups and expand extensively into the international markets particularly UAE and US with new-age technology courses such as cyber-security training, full-stack development, and finance, etc.
We are looking to venturing into new age technology courses. We have started working on products in cyber security training, full stack development, finance etc.

– Pradeep Chopra – CEO, Digital Vidya
In Summary…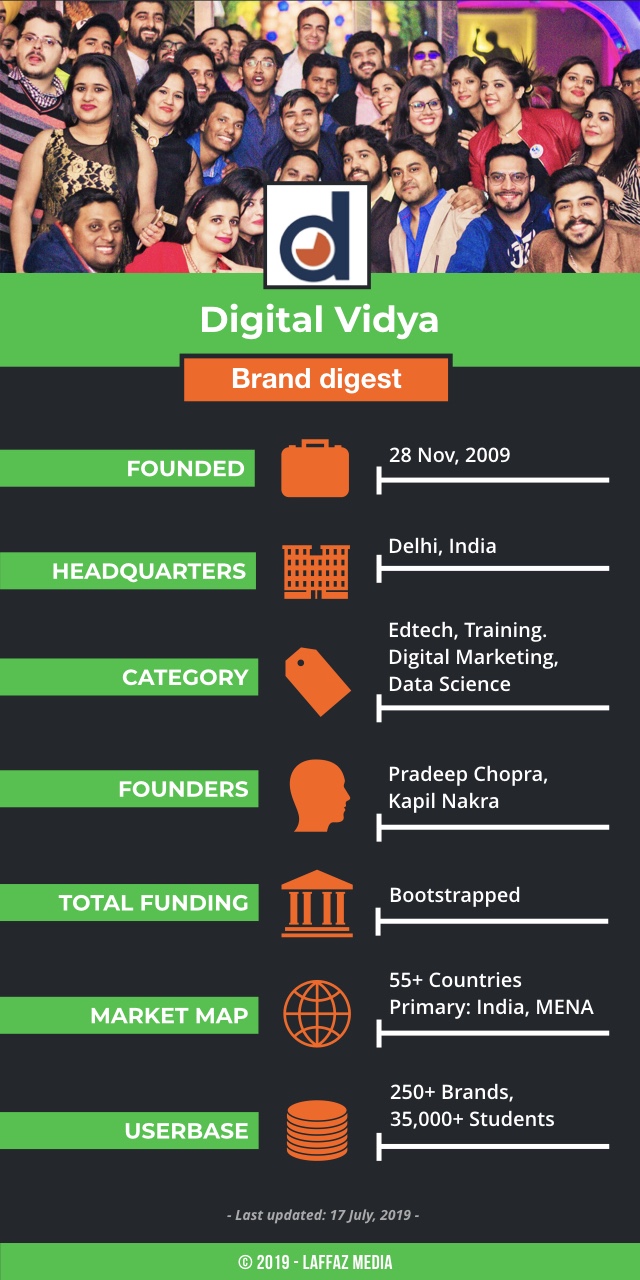 ---
P.S.- Read more startup stories like this under our startup stories column. If you wish to get your startup story covered, simply submit your startup details here ➜