The insurance sector in the Middle East is going through a huge disruption and stealth growth for the past few years. And when it comes to the UAE, the market houses a wide spectrum of government and non-government insurers including Dubai National Insurance and Reinsurance P.S.C., Abu Dhabi National Insurance Company, Emirates Insurance Company (PSC), Daman Insurance company, Dar Al Takaful among numerous others.

UAE's insurance sector growth
According to Statista, one of the leading global market research platforms, the growth in UAE's insurance industry market (life insurance & non-life insurance collectively) is expected to reach $13.2 billion by the end of 2020, to $14.4 billion in 2022, and $15.7 billion by 2024. This clearly states that UAE is affirmable of reaching the likes of insurtech to that of the US and UK.
---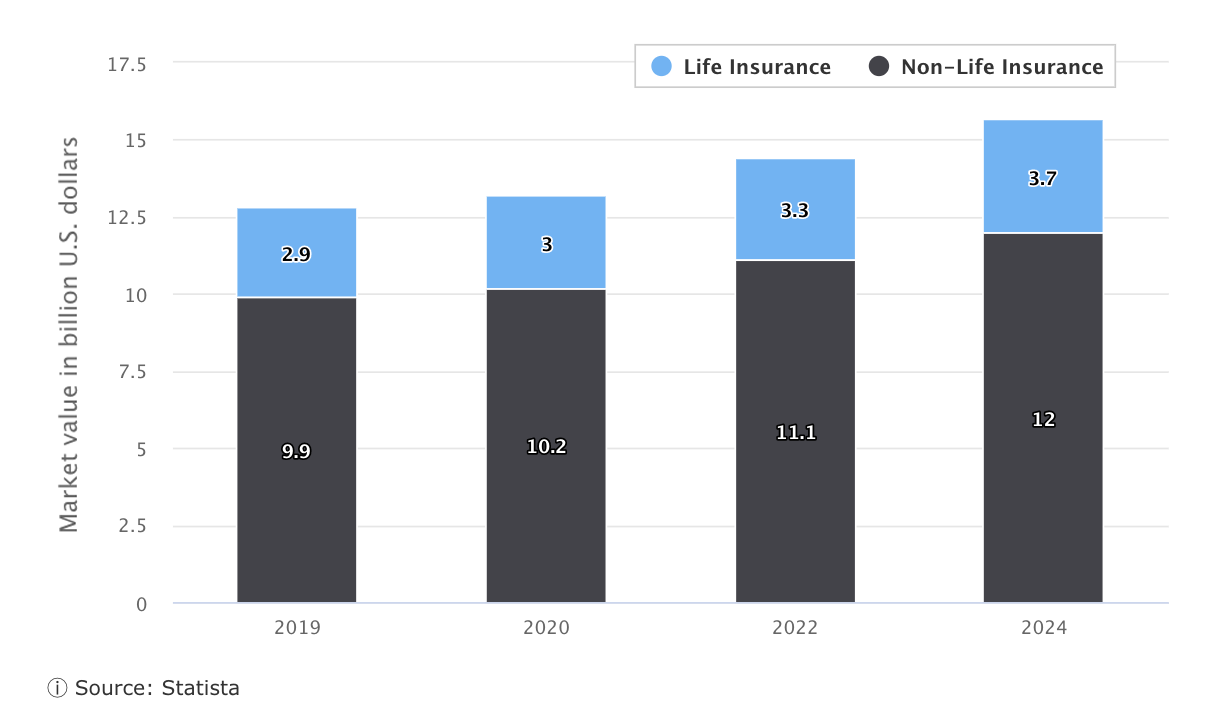 ---
But that's not all, UAE also stands tall among other emerging economies of GCC and the Middle East & North Africa (MENA) in terms of digital sales growth at present and in the upcoming years – which is majorly driven by digital insurers or insurtechs. The major reason behind insurtechs dominating the insurance sector is their higher customer experience, personalisation and demand.
About BuyAnyInsurance (BAI)
One such insurtech synergy headquartered in Dubai, UAE is BuyAnyInsurance.com that capitalises on the opportunity of market penetration of digital insurance domain and its expertise as an insurance aggregator that helps users compare various insurance options and make informed buying decisions. The startup works with a number of top insurers in the UAE and showcases an unbiased comparison of insurance services to the customers. The insurance types primarily include health, home, and car insurance, home and other insurance types.
The platform also offers an insanely easy method to the users seeking personalised insurance options for respective purposes.
BAI – Core cognition & Difference
The co-founder & COO of BuyAnyInsurance Mark Bachayani throughout his 15-year long span of working in the insurance sector, recognising the pain points of the users seeking insurance, and the gaps which are present across major insurance providers – clubbed with the digital expertise of Michael Ilyas (CEO) formed the genesis BuyAnyInsurance back in 2018.
The CEO of BuyAnyInsurance, Ilyas over a phone call told LAFFAZ that the company within a short span has become a go-to place for people to compare and purchase the right insurance products online hassle-free by giving a quote to the customers within 1-minute and up to 20 percent discount on insurance in the UAE.
"With a growing community of users and a supportive team, BuyAnyInsurance has become a go-to place for people to compare and purchase the right insurance products online. We're driven by innovation and each day we strive hard to ensure a seamless and convenient experience of our customers' financial journey." said Ilyas
Commenting over the expertise of the BuyAnyInsrance team and focus on customer support,
"The team at BuyAnyInsurance.com encompasses hand-picked experts who ensure consistent support, transparency, insurance expertise and a solution-based service to every customer." Ilyas added
Growth plans
BuyAnyInsurance is aiming to augment its technology, hire across teams, launch more customised insurance products, expand deeply in the UAE, scale brand awareness and digital footprint. The company is also planning to launch in a number of markets including Saudi Arabia, Oman, Lebanon, and Kuwait by the next year.
"To ease cost to customers while still providing necessary benefits, the company also plans to delve into these niches: micro-insurance and cyber insurance. As the company begins to make its mark in the UAE, plans are already underway to launch in Saudi Arabia, Oman, Lebanon, Bahrain and Kuwait." Bachayani told LAFFAZ
Editor's note
According to a report by KPMG 'Insurtech 10: Trends for 2019', 73 percent of the insurance CEOs personally prepare to lead their respective organisations through a radical transformation to remain competitive, in which two of the notable transformational trends are digitisation and expertise-driven workforce.
In accordance with the market analysis, there is no denying to the fact that insurtechs are the present and the future of the insurance sector globally. The traditional methods of insurance buying lack in terms of providing transparency, customised benefits, relaxation on pricing, and many other aspects which keep users uninformed of the crucial aspects of buying an insurance plan and its repercussions. But there come catalysts like BuyAnyInsurance to save the day for anybody looking for transparency, customisation, and relaxation whilst eliminating any money going into the agent's wallet.
Brand Digest