The agritech startup builds hyperlocal tech-enabled farms.
Employs modern forms of agriculture like hydroponics to grow a variety of crops indoors without soil and sunlight.
The water consumption is less than 20 percent of the traditional form of agriculture.
---
Farming v2 is a Delhi-based bootstrapped agritech startup that builds and operates hyperlocal tech-enabled farms, growing food indoors without the use of soil and sunlight.

Founded in January 2019 by Rohit Nagdewani, Farming v2 leverages modern forms of agriculture like hydroponics to grow food indoors in farms that are located in the middle of densely populated areas.
The water usage is also very minimal – 20 percent of the traditional soil agriculture and produces over 100+X the food, per acre. At scale, the cost of production of multiple crops like leafy greens, tomatoes, peppers, cucumbers, strawberries is also very lower than that of traditional farming.
Products & Services
The agritech startup produces leafy greens, herbs and edible flowers for both B2C and B2B customers. Varieties include Lettuce, Spinach, Swiss Chard, Buk Choi and herbs like Basil, Coriander, Mint, Parsley and more.
The startup sells its produce via subscription model to both the end customers and to B2B culinary establishments like restaurants, cafes, supermarkets etc.
Unique Propositions
Farming v2 is one of the very few agritech startups in India that does multiple jobs, not only produces food but also the technology behind it in order to minimise the cost of production and water consumption to far lower than the traditional farming methods.
"We are working on not just growing food but also on the technology behind it. We are using our own grow lights and our nutrition mix. We are working towards experimenting and growing regular consumption crops at scale whereas the competition is targeting niche markets. We also work with various methods of hydroponics, both indoor and outdoor," Said Rohit Nagdewani, Founder, Farming v2 to LAFFAZ
Moreover, the company enhances the purchase experience by utilising a subscription model to sell the produce to both B2C and B2B customers.
"For a fixed amount, we send 3-400grams of mixed veggies per week for a month and so on," Rohit added.
Growth Plans
The startup is in the middle of raising funds in an angel round to expand its team, number of farms and the variety of crops.
Farming v2 is currently working on developing 4 farms across India and growing tomatoes, cucumbers, peppers and strawberries.
The company aims to make its hyperlocal farms available globally in the near future.
Editor's note
Farming v2 is a catalyst creating a balance between the cost of farming and the produce – surpassing the traditional farming methods while building innovative technological avenues for cost-effective production. Agriculture being one of the most critical industry globally, we need more startups and institutions like Farming v2 paving towards an augmented agritech future.
Brand Digest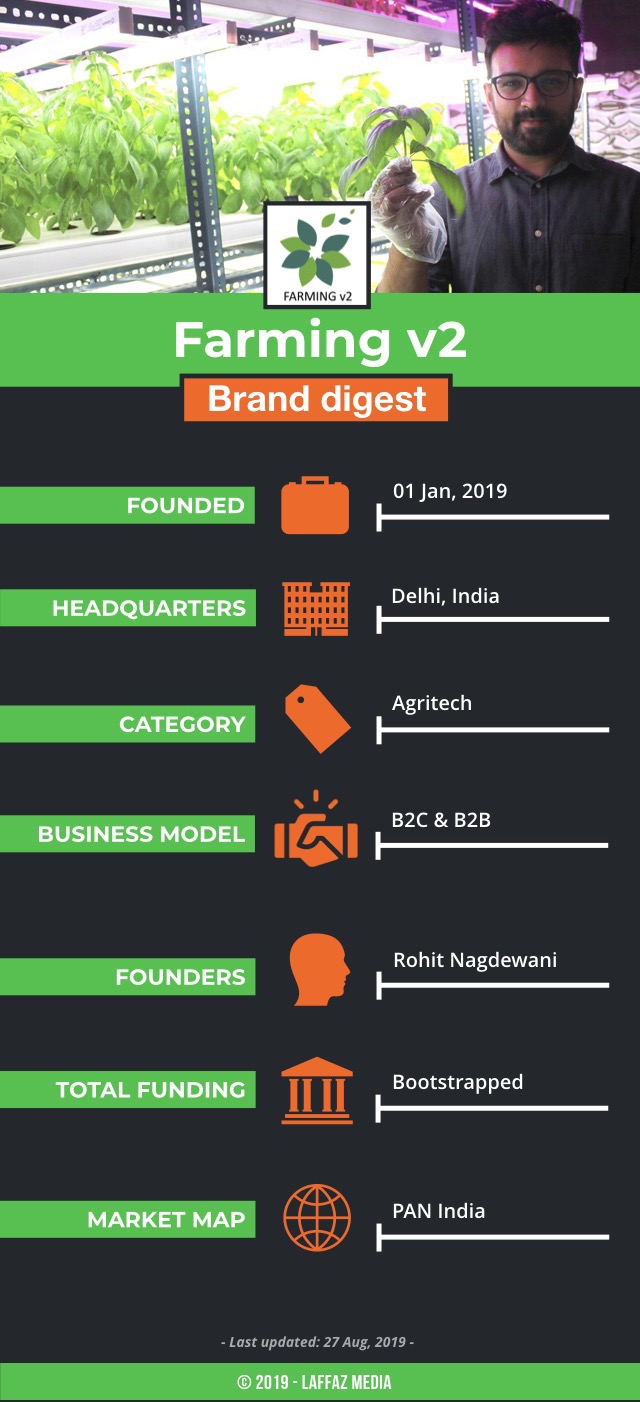 ---
P.S.- Read more startup stories like this under our startup stories column. If you wish to get your startup story covered, simply submit your startup details here ➜