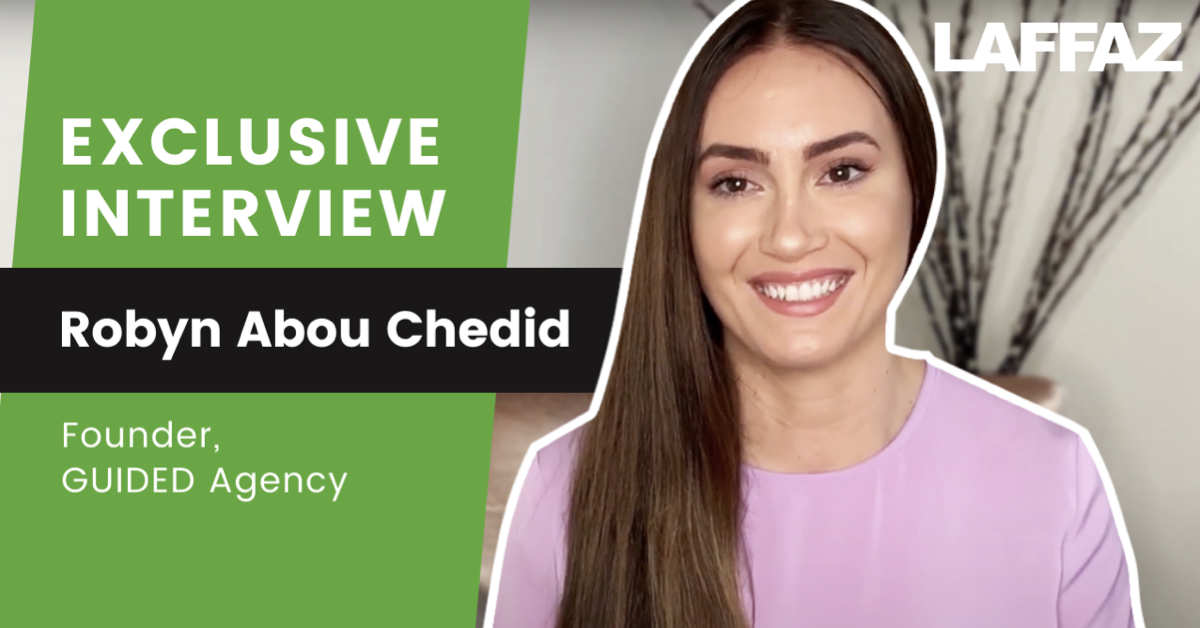 As we are slowly and steadily transitioning from the harsh COVID-19 crisis back to normalcy and reaching the new year 2021, we felt it really significant to come up with a goldmine of inspiration for our viewers.

Here's to Robyn Abou Chedid, an international award-winning influencer and established Executive Coach. Robyn has amassed years of experience in formulating integrated marketing strategies, has appeared on panels and moderated discussions on female career advancement, turned many online personalities into power influencers and coached executives to reach C-level status. In this conversation, Robyn enlisted some really noteworthy pieces of advice for entrepreneurs and even the ones who face criticism, and negativity and get their growth hindered due to a lack of self-belief.
Interview highlights
Robyn made many motivational remarks throughout the interview – delivering much-needed advice, and my personal favourites are:
"I'm a true believer that you are not a product of your circumstances, you are a product of your choices, so make sure that you make better choices,"
"We get lost and diluted when we keep focussing on what everyone else is doing, and when we do that, we fall into the trap of creating similar content like other people, sending out similar messages just like other people; and that's how you end up losing who you really are and the message that you are trying to project to the world,"
Speaking about the common mistakes that entrepreneurs make, Robyn shared,
"One of the biggest mistakes that I see today is that people try to perfect everything so early-on, while all the learning comes from testing in the market, evolving the product and evolving it fast. So have the courage to get the product out in the market,"




Advising on handling negative feedback, Robyn opined,
"Throughout your career, you'll get both positive and negative feedback, but an important advice is to not to take anything personally, but take it from their perspective and see how you can improve. Over time you'll learn what feedback to absorb and what not to absorb,"
About Robyn
Robyn has made a name for herself in the personal branding domain internationally. She devoted the whole last decade working in marketing across Europe, the Middle East and the Asia Pacific for various corporates and individuals – studying consumer behaviour and witnessing the fast-paced change in the online branding landscape.
According to Robyn, the insights about the industry she has garnered over the years not only helped her assess consumer behaviour but more importantly self-realisation that paved her success; as she rightly says "The first step in creating the life you want starts with you".
Earlier this year, Robyn founded GUIDED Agency with the vision of removing the fear of failure by creating a trusted environment with the right tools, knowledge and guidance. The strategy consulting company with experience amassed from APAC, Europe, the US and the GCC, aims to create competitive advantage, and strategic solutions, drive organic growth and optimal performance.
Editor's note
Robyn is definitely an inspiration for everyone trying to make turn their calling into success stories. With her own example and story, Robyn has extensively touched on various aspects both personal and professional. She emphasized key facets of entrepreneurship such as 'building a support system', 'establishing human connection', 'handling negative feedback', 'mistakes that entrepreneurs make', and much more.
If you find this conversation worthwhile, don't just keep it to yourself, and make sagacious use of it by sharing it with family and friends.
---
ⓘ LAFFAZ is not responsible for the content of external sites. Users are required to read and abide by our Terms & Conditions.