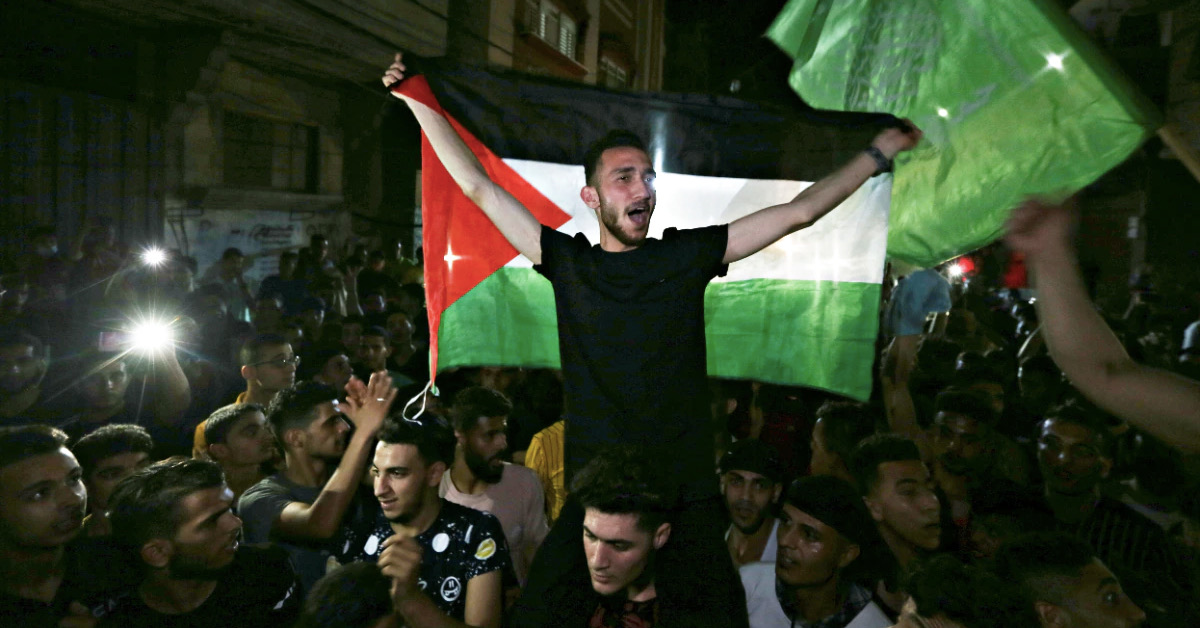 Featured image: Palestinians celebrate after the Israel-Hamas ceasefire; Credits: Reuters

---
Palestine and Israel agreed upon the Egyptian-mediated truce on Thursday
Both Israel and Hamas claimed victory
A special UNGA Palestine session was held on Thursday
Post-truce clashes arise at the al-Aqsa mosque compound in occupied East Jerusalem on Friday
---
Israel and Hamas agreed to a cease-fire Thursday, mediated by an Egyptian truce – putting stop to the 11-day war that caused widespread destruction in the Gaza Strip.
Israeli prime minister Benjamin Netanyahu's office announced that it has accepted the Egyptian proposal after a late-night meeting of the Security Cabinet with recommendations from Israel's military chief and top security officials. And Hamas accepted the same following the acceptance of the deal by Israel.
According to an Egypt's state-run MENA news agency, the truce came into effect from 2 am onwards, roughly three hours after the announcement.
Taher Nounou, a Hamas official, confirmed the deal by saying,
"The Palestinian resistance will commit itself to this deal as long as the occupation is committed,"
Israel-Hamas Conflict
According to various sources, the war erupted on Monday, May 10 when Hamas fired long-range rockets towards Jerusalem in retaliation to the attacks on Palestinian worshippers at the Al-Aqsa mosque compound by Israeli police earlier the same day. Heavy-handed police tactics at the compound, built on a site holy to Muslims and Jews, and the threatened eviction of dozens of Palestinians by Jewish settlers had inflamed tensions.
Cease-fire celebration in Palestine
On Friday, Palestinians started celebrating ceasefire like their first day of Eid.
Palestine-Israel death toll
According to various news reports, Israel conducted hundreds of airstrikes, saying it was focusing on Hamas' infrastructure, and Hamas fired thousands of rockets at Israeli cities from civilian areas, with most not reaching their targets.
Gaza health officials said 232 Palestinians, including 65 children and 36 women, are killed and more than 1,900 wounded in aerial bombardments. Israel said it had killed at least 160 combatants.
Authorities put the death toll in Israel at 12, with hundreds of people treated for injuries in rocket attacks that caused panic and sent people rushing into shelters.
Israeli bombing has damaged 50 schools across the besieged Gaza Strip in the last week, leaving thousands of Palestinians without an education, according to Save the Children.
Jason Lee, Save the Children's country director in the occupied Palestinian territories, said,
"The brutal truth is that no child is left unscathed, and time and time again, we see that children's lives are the hardest hit by conflict"
According to Middle East Eye, on Wednesday, the UN's agency for Palestinian refugees (UNWRA) said, 47,000 displaced people were having to use schools as shelters.
US mediation and aid for Gaza
After the Israel-Hamas agreement was reached, US president Joe Biden in his 4-minute speech from the Whitehouse, US President Joe Biden showcased his full support to replenish Israel's Iron Dome defense system.
Biden said the United States would work through the United Nations and other international stakeholders "to provide rapid humanitarian assistance and to marshal international support for the people in Gaza and in the Gaza reconstruction efforts."
As per the report by Reuters, Biden insisted that reconstruction aid would be provided in partnership with the Palestinian Authority and not with Hamas, which the United States labels a terrorist organization.
"We will do this in full partnership with the Palestinian Authority – not Hamas – in a manner that does not permit Hamas to simply restock its military arsenal," Biden said.
Israeli attack on Al-Jalaa building
Gaza city's 12-story building housing the local offices of the Associated Press and Al Jazeera was destroyed by an attack by Israel during the 11-day war. According to a report by Deadline, the Israeli military claimed that the building was also used by Hamas group and contained the military assets belonging to the intelligence offices of Hamas.
The building's offices and apartments were evacuated after the owner received advanced warning of the strike and no journalists were reported killed but Palestinian journalist was wounded, and the debris scattered yards away as the building collapsed.
White House Press Secretary Jen Psaki tweeted,
"We have communicated directly to the Israelis that ensuring the safety and security of journalists and independent media is a paramount responsibility,"
The acting director general of Al Jazeera Media Network, Dr. Mostefa Souag called the strike "barbaric", and said Israel should be held accountable.
"The aim of this heinous crime is to silence the media and to hide the untold carnage and suffering of the people of Gaza," said Souag in a statement.
While Israeli military spokesman Lieutenant Colonel Jonathan Conricus said in a statement to Reuters that any attempts to paint the strike as a way to silence the media were off-base "That is totally false, the media is not the target,"
AP President & CEO Gary Pruitt called the strike "an incredibly disturbing development".
"We are shocked and horrified that the Israeli military would target and destroy the building housing AP's bureau and other news organizations in Gaza. The world will know less about what is happening in Gaza because of what happened today." said Pruitt said in a statement
Israel-Palestine Post-truce clashes
Despite the acceptance of truce and the end of the 11-day war between Israel and Hamas, a clash between Palestinian people and Israeli police erupted after the Friday prayer. Hundreds of Palestinians held a celebratory demonstration at Al-Aqsa mosque in which they waved Palestinian flags and banners of the Hamas group. Though it was unclear what started the clashes but Israeli police said that the Palestinians hurled stones on the police that triggered them to fire stun grenades.
According to a report by NBC, Egypt, which mediated the agreement, said it would send two delegations to monitor the cease-fire.
It is worth noting that a similar clash between Palestinian people and Israeli police on May 10 ignited the war between Israel and Hamas.
Netanyahu faces criticism
As soon as the Israel-Hamas truce came into effect, criticism surrounding Netanyahu started surfacing across. According to Times of Israel, Right-wing lawmakers, including some of Benjamin Netanyahu's close political allies, warned him on Thursday against a ceasefire with Hamas as Israel and the terror group closed in on an agreement to end 11 days of fighting.
Gideon Sa'ar, the leader of center-right to right-wing political party in Israel called New Hope, criticized Netanyahu, saying a ceasefire "would seriously harm Israeli deterrence" against Hamas and other terror groups.
"The cessation of Israeli military activity without imposing any restrictions preventing the arming and strengthening of Hamas and without the return of the soldiers and civilians held in Gaza will be a political failure, the price of which will be paid, with interest, in the future," said Sa'ar
Saudi foreign minister Prince Faisal bin Farhan, on Thursday, speaking at an emergency in-person meeting of the UN General Assembly, said,
"UN charter which provides for the inadmissibility of the acquisition of territory by force and bans any threat to international peace, security and stability."
Faisal also added, Organization of Islamic Cooperation (OIC) members reject and condemn
"continued Israeli occupation of the occupied Palestinian land including East Jerusalem and the establishment of an apartheid regime through building settlements, demolishing Palestinian properties, building an expansion wall, confiscating Palestinian territories, houses and properties, evacuating and forcefully displacing Palestinians from their homes and lands."
Turkey's Foreign Minister Mevlut Cavusoglu discussed international affairs, including Palestine, with UN Secretary General Antonio Guterres on Thursday. Cavusoglu met Guterres after attending a UN General Assembly's special meeting on Palestine.
<iframe width="560" height="315" src="https://www.youtube.com/embed/s0GKKD3R85k" title="YouTube video player" frameborder="0" allow="accelerometer; autoplay; clipboard-write; encrypted-media; gyroscope; picture-in-picture" allowfullscreen></iframe>
Cavusoglu tweeted,
"Discussed with UNSG @antonioguterres global issues, particularly #Palestine, #Afghanistan, #Libya and $Syria. There should be a strong reaction from @UN to deter Israel. As he said, 'If there is a hell on Earth it is the lives of children in Gaza today."
In another tweet, Cavusoglu said, "Will continue to stand by the Palestinian people"
Shah Mahmood Qureshi, Pakistan foreign minister in the UNGA session for Palestine, in his speech, said,
"Death echoes in every home in Gaza. Gaza is plunged in darkness, the only light is that of Israeli airstrikes."
Seyed Mohammad Ali Hosseini, the Iranian ambassador to Pakistan, tweeted,
Amal Mudallali, Lebanon's representative said,
"Senseless" Israeli attacks are "fueling emotions all over the Arab world. The whole region will not find peace unless the Palestinian issue is resolved."
Retno Marsudi, Indonesia's Foreign Minister said,
Israel's actions not only warrant condemnation, "but they are also grave violations of international law that demand our action."
Sheikh Ahmad Nasser Al-Mohammed Al-Sabah, Kuwaiti Foreign Minister congratulated Palestinians for their tenacity in their fight for their rights. He said Kuwait condemns all crimes committed by Israel, its settlement activities, and its violation of Palestinians' freedom of religion.
Palestine foreign minister, Riad Al-Malki tells UN 'Occupation Is Root Cause Of Violence,' in his speech at the UNGA,
Fake News and Fact checks
Some fact checks done on Israeli claims were reported descriptively in a BBC report as,
1. Fake video rocket fire from Gaza – Israeli claim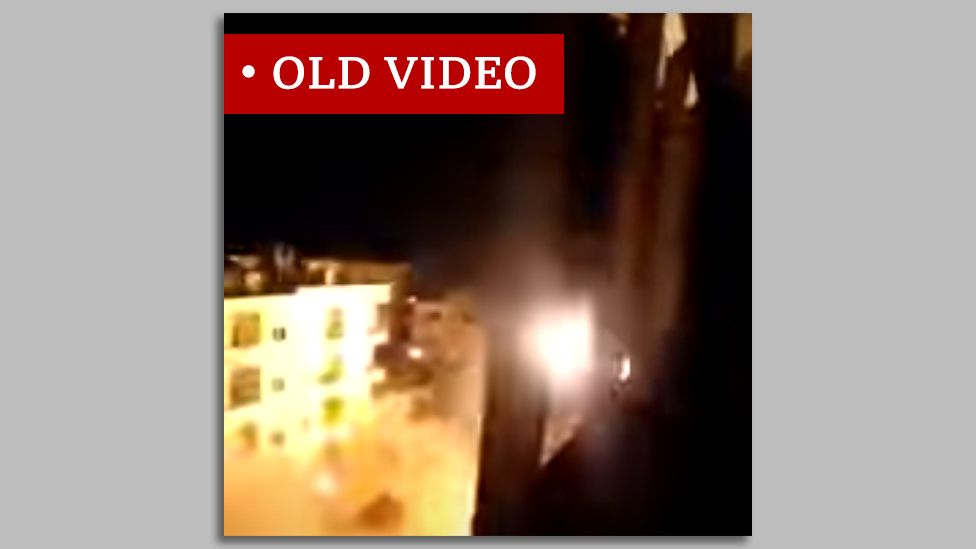 A spokesperson for Israeli Prime Minister Benjamin Netanyahu shared a video on Twitter which he claimed showed Hamas firing rockets at Israel "from populated areas".
"1/3 of these 250+ rockets fell inside the Gaza Strip, killing Palestinians," Ofir Gendelman tweeted.
But the video is old and the footage is from Syria, not Gaza.
It was taken during a Syrian government operation against rebel groups in the city of Deraa in 2018.
Twitter labelled the tweet as "manipulated media", adding links to fact-checks confirming the clip was from the Syrian war.
After criticism, Mr Gendelman deleted the tweet.
---
2. Fake funeral video in Gaza – Israeli claim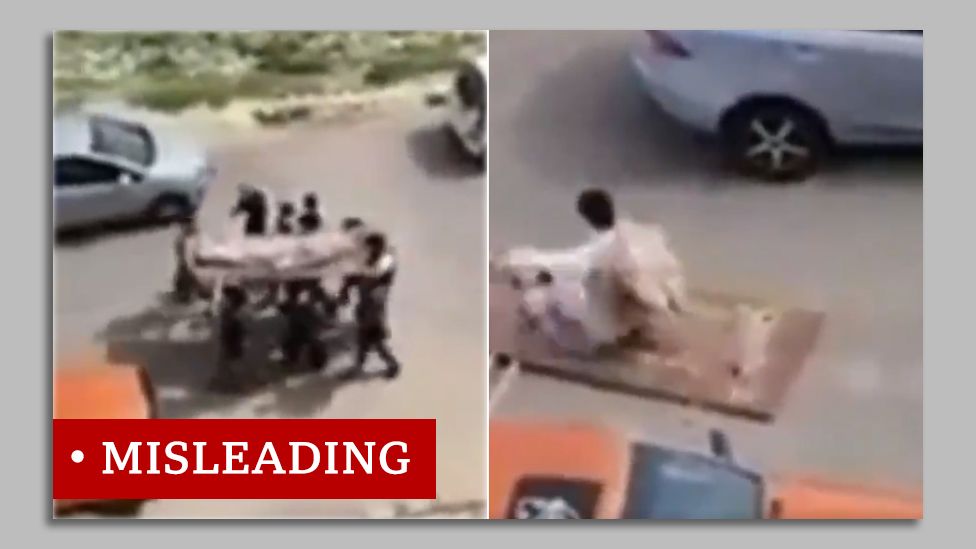 Some Israeli social media influencers shared a video claiming it showed Palestinians faking a funeral ceremony for an individual supposedly killed by Israeli air strikes in Gaza – in order to attract global sympathy.
In the video, which was also shared by an adviser to the Israeli Foreign Ministry, a group of teenagers carry what looks like a body covered with a shroud on their shoulders.
As soon as they hear the sound of sirens, they leave the body on the ground and run off. Left alone, the supposed body also gets up and runs away.
We found the same video posted in March 2020, with reports at the time suggesting that it showed a group of boys in Jordan trying to avoid strict Covid-19 restrictions by pretending to hold a funeral.
The clip was shared under the hashtag "Palywood" [Palestinian Hollywood] hundreds of times by pro-Israeli users on major social media platforms.
---
3. Fake viral tweets from IDF
Some Twitter users spread what they claimed were screenshots of posts from the Israel Defense Forces' (IDF) Twitter account saying: "We just love killing" and "Just bombed some kids".
These screenshots are fakes which can be made using freely available online tools.
The IDF did not make these statements on their official Twitter account or anywhere else.
The account from which the fake tweets apparently originated shows strong pro-Palestinian, anti-Israel leanings and claims to be writing satire.
---
4. Old footage of missiles on a street of Gaza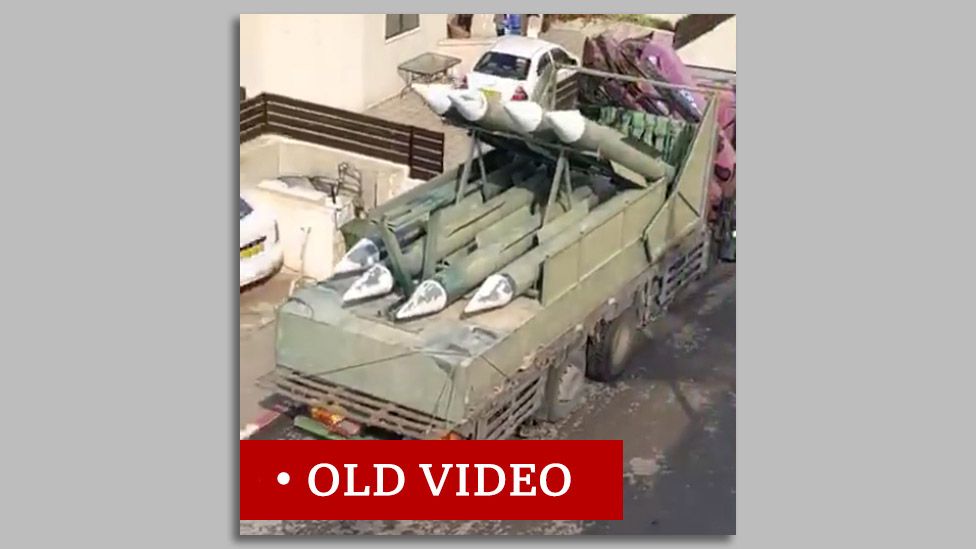 One widely shared tweet claimed to show footage of Palestinian militant group Hamas moving truck-based missiles down a street in Gaza. A child can also be heard speaking in the video.
The post, from a US-based pro-Israel account, claims: "Once again we see Hamas using civilians as a shield to murder Jews knowing… that Israel will not retaliate due to the risk of hurting innocent people".
However, we found that the video was uploaded to Facebook on 25 November 2018, with a caption saying it was taken in the town of Abu Snan in Galilee, in Israel.
Aric Toler, a researcher for open-source investigation experts Bellingcat, thinks that the footage shows decoy missile models being used for an Israeli military exercise.
The Twitter account posting the video later deleted it, and apologised for their "incorrect data".
---
5. Video claiming the burning of Al-Aqsa Mosque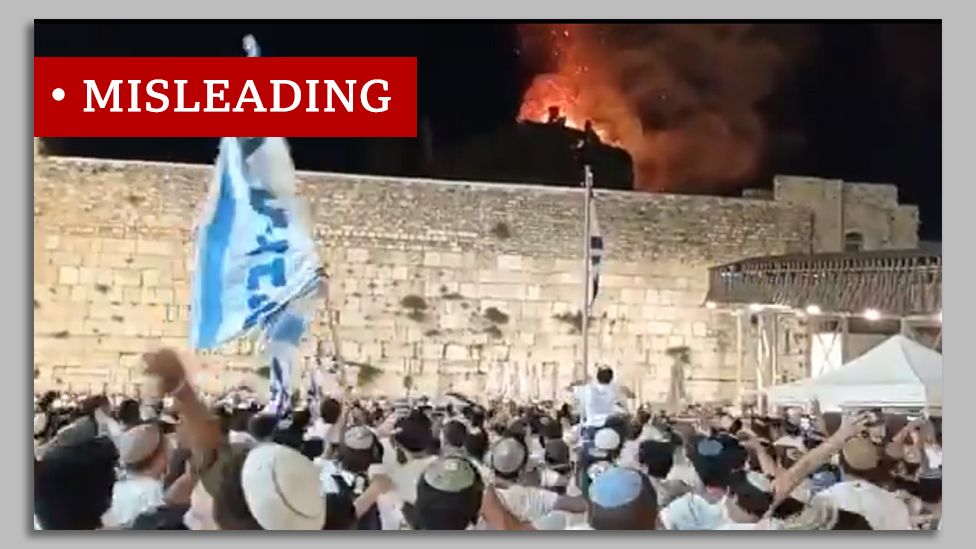 Some pro-Palestinian users shared a video which they claimed showed al-Aqsa mosque in East Jerusalem on fire, accusing Israel of "letting the al-Aqsa Mosque burn".
The video is real, but additional footage from other angles makes it clear that a tree near to the mosque had caught fire, not the mosque itself.
The mosque complex in Jerusalem's Old City is one of Islam's most revered locations, but its location is also the holiest site in Judaism, known as the Temple Mount.
In the video, a large crowd of young Jewish Israeli men can be heard singing an anti-Palestinian song behind the Western Wall, with flames visible in the distance.
Israeli police said in a statement that it was the result of fireworks thrown by Palestinian worshippers. But Palestinians say it was caused by Israeli officers throwing stun grenades.
According to Reuters, the tree was only 10 metres from the mosque. The fire was subsequently put out and the mosque was not damaged by the blaze.
---
Videos circulating around Israel-Palestine Conflict
WARNING: The following list of videos depict imagery and briefings that might look frightening to some users
---
Palestinian YouTuber's last upload before airstrike – OnePath Network
---
'He's all that's left': Gaza father grasps infant son after Israeli air strike wipes out family – South China Morning Post
---
Inside the Battle for Jerusalem – Vice
---
A 10-year-old Palestinian girl breaks down while talking to MEE – Middle East Eye
Editor's note
All of the information covered in this Israel-Hamas Conflict or Israel-Palestine Conflict is curated from the authentic sources which are cited within the article. All readers are welcome to share opinion in the comments below.
---
ⓘ LAFFAZ is not responsible for the content of external sites. Users are required to read and abide by our Terms & Conditions.