ⓘ Featured image: Motery founder from left: Abdullah Al Ateeqi and Mohammad Al Abdulsalam
---
The online car marketplace niche in the Middle East has seen much of a boom for the past half-a-decade at least. And while there are many startups and age-old businesses which are dealing into online car-buying and selling, there comes a few like Motery which aim to amalgamate multiple automotive services, dealers and agencies – making them available on the fingertips of the customers cost-effectively.
Founded by Kuwaiti entrepreneurs Mohammad Al Abdulsalam and Abdullah Al Ateeqi last year, Motery.app offers a gamut of automotive services through its seamless mobile application, available for both iOS and Android. One can easily book test drive appointments, service appointments, book and buy a new car and tow trucks, as well as car detailing services like car-washing and repair, via both door-to-door and book-to-visit options.
Core Cognition
The genesis of Motery.app came in synchronisation with the objective of its founders that states 'making life easier for people by providing a perfect automotive industry experience'. Mohammed Al Abdulsalam comes from industrial engineering background and started Motery as the co-founder and CEO. On the other hand, Abdullah Al Ateeqi holds over 7 years of experience in the banking sector and assumes the role of Deputy CEO at Motery.
Unique Proposition
It is common now a days to book a car and make payment for it online, but when that is done through Motery, the customer enjoys a number of exclusive benefits such as:
▸ Additional offers on car protection, shading, and washing from a number of agencies registered with Motery.app
▸ Explore through a number car dealers, compare prices, and buy a car or service
▸ Exclusive rates for all cars from a number of agencies across Kuwait
▸ Book a test drive from the agency of your choice
▸ Exclusive car detailing services when you buy a car and much more
Talking to LAFFAZ, Al Abdulsalam shared his vision saying,
"With every given opportunity, innovators must raise to the occasion, and we at Motery have made it our soul mission to create the finest customer experience when purchasing their future vehicles. We have taken the traditional method of purchasing cars through dealers and have gone the extra mile to ensure the utmost convenience for the customers by having a variety of services to make this process as fast and as easy as possible by using our application. Everything is catered directly to each customer's individual needs with the click of a button. With over 75 brands and working relentlessly to provide more variety for our clients, Motery is continuing to grow and excel."
Sharing the growth plans for Motery, Al Ateeqi told LAFFAZ,
"We have tapped into two sectors until now, and we are looking forward to launching more features soon – whilst making our application available for a number of other markets in the Middle East."
Editor's Note
While it is too early to be commenting about Motery, but one fact that backs its potentiality is the unique experience that the company is creating by providing automotive services on the fingertips of the customers, providing unbiased information, offering the ability to compare between different agencies, and pricing without any additional commissions.
Brand Digest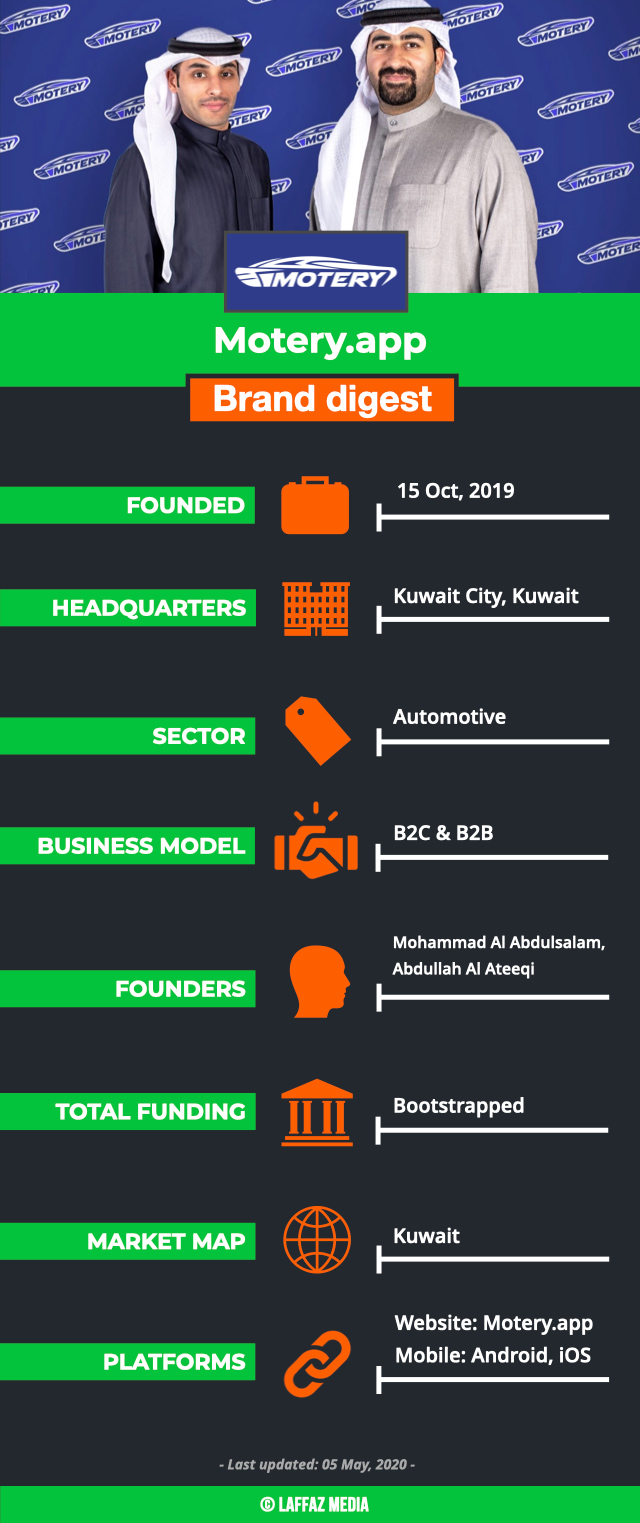 ---
ⓘ Users are required to read and abide by our Terms & Conditions.