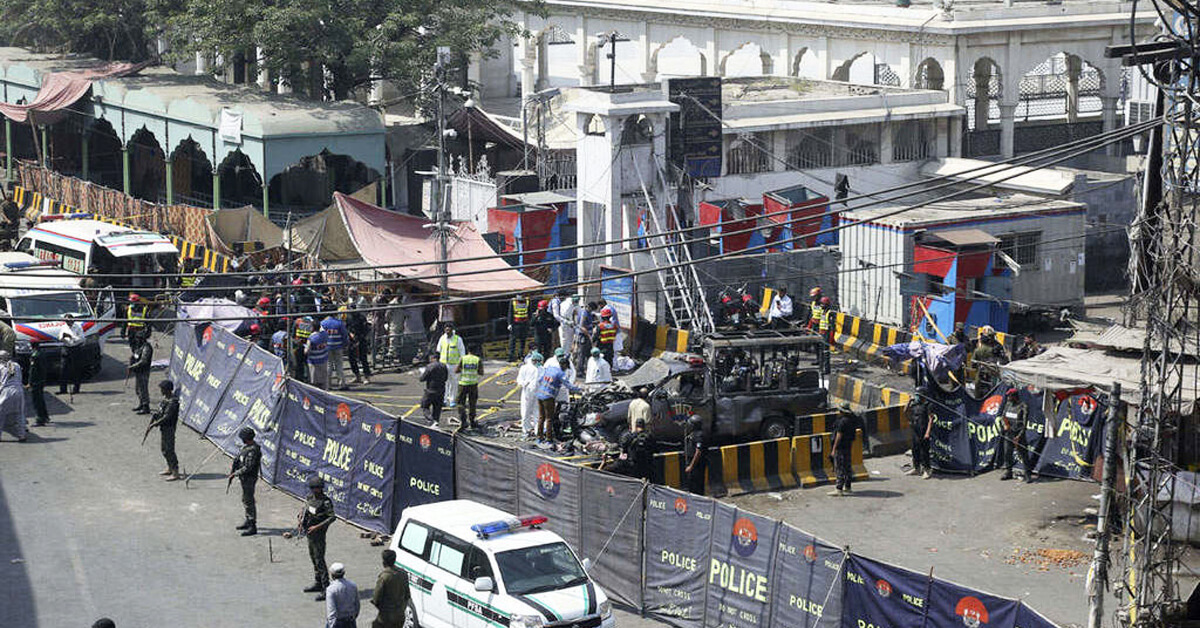 ---
A bomb exploded near a major Sufi shrine in the Pakistani city of Lahore on Wednesday, according to police.

Hundreds of pilgrims were at the Data Darbar site as the country marks the holy month of Ramadan.
Police say a bomb targeting security forces guarding a Sufi shrine has detonated in the city of Lahore. At least eight people are believed to have been killed so far, with many more wounded.
Recent updates
The bomb exploded near security forces guarding the shrine.
Lahore's police chief said his officers were the intended target.
At least eight people have been killed so far, a police official told a news conference.
Among the dead are police officers, a security guard and a civilian.
The Pakistani Taliban claimed responsibility.
Police vehicle targeted
State TV showed pictures of badly-damaged patrol cars. "It was an attack on police that left several dead and dozens of policemen and civilians injured. The target was police," said Syed Mubashir Hussain, a spokesman for the Lahore police.
Muhammad Farooq, a spokesman for the city's rescue services, said a rescue operation "is under way and we have moved 15 people to hospital."
Police official Muhammad Kashif said the bombing "may have been a suicide attack."
"This attack was carried out at a time when there were no civilians near the police"
– said Abdul Aziz Yousafzai, spokesman for the Hizbul Ahrar militant group, a faction of the Pakistani Taliban.




Source: dw.com
---
ⓘ LAFFAZ is not responsible for the content of external sites. Users are required to read and abide by our Terms & Conditions.