Founded in December 2017 by the two engineers, Arpan Khosla and Vishal Kalra in a move to help writers break their block, enhance creativity, create ideas, get networked and share their work with the masses. Rhymly is India's first Hindi Rhyming Platform for Indian writers that helps writers find rhyming words. One has to simply enter a Hindi word and the platform pulls all the rhyming words from its database of 100,000 words. The platform returns 50+ rhymes for every word you search.
The Origin of Rhymly
Arpan Khosla, CEO of Rhymly, has been a performing poet and a writer for the last 12 years. Throughout his journey, he always wondered and tried answering many questions to himself, like…
"Why is writing always so time-consuming?"
"Does it always have to be a lonely act or can writers take some digital help?"
"Shouldn't creativity matter more than vocabulary?"
and most important one: "if the media and content industry is seeing a massive tilt towards the vernacular, can't there be a rhyming platform just for Indian languages serving the creativity needs of India's writing community?"
And from there, the idea of India's first rhyming app came to its genesis. Arpan and Vishal hopped on to their trail of building a platform that could democratize creative writing and save the hassle for Hindi writers.
"Well, I didn't want to have a big writer's block on this idea, so in December 2017, I left my job and started working with Vishal to build a platform that would empower everyone to be at least a rhymer if not a writer by encouraging users to share their passion and creative expression through short poems, shayari, quotes, couplets, jingles & songs. Consequently, in March 2018 Rhymly was launched." Arpan told LAFFAZ.
Unique propositions
Rhymly is one-stop content tech platform that helps budding creative writers search rhymes and meanings of Hindi words, create original couplets while rhyming on the fly, discover writers, get networked and get featured on the app every day.
The app addresses a big problem for a massive class of Indian audience that includes poets, shayars, songwriters, marketers and ad agencies. It is easily accessible, saves time, takes up vocabulary part and lets writers focus on the creative side of their work. The platform returns 50+ rhymes for every word you search.
"Our unique proposition is that we cover the entire process of short content rhyming, writing, storing, sharing and discovering on a single platform. And a creative writer doesn't need to go to multiple platforms for all these concerns" said Vishal
Market map
At present, Rhymly has a user base of over 50,000 users (both mobile and website combined) which majorly falls in between 16 to 35 years age groups. Until now, over 4 lac rhyme searches have been done and 73,000 original content pieces have been written by the creators on Rhymly.
Growth plans
The company is looking forward to raising seed funds and go vernacular to other Indian languages, launch the app on iOS devices. And also reach Indians living abroad soon.
Editor's note
The ability to discover other writers and getting networked, armours Rhymly with the potential of becoming a writer's social network of the future. By offering a chance of getting featured on the app, the platform unlocks opportunities for writers and certifies their hard work. Moreover, it is easily accessible, no matter what device you are on.
Brand Digest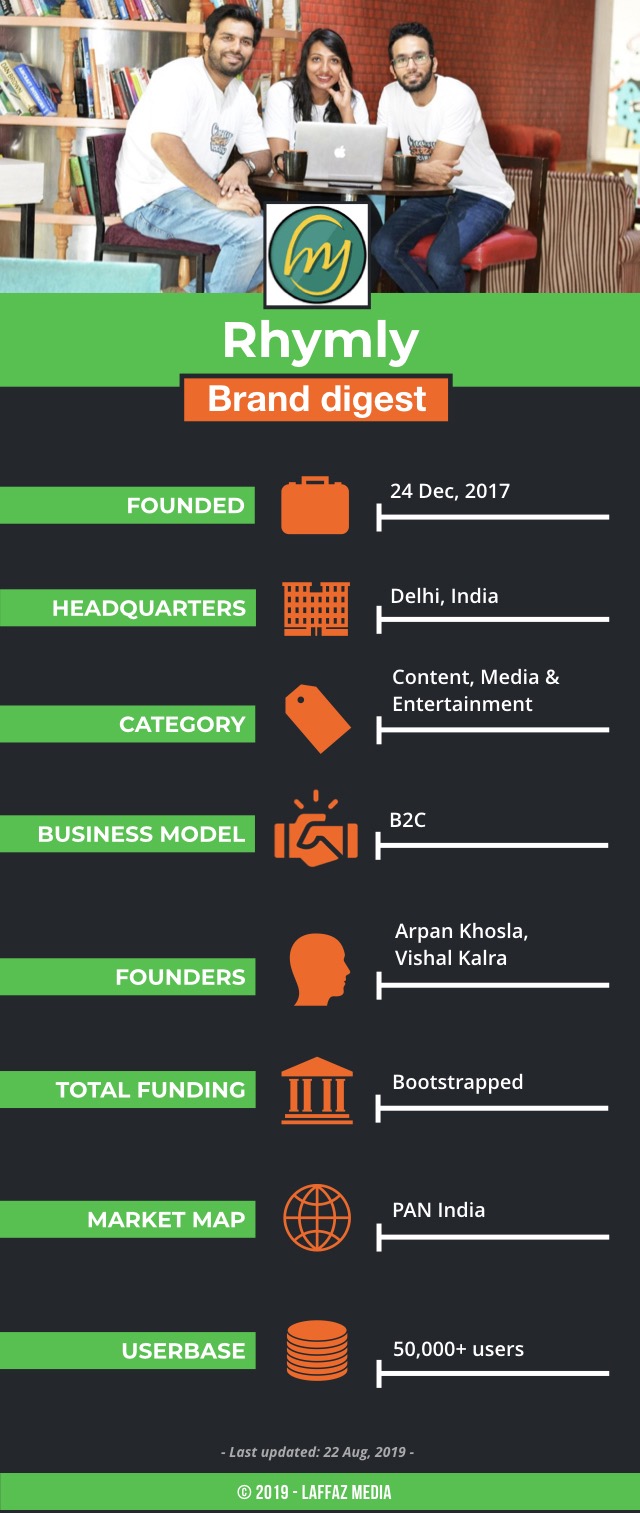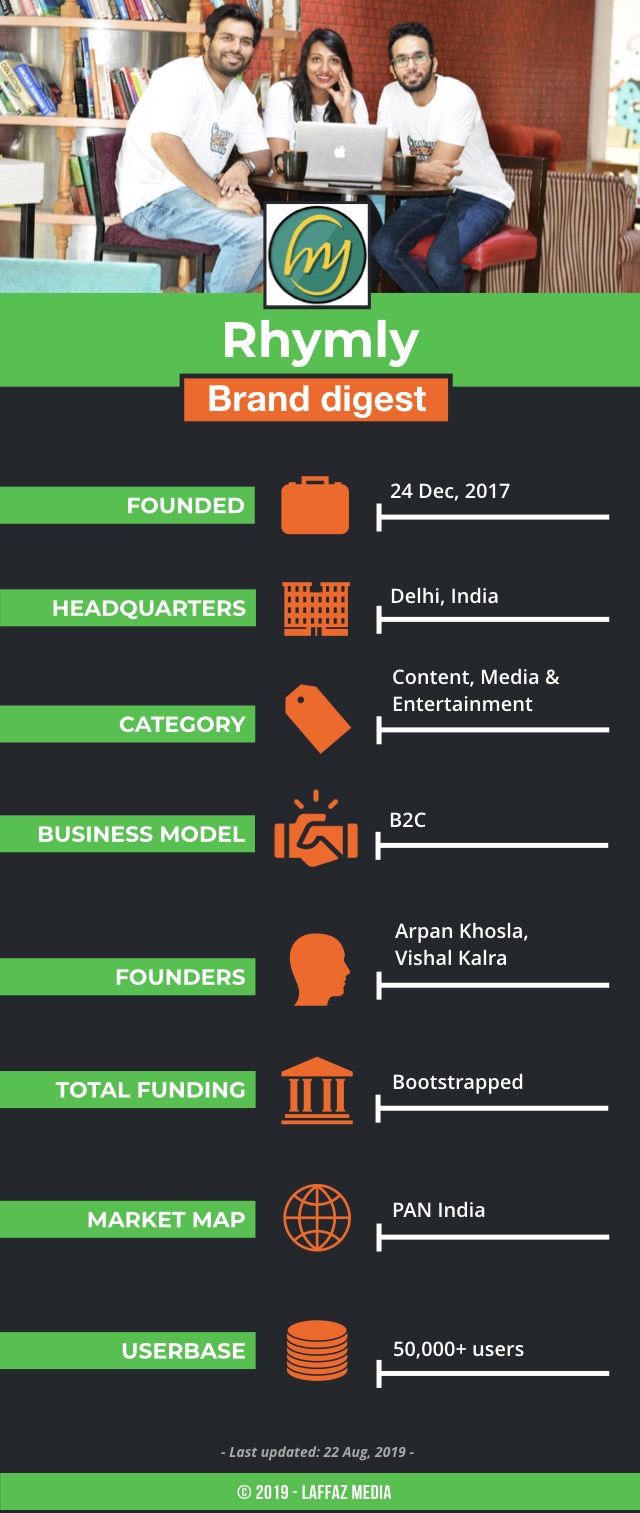 ---
P.S.- Read more startup stories like this under our startup stories column. If you wish to get your startup story covered, simply submit your startup details here ➜
---