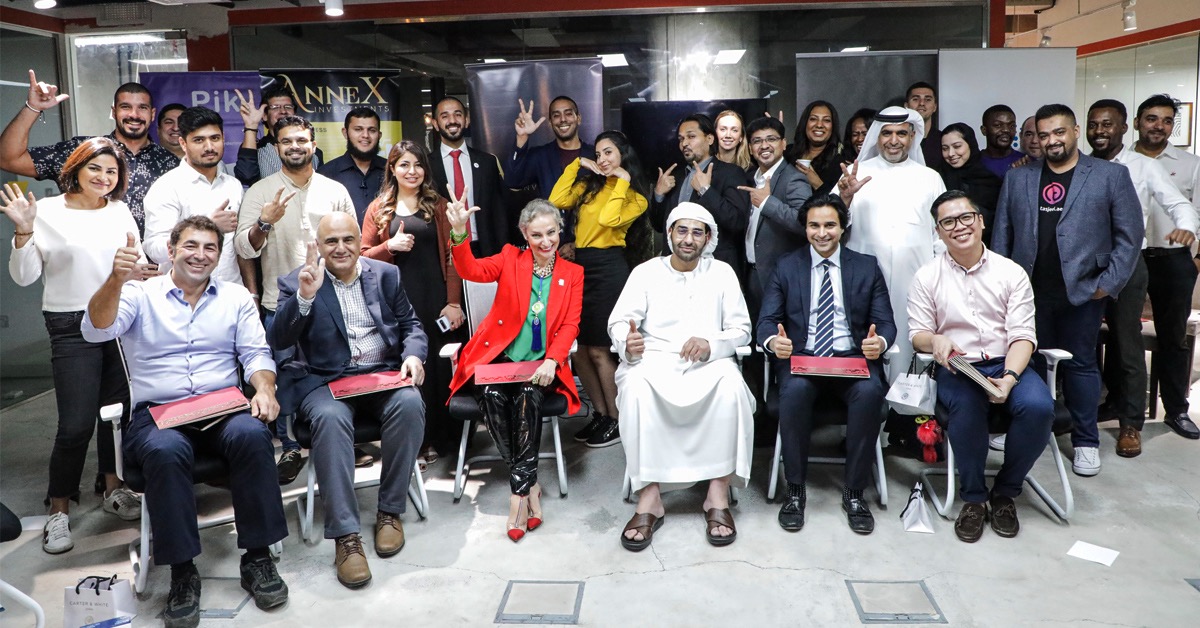 ▸ Annex Investments and Venture Central host monthly edition of #BrandFusion B2B Entrepreneurship series in Dubai.

---
Dubai, 25 Dec 2019: Annex Investments closes 2019 events calendar with a high note by hosting the 9th B2B Entrepreneurship Series: #BrandFusion Startup Clinic on 19 Dec 2019 at 530 B Saaha Offices Souk Al Bahar, Dubai, UAE.
Launching a startup or running your own business could be stressful and the amount of support you can receive from incubators and accelerators we tag as 'mentors' is highly valuable and essential.
2019 was very exciting for Entrepreneurs with new technologies, acceleration programs and support across sectors which is readily available. These had opened new frontiers to explore amazing opportunities to work on. The year ahead will definitely provide entrepreneurs better prospects to unleash their innovative capabilities and break barriers.
Policymakers, regulators, investors, incubators, and entrepreneurs have all played their roles in shaping up UAE's vibrant startup ecosystem until now. With the industry at its peak of growth, now it is time to be bullish about starting your own business and investing in UAE startups, leveraging the platforms and services offered by the Dubai ecosystem.
The #BrandFusion B2B Entrepreneurship Series provides a platform for entrepreneurs and startups to get mentored by thought leaders and experts, network and leverage its brands. In particular, the 9th edition of #BrandFusion B2B Entrepreneurship Series introduced a concept that is based around a panel of keynote speakers coming from different backgrounds to share their knowledge, experiences and to interact with the audience comprising of startups and entrepreneurs seeking guidance and answers.
The recently concluded event features seasoned entrepreneurs, thought leaders and experts across sectors in the panel such as Mr. Cinar Kurra, CEO, Catalyst; Ms. Almasa F. Alunni, Partner, Smart Digital Marketing FZ LLC; Ms. Namrata Balwani, Marketing & Customer Experience Consultant, Mr. Sam Fakhoury, SME Advocate and Business Strategist and Mr. Niraj Thanki, Co-Founder, eMajlis with Ms. Simarna Singh, the event host and panel moderator.
"Funding is always available for relevant projects" say Mr. Cinar Kurra who give emphasis on seed funding and how startups at early growth of development can benefit from it. On the other hand, Mr. Sam Fakhoury points out four equally important issues in making a startup successful – know your market, create the right team, make a solution, be part of a community and network.
Founders and Entrepreneurs in attendance received a detailed anecdote from Ms. Namrata Balwani on the importance of branding, marketing and customer experience, she quoted "growth comes from planning every aspect of the customer journey".
Having the correct mindset and always aim for excellence and being top of your league advocates Ms. Almasa F. Alunni that is being validated with Mr. Niraj Thanki by narrating several milestones and startup success story with the hopes of inspiring, influencing and making an impact to the participants present during the panel discussion.
Venture Central wishes to extend its sincere appreciation to the following brands and partners for their continued support:
The Co Dubai – The first coworking space and incubator approved by the Dubai SME
Catalyst: A Masdar and BP jointly organized, startup technology accelerator based in Masdar City Abu Dhabi
AppsCo: a cloud cybersecurity company with a speciality in application management and data protection
eMajlis: Abu Dhabi headquartered technology company enabling efficient and professional networking.
Champion Digital: member of Champion Group specialising in advertising solutions including LED Screens, LCD Signage and Interactive Technologies.
Pik.Coffee: sophisticated online platform for specialized coffee shops and cafes.
LAFFAZ Media: a Delhi, India-based media platform that brings the best of the startup ecosystems of MENA and India – providing various avenues to startups to connect, network and magnify their reach.
Seattle Project Management Services: Dubai-based company providing project management services, holding years of experience in both business and project management
Maek It Happen: a team of young, social savvy individuals who know that the market space is drastically changing and the digital space is fast-moving.
Sustainable Relationship Partners: Focused group of like-minded entrepreneurs and professionals trying to build a culturally diverse, gender-balanced group amongst members who truly believe in sustainable business growth.
Hubpreneur: The future of entrepreneurship
Carter and White: combined timeless tailoring with impeccable quality materials, offering utmost comfort and pure understated style.
GrowthPass: B2B2C marketplace for finding and creating self and career development events.
ShareYaar: your go-to app for events in your area
Fashion Foresight is the oracle building brands for the future, offering trend forecast, data and market research for brands assuring they create products and collections that are consumer-centric and relevant.
Ioletics: smart um-manned 24/7 self-service retail units or micro markets.
Montpellier provides specific Middle-East advisory services on behalf of international companies, resulting in a pipeline of investment opportunities.
Sprout Digital Agency: Digital agency that challenges the status quo, focusing on production and digital marketing management.
GlassQube Co-Working: Abu Dhabi's first established coworking space and private office provider.
Venture Central continuous to accelerate as a leading platform for startups and entrepreneurs to leverage their brands based on the overwhelming support and participation of entrepreneurs, startup founders and businesses in attendance "Annex Investments is striving to provide a dedicated and effective platform to curate and accelerate great business ideas and make them succeed" says Mr. Ahmed Nasser Al Nowais to encourage everyone to unite all efforts in uniting the SME Community, Corporate and Business Sectors aiming to further challenge and improve our business landscape beyond 2020.
#BrandFusion B2B Entrepreneurship Series closes the year 2019 with a high note and a positive promise to gather entrepreneurs in the region making them globally competitive.
For more information and updates please visit venturecentral.ae. To get exclusive relaxation on #BrandFusion event sponsorships and partnerships, head over to LAFFAZ Dubai Corridor to apply.
---
ⓘ Image Source: Supplied
---
ⓘ LAFFAZ is not responsible for the content of external sites. Users are required to read and abide by our Terms & Conditions.