Everybody knows that 8-year-old Asifa's rape and murder case has left the country shocked and has also created havoc between the two religions. But many people didn't know what her family has undergone.

The Indian Express contacted Asifa's father and he spoke everything about Asifa and his loss. The 35-year-old father cried out of remorse and said that he couldn't accept the fact that his 8-year-old innocent daughter who didn't even know the difference between Hindu and Muslim became the victim of such brutality. He also added that she didn't even know which of her hands was right and left.
"If they had to take revenge, they could have picked someone else. She was an innocent child. Usey apney haath aur paun mein pata nahin tha, ki mera daayan haath kaun sa hai aur baayan haath kaun sa hai. Kabhi usney yeh nahin samjha ki Hindu kya hota hai aur Musalmaan kya hota hai." 
Asifa's father told The Indian Express that she was the youngest of the three children. The elder ones are boys are in 11th and 6th standards. They went to schools in neighboring villages during their time in Kathua.
He told that he had adopted Asifa from his sister when she was 1-year-old. At that time he had lost two other children in an accident. He thought that the girl would give company to his wife.
He also recalled how she used to help her mother in daily routine. She loved animals, family's horses and two newborn lambs and a dog she used to feed daily. She used to accompany him whenever he used to go away from the house.
When things took the wrong turn?
Last summer, Asifa's mother insisted for getting her admitted to a private academy. She told The Indian Express, in the first week of January, Asifa visited the Samba town with her mother. She got her clothes stitched for her cousin's weddings. Four days prior to the wedding function i.e. 10th January, Asifa was kidnapped. She was wearing a purple dress which recovered before her body.
"Humney yeh nahin socha tha ki hum apni bachchi ko doctor banayenge, teacher banayenge. Humney itni badi soch rakhi nahin thi. Humney to yeh socha tha ki padh jayegi to apney ko dekh legi, apna waqt guzaar legi, rehney ka tariqa aa jayega. Khoobsorat thi, kisi achchey ghar mein chali jaayegi"
She said that they never thought of making her a doctor, a teacher. They only wanted her to become capable of looking after herself. She also added that Asifa was beautiful and could get married into a good family. But they never knew that she'll become the victim soon.
Asifa's father said, that no such type of brutality has ever been done to any nomads in Kathua. They used to commute to Kathua from generations. They wanted to get their daughters admitted to schools in Kathua and wanted to live along with Hindus like brothers and sisters.
He added that the accused people were making false allegations like – Nomads were smuggling cows from Jammu to Kashmir for sale, nomads sell drugs, nomads' cattle damage crops in Kathua etc.
Asifa's father told that the ex-revenue official Sanji Ram was threatening the nomads and wasn't allowing them to use the road passing through the village. Still, the nomads didn't expect such a crime and thought that Sanji was merely angry for the damage of crops.
"Nuksaan hoga, humein thappad marengey, FIR laga dengey, ya phir zurmana bharna padega. Humney nahin socha tha ki itni ghinoni harkat karengey yeh".
Asifa's parents never thought that their daughter could have been kept in the temple as it is a religious place. They checked everywhere and found her body days later.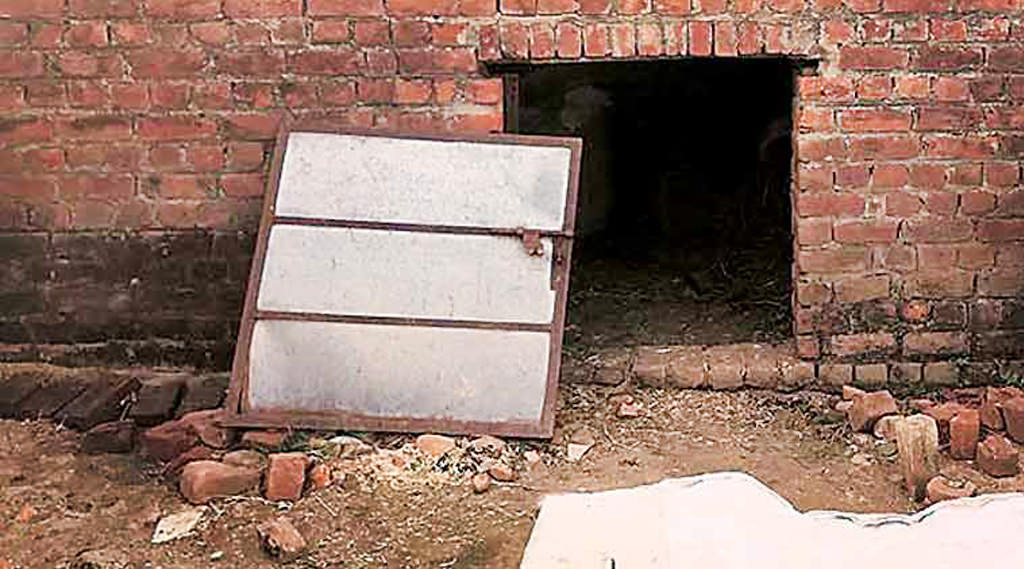 © The Indian Express – The storeroom where Asifa was kept, raped and murdered. (Kathua near Jammu).
He also mentioned that policemen including SPO Deepal Khajuria (one of the accused) used to be outside the temple many times. Which is why they never thought that their daughter could be there inside.
Asifa's family will spend their summer in Kargil and before leaving Asifa's father had added that Allah will do justice to them and will punish the rapists and murderers.
"Humari sab se wadi adalat woh Allah ki adalat hai, jisme har kisi ka faisla hota hai. Humney usi adalat pe chorh diya hai. Jo mera Rabh karega, bas".
He said that the accused dropped Asifa's body in the village itself and if they dropped it somewhere else or even if they hid it well then Asifa's family could never find out who actually killed her. And this is the justice done by God already.
According to Asifa's father, he was the weakest target for the people threatening his family and they've done a horrendous crime and God will never leave them unpunished and he watches everything.
"Rab kisi ko nahin chodta. Haq aur nahaq, jaayaz aur naajayaz ko dekh raha hai woh".
He showed his satisfaction with the J&K police for being fair and impartial. He said that there are only handful of people who are protesting in favor of the accused. The point they are making is again targetted to religion as the state chief minister and investigating officials are Muslims. He even mentioned that it is not supposed to be about religion, every rapist and murder must be punished. And he would have even come forward if such a thing had happened to a Hindu girl because humanity is above all.
He ended up by saying that he will return to Kathua in September because there is winter in Kargil at that time. And he will return because he has a home there and he is not even afraid of the oppressors in Kathua even if they try killing him and his family.
Here is a glimpse of the conversation with Asifa's father covered by Excelsior News
Source: Kathua rape, murder case — A father's anguish: 'She did not know right from left… what Hindu, Muslim?'