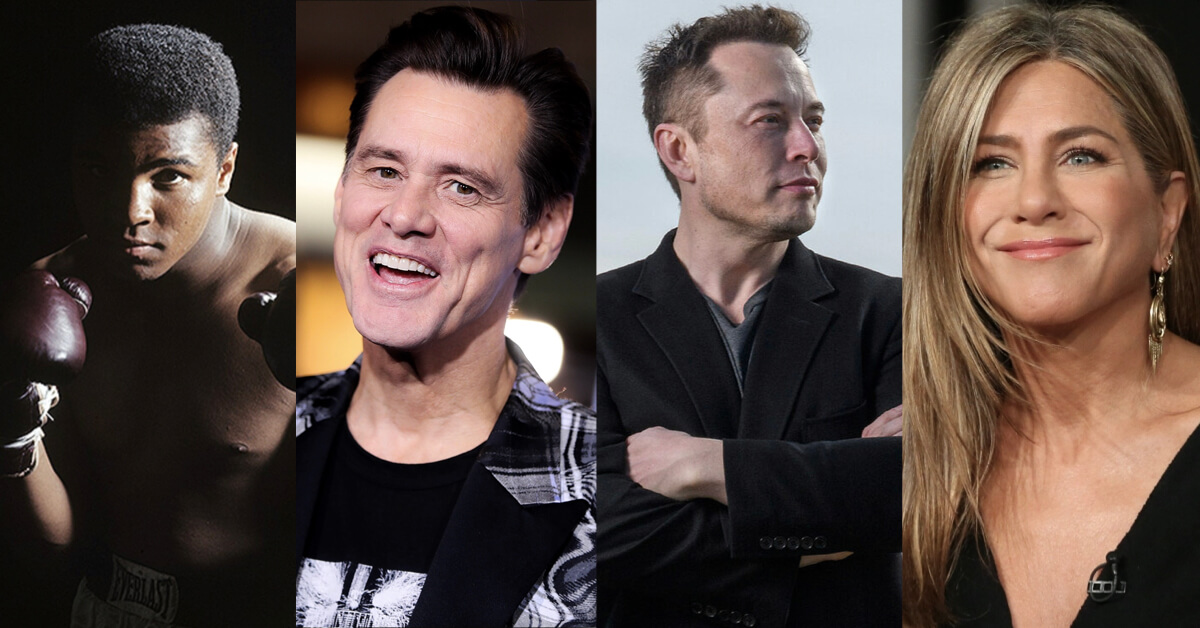 Here's to the ultimate list of good morning quotes to make your day awesome. Even if you have had a tiresome day or a nightmare, these good morning quotes will help you overcome any unpleasant feelings – start your day with positivity, productivity, and wisdom.

Good Morning Quotes list
It is a good idea to send out one every morning to your family, friends and coworkers.
Starting with my favourite one, from one of my role models Muhammad Ali. What else would you expect from a guy, a hustler, and a legend? This good morning quote like is one of a kind!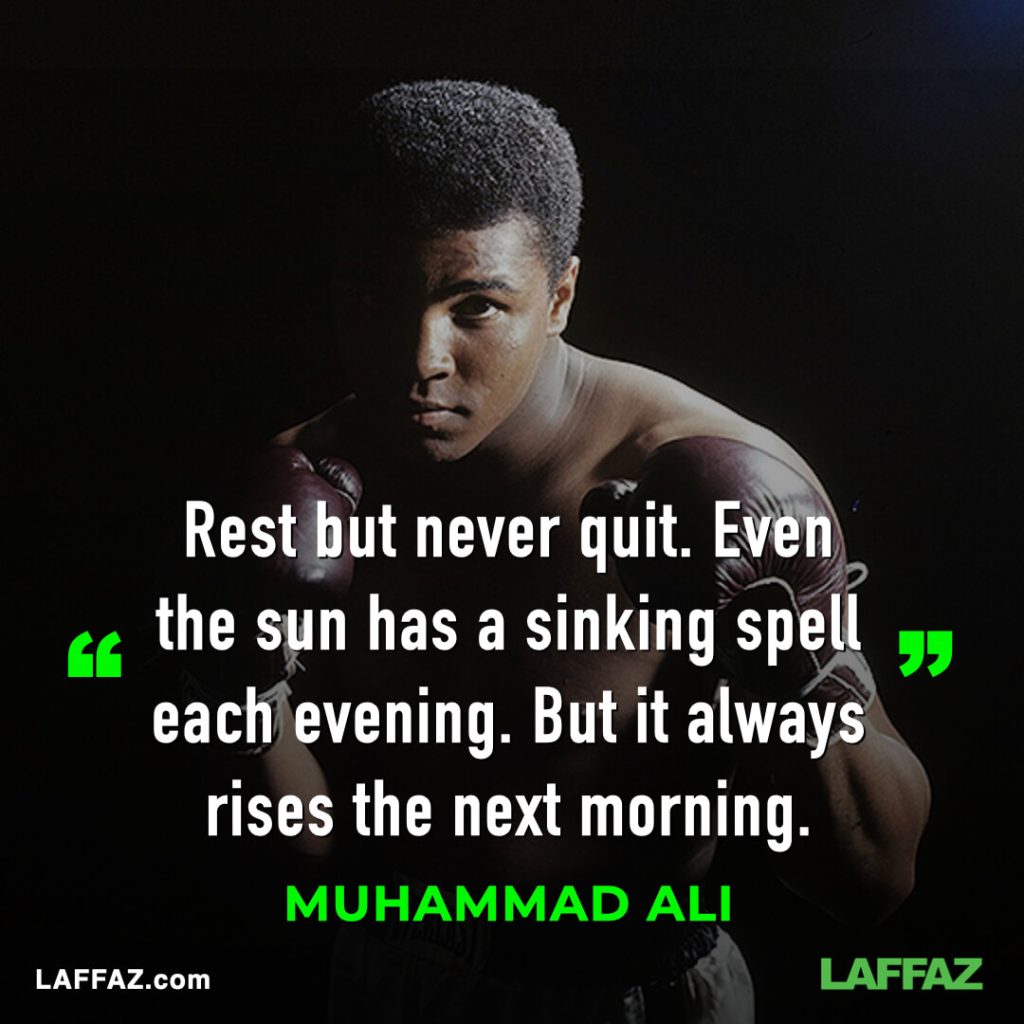 "Rest but never quit. Even the sun has a sinking spell each evening. But it always rises the next morning."
– Muhammad Ali
---
The current richest man on earth has taken aback the world with his Twitter acquisition. This guy is a role model for many. Elon Musk quotes have the power to activate passion, and this is one of his best good morning quotes that teach us a lot about morning to us.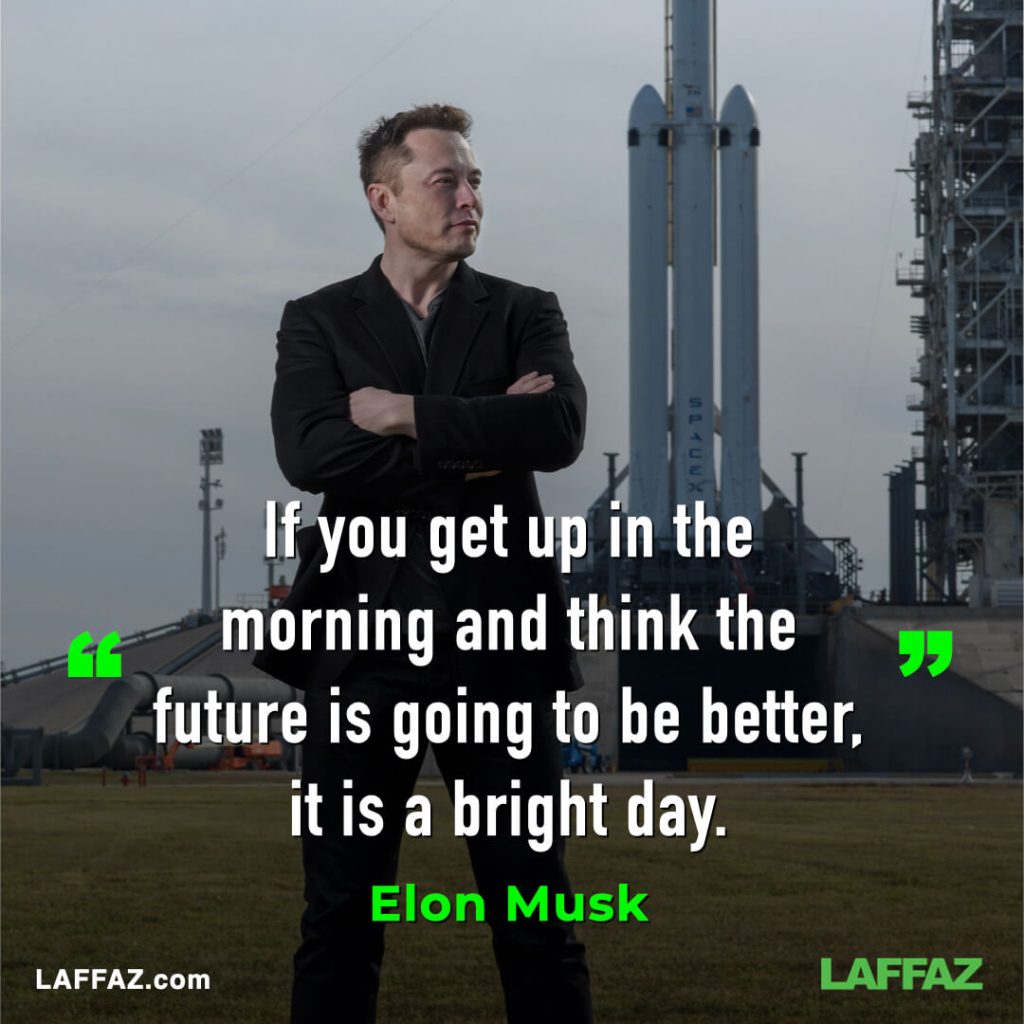 "If you get up in the morning and think the future is going to be better, it is a bright day."
– Elon Musk
---
One of the most admirable good morning quotes is the one from The Parent Trap actress!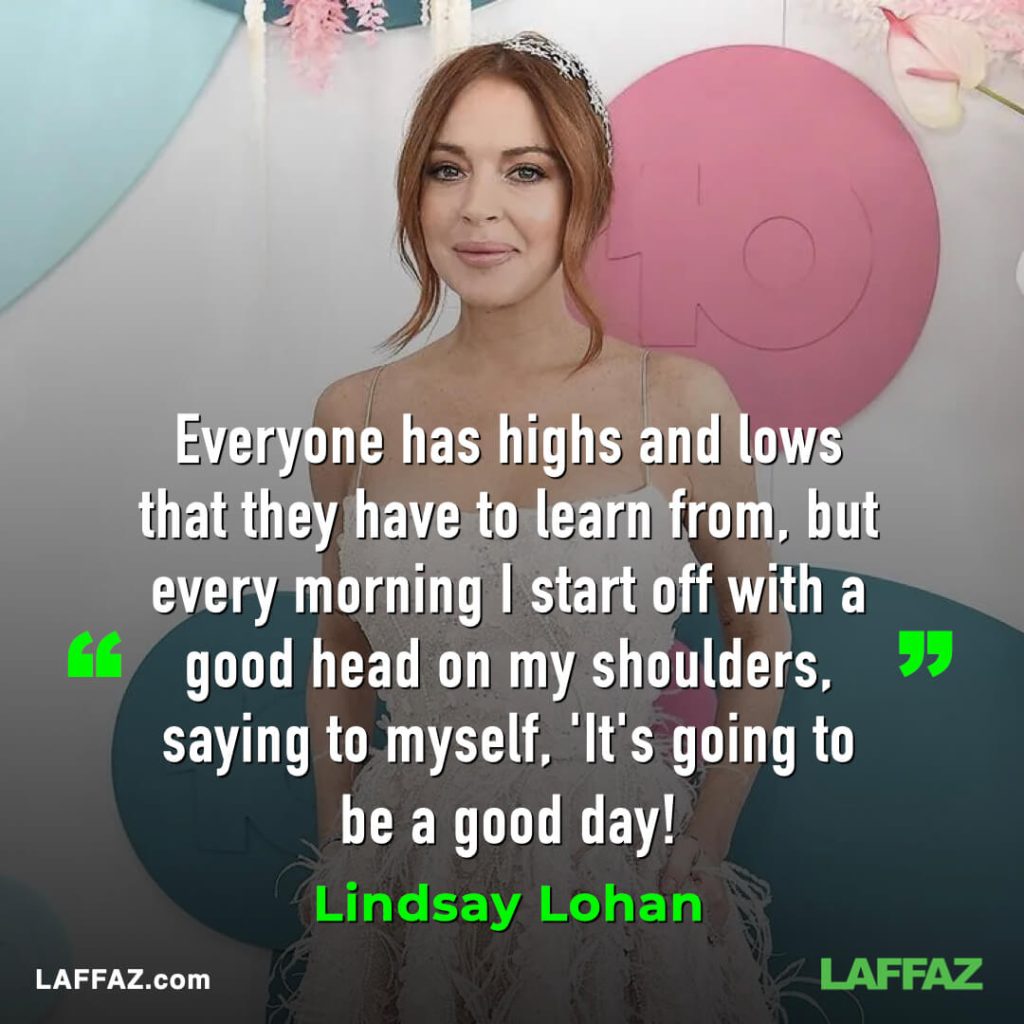 "Everyone has highs and lows that they have to learn from, but every morning I start off with a good head on my shoulders, saying to myself, 'It's going to be a good day!"
– Lindsay Lohan
---
Google's co-founder, and former CEO inspires not only tech enthusiasts but everyone who knows him. One of my favourite good morning quotes that lays emphasis on prioritising important tasks at the beginning of the day.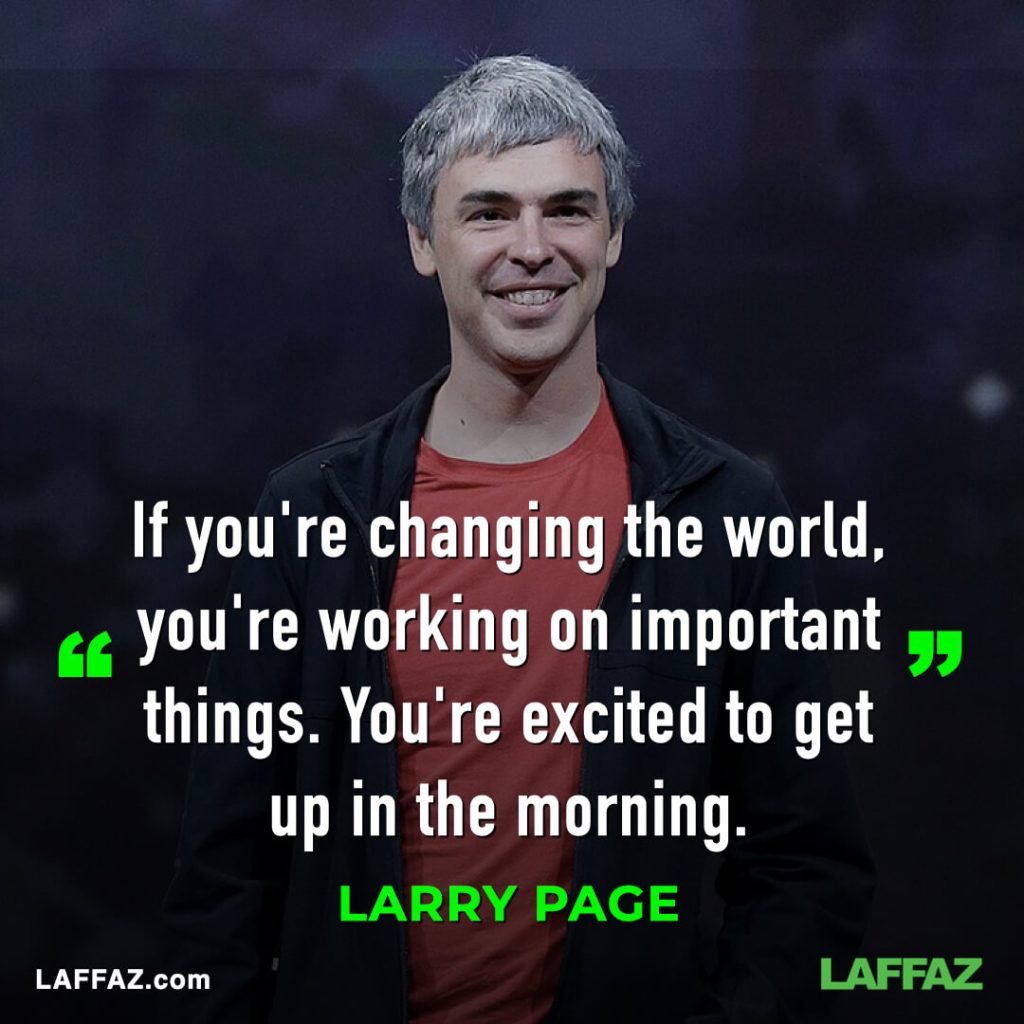 "If you're changing the world, you're working on important things. You're excited to get up in the morning."
– Larry Page
---
The Mask actor who made our childhood awesome. This isn't just one of the good morning quotes but a lesson on life. Everybody is afraid of losing what they have now.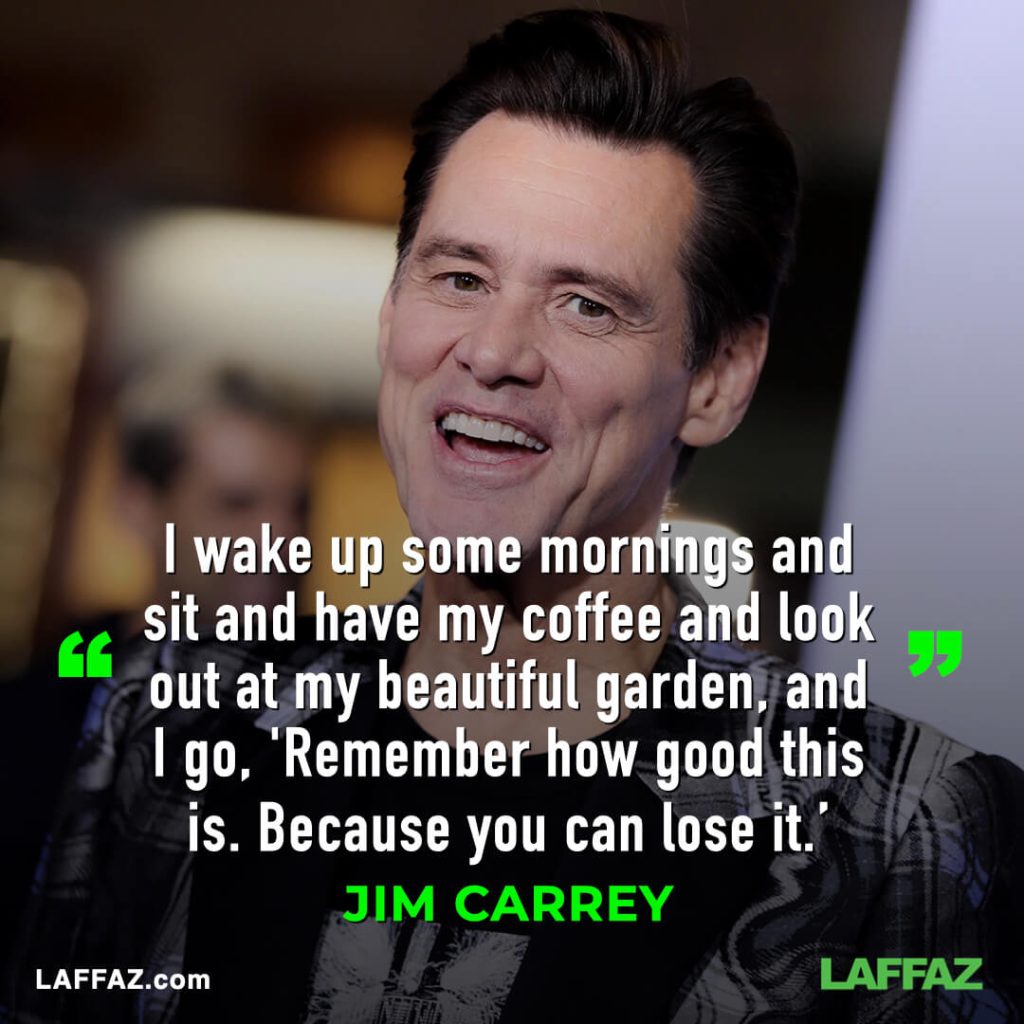 "I wake up some mornings and sit and have my coffee and look out at my beautiful garden, and I go, 'Remember how good this is. Because you can lose it.'
– Jim Carrey
---
The greatest sprinter of all time. Jamaican sprinter Usain Bolt shares the key behind his success 'Manner'.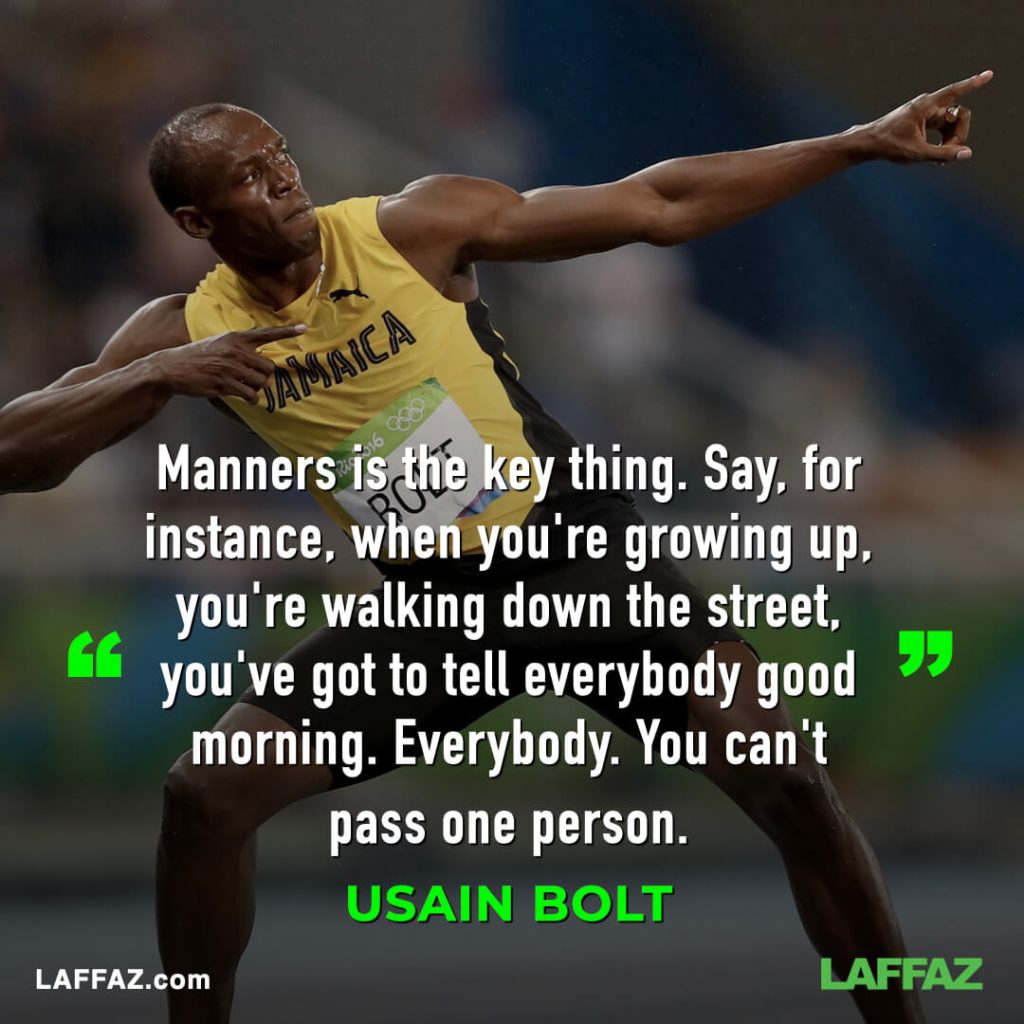 "Manners is the key thing. Say, for instance, when you're growing up, you're walking down the street, you've got to tell everybody good morning. Everybody. You can't pass one person."
– Usain Bolt
---
When it comes to telling out Good Morning Quotes, how can I forget about 'A Star is Born' actress and a great singer?
"When I wake up in the morning, I feel just like any other insecure 24-year-old girl."
– Lady Gaga
---
Millennials best know him as Qui-Gon Jinn in Star Wars Episode I.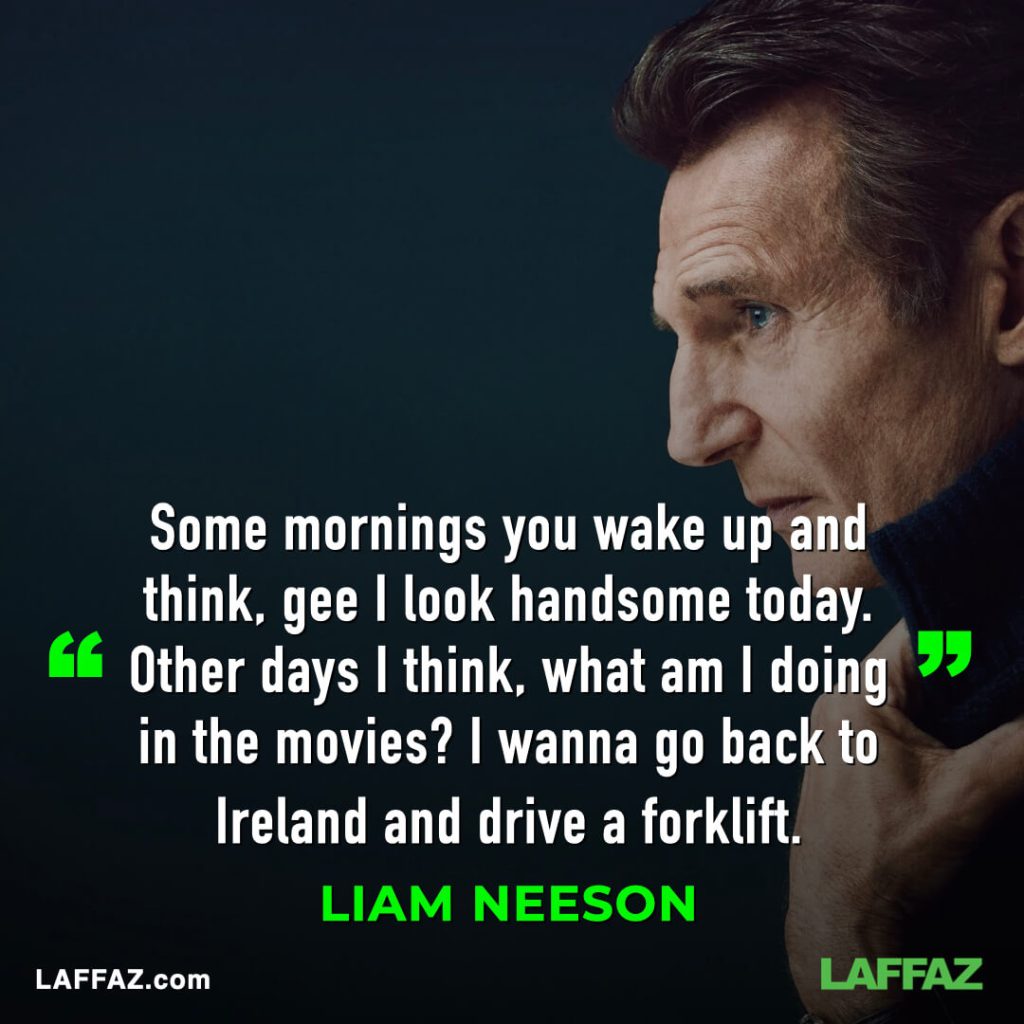 "Some mornings you wake up and think, gee I look handsome today. Other days I think, what am I doing in the movies? I wanna go back to Ireland and drive a forklift."
– Liam Neeson
---
Besides "Yippee-ki-yay", John McClane has a good morning quote to share.
"I wake up laughing. Yes, I wake up in the morning and there I am just laughing my head off."
– Bruce Willis
---
Have you heard your 'FRIENDS' sweetheart saying this yet?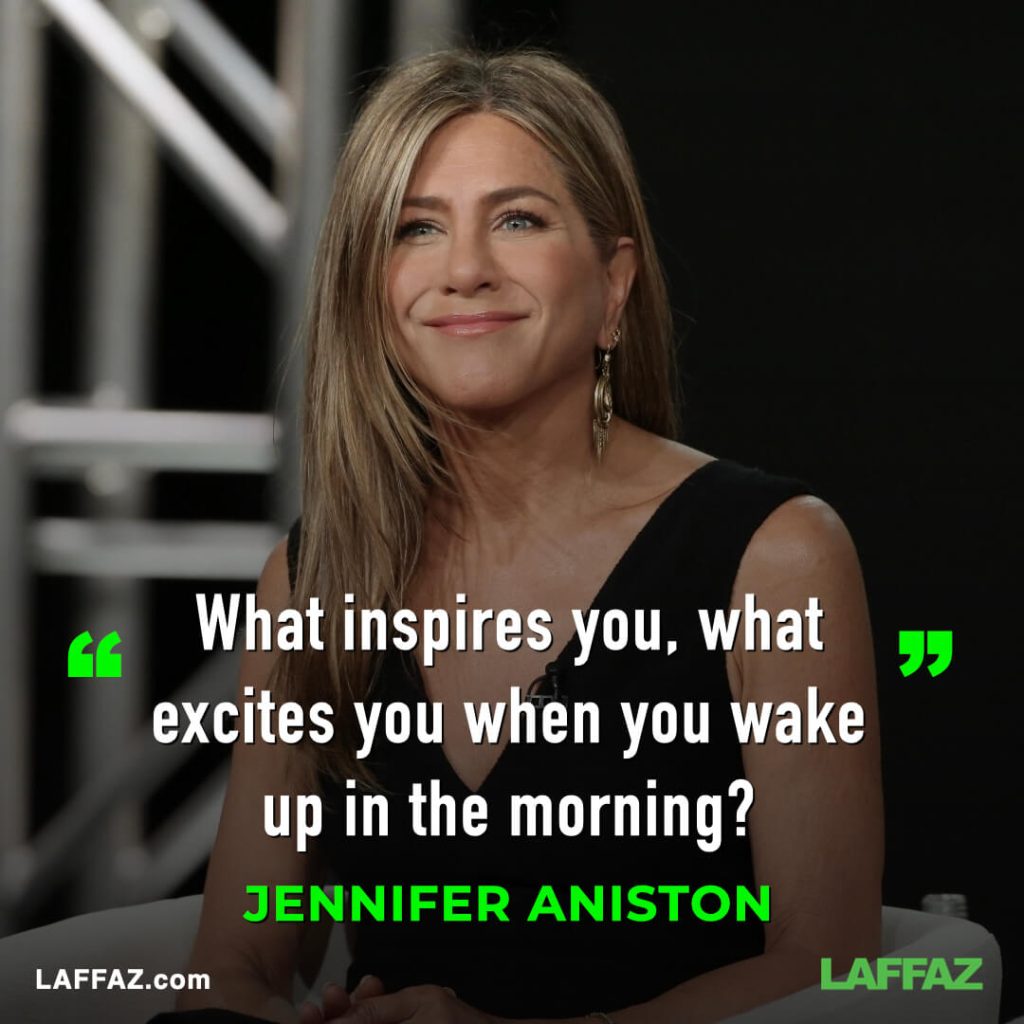 "What inspires you, what excites you when you wake up in the morning?"
– Jennifer Aniston
---
Considered a philosopher but rejected the title himself. The Lebanese-American writer and poet was an absolute legend. Your search for the best friendship quotes ends here.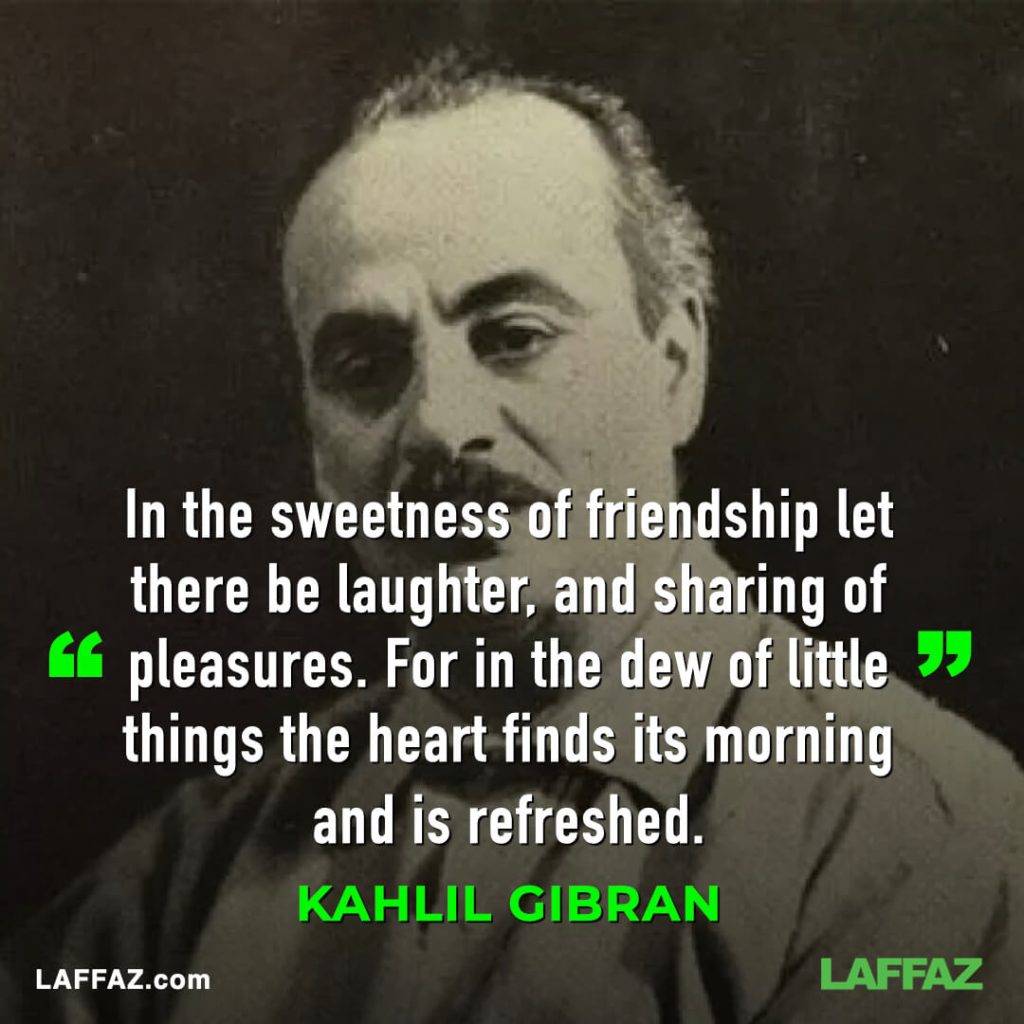 "In the sweetness of friendship let there be laughter, and sharing of pleasures. For in the dew of little things the heart finds its morning and is refreshed."
– Kahlil Gibran
---
Are you living your life just for money? You ought to read this one.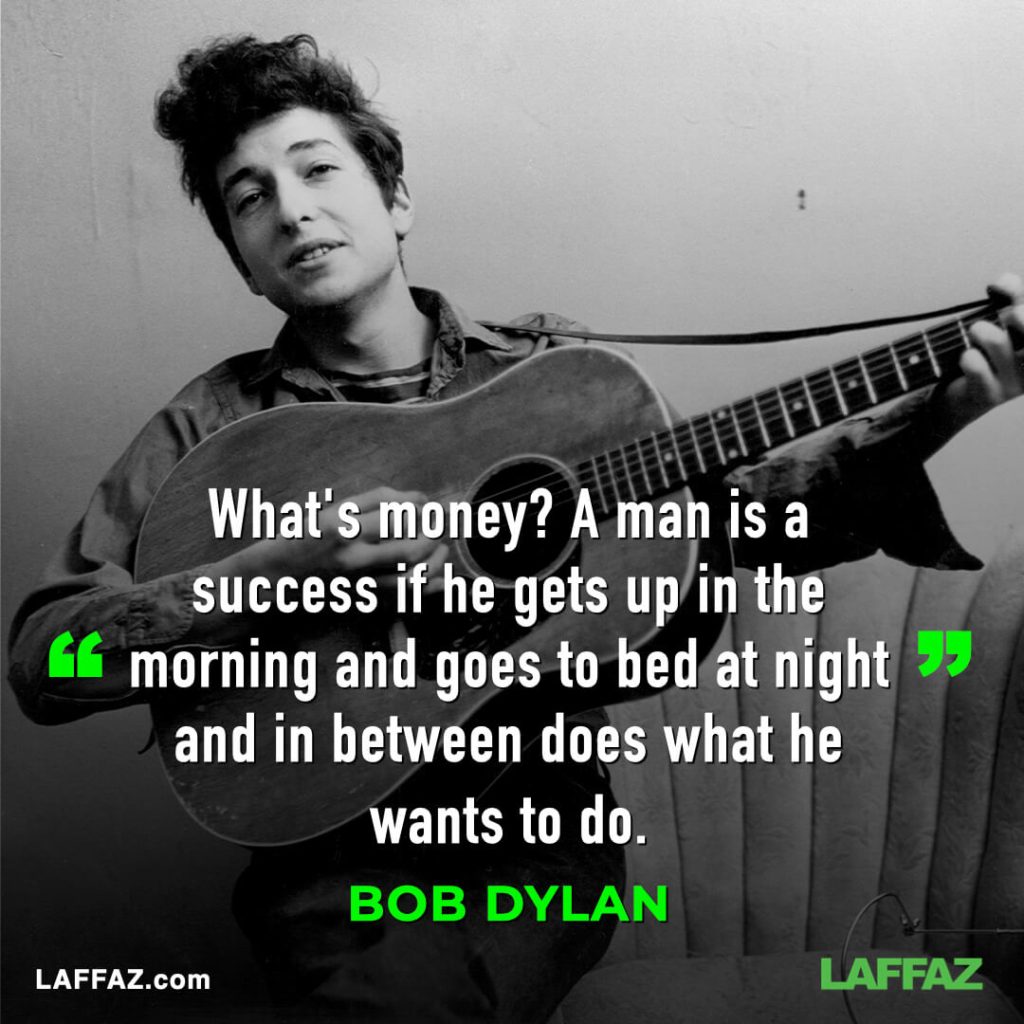 "What's money? A man is a success if he gets up in the morning and goes to bed at night and in between does what he wants to do."
– Bob Dylan
---
India's pride and honour. The former Indian Cricket team skipper says this about mornings and achievements.
"Pretension is a poor joke that you play on yourself. Snap out of it. Recognise your strengths, work on your weaknesses. Real achievement is liking what you see in the mirror every morning."
– Virat Kohli
---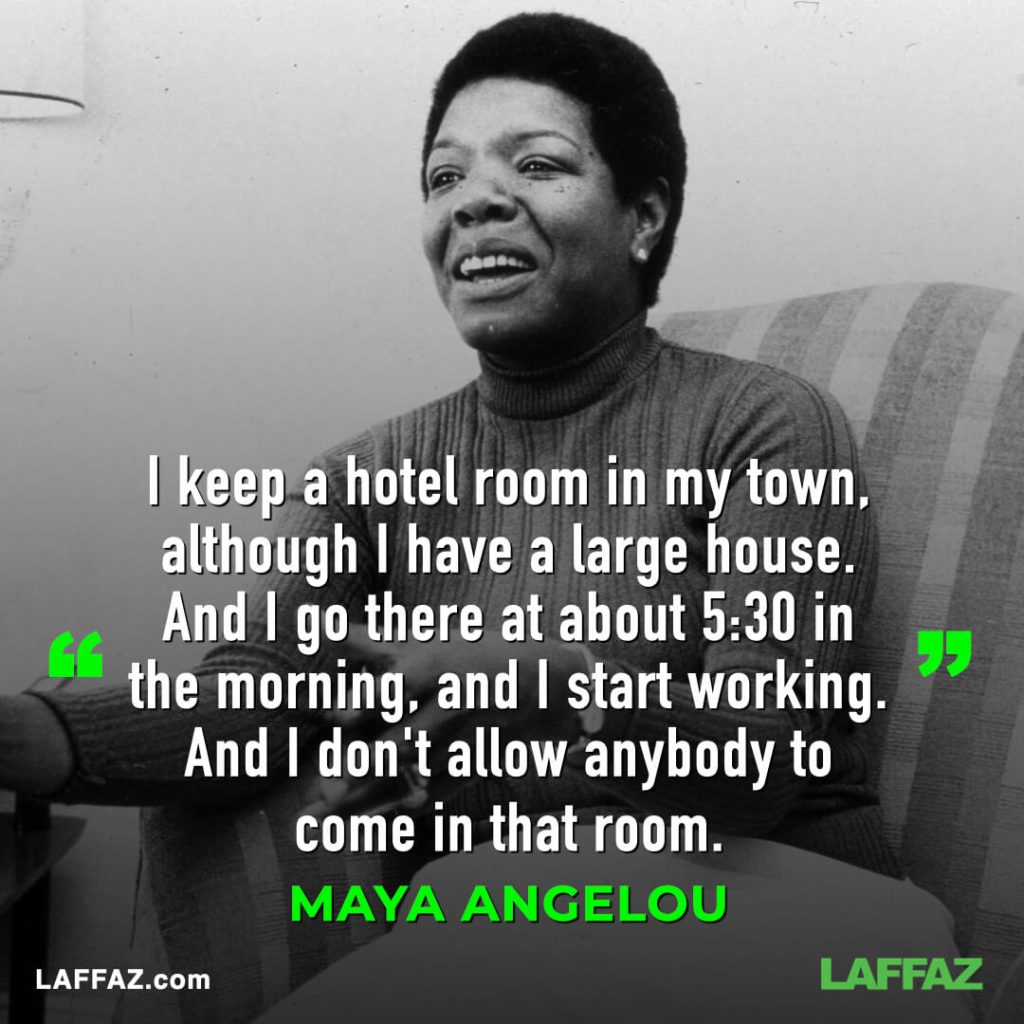 "I keep a hotel room in my town, although I have a large house. And I go there at about 5:30 in the morning, and I start working. And I don't allow anybody to come in that room. I work on yellow pads and with ballpoint pens. I keep a Bible, a thesaurus, a dictionary, and a bottle of sherry. I stay there until midday.
– Maya Angelou
---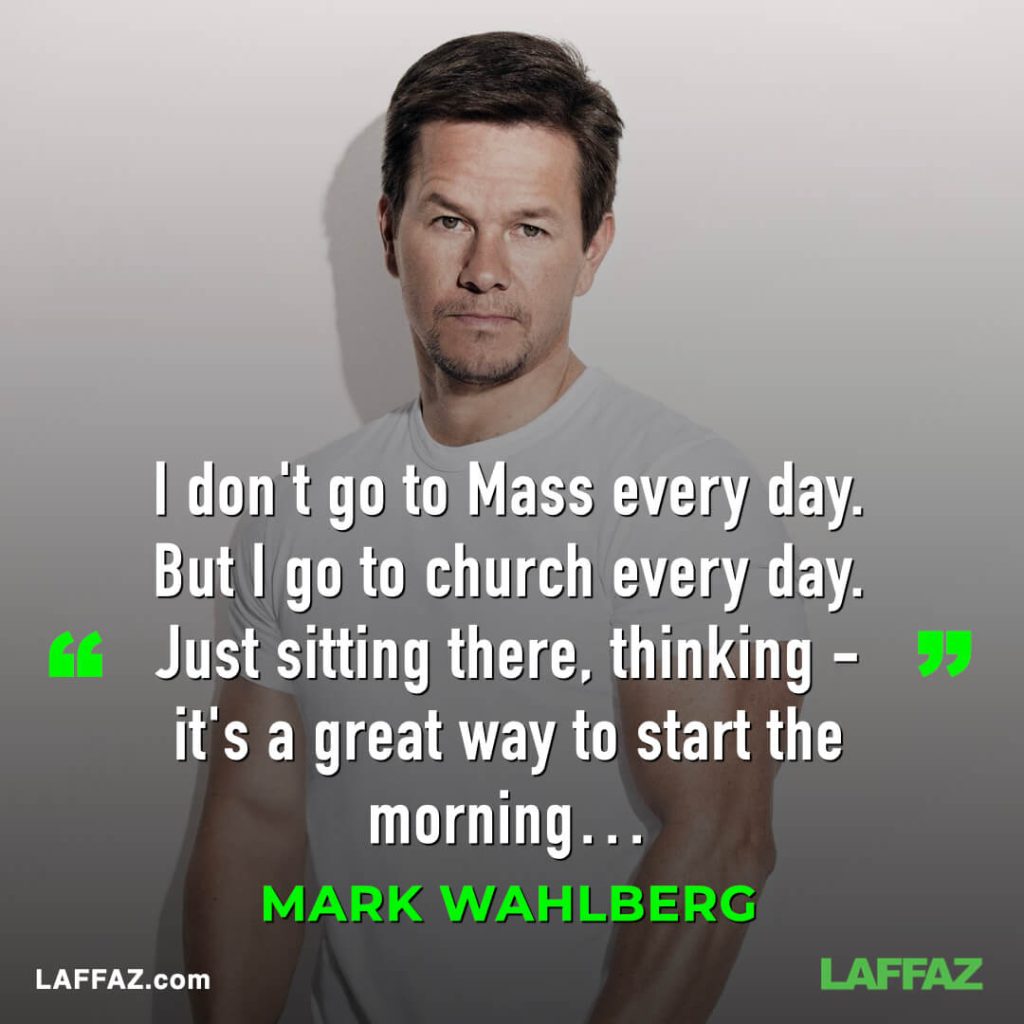 "I don't go to Mass every day. But I go to church every day. Just sitting there, thinking – it's a great way to start the morning, you know? You feel so good coming out, and your approach to everything is suddenly really clear."
– Mark Wahlberg
---
We idolize his physique. Do you want to know the secret behind what Superman does to look that adorable? This good morning quote will tell you that straight!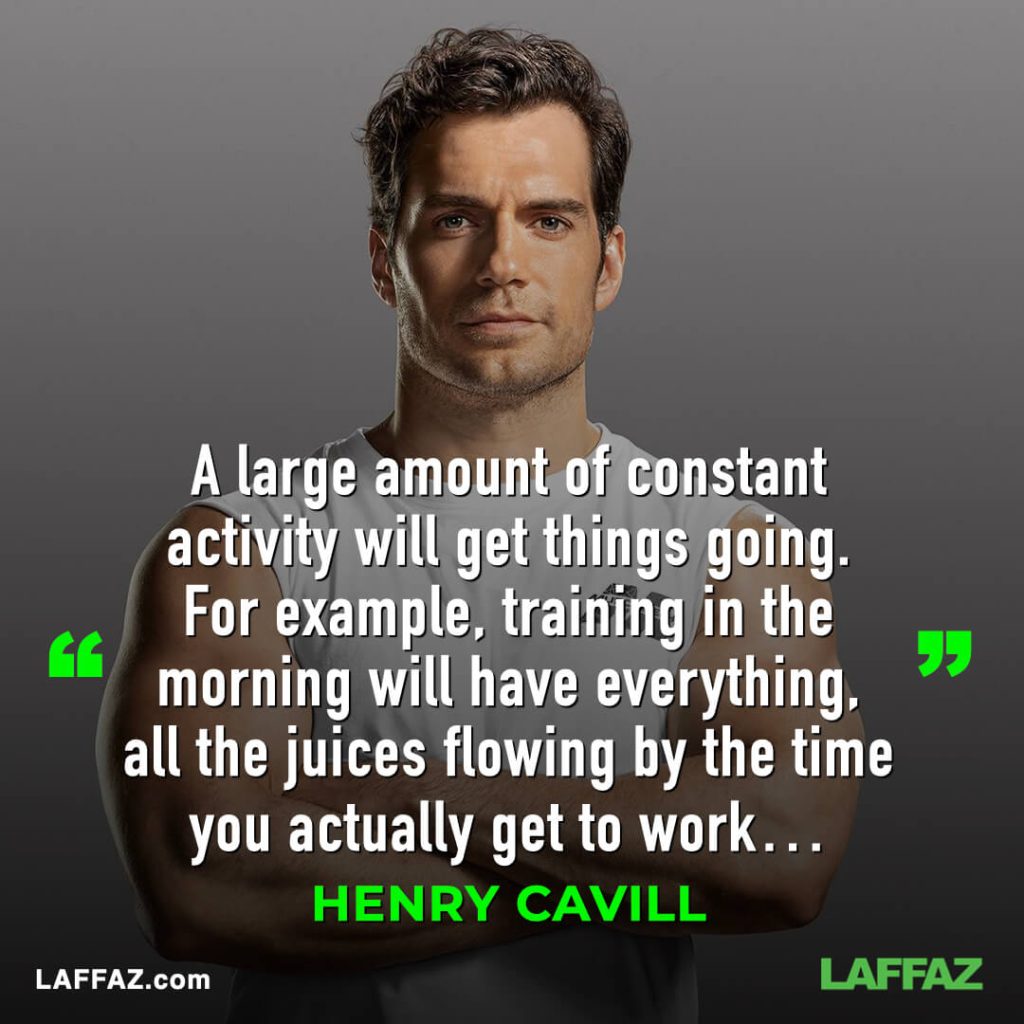 "A large amount of constant activity will get things going. For example, training in the morning will have everything, all the juices flowing by the time you actually get to work. So, when you're at work, you've been already up for an hour or so or two hours, and you're raring to go where everyone else is still wiping sleep out of their eyes."
– Henry Cavill
---
Hima Das, nicknamed Dhing Express, is an Indian sprinter from the state of Assam. She holds the current Indian national record in 400 meters with a timing of 50.79 s that she clocked at the 2018 Asian Games in Jakarta, Indonesia. Her 5 AM club routine is definitely the key to her success.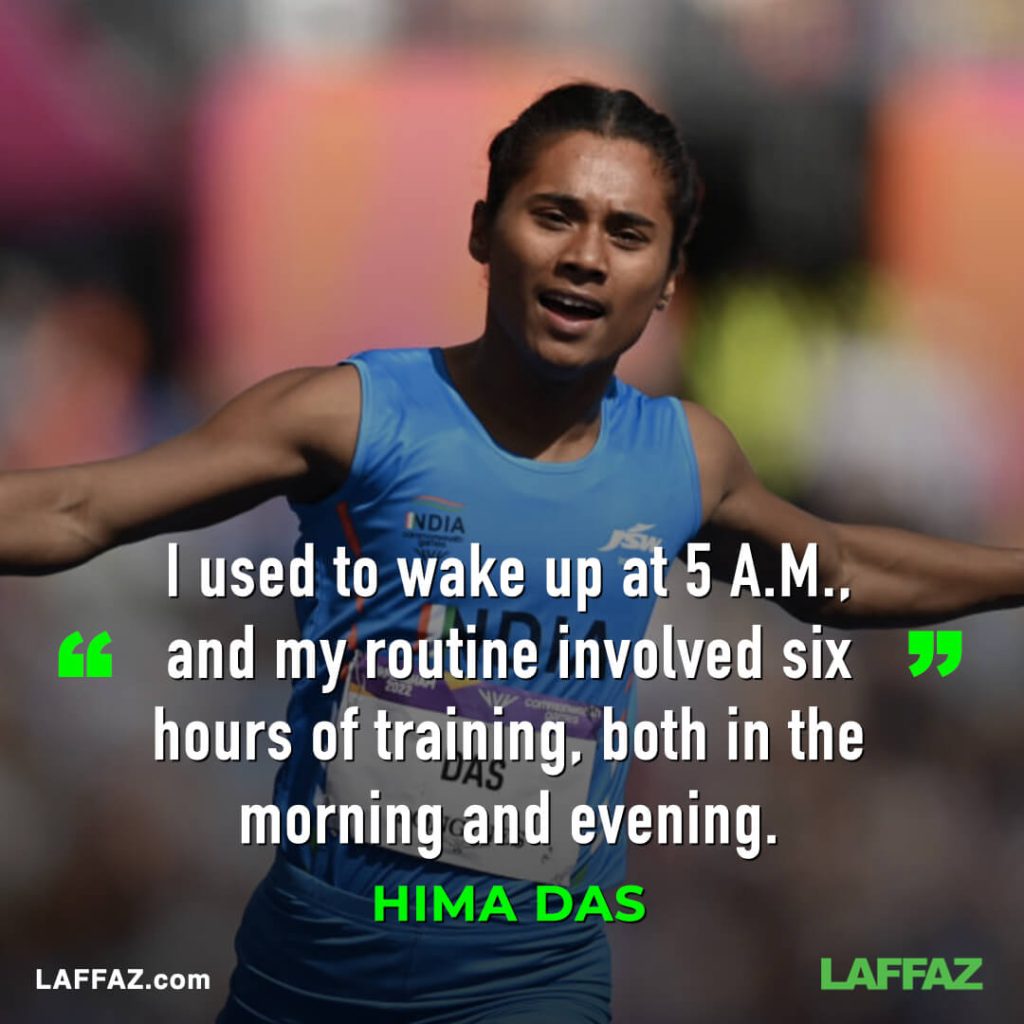 "I used to wake up at 5 A.M., and my routine involved six hours of training, both in the morning and evening."
– Hima Das
---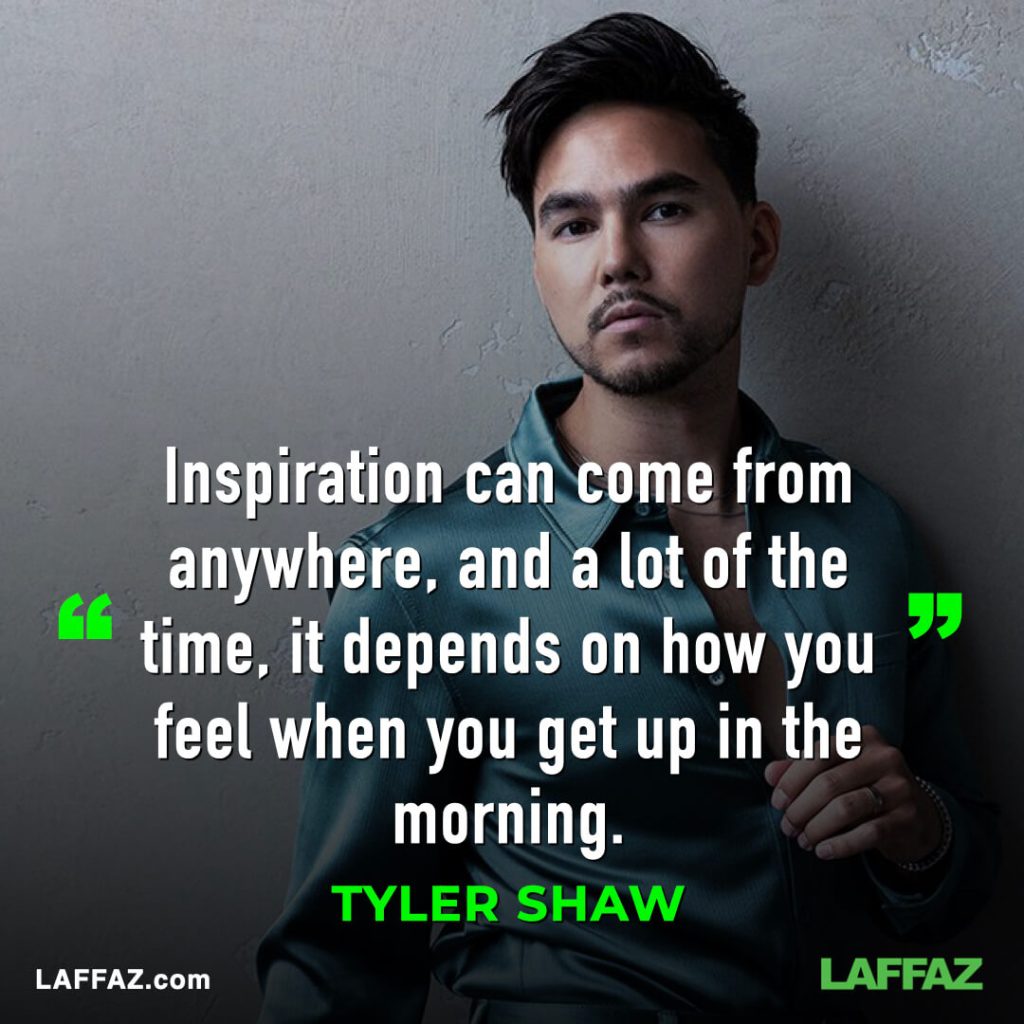 "Inspiration can come from anywhere, and a lot of the time, it depends on how you feel when you get up in the morning."
– Tyler Shaw
---
Well, who isn't following headlines about Johnny Depp Vs Amber Heard case? Not only he did win the case, but he has also won our hearts with his good morning quote.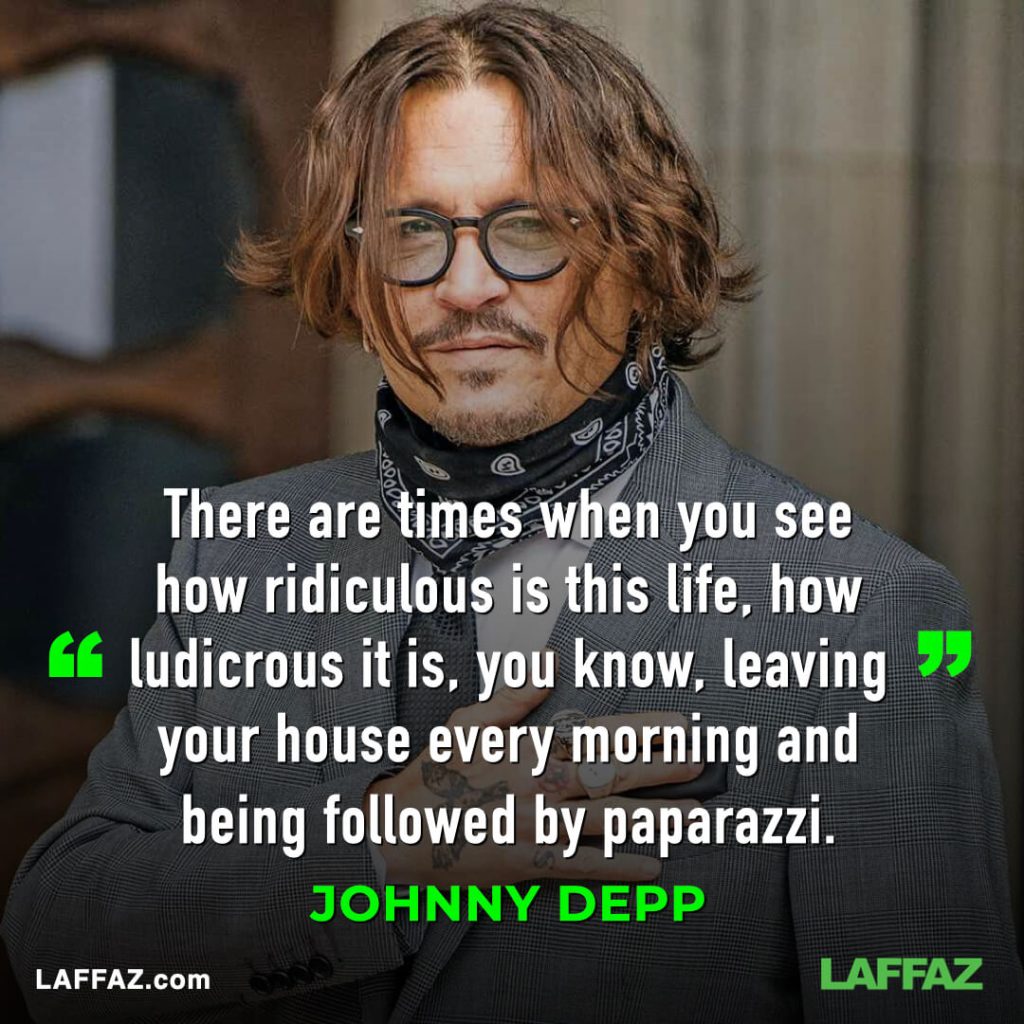 "There are times when you see how ridiculous is this life, how ludicrous it is, you know, leaving your house every morning and being followed by paparazzi."
– Johnny Depp
---
Did she ever get clothes on? 😛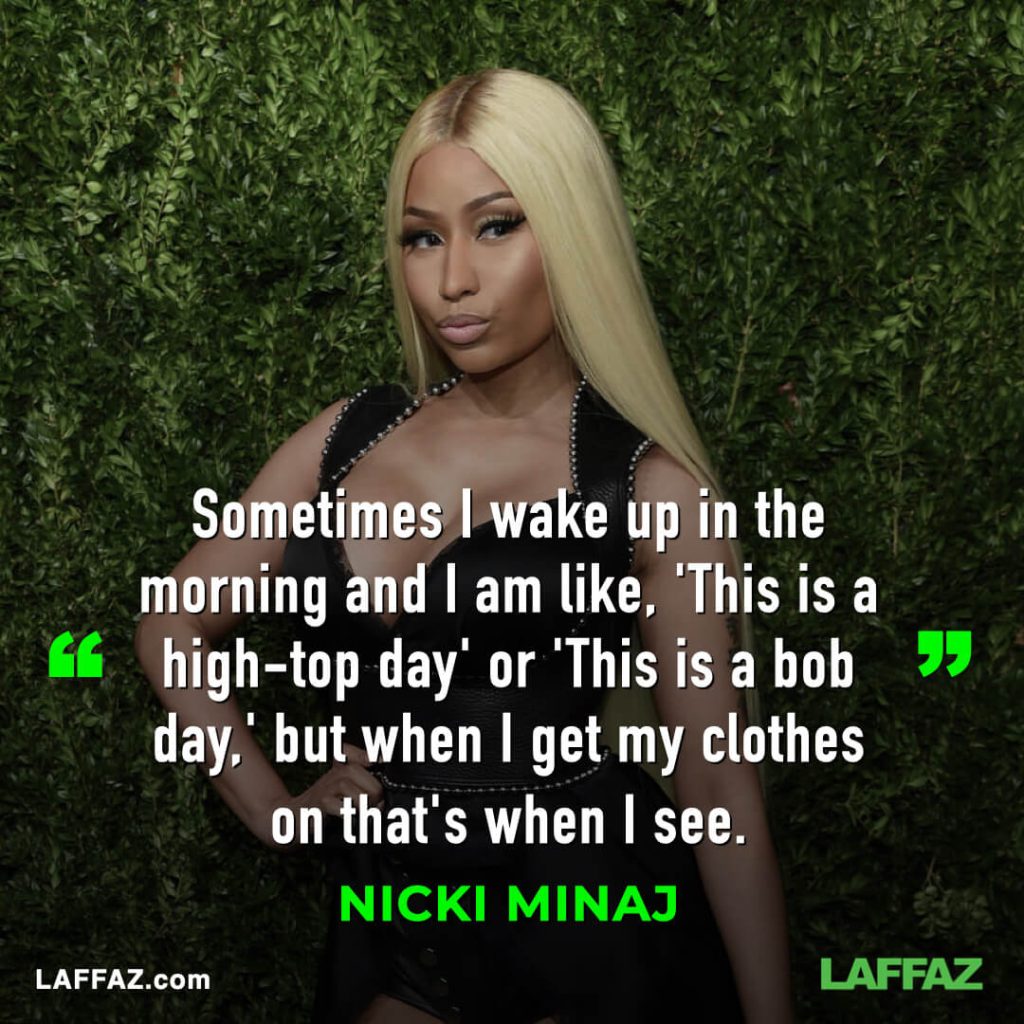 "Sometimes I wake up in the morning and I am like, 'This is a high-top day' or 'This is a bob day,' but when I get my clothes on that's when I see."
– Nicki Minaj
---
"Tell Me, Do you Bleed?" is the most memorable one. But Batman has many good morning quotes to share. I picked just this one.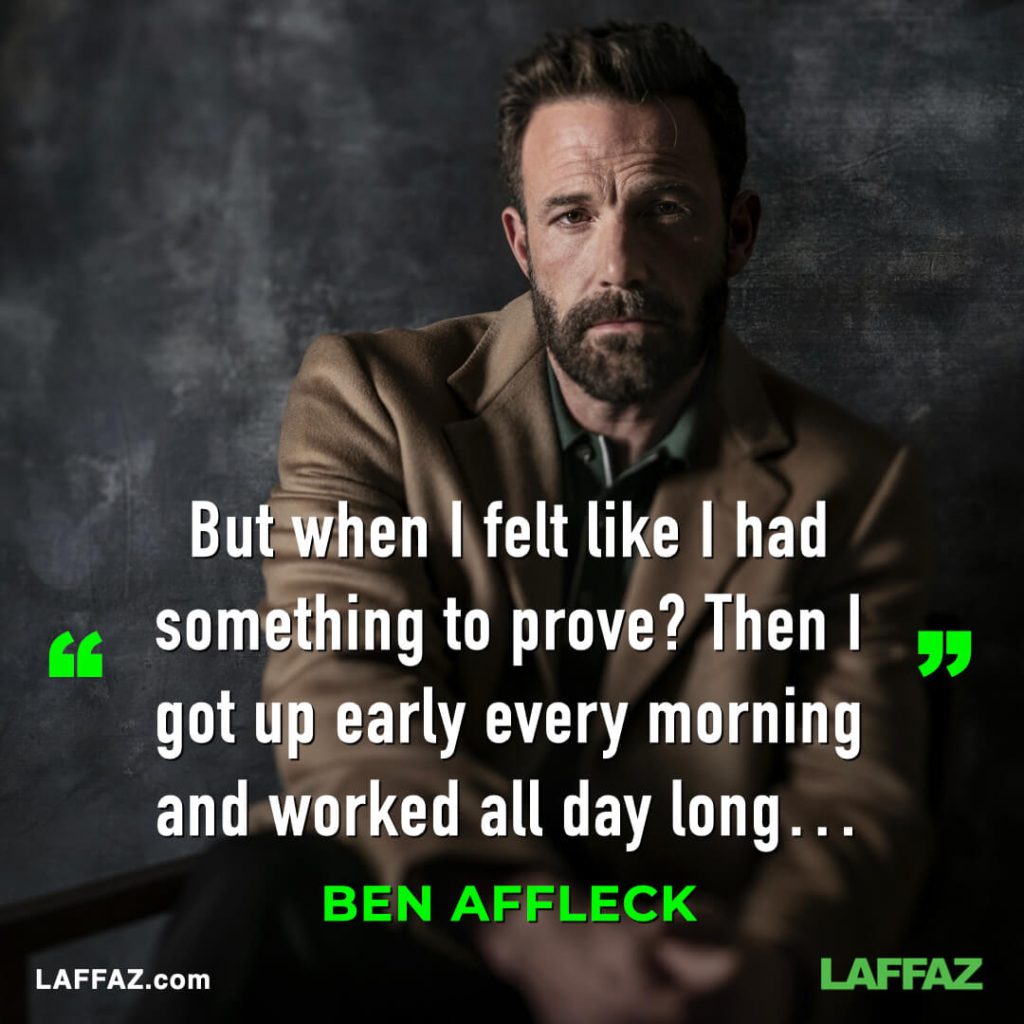 "But when I felt like I had something to prove? Then I got up early every morning and worked all day long. I didn't know if I had any more talent than anyone else directing, but I knew I could work hard at it, and so I did."
– Ben Affleck
---
The Bollywood heart-throbber who makes tough yoga poses effortlessly makes admirable statements.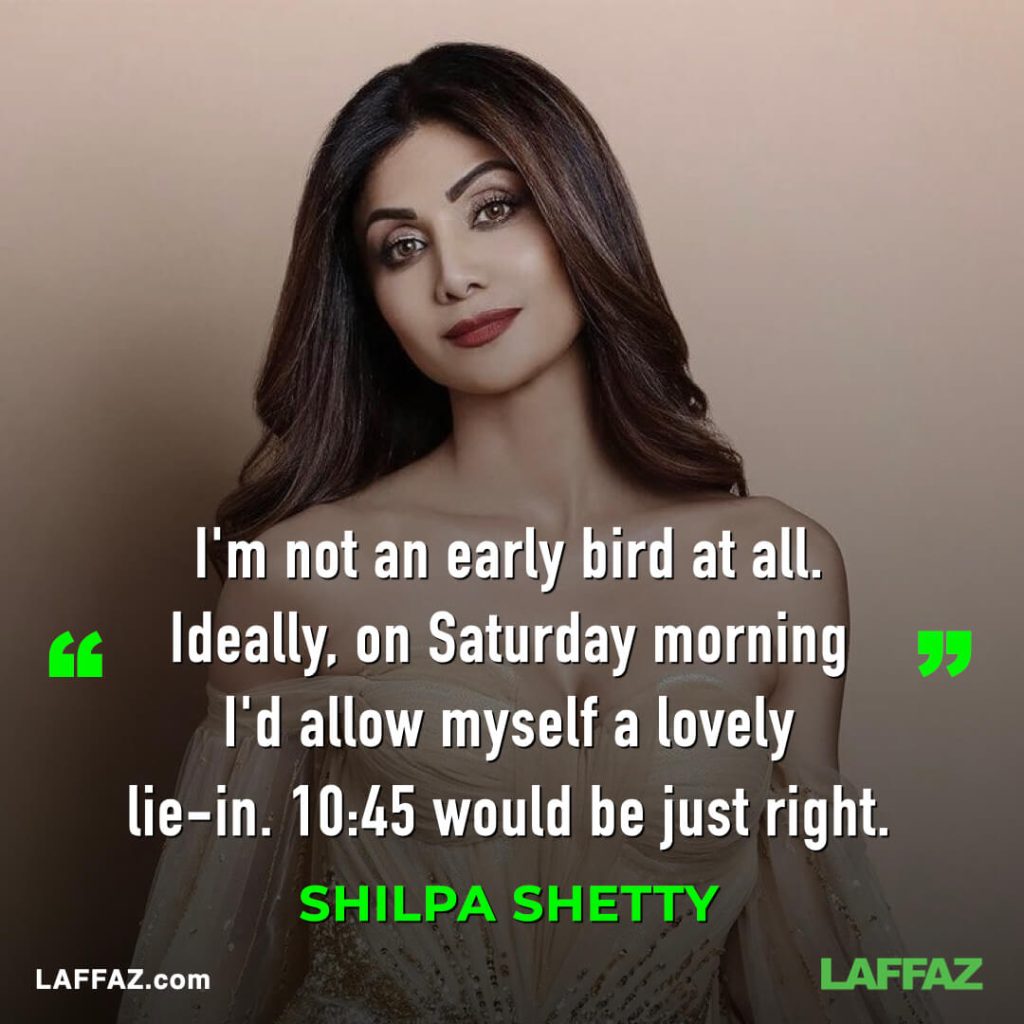 "I'm not an early bird at all. Ideally, on Saturday morning I'd allow myself a lovely lie-in. 10:45 would be just right."
– Shilpa Shetty
---
Yes, that Mary Jane from Spiderman!
"You know that feeling when you wake up in the morning and you're excited for the day? That's one of my main goals in life."
– Kirsten Dunst
---
Other noteworthy Good Morning quotes
"My morning begins with trying not to get up before the sun rises. But when I do, it's because my head is too full of words, and I just need to get to my desk and start dumping them into a file. I always wake with sentences pouring into my head."
– Barbara Kingsolver
---
"When you arise in the morning, think of what a precious privilege it is to be alive – to breathe, to think, to enjoy, to love."
– Marcus Aurelius
---
"Opportunities are like sunrises. If you wait too long, you miss them."
– William Arthur Ward
---
"I have always been delighted at the prospect of a new day, a fresh try, one more start, with perhaps a bit of magic waiting somewhere behind the morning."
– J. B. Priestley
---
"An early-morning walk is a blessing for the whole day."
– Henry David Thoreau
---
"I remind myself every morning: Nothing I say this day will teach me anything. So if I'm going to learn, I must do it by listening."
– Larry King
---
"It doesn't need to be the same every day, doesn't need to be the same shower I use, the same restaurant I go to, the same hour I go to sleep. I've always been very flexible. I don't care if I practice at nine in the morning or 10 P.M."
– Roger Federer
---
"The fun of sitting around Pangong Lake with 40 guys around a fireplace, having a glass of wine… staying in one camp together… that's an experience. Waking up at 5 in the morning, watching the sun come up. You don't do these things in Bombay."
– Gautam Singhania
---
Whether or not you like the Kardashians and Jenners. But you can never dislike this statement from Caitlyn.
"There's nothing more, nothing better in life to wake up in the morning, look at yourself in the mirror, and feel comfortable with yourself and who you are."
– Caitlyn Jenner
---
"Getting up quite late in the morning, going and trying to clean my bikes – I have quite a few of them in Ranchi – spending some time with my family, my parents and friends. Going out for rides with my friends and having lunch or dinner at a roadside hotel – that's my favourite time-pass. These are the sort of things that really excite me."
– MS Dhoni
---
"We all wake up in the morning wanting to live our lives the way we know we should. But we usually don't, in small ways. That's what makes a character like Batman so fascinating. He plays out our conflicts on a much larger scale."
– Christopher Nolan
---
"In a real dark night of the soul, it is always three o'clock in the morning, day after day."
– F. Scott Fitzgerald
---
"The person who doesn't scatter the morning dew will not comb gray hairs."
– Hunter S. Thompson
---
"He, who every morning plans the transactions of the day, and follows that plan, carries a thread that will guide him through a labyrinth of the most busy life."
– Victor Hugo
---
"Every morning I get up and look through the Forbes list of the richest people in America. If I'm not there, I go to work."
– Robert Orben
---
"I think that when you get dressed in the morning, sometimes you're really making a decision about your behavior for the day. Like if you put on flipflops, you're saying: 'Hope I don't get chased today.' 'Be nice to people in sneakers.'
– Demetri Martin
---
"Each morning sees some task begun, each evening sees it close; Something attempted, something done, has earned a night's repose."
– Henry Wadsworth Longfellow
---
"Do I get up every morning and ask: am I doing the things that I believe in and am I doing them for the best possible motives? Yes. Unambiguously yes."
– Nick Clegg
---
"Burning desire to be or do something gives us staying power – a reason to get up every morning or to pick ourselves up and start in again after a disappointment."
– Marsha Sinetar
---
"Be pleasant until ten o'clock in the morning and the rest of the day will take care of itself."
– Elbert Hubbard
---
"There was never a night or a problem that could defeat sunrise or hope."
– Bernard Williams
---
"It is a matter of shame that in the morning the birds should be awake earlier than you."
– Abu Bakr Siddique
---
"I'm always thinking about creating. My future starts when I wake up every morning… Every day I find something creative to do with my life."
– Miles Davis
---
"Thank God every morning when you get up that you have something to do that day, which must be done, whether you like it or not."
– James Russell Lowell
---
"I think fitness and doing gym should be like brushing teeth everyday in the morning as it should come automatically without any excuse."
– Sonu Sood
---
"When I was a kid, 'Land of the Lost' was my favorite show, just because it was – in the landscape of Saturday morning cartoons – it was so unique. It was a live-action show and kids were in it, these creatures, these Sleestaks and dinosaurs. Every week was a different adventure. I couldn't wait. I loved it so much."
– Will Ferrell
---
"The toughest opponent is me. A lot of times, you don't want to train. You don't want to box. Sometimes, life hits you to the point where you don't even want to live. You have to fight with that person. You have to make yourself wake up in the morning. You have to make yourself watch your weight. That's how I fight with that person."
– Oleksandr Usyk
---
"If something happened where I couldn't write music anymore, it would kill me. It's not just a job. It's not just a hobby. It's why I get up in the morning."
– Hans Zimmer
---
"Even if I have already peaked, I have to believe I can improve. I wake up every morning, and go to practice, with the illusion that I'm going to get better that day."
– Rafael Nadal
---
"I sometimes forget to have breakfast in the morning, but when I actually buy a box of cereal, I will probably eat it not only for breakfast but also as a snack later on."
– Ryan Gosling
---
"I miss Saturday morning, rolling out of bed, not shaving, getting into my car with my girls, driving to the supermarket, squeezing the fruit, getting my car washed, taking walks."
– Barack Obama
---
"My dad used to have an expression – 'It is the lucky person who gets up in the morning, puts both feet on the floor, knows what they are about to do, and thinks it still matters.'
– Joe Biden
---
"Mom was a school teacher, and she had to be at work at 7:30 every morning. So Dad was in charge of us three kids around the breakfast table. He always made it creative: he did the bananas with the smiley face and the eyes with peanut butter on top, made us drink grapefruit every morning even though we had to do it holding our noses."
– Ainsley Earhardt
---
"When you wake up each morning, you can choose to be happy or choose to be sad. Unless some terrible catastrophe has occurred the night before, it is pretty much up to you. Tomorrow morning, when the sun shines through your window, choose to make it a happy day."
– Lynda Resnick
---
"You know, I looked at my face in the mirror this morning, and I like being old. My face has more content and when I train in the gym now, I am not training to be strong or handsome – just better than I was yesterday. These days the race is just against myself."
– Jean-Claude Van Damme
---
Something very important you need to know about morning from Iron Man, is a good morning quote that says…
"If I could eat whatever I wanted every day, I would have Domino's pizza with pasta carbonara inside every slice. And at night, I would have Neapolitan ice cream until I felt absolutely toxic. And then I would drift off telling myself, 'It's going to be O.K… It's going to be O.K. you're going to train in the morning.'
– Robert Downey, Jr.
---
"A human being would certainly not grow to be seventy or eighty years old if this longevity had no meaning for the species. The afternoon of human life must also have a significance of its own and cannot be merely a pitiful appendage to life's morning."
– Carl Jung
---
"If you want to be the best, you can't take the path of least resistance. Every morning, you wake up, and your mind tells you it's too early, and your body tells you you're a little too sore, but you've got to look deep within yourself and know what you want and what you're striving for."
– Antonio Brown
---
One of the most noteworthy quotes on happiness.
"Wellness is associated with happiness. When you're happy, you're feeling good in your mind and body. That ties into being healthy, eating well, and exercising regularly. It also ties into being excited about things – like getting up in the morning and having a healthy breakfast."
– Stella Maxwell
---
"Wherever my story takes me, however dark and difficult the theme, there is always some hope and redemption, not because readers like happy endings, but because I am an optimist at heart. I know the sun will rise in the morning, that there is a light at the end of every tunnel."
– Michael Morpurgo
---
"I never really look for anything. What God throws my way comes. I wake up in the morning and whichever way God turns my feet, I go."
– Pearl Bailey
---
"About four days a week, I do pretty good at having a morning prayer time. But even at that, it's a rambling sort of thing. What I have learned to do better is to try to keep my mind turned toward God and ear inclined toward God throughout the day, and I think I'm doing better at that, but I've got a long way to go."
– Max Lucado
---
"The brain is a wonderful organ; it starts working the moment you get up in the morning and does not stop until you get into the office."
– Robert Frost
---
"Probably the happiest period in life most frequently is in middle age, when the eager passions of youth are cooled, and the infirmities of age not yet begun; as we see that the shadows, which are at morning and evening so large, almost entirely disappear at midday."
– Eleanor Roosevelt
---
"Nature gives to every time and season some beauties of its own; and from morning to night, as from the cradle to the grave, it is but a succession of changes so gentle and easy that we can scarcely mark their progress."
– Charles Dickens
---
"The temptation to take the easy road is always there. It is as easy as staying in bed in the morning and sleeping in. But discipline is paramount to ultimate success and victory for any leader and any team."
– Jocko Willink
---
"To find the universal elements enough; to find the air and the water exhilarating; to be refreshed by a morning walk or an evening saunter… to be thrilled by the stars at night; to be elated over a bird's nest or a wildflower in spring – these are some of the rewards of the simple life."
– John Burroughs
---
"Grief is never something you get over. You don't wake up one morning and say, 'I've conquered that; now I'm moving on.' It's something that walks beside you every day. And if you can learn how to manage it and honour the person that you miss, you can take something that is incredibly sad and have some form of positivity."
– Terri Irwin
---
A great success quote from a young American businesswoman to make your day.
"Your morning sets up the success of your day. So many people wake up and immediately check text messages, emails, and social media. I use my first hour awake for my morning routine of breakfast and meditation to prepare myself."
– Caroline Ghosn
---
"For me, training is my meditation, my yoga, hiking, biking all rolled into one. Wake up early in the morning, generally around 4 o'clock, and I'll do my cardio on an empty stomach. Stretch, have a big breakfast, and then I'll go train."
– Dwayne Johnson
---
"It is well enough that people of the nation do not understand our banking and monetary system, for if they did, I believe there would be a revolution before tomorrow morning."
– Henry Ford
---
"A good wife is one who serves her husband in the morning like a mother does, loves him in the day like a sister does and pleases him like a pr*stitute in the night."
– Chanakya
---
"For the past 33 years, I have looked in the mirror every morning and asked myself: 'If today were the last day of my life, would I want to do what I am about to do today?' And whenever the answer has been 'No' for too many days in a row, I know I need to change something."
– Steve Jobs
---
"My dad, he worked rebar, an ironworker. Watching my pops get up every single morning, going into work, working hard – I think that really made me want to work that hard, wanted to make me get up early and go for a run or get a lift in or get some extra hitting in and really try to better myself every day."
– Bryce Harper
---
"Cut your morning devotions into your personal grooming. You would not go out to work with a dirty face. Why start the day with the face of your soul unwashed?"
– Robert A. Cook
---
"Today I choose life. Every morning when I wake up I can choose joy, happiness, negativity, pain… To feel the freedom that comes from being able to continue to make mistakes and choices – today I choose to feel life, not to deny my humanity but embrace it."
– Kevyn Aucoin
---
Which one is your favourite good morning quote?
So that was my ultimate list of good morning quotes that I compiled after my hours of research. If your favourite one is not included in this list, please let me know in the comments below.
---
ⓘ LAFFAZ is not responsible for the content of external sites. Users are required to read and abide by our Terms & Conditions.