So it is kind of uncanny for one to tell people 'who is Elon Musk', since the world already knows him as an engineer, technology entrepreneur, investor innovator and on top of that, a visionary who has taken tons of leaps to bless the world with amazing technologies and avenues synergised through his companies: Tesla, SpaceX, The Boring Company, OpenAI and PayPal. The Forbes list of Most Powerful People 2019 lists him as the 25th most powerful person in the world. Elon Musk's net worth of $22.3 billion as of March 2019 makes him the 40th richest person in the world, according to Forbes list of richest people.
Now that we know what makes Elon Musk quoteworthy and before I fill you up with the biography of Elon Musk, I would like to list down the top Elon Musk quotes selected by the editorial staff of LAFFAZ. As you reach the end, you'll have the details about the personal and professional life of Elon Musk as well.
List of Top Elon Musk Quotes for Motivation
Some of the best Elon Musk quotes that have the power to reactivate passion in every entrepreneur and rejuvenate any dying startup. Let's start from the basic yet an enlightening one. I would like to call it as 'Educational Elon Musk Quote for students' that says'
"Don't confuse schooling with education. I didn't go to Harvard but the people that work for me did"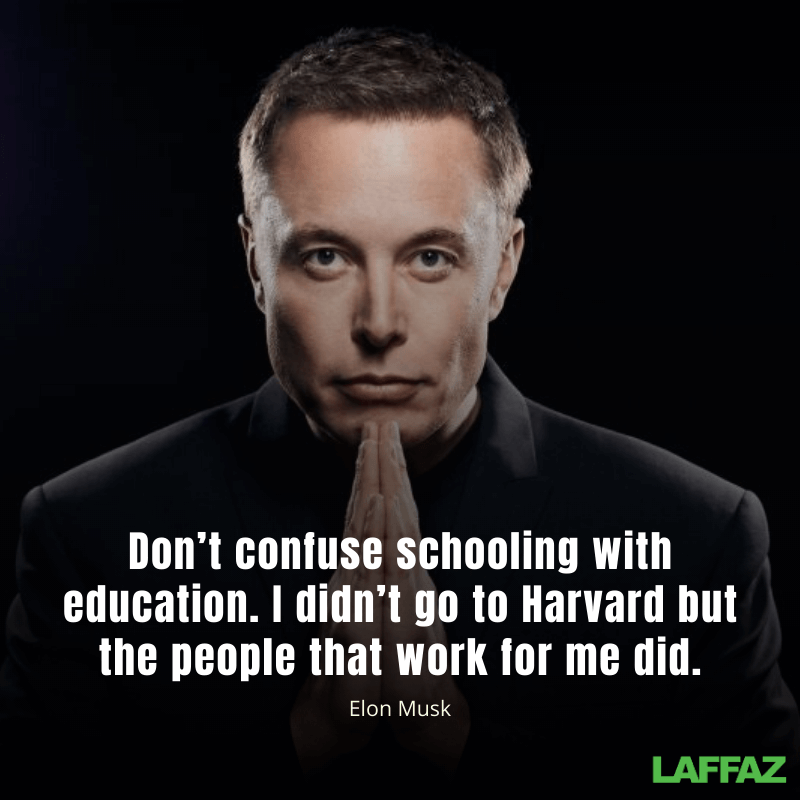 ---
"You want to have a future where you're expecting things to be better, not one where you're expecting things to be worse"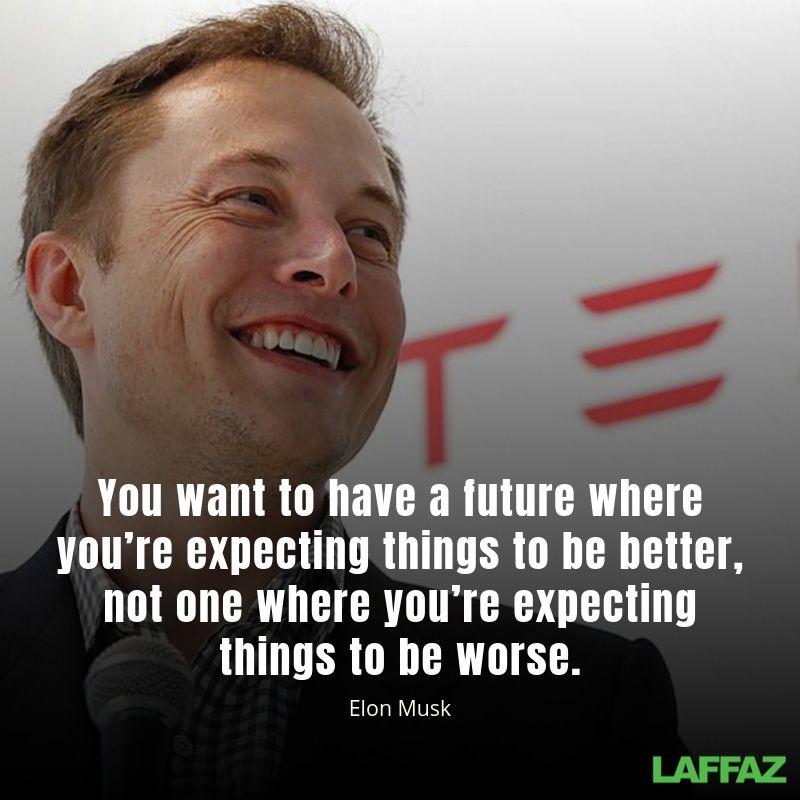 ---
"Great companies are built on great products"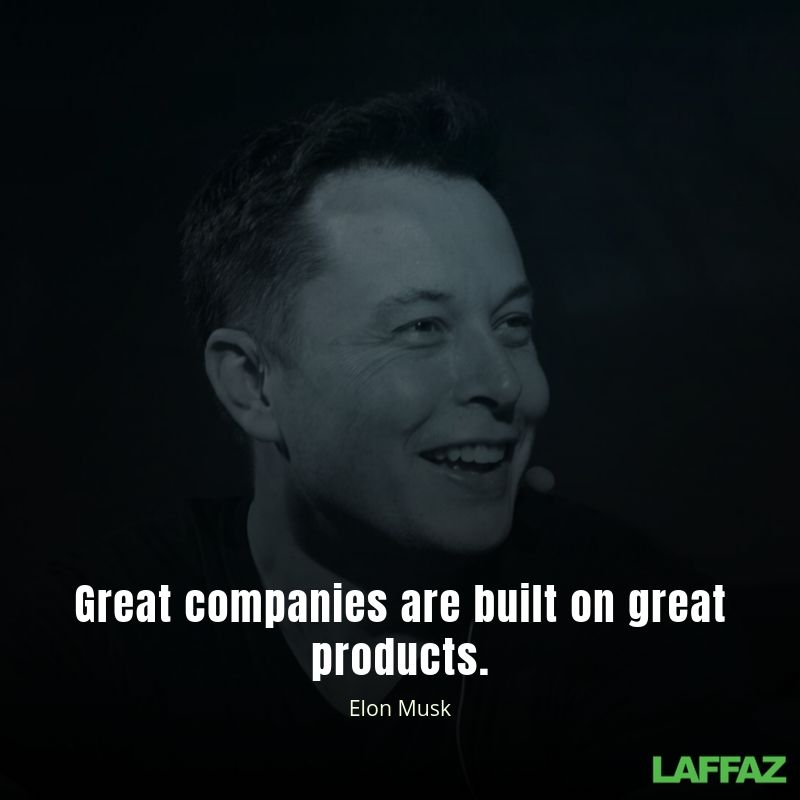 ---
"Good ideas are always crazy until they're not"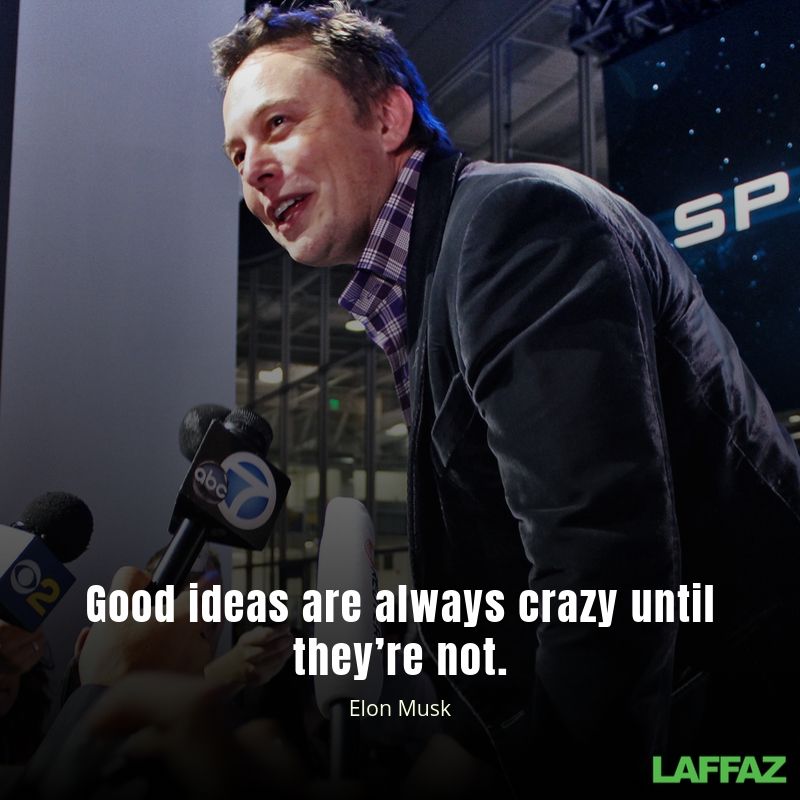 ---
"Constantly think about how you could be doing things better. Keep questioning yourself"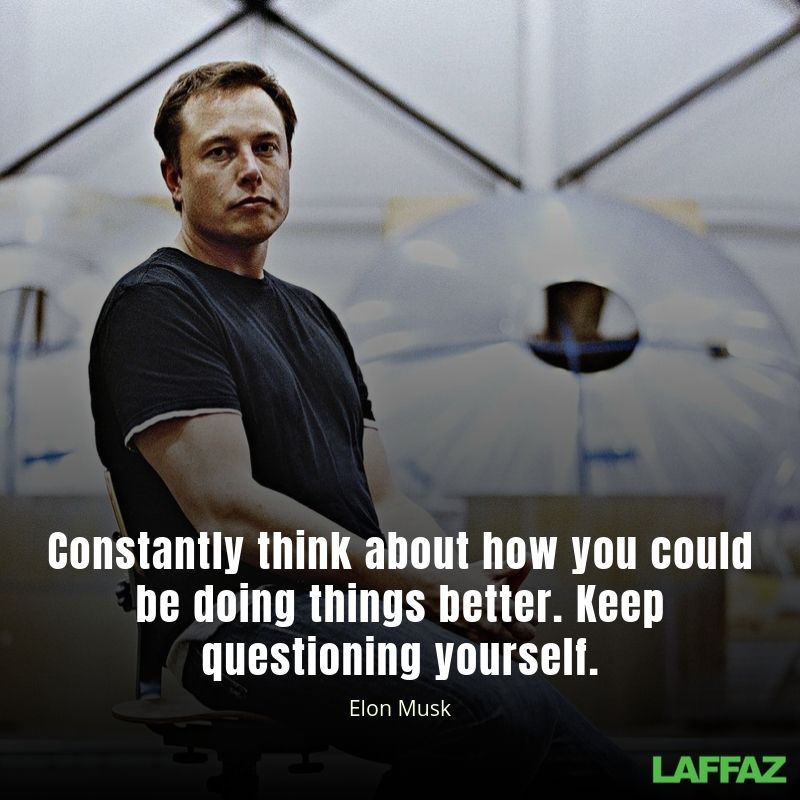 ---
"If you're trying to create a company, it's like baking a cake. You have to have all the ingredients in the right proportion"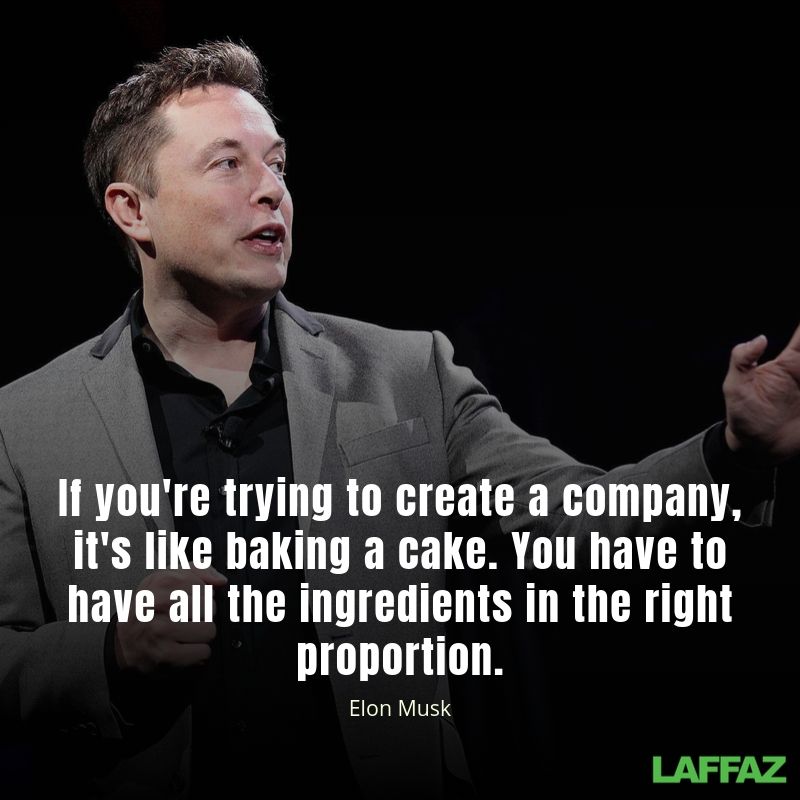 ---
"It's ok to have your eggs in one basket, as long as you control what happens to that basket"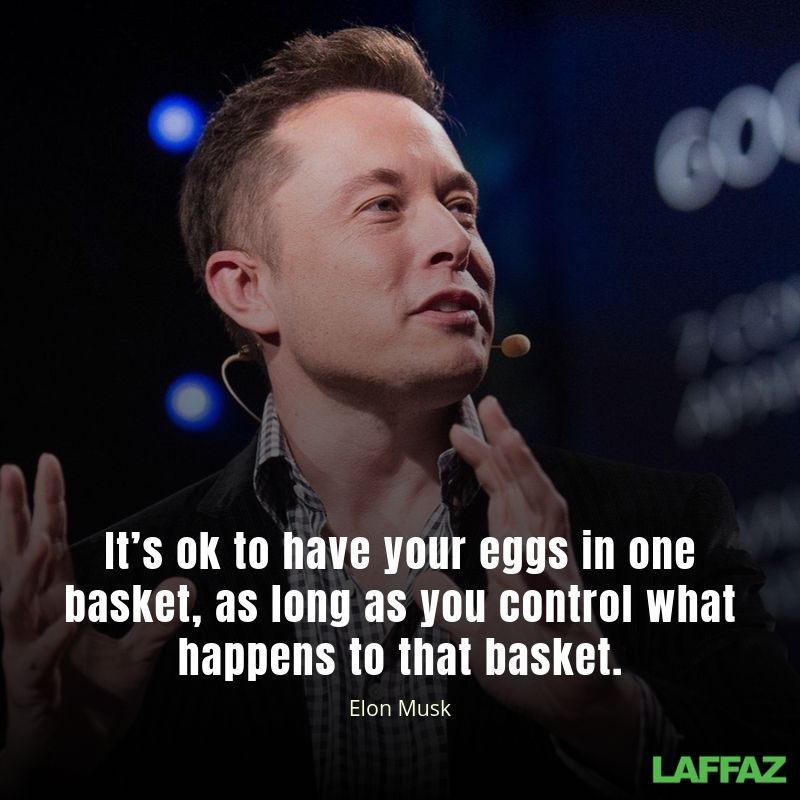 ---
Now that one is my most favourite Elon Musk Quote! Why? Simply because this goes in line with my belief i.e. you can't have everything in place, the product, the strategy, the expansion plan, go-to-market in the beginning blah blah blah.
"The first step is to establish that something is possible then probability will occur"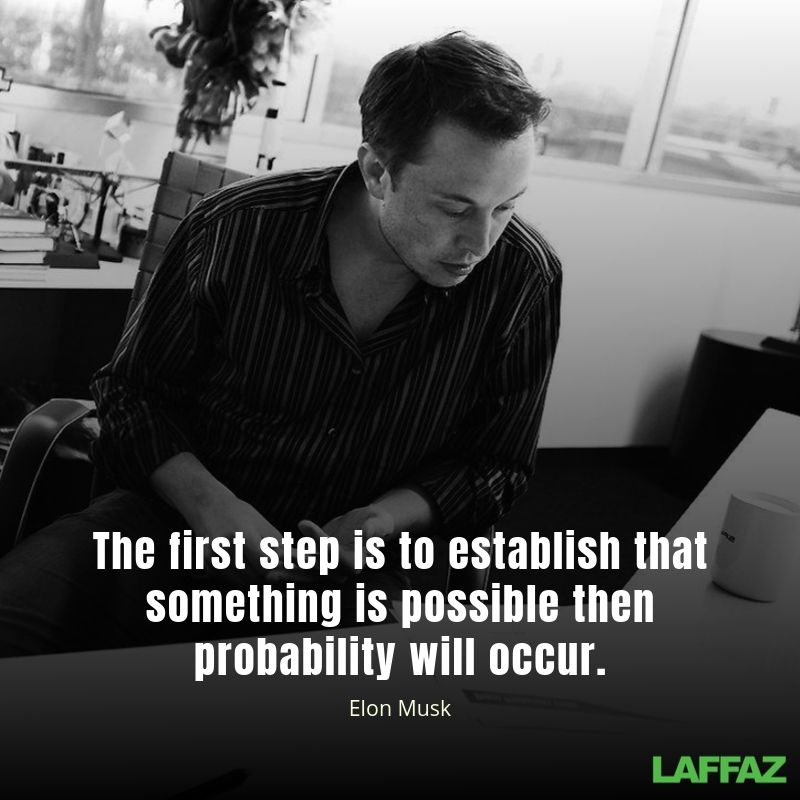 ---
"I think it is possible for ordinary people to choose to be extraordinary"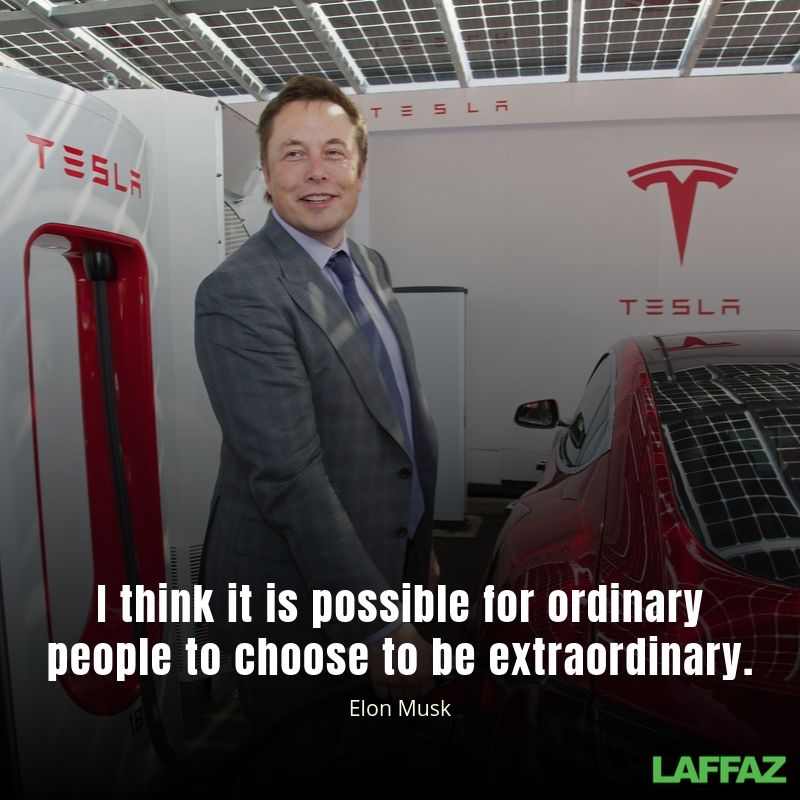 ---
"Some people don't like change, but you need to embrace change if the alternative is disaster"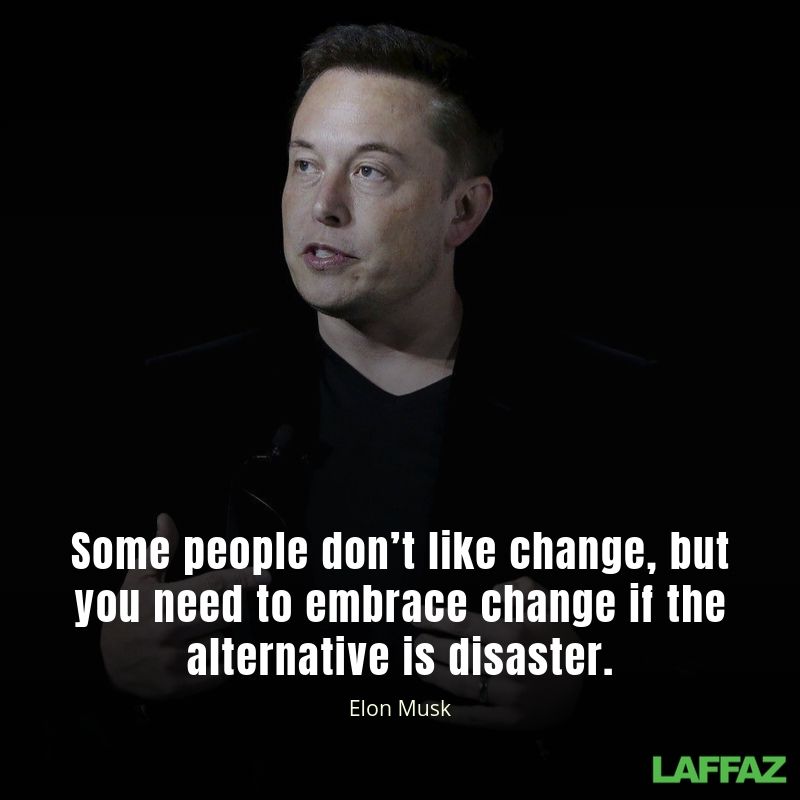 ---
▸ Interesting Read: Anonymous message to Elon Musk
---
"If you're a co-founder or CEO, you have to do all kinds of tasks you might not want to do… If you don't do your chores, the company won't succeed… No task is too menial"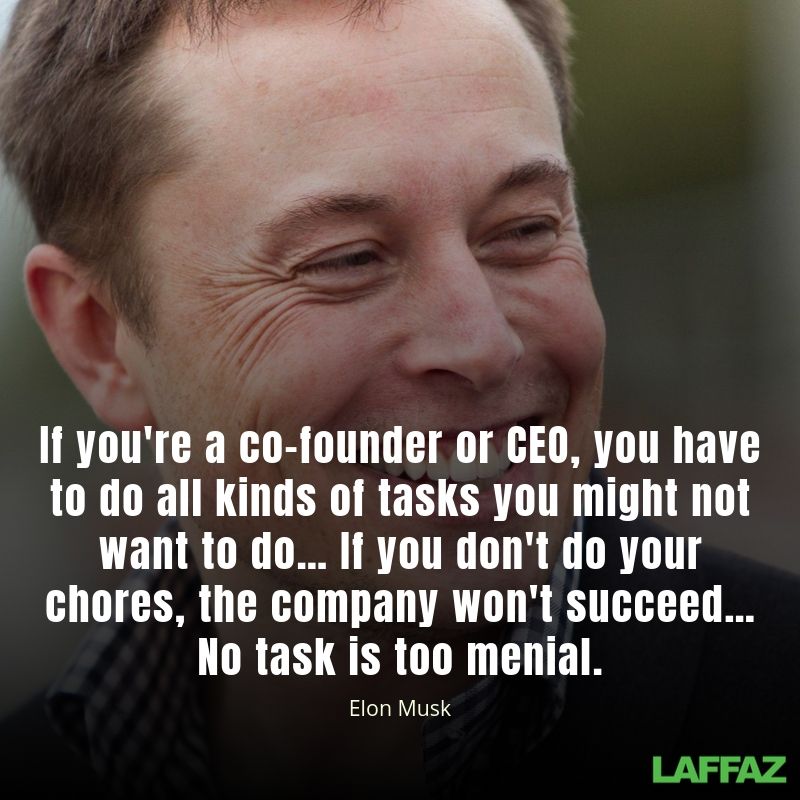 ---
"People work better when they know what the goal is and why. It is important that people look forward to coming to work in the morning and enjoy working"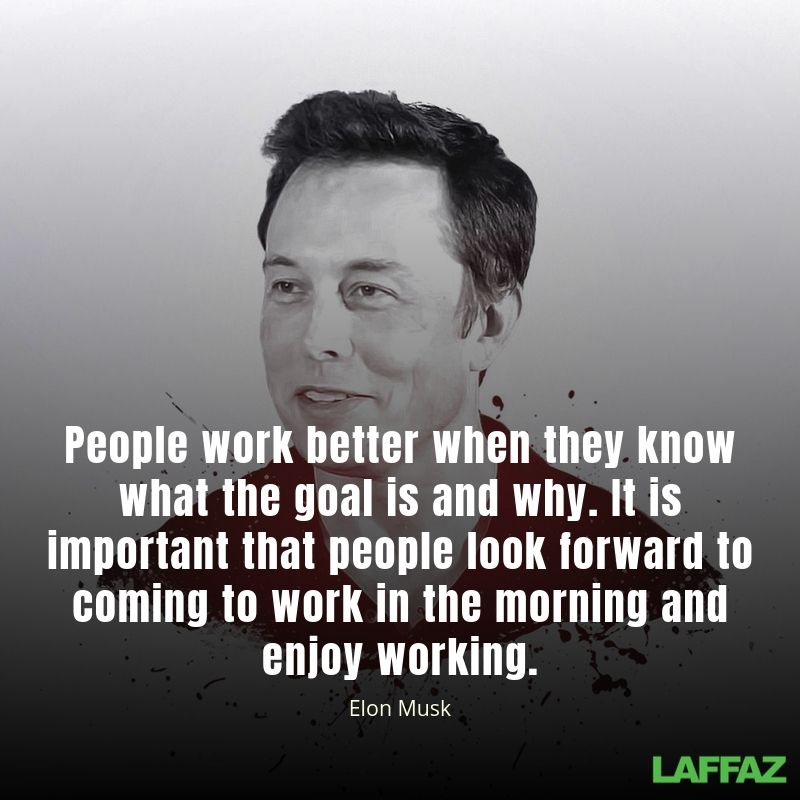 ---
"When something is important enough, you do it even if the odds are not in your favor"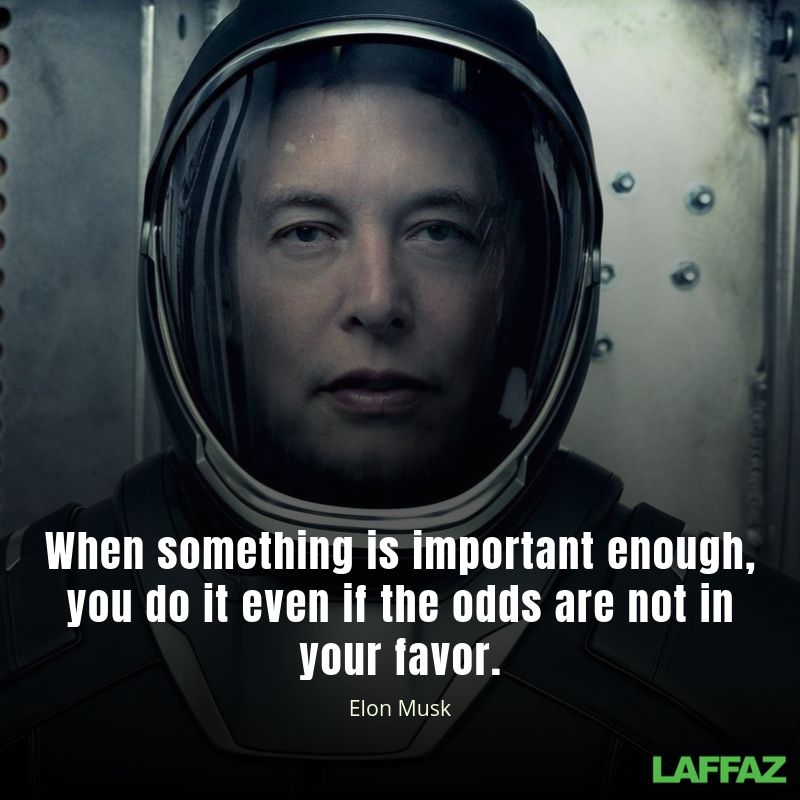 ---
"Failure is an option here. If things are not failing, you are not innovating enough"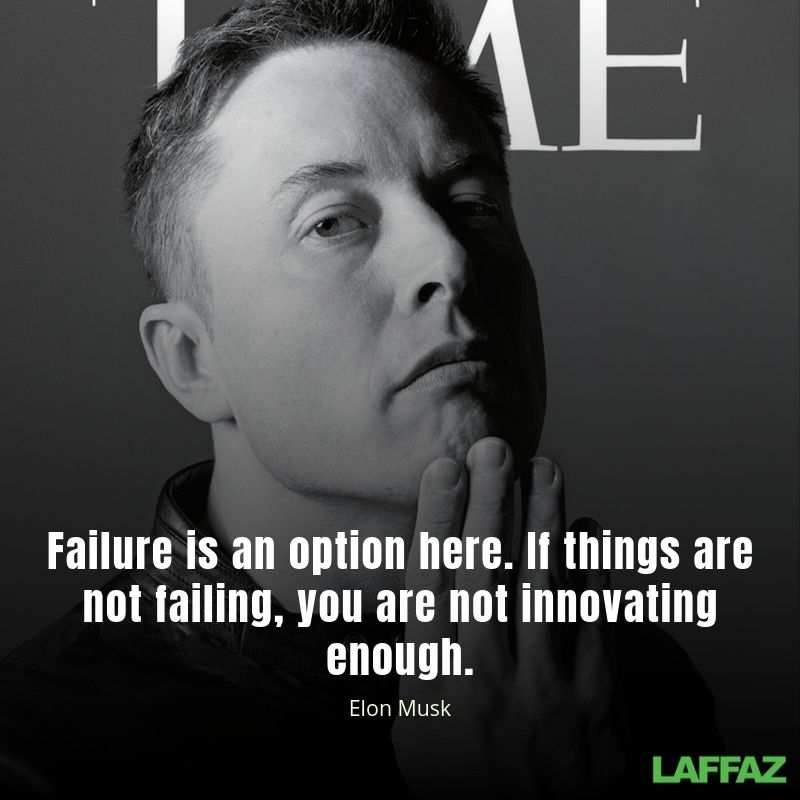 ---
"I think it's very important to have a feedback loop, where you're constantly thinking about what you've done and how you could be doing it better"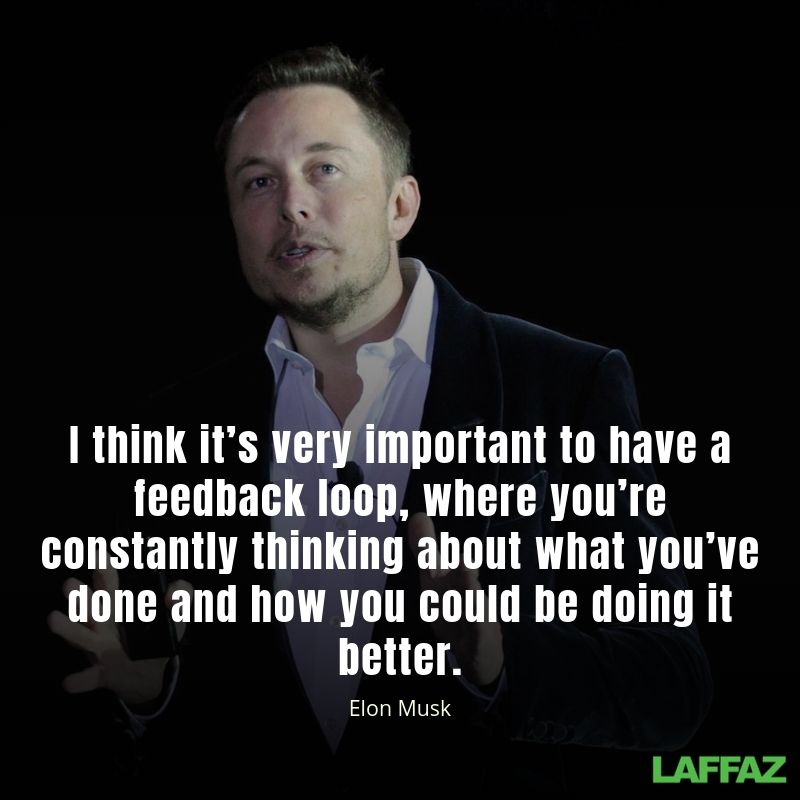 ---
"The path to the CEO's office should not be through the CFO's office, and it should not be through the marketing department. It needs to be through engineering and design"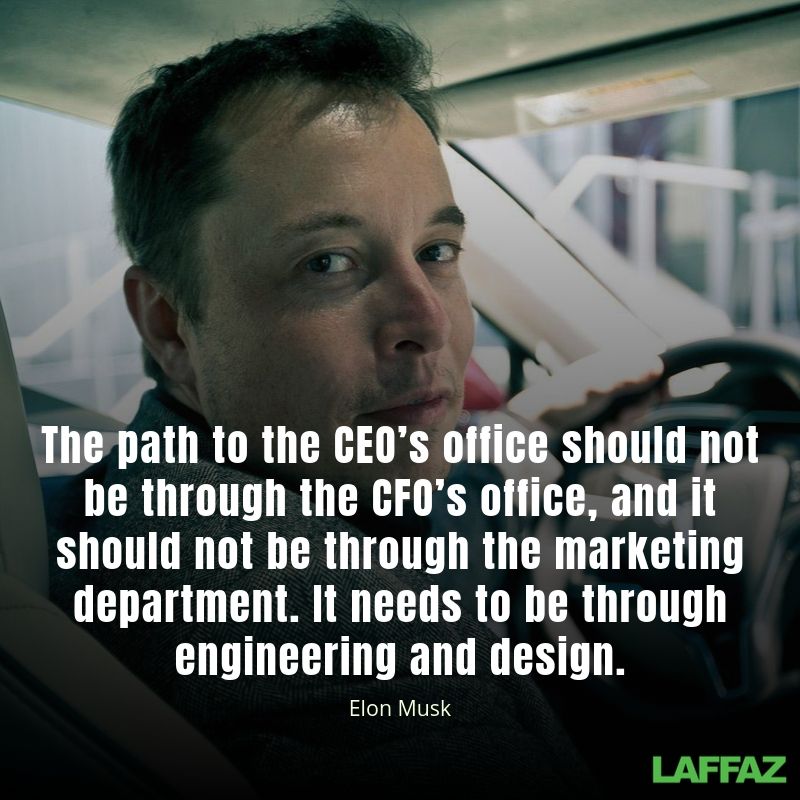 ---
"My motivation for all my companies has been to be involved in something that I thought would have a significant impact on the world"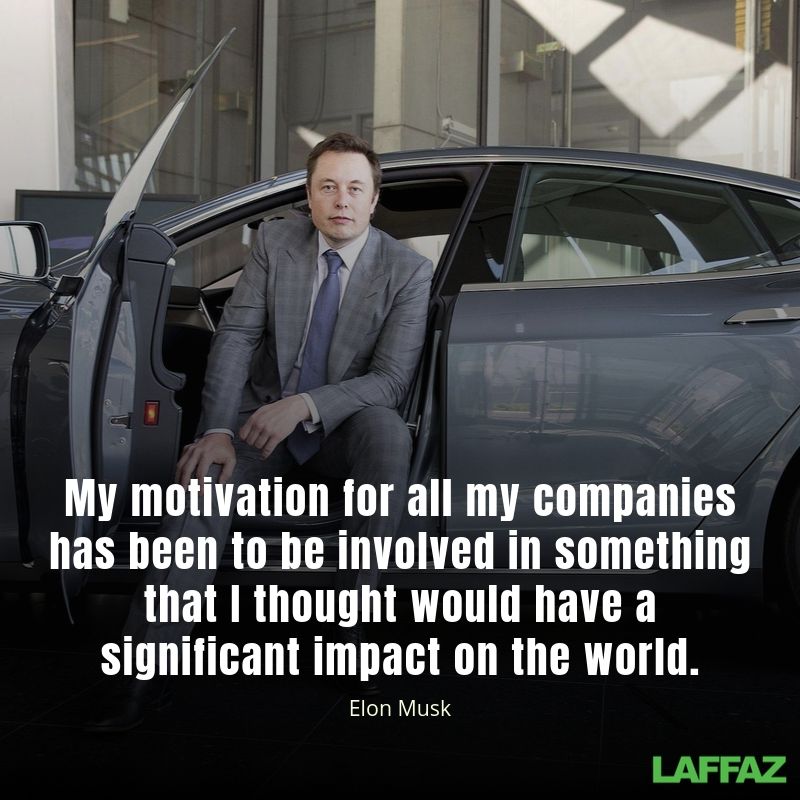 ---
"I don't create companies for the sake of creating companies, but to get things done"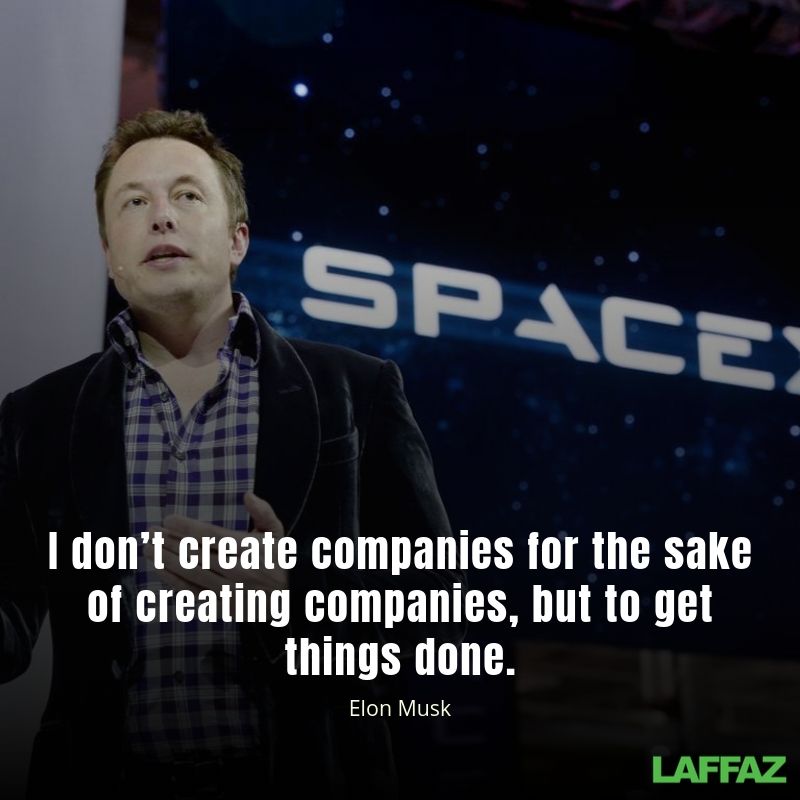 ---
"Persistence is very important. You should not give up unless you are forced to give up"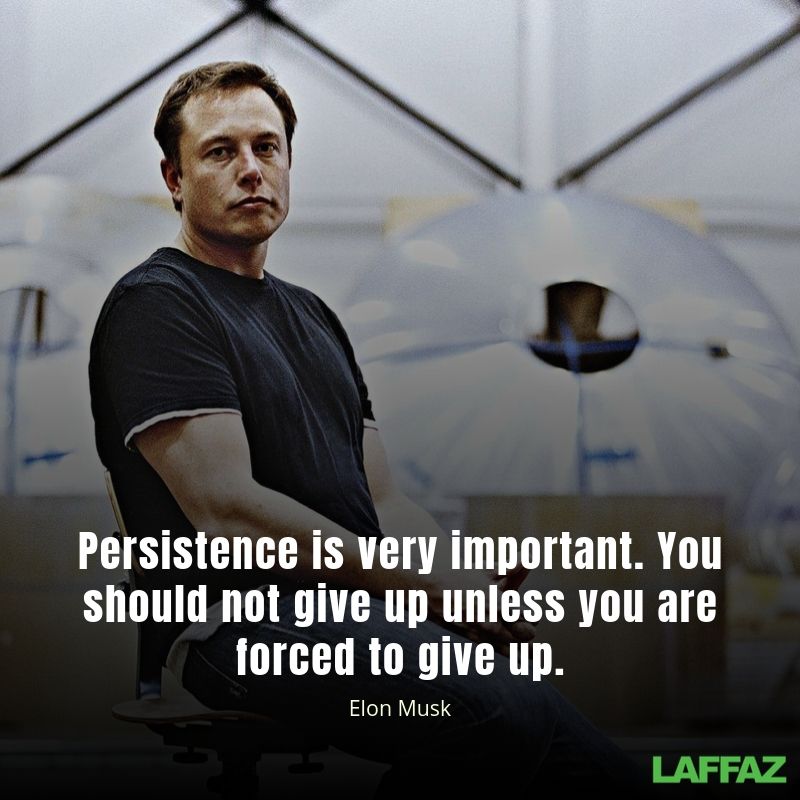 ---
"Any product that needs a manual to work is broken"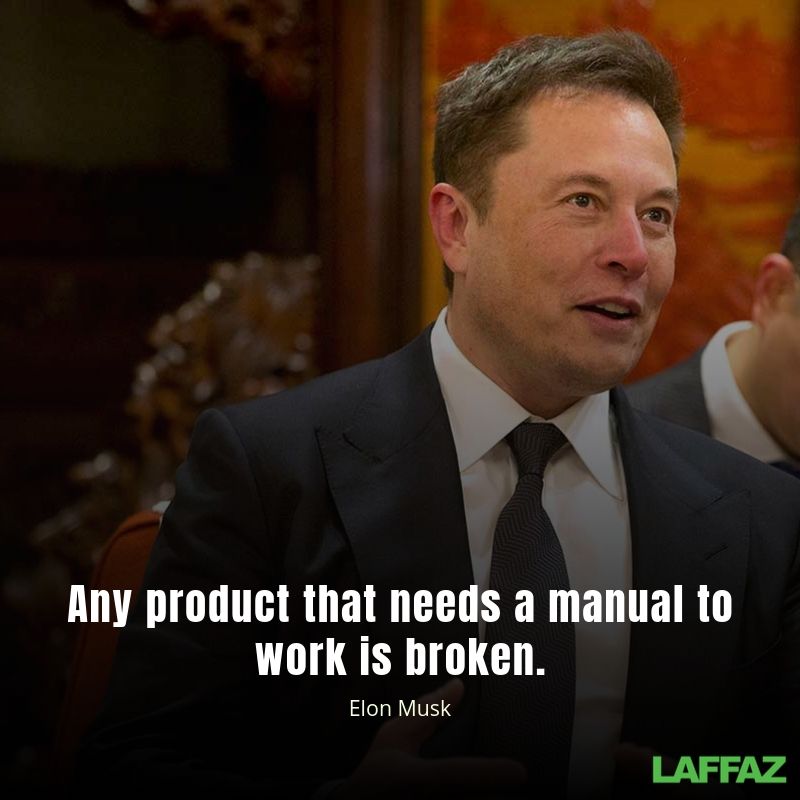 ---
"I don't spend my time pontificating about high-concept things; I spend my time solving engineering and manufacturing problems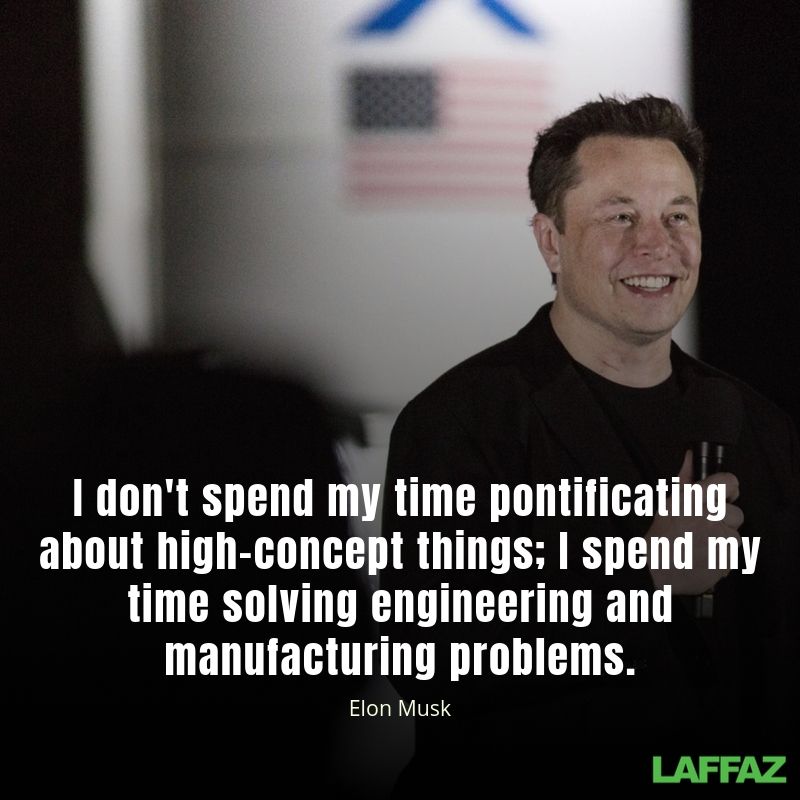 ---
"If you get up in the morning and think the future is going to be better, it is a bright day. Otherwise, it's not"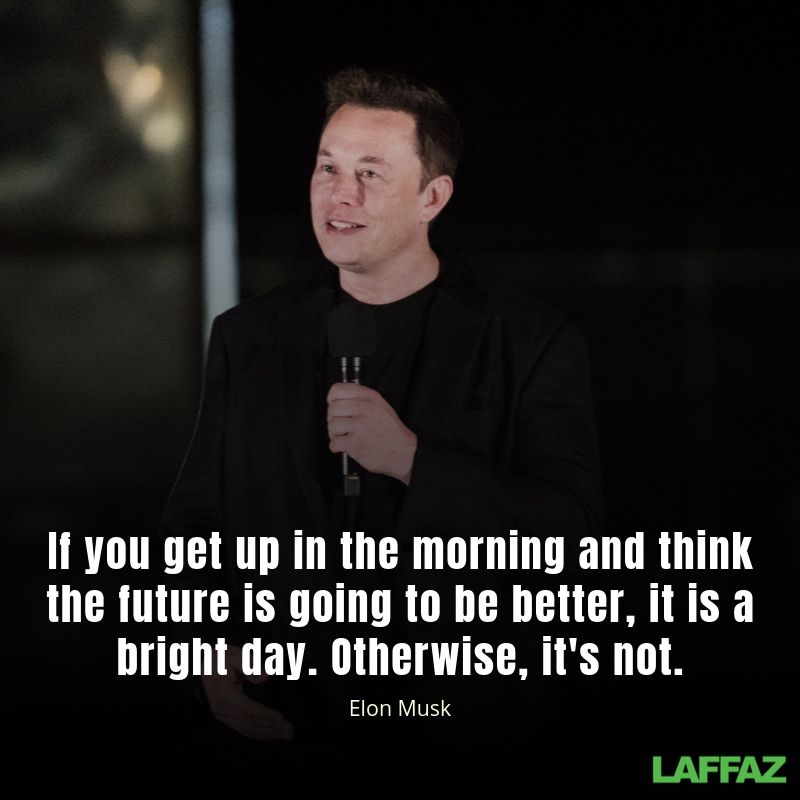 ---
"Take risks now and do something bold. You won't regret it"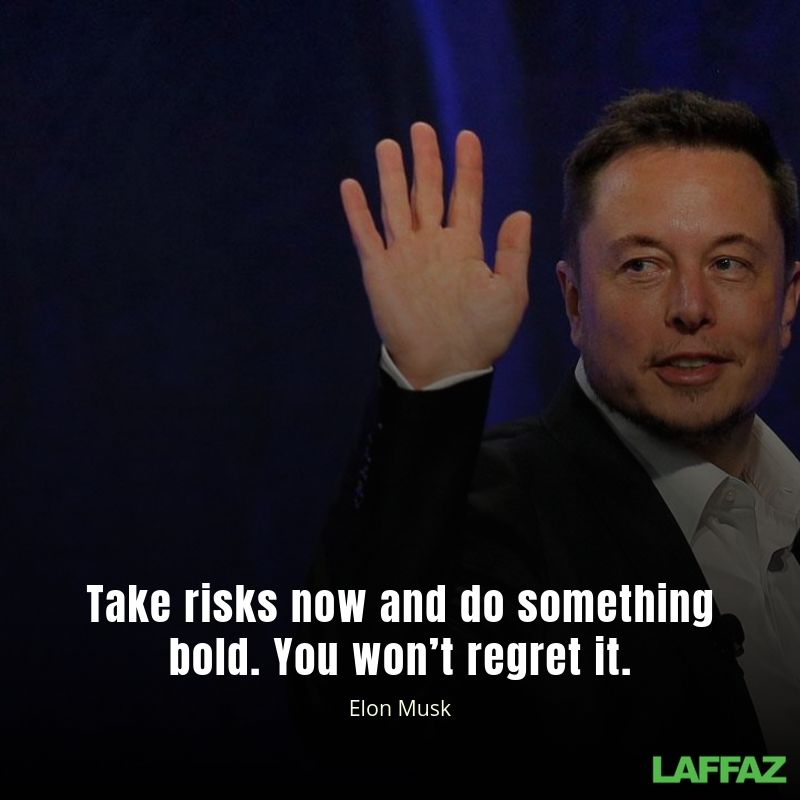 ---
"If the rules are such that you can't make progress, then you have to fight the rules"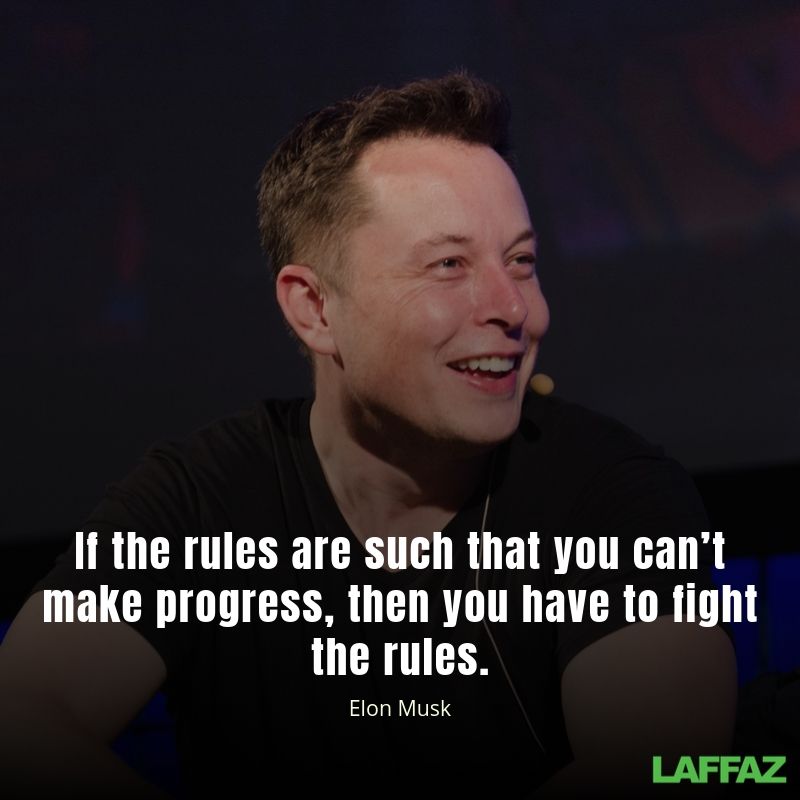 ---
Elon Musk: Short Biography
It is not easy to summarise Elon Musk's motivational story. But let us just try reading about his personal and professional journey.
Family
Elon Reeve Musk was born on 28 June 1971 in South-Africa. His father Errol Musk was an electromechanical engineer, a pilot and sailor earlier. His mother Maye Musk is a Canadian-South African model and dietitian.
Elon Musk is the youngest of the children of Errol and Maye. His brother Kimbal Musk is an American entrepreneur, philanthropist, and restaurateur. He owns The Kitchen Restaurant Group, a family of community restaurant concepts located in Colorado, Chicago, Cleveland, Memphis, and Indianapolis.
His sister Tosca Musk is a filmmaker who has directed feature films, television programs and web content. Her notable works include Driven series of books by K. Bromberg, Hollywood Dirt, A kind of Magic, and Tiki Bar TV series.
Married life
Elon married Justine Wilson, a classmate in the university in 2000 and divorced in 2008. After which he started a relationship with the English actress Talulah Riley and married her in 2010. The marriage lasted for only two years. In 2013 Elon and Talulah reconciled and got married again. Eventually, things took a wrong road again and they divorced again in 2016.
Elon Musk's kids
Musk's first son with wife Justine 'Nevada Alexander Musk' was born in 2002 and passed away aged 10 weeks.
The couple then welcomed twin sons Griffin Musk and Xavier Musk, born in 2004 by IVF procedure.
Musk and Justine welcomed triplet sons Kai Musk, Saxon Musk and Damian Musk, in 2006, also via IVF.
In May 2020, Musk and girlfriend singer Grimes, welcomed a baby boy and named him X Æ A-12 Musk. Want to know the pronunciation of X Æ A-12, just hit play on the video below:
Elon Musk's interest in Technology
Elon had an interest in technology since childhood. At such a mere age of 10, when most of the children are entirely into TV and games, Elon took a totally different route and started developing computer languages. By the age of 12 in 1984, he developed his first video game called Blastar whose code was published in a magazine for which he received $500, a handsome amount for that time.
Education and Career
In 1989, Musk moved to Canada to attend Queen's University and later in 1992, moved to the US to attend the University of Pennsylvania for his undergraduate degree in economics and a second bachelor's degree in physics.
Zip2
After leaving the University of Pennsylvania, Musk joined Standford to study PhD in energy physics and dropped attending just after two days of joining to start Zip2, a software company with his brother in 1995 for which they also received initial funding from a few angel investors. Musk wanted to be the CEO company but the members of the company didn't permit him to be, thus he sold his company to COMPAQ $10 million.
X.com
In 1999, Musk utilised his earning from Zip2 and founded X.com along with a financial services and email company. A year later, the company got merged with Confinity that had a money transfer facility called PayPal.
SpaceX
In May 2002, Musk founded SpaceX, as the CEO & CTO. The company develops and manufactures space launch vehicles with a focus on advancing the state of rocket technology. In September 2008, SpaceX's Falcon 1 rocket became the first privately funded liquid-fueled vehicle to put a satellite into Earth orbit.
Tesla
Tesla Inc. (formerly Tesla Motors), an electric vehicle manufacturer that was incorporated in 2003 by American engineers Martin Eberhard and Marc Tarpenning, and financed the company until February 2004 when Elon led the Series A funding round for the company and got elected as the chairman of the board of directors, and also as the CEO and the product Architect of the company. Elon Musk launched Tesla in the UAE in 2017.
Formulation of SolarCity
Musk came up with the ideation of SolarCity which was later founded by his cousins Lyndon and Peter Rive in 2006. The company became the second largest provider of solar power systems in the US in 2013. In 2016, SolarCity was acquired as a fully-owned subsidiary of Tesla.
Other companies
Apart from all his primary business, Elon Musk also envisioned his foray in high-speed transportation through Hyperloop in 2013; in artificial intelligence by creating OpenAI, a not-for-profit artificial intelligence research company. He aims to integrate the human brain with artificial intelligence through his neurotechnology startup Neuralink; and also founded a tunnel construction company called The Boring Company in 2017.
Elon Musk Success
Before taking your leave, I would like to share one very important video by Goalcast that combines all Elon Musk facts, qualities and personal things about Elon Musk that make him so successful such as interviews, personal issues, his stubbornness to be extraordinary, things about his family – warranting the structures why things don't fall down Elon Musk.
Video Credits: GoalCast
Over to you
Though this article is primarily about the top Elon Musk quotes, at the same time, we also tried to garner all the key information about Musk in order to help you visualize his entrepreneurial journey and pursuits better. If you like these motivational quotes by Elon Musk and the way we presented them, please make sagacious use of this article by sharing it with your family and friends across your favourite social media channels.
NB: If you think that your favourite Elon Musk quote is not listed above, you can let us know in the comments below. You'll also get a chance to get your profile featured when you let us know what's your favourite motivational Elon Musk quote and why.
---
---