Today, is a big day! Don't you know? Coz it's Pooja's birthday. Even Jamia's website is greeting Pooja on her happy returns to the day. Wait! is it really the website or some hacker who probably has crush on Pooja who is possibly a student of Jamia Milia?

Well, the police won't be knocking the door of every Pooja in India having a birthday today. All they have to do is just interrogate all the Pooja's in Jamia Mila and identify who's boyfriend has actually hacked into the university portal.
Jokes apart!
Last midnight, Tuesday the official website of Jamia Milia Islamia (http://jmi.ac.in) started showing the following message.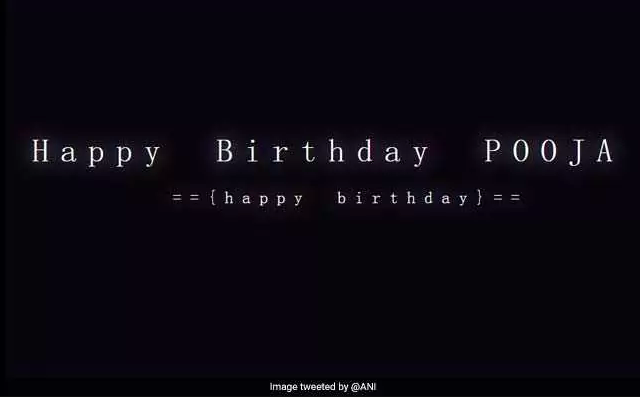 The attack on the site has actually come with a question in disguise about the capability of Indian cybersecurity. This can be backed by the fact that this attack has been done only a few weeks of the similar attacks done on the official websites of Home, Defence, and Law ministries. In the past, websites of many educational institutions were hacked, including IITs of Delhi, Madras, Bombay and Kharagpur, Delhi University and Aligarh Muslim University.
Currently, the website has been fixed. But the university officials have said that they will be taking the issue seriously. The varsity's media coordinator Saima Saeed told PTI.
"It is unfortunate that someone does such pranks to send personalized messages. We would be taking this issue seriously. There would be a meeting and we will decide the future course of action." 
She said that the varsity received information about the hacking between 12 and 1 am.
"Our first response was to restore it and we managed to do it in six hours," she added.
Students and youngsters all over India now have a brand new subject to post funny content on Twitter.
[mks_col]
[mks_one_half]
So May 22 is Pooja's birthday and now the whole of Jamia knows about it ! Guess how ?
The technical Aashiq has hacked the Jamia Millia Islamia website and wrote #HappyBirthdayPooja on the page ! Impressive isnt it ..cops some cupid work for you guys ?? pic.twitter.com/GY6TdeOwi6

— Qudsia Mushahid (@MushahidQudsia) May 21, 2018
The technical Aashiq has hacked the Jamia Millia Islamia website and wrote #HappyBirthdayPooja on the page !
Happy birthday Pooja from me too ?? pic.twitter.com/es42IrOilh

— Tahir Zainab ? (@_Tahir_Mushtaq) May 22, 2018
[/mks_one_half][mks_one_half]
#Jamia website got hacked
Pooja Should marry him!! pic.twitter.com/lgGS48uFxT

— Osama Ashraf (@osamaashraf06) May 21, 2018
[/mks_one_half][/mks_col]
In my opinion
No matter how quickly the university managed to get the website back on, still the question that remains is 'When will the cybersecurity of Indian departments get feeble to robust?'.
Let me know your opinion in the comments sections below.