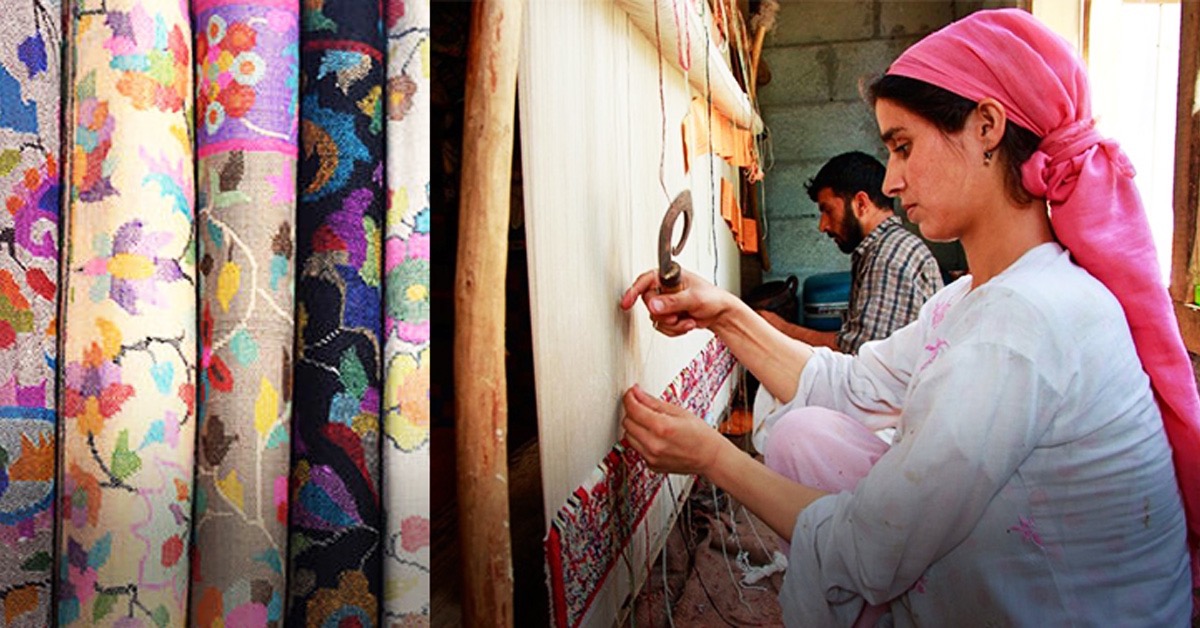 Founded in 2019 by a husband-wife duo – Mir Saaeid and Nasreen Nazeer, Kashmirica is headquartered in Srinagar, Kashmir with offices for marketing and operations in Delhi and Kochi.

The e-commerce platform aims to bring the best of Kashmir's luxury handicrafts, art and culturally-driven products to the world. The inventory majorly encompasses pashmina shawls, kaftan tops, Kashmiri suits, daily wear, pashmina mufflers for men and home decor items.
The startup is also working on a supply chain that will soon offer unique and authentic clothing, accessories and decor at moderate prices.
Core cognition
The founders of Kashmirica have their roots from Kashmir. The wife, Nazeer hails from a business family involved in the wholesale and retail of Kashmiri Arts. She was into her family business since her college days and over time developed a complete sense of designing, sourcing and financing. The idea of selling authentic handicrafts of Kashmir online has always been natural and significant to her.
The husband, Saaeid is a marketer by profession, having a degree in International Business from a British university, possessing over six years of experience in the industry and a portfolio spanning across the United Kingdom, Middle East and India.
The respective experiences and the product-marketing mashup of the husband-wife duo boosted their passion for exposing Kashmiri products to the masses that ultimately helped them tap into the markets outside India which primarily includes UAE, Saudi Arabia, Canada, UK and the US.
Unique propositions
At the heart of it, the mission of Kashmirica is to help poor yet stunningly skilled artisans to get proper wages for their efforts. Most of the times, artisans of Kashmiri Handicrafts do not get adequate returns for their hard toiling. Sales and distribution agents at every stage of the distribution channels add up to make the costs of Kashmiri handicrafts exceedingly high. This results in lower income for the artisans, despite them being the primary creators of these exquisite pieces. Primarily because these artisans are forced to sell their crafts at very low rates.
So essentially, the founders see Kashmirirca as a social impact brand. The startup sources its products directly from artisans and in many cases provides designs to artisans to weave magic around the designs with their hands. For this process, they have tied up with the best artisans of the valley and showcases their work on their e-store.
In a conversation with the duo, Nasreen mentioned…
"We believe, it is important to aid the local Kashmiri artisans least the art would die. It is also our concern to improve the standard of living of these brilliant craftsmen,"
The startup right from the very beginning also envisioned the idea of providing training to the local craftsmen by providing them computerized designs which would train them to go in sync with the latest trends and running demand among customers at present.
"Apart from handpicking products from the finest artisans, we also provide unique designs and new ideas keeping a view of global fashion trends that not only enables the artisans to work for Kashmirica but also prepares them for the future." – Saaeid concluded




These products that they directly source from artisans are listed on their e-store at moderate prices. In the whole process, they take great care in assuring both the genuineness of the base raw material and the final craftwork. All this ensures that quality is always maintained and the products are priced genuinely.
Market Map
Kashmirica is targeting working-class men, women and proud homemakers worldwide. Saying that they are looking forward to catering to those who love handmade designs and are sensitive to designs sense and sensibility. Kashmirica is for those who believe that luxury is only handmade.
Growth plans
The startup is planning to raise funds to expand its global reach and also serve customers with bespoke jewellery as well as gemstones in the near future. Basically, they want to provide everything that is a Kashmiri speciality in clothing and decor segments. The startup is also planning to launch its mobile app soon.
Editor's Note
Profit-making is primitive for any startup or company – Kashmirica is one of those startups that seek to support the local craftsmen of Kashmir by creating opportunities and training them to meet today's demand for new designs while deploying their talent to ultimately be future-ready. Indeed a kind of e-commerce platform having potential for enormous growth in the time to come.
Brand Digest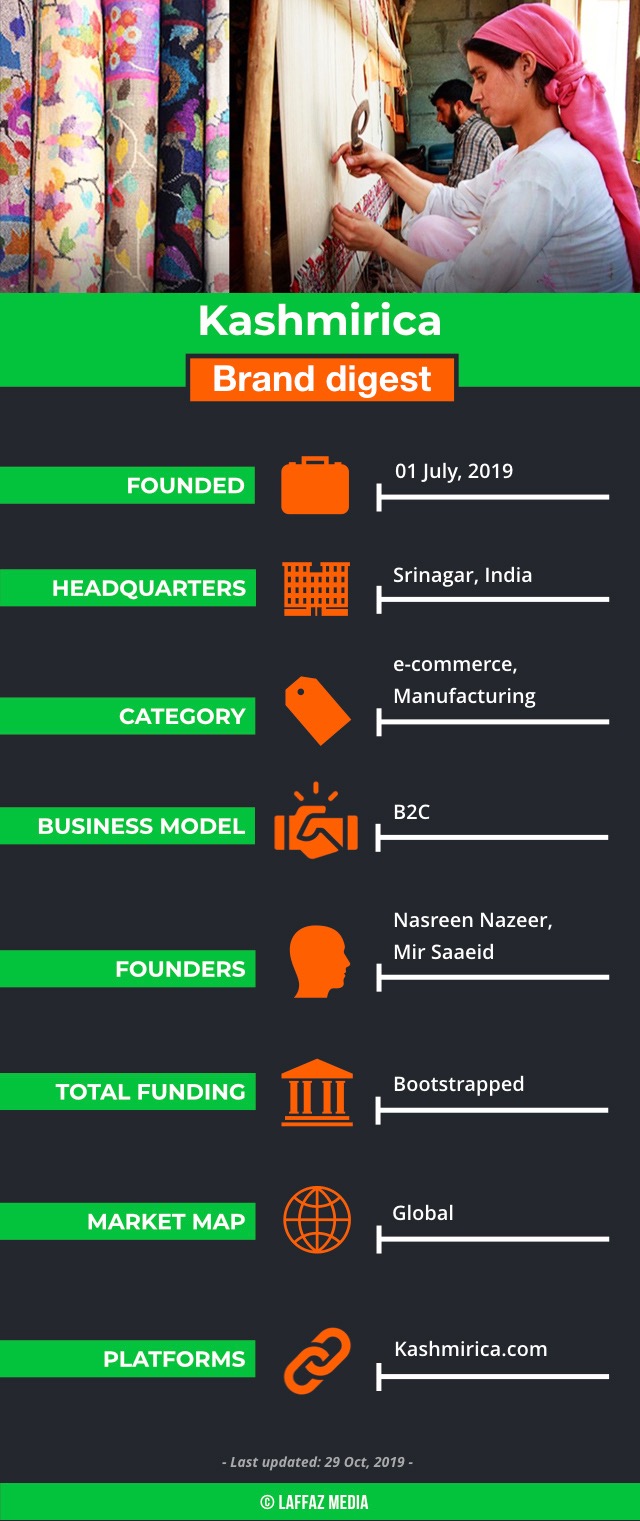 ---
P.S.- Read more startup stories like this under our startup stories column. If you wish to get your startup story covered, simply submit your startup details here ➜
---
ⓘ LAFFAZ is not responsible for the content of external sites. Users are required to read and abide by our Terms & Conditions.