▸ The startup has a manufacturing plant in Kandivali, Mumbai.
▸ WrapCart makes new-age mobile skins gettable by unifying both online and offline channels.

---
Founded in November 2017 by Akanksha Nirbhavane, a commerce student from Mumbai, WrapCart is a Kandivali, Mumbai-based manufacturer of mobile device accessories, skins for mobile phones, laptops and tablet devices. The company leverages its platform WrapCart.com and mobile app to acquire and sell to the customers.
WrapCart claims to be the only brand in India that manufactures mobile skins for 800+ mobile phone models. WrapCart's products are also available on top online stores including Amazon, Flipkart and Shopclues.
Origin of WrapCart
Unlike most of the students hopping on to placements after graduating, Akanksha got zealous of having a startup of her own. In November 2017, she started her online store WrapCart to offer customised gifting products – alongside pursuing her MBA degree from IBS, Mumbai.
Soon, she recognized the huge demand for mobile accessories in the Indian market. After spending days and nights on research, Akanksha ascertained a very high potential in mobile skins and a very low competition. Thus, she decided to focus entirely on manufacturing and supplying mobile skins.
Unique Propositions
The mobile accessories manufacturing startup unifies both online and offline channels for the customers to explore its diversified product line and make purchases i.e. the website, the mobile app and offline stores. The brand offers over 100 unique skins for over 800+ mobile devices respectively. This makes WrapCart one of the very few of its kind brands possessing such a gigantic inventory.
Market Map
The brand primarily targets students and working professionals and assures deliverability across India, major markets include Mumbai, Bangalore, Telangana.
Growth Plans
The company is planning to raise funds by the end of 2020 in order to open its physical stores and extend its franchising opportunities to offline retailers. Apart from this, the company will also be launching skins for drones and gamepads; and make its mobile app available for iOS soon.
In a conversation with LAFFAZ, Nirbhavane said…
"Though we have tapped into a market of huge demand with little competition, and leveraging online channels to reach customers extensively; we are zealous for consistent growth, and for that our next breakthrough is addressing the customers offline by scaling our offline reach, while creating opportunities for offline retailers as well."
Editor's note
It is a foray of every startup or business to reach and address customers inventively to generate scalable returns. But the invention is the outcome of research and understanding of the market and sector. With her extensive research, Akanksha was able to discover the scarcity of mobile skins in the market and deployed her best efforts and production capacity at the right time to address the demand. Moreover, making WrapCart's products available via all possible online and offline avenues is simply like the icing on the cake.
Brand Digest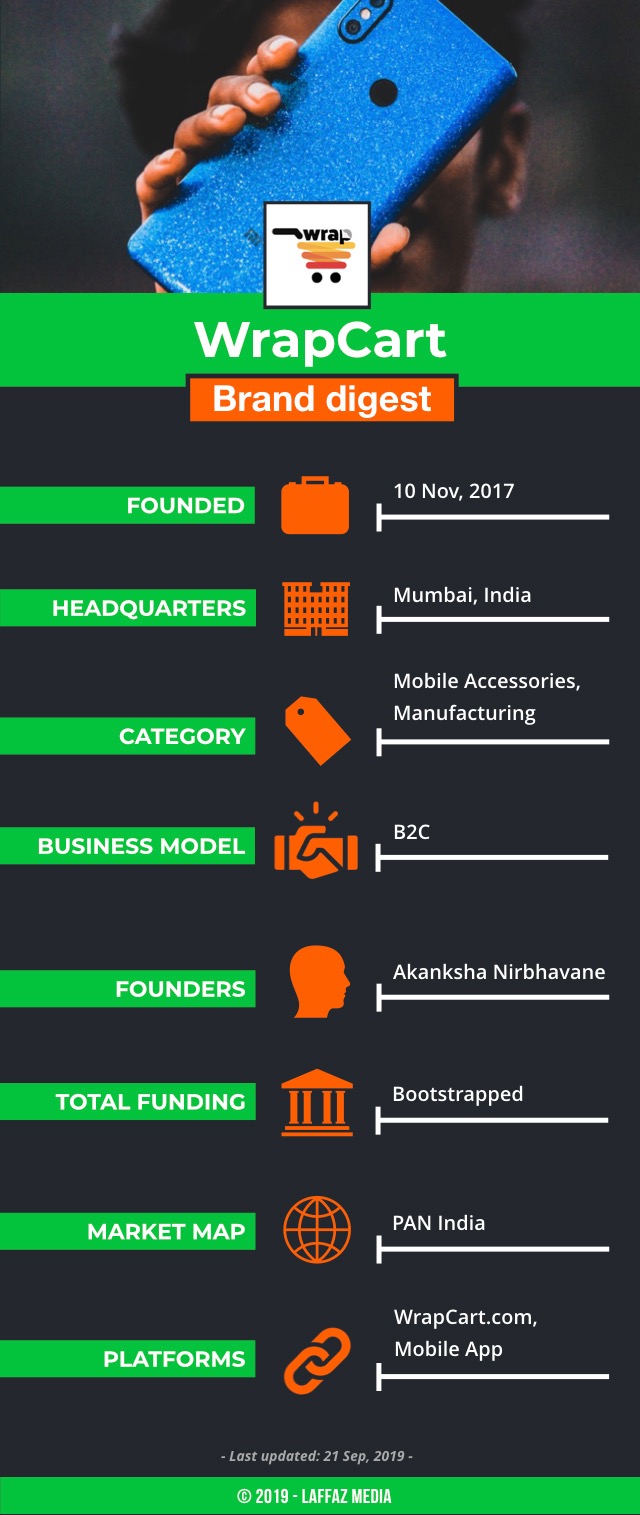 ---
P.S.- Read more startup stories like this under our startup stories column. If you wish to get your startup story covered, simply submit your startup details here ➜