If you would like to get inspired by entrepreneurs whose aims are big and not limited to their own profitability and fame, one of such names is of Sir Richard Branson, a philanthropist the world knows today. A British business magnate who founded the Virgin Group in 1972, by the time he was in his early 20s. But that wasn't his first venture. He actually started a magazine called Student when he was only 16, out of his passion for entrepreneurship.
So before we dig deeper into his personal and professional life, let us first get inspired by some of his quotes.
List of Best Motivational Richard Branson Quotes
We take pleasure to be listing down some of the best Richard Branson quotes chosen by the editorial staff of LAFFAZ – fostering inspiration and learning for entrepreneurs and startup founders.
"There is no point of starting your own business unless you do it out of a sense of frustration." – Richard Branson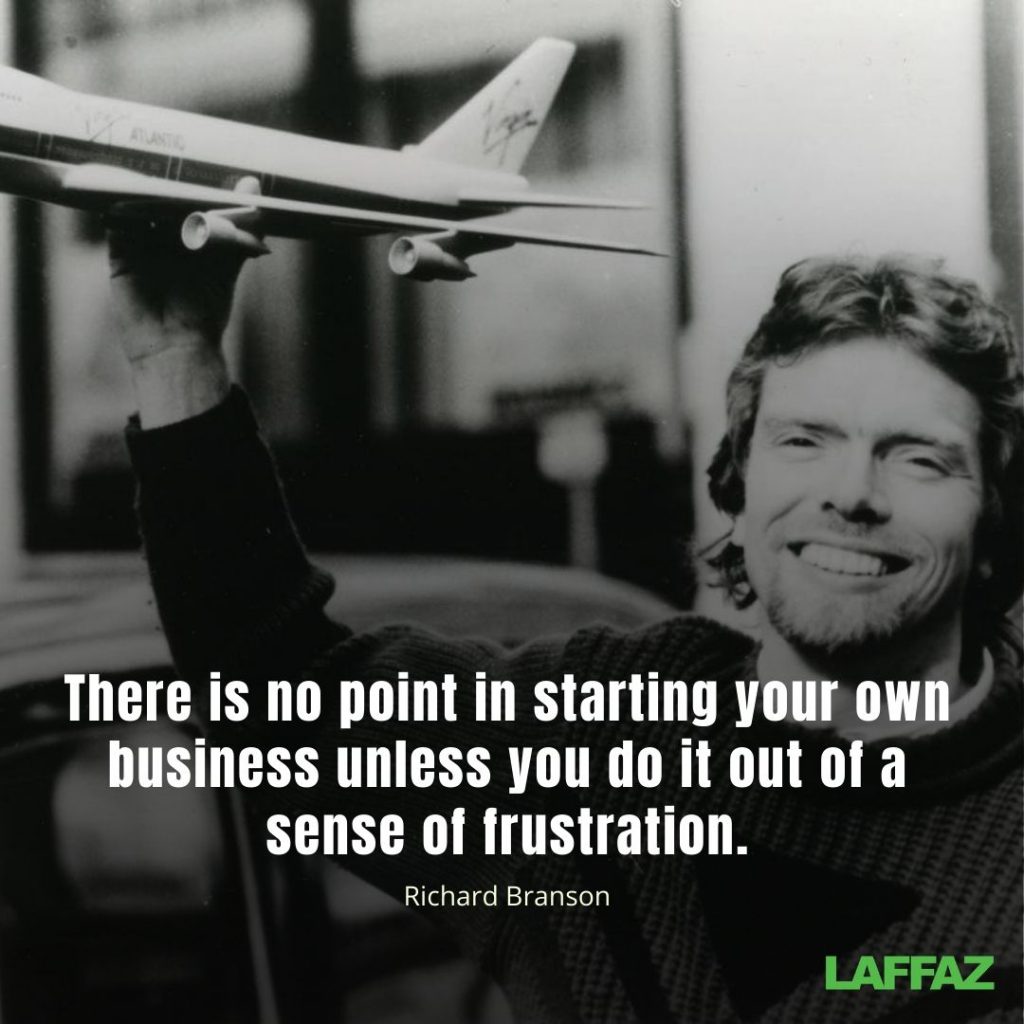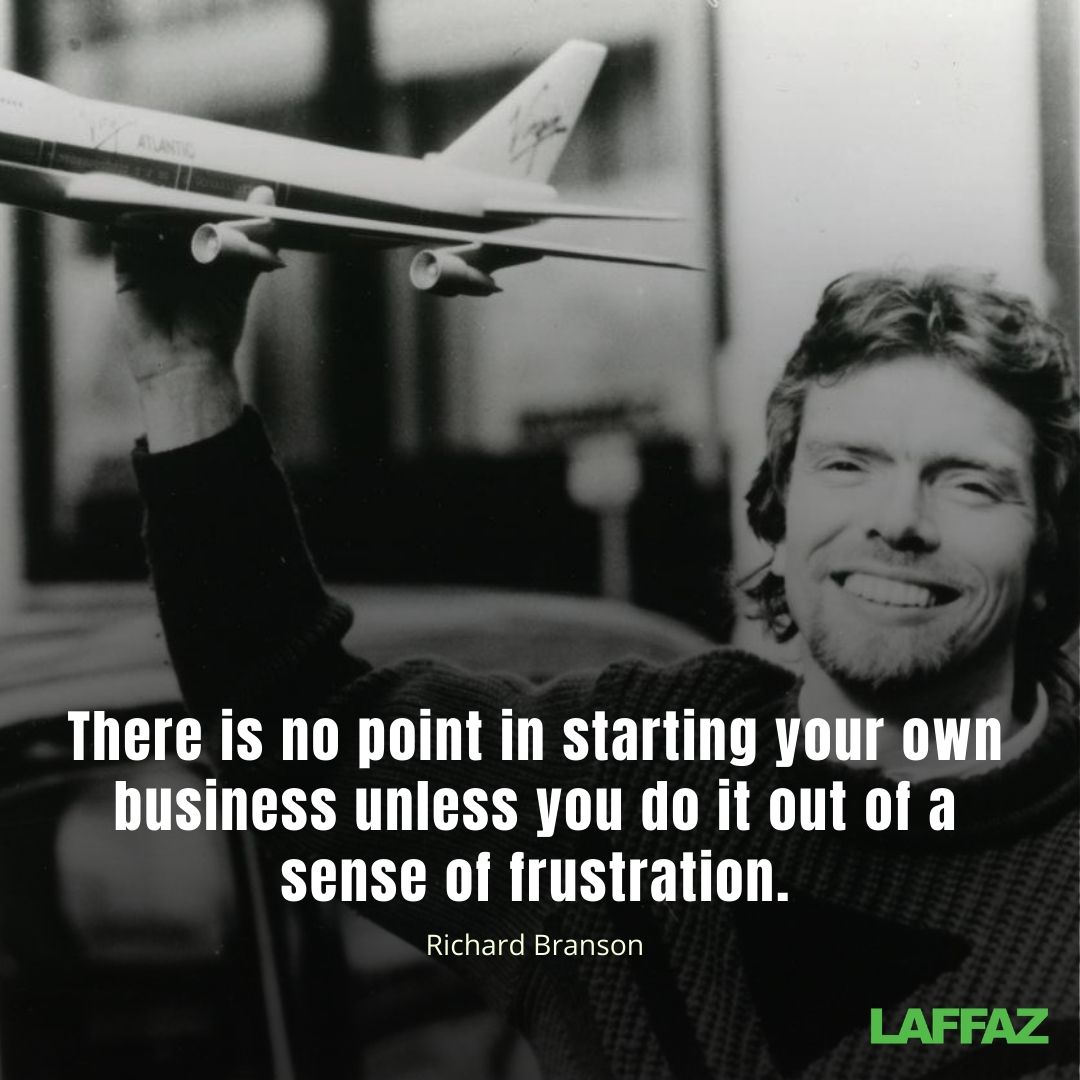 "The best way of learning about anything is by doing." – Richard Branson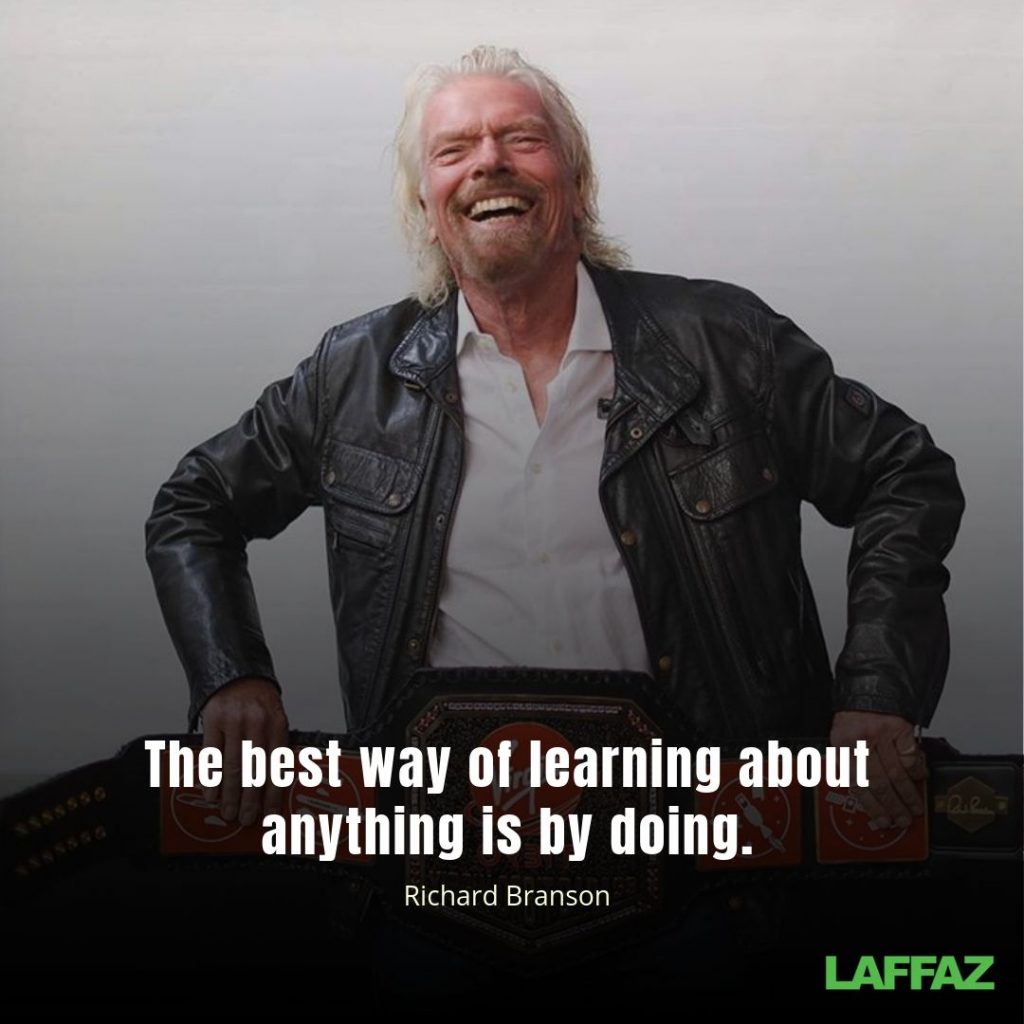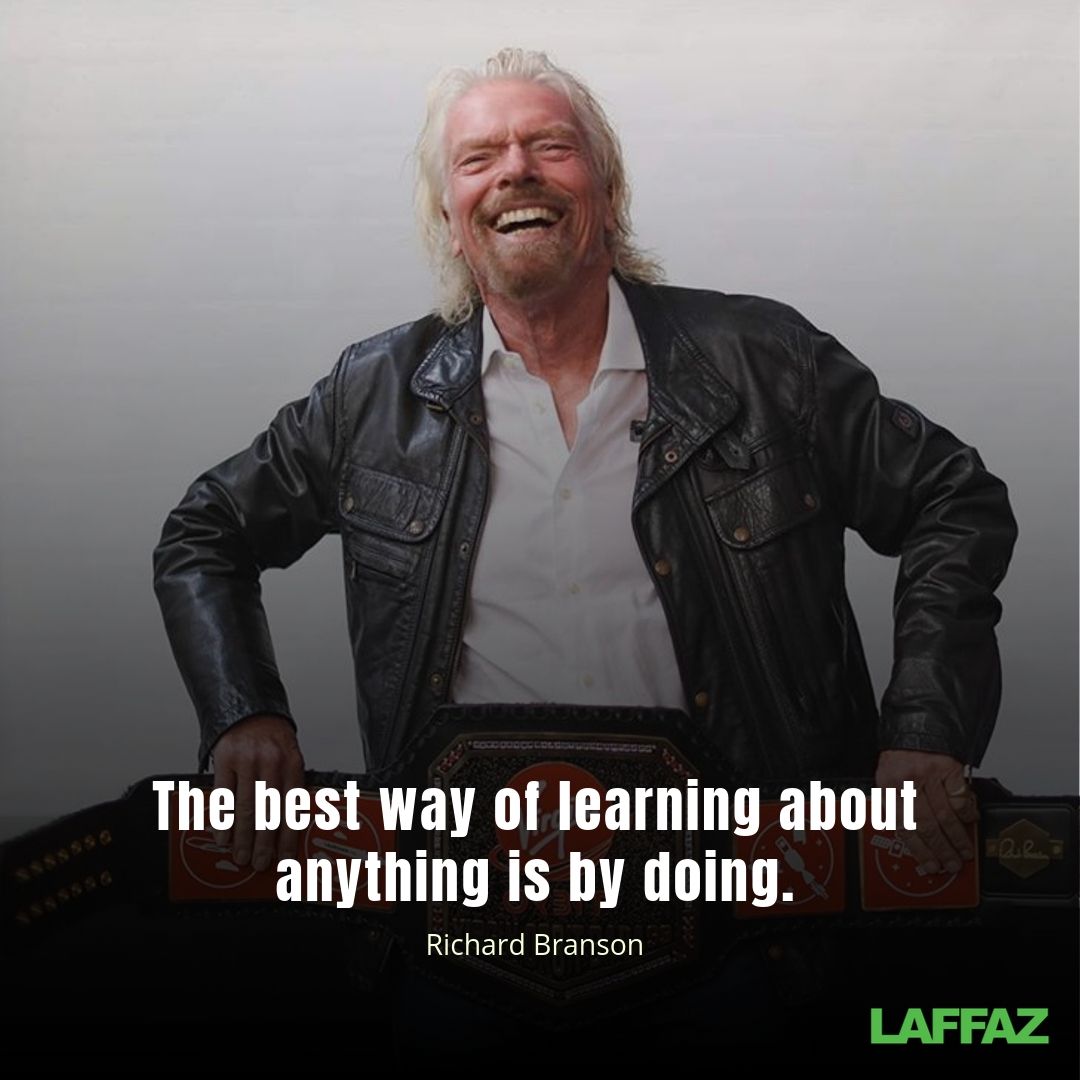 "Please be polite. Nothing in life should erode the habit of saying thank you to people or praising them." – Richard Branson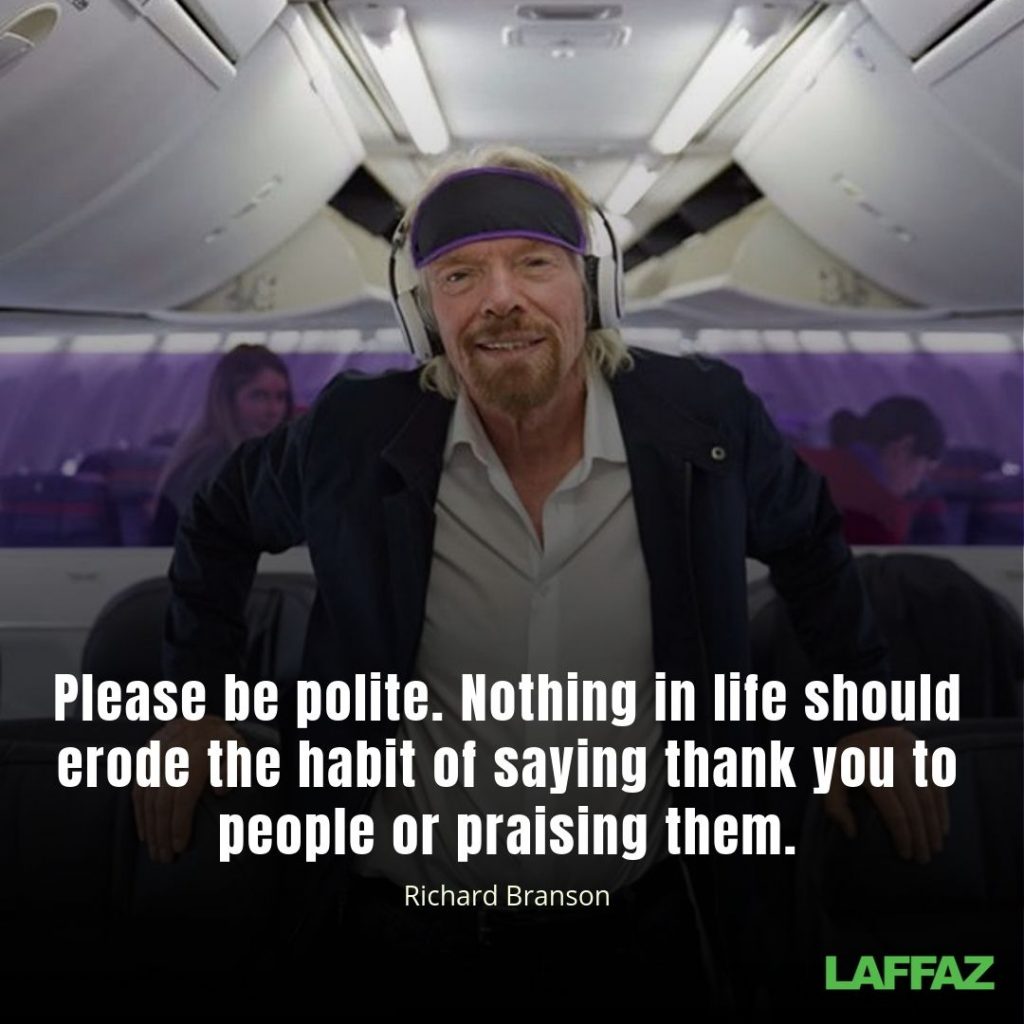 "You don't learn to walk by following rules. You learn by doing, and by falling over." – Richard Branson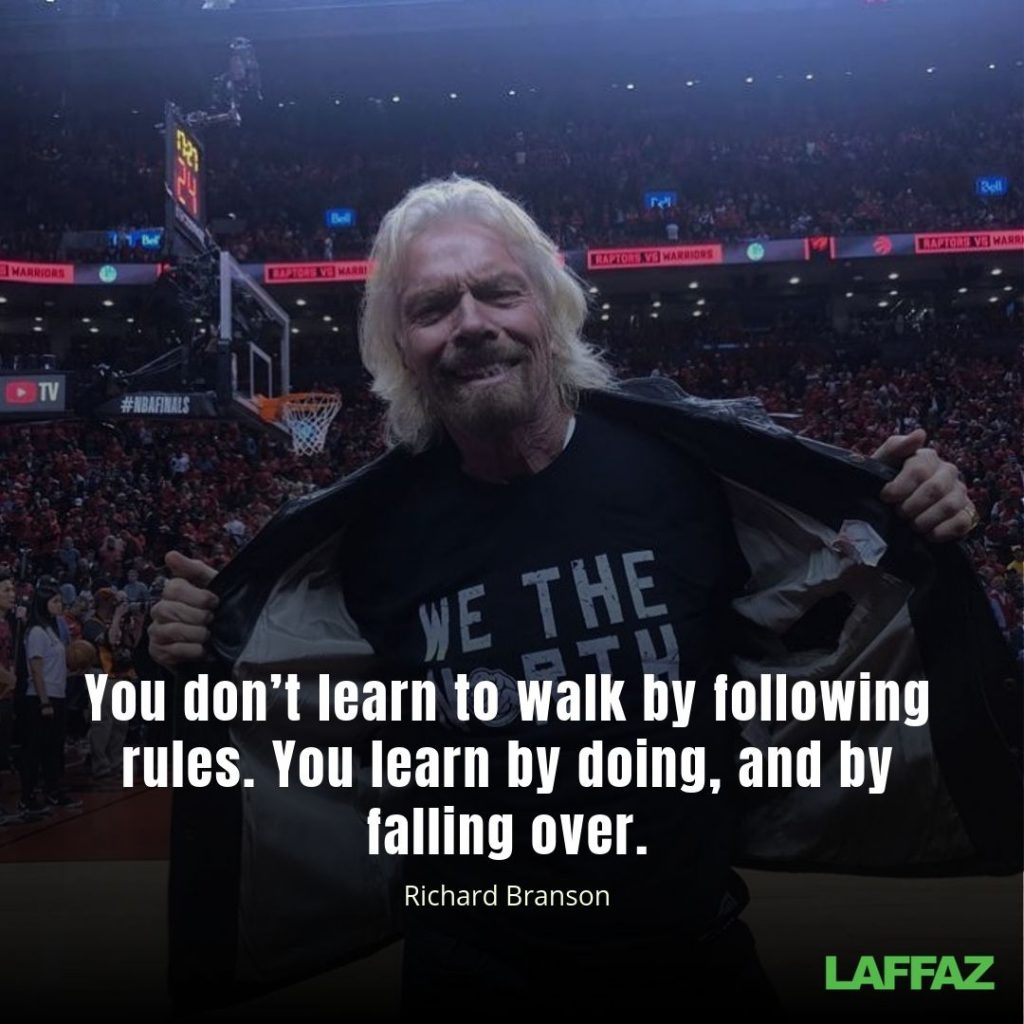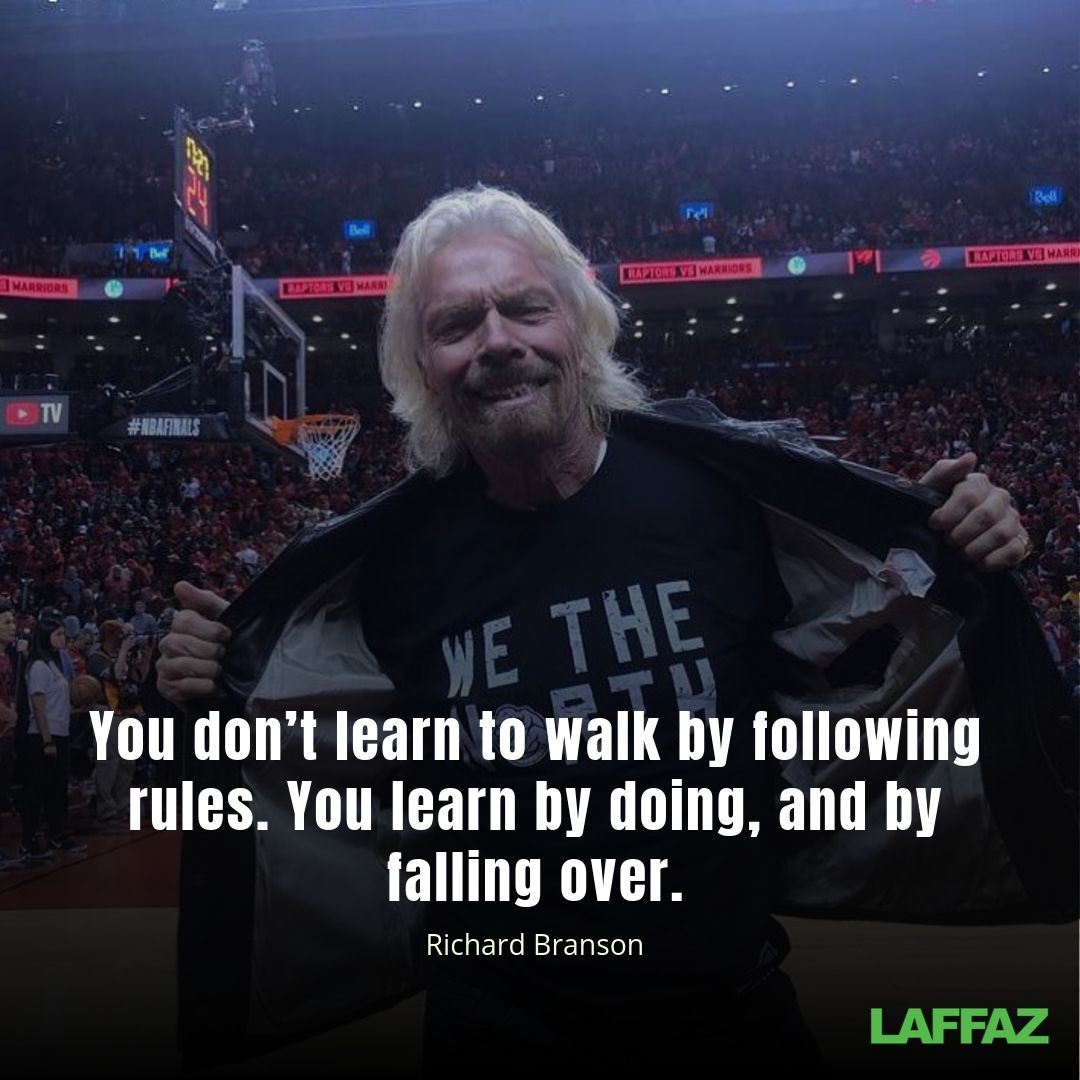 "Respect is how to treat everyone, not just those you want to impress. "– Richard Branson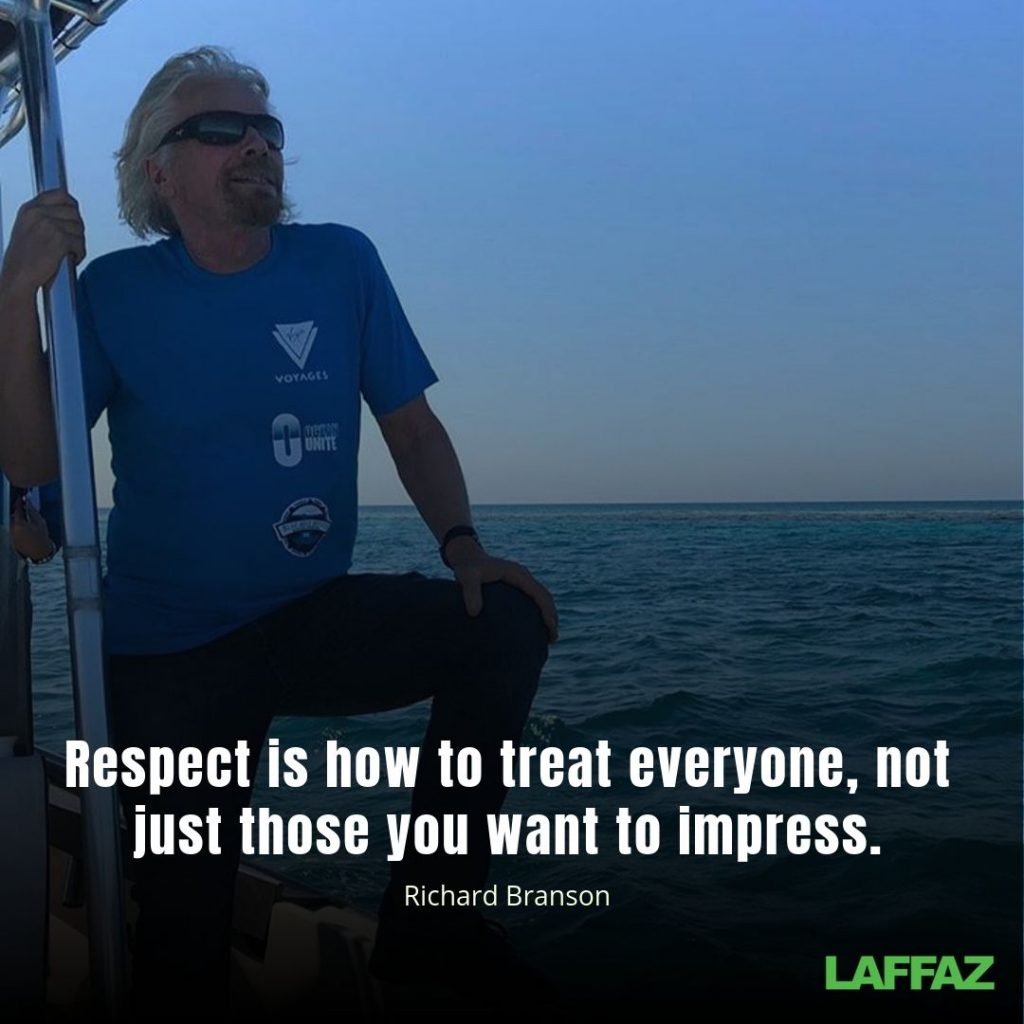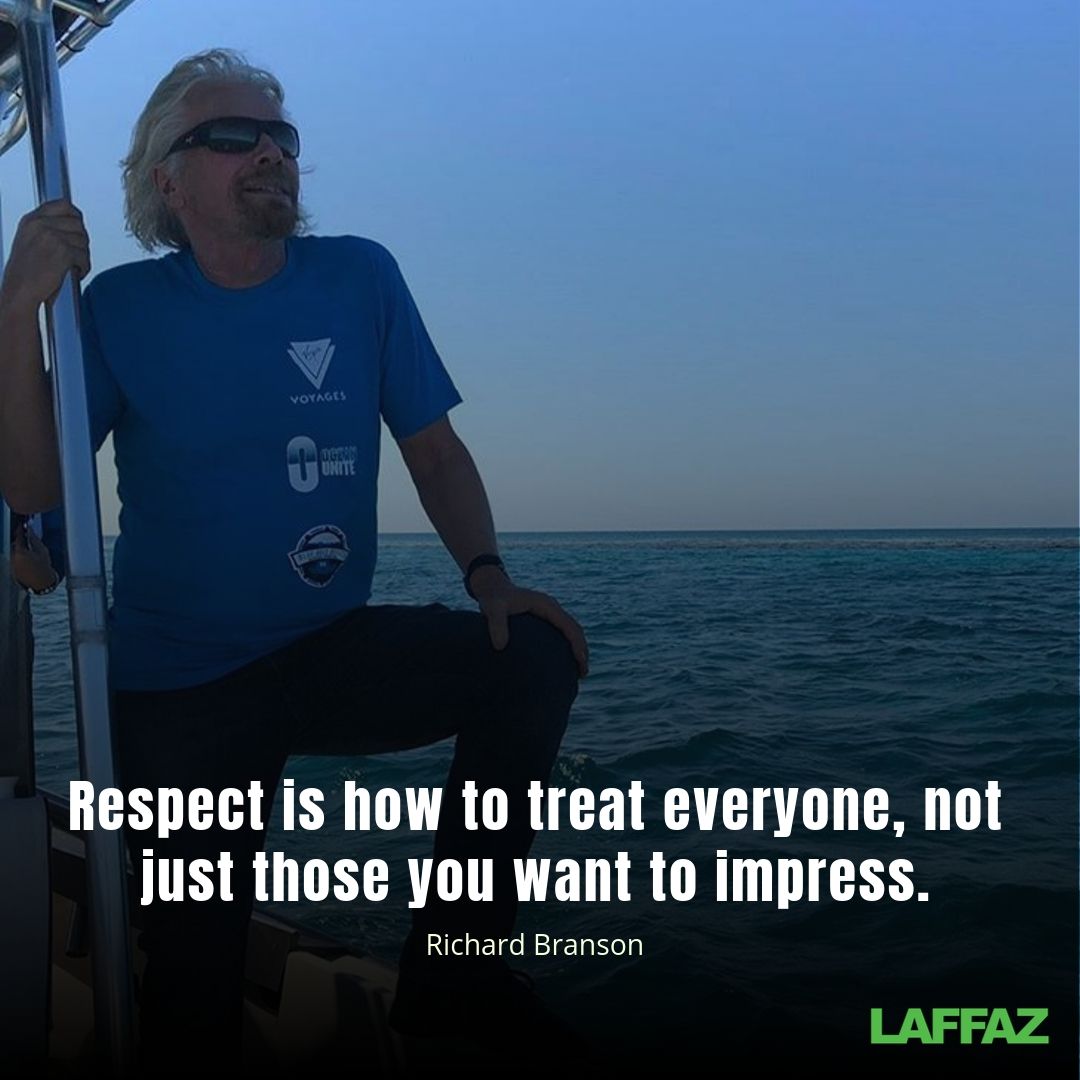 "The brave may not live forever, but the cautious do not live at all." – Richard Branson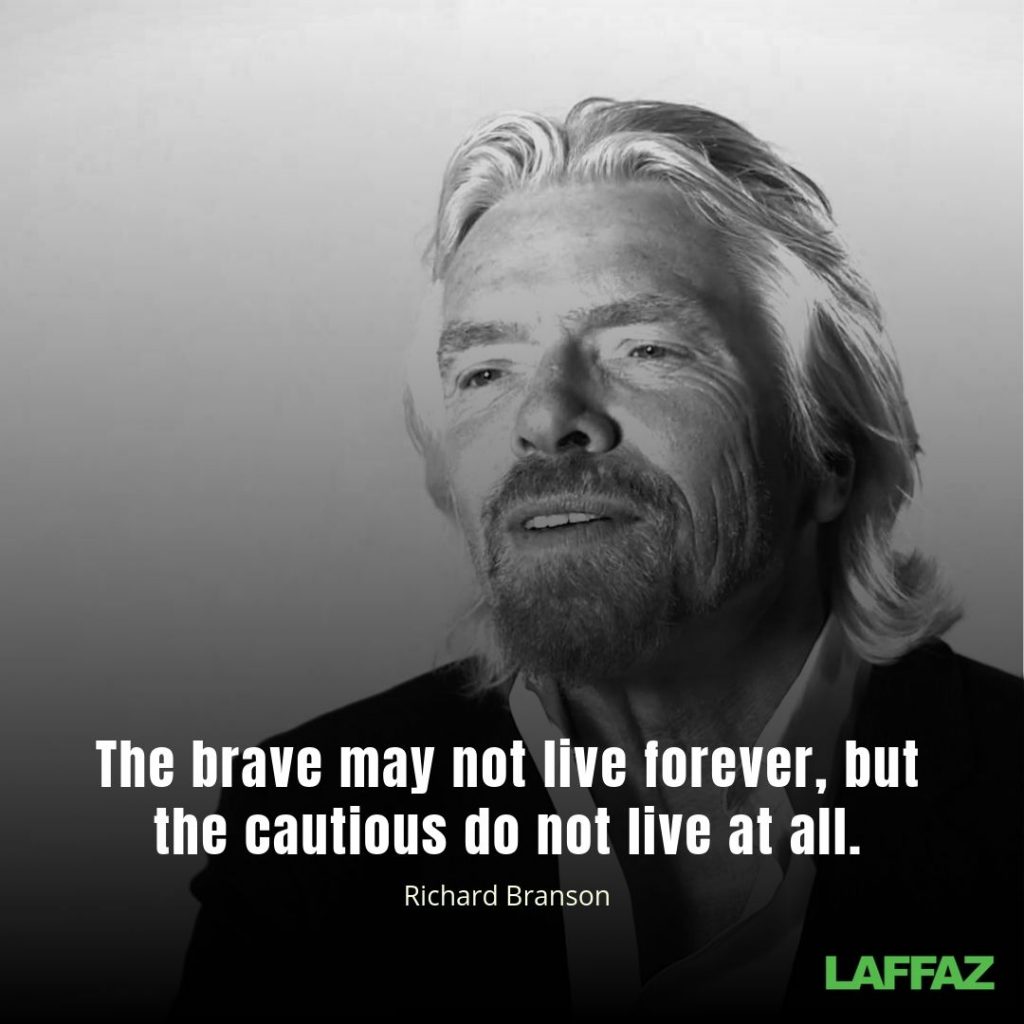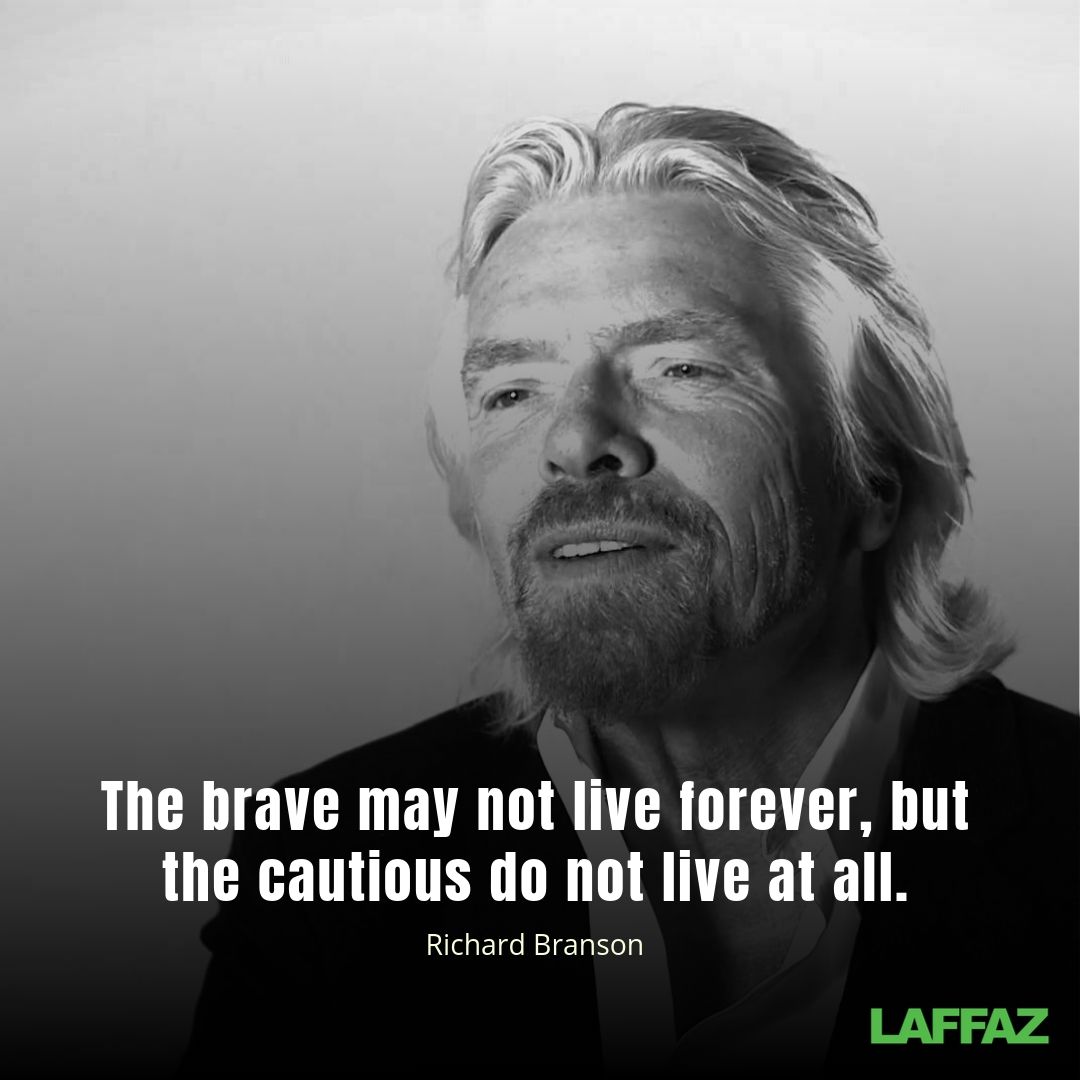 "There is no greater thing you can do with your life and your work than follow your passions – in a way that serves the world and you." -Richard Branson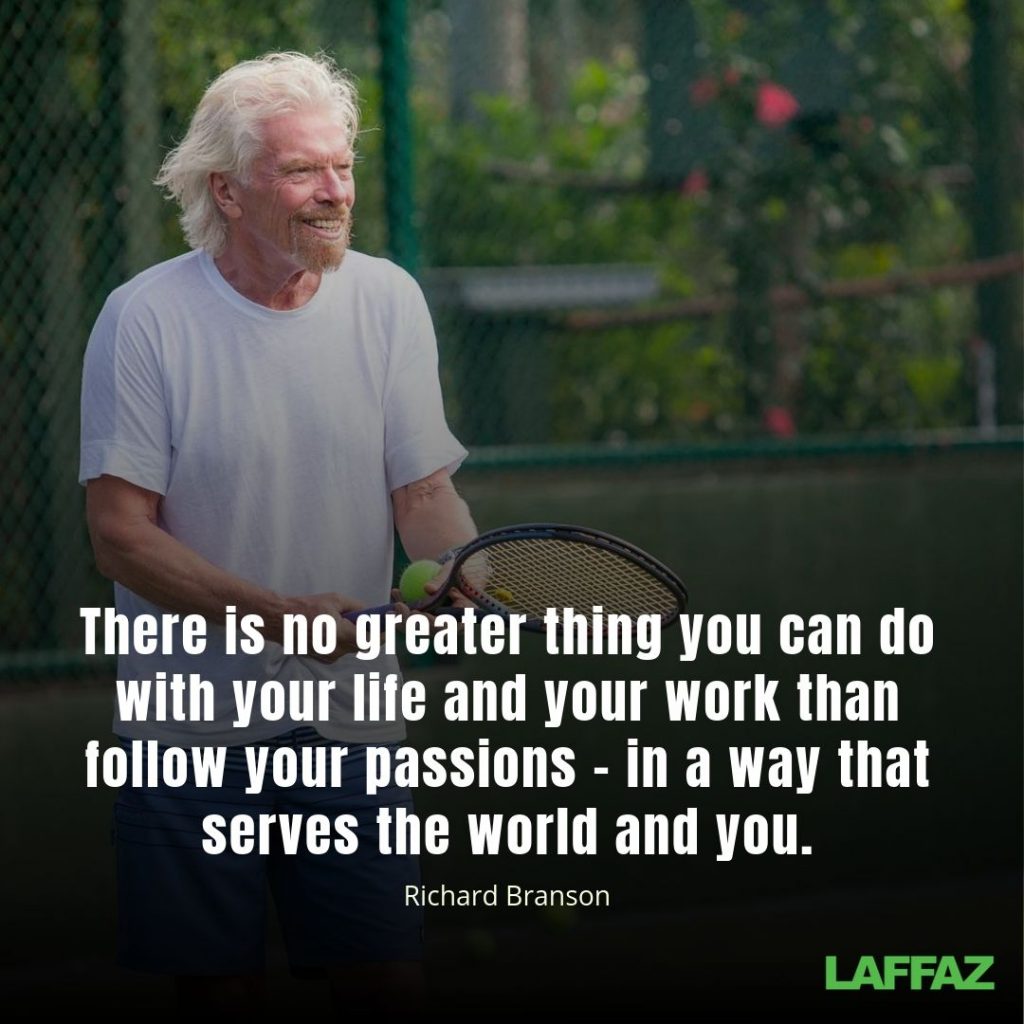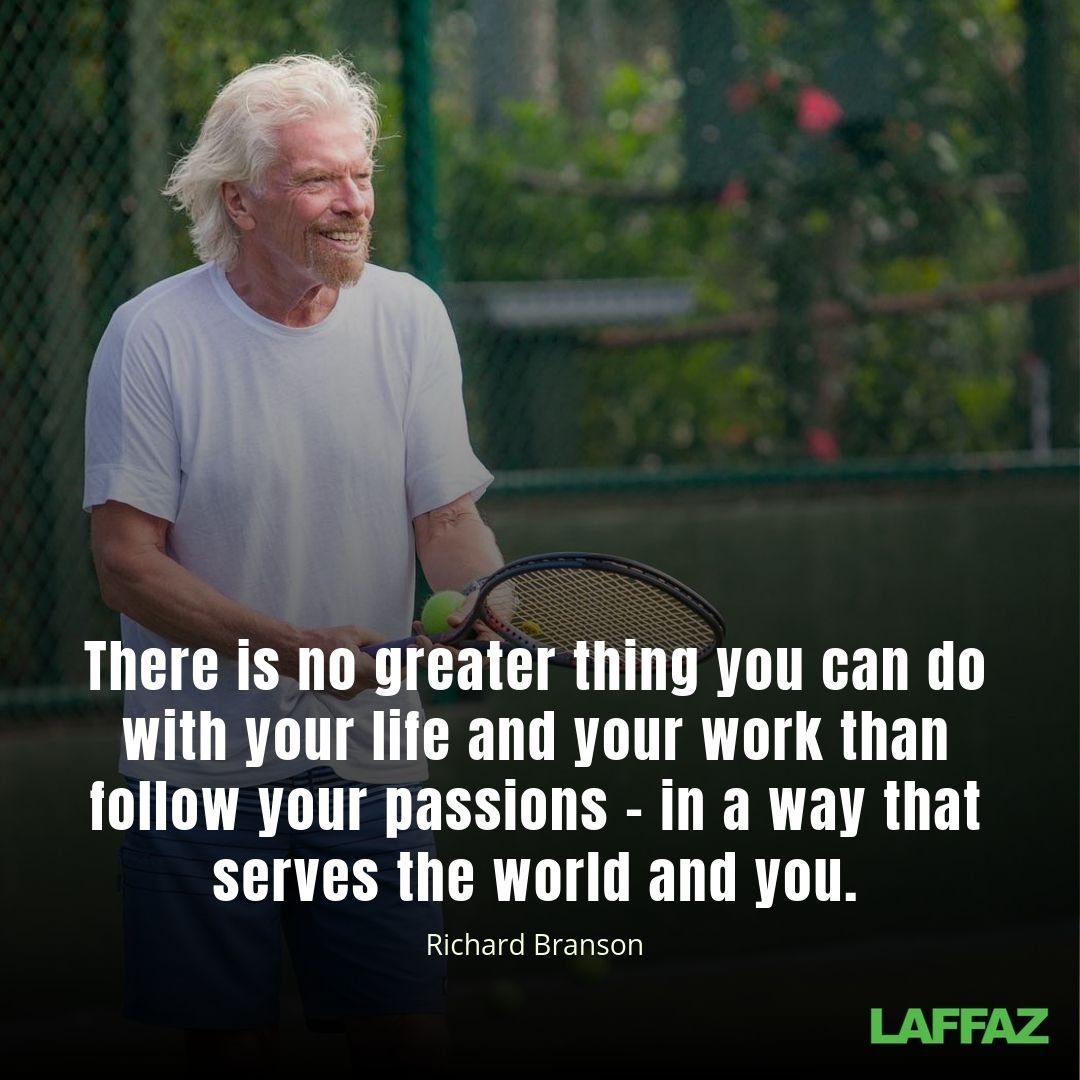 "A business is simply an idea to make other people's lives better." -Richard Branson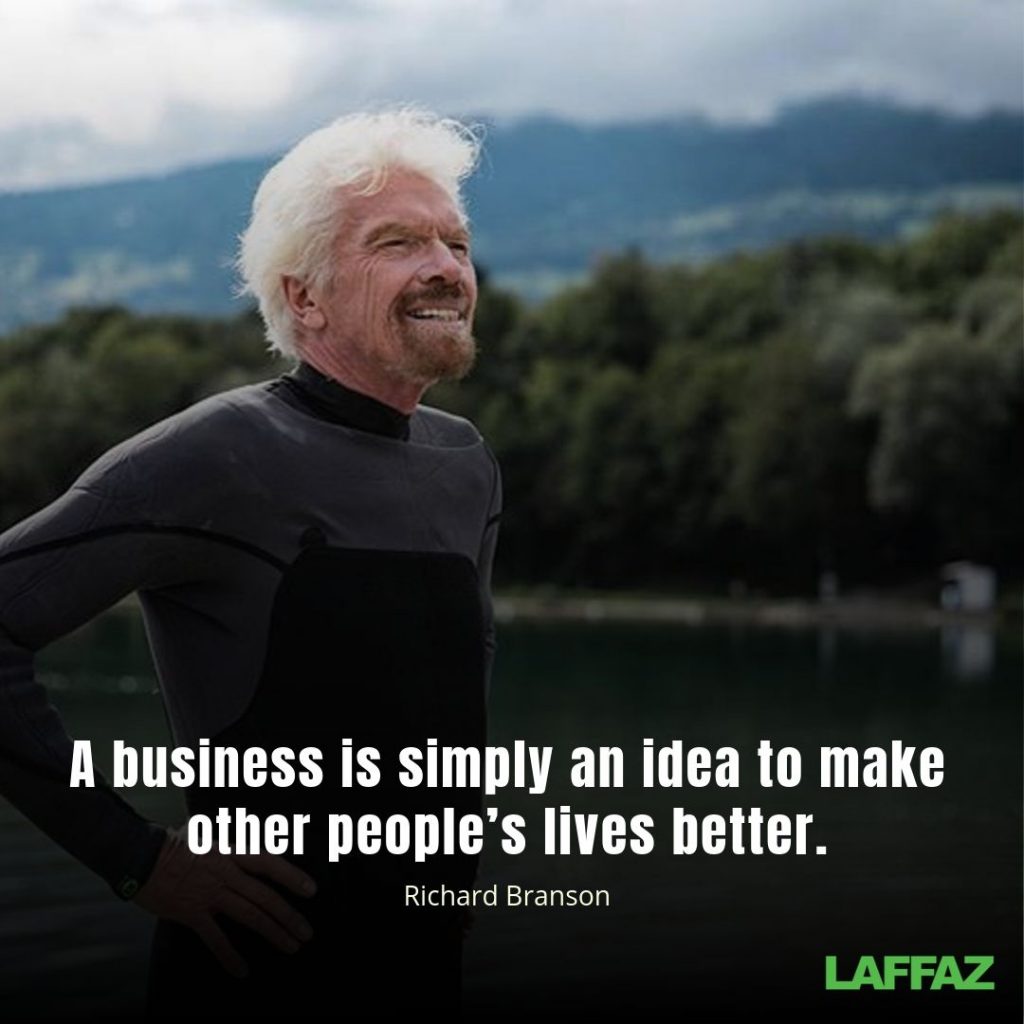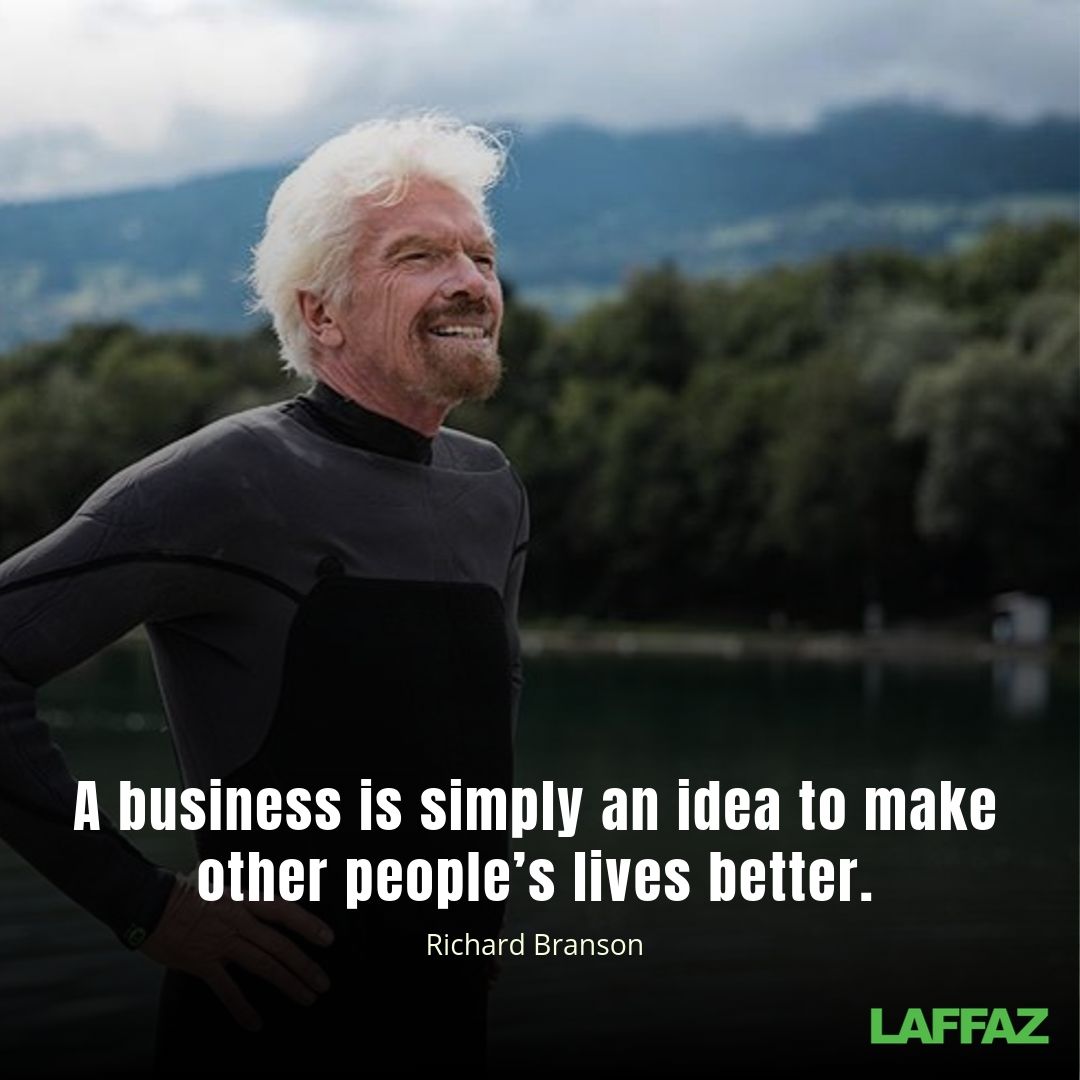 "Do not be embarrassed by your failures, learn from them and start again. "– Richard Branson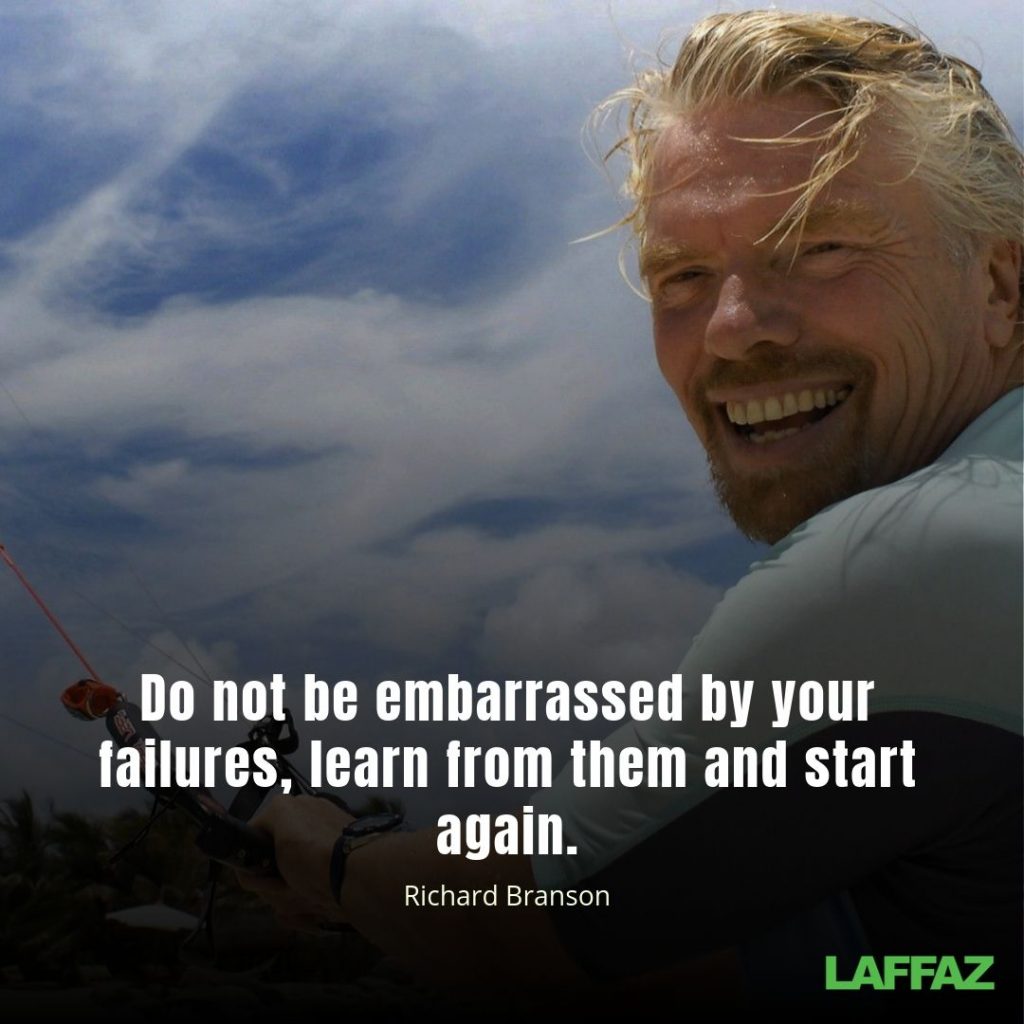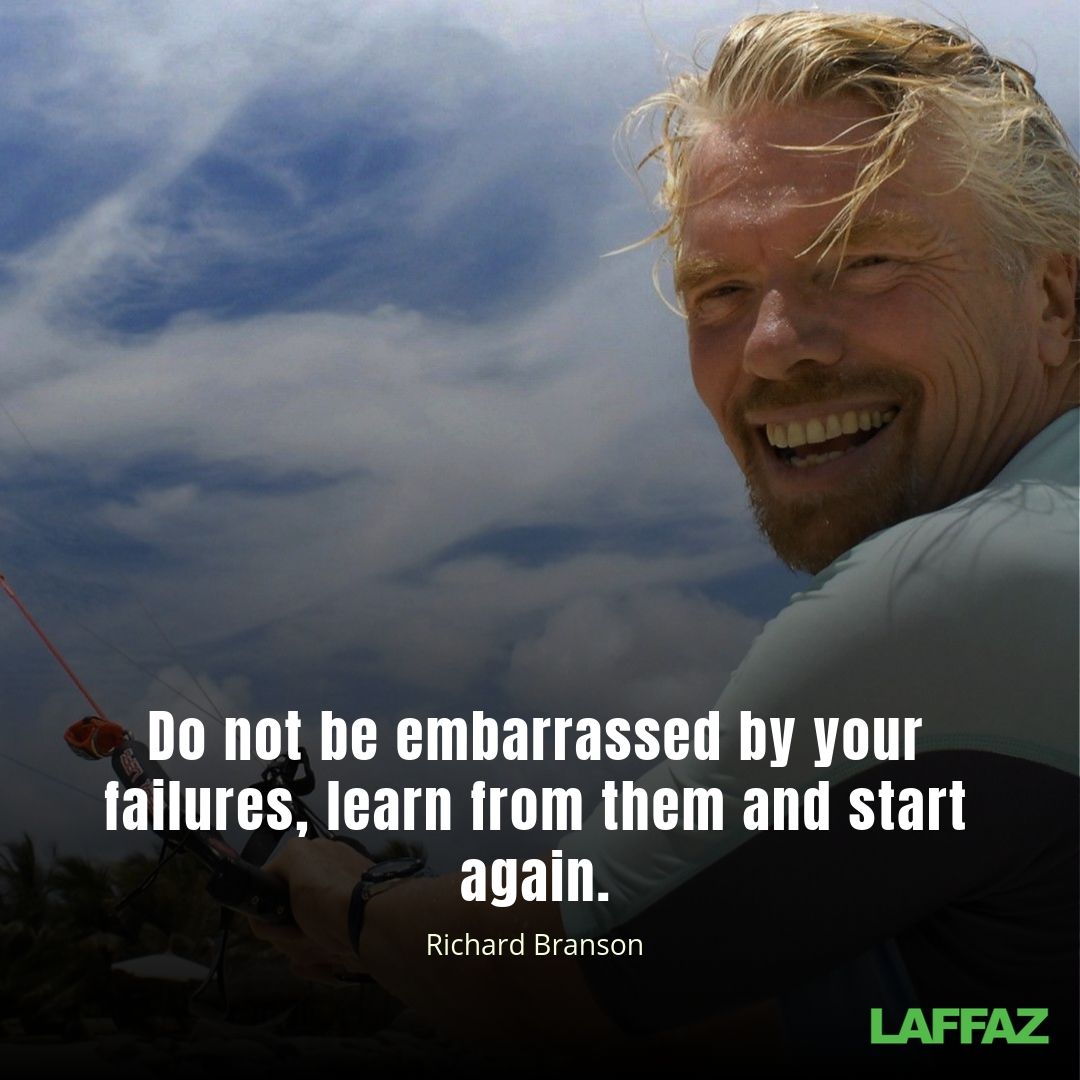 "A business has to be involving, it has to be fun, and it has to exercise your creative instincts." – Richard Branson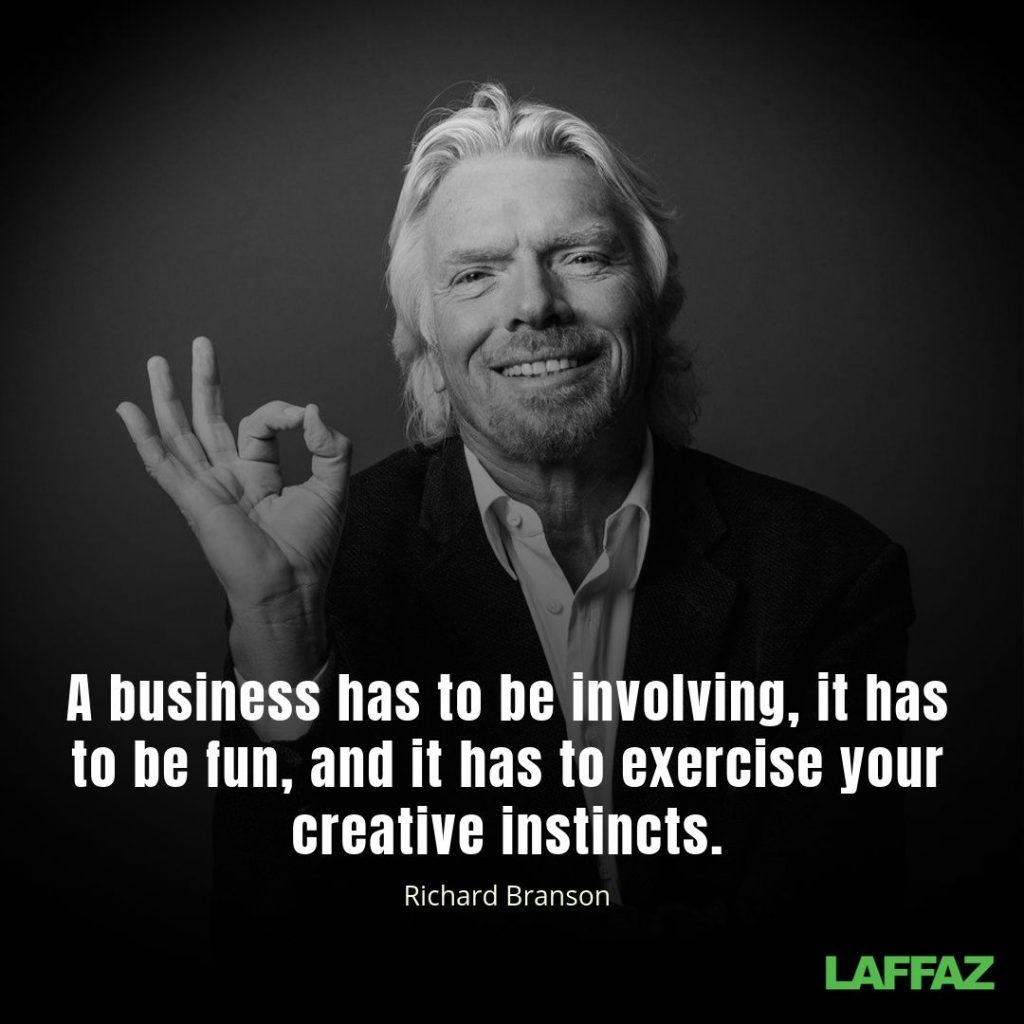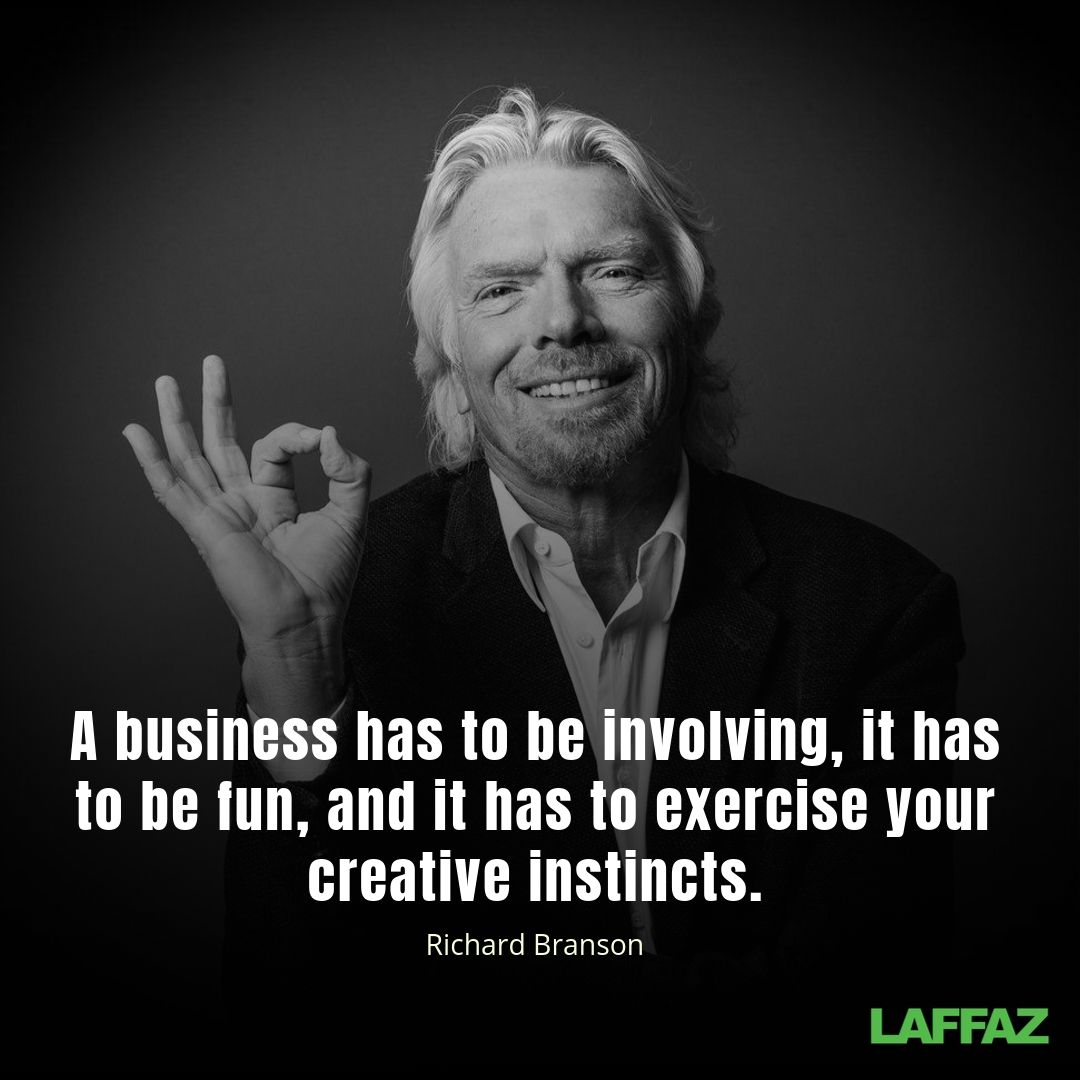 "Listen. Take the best. Leave the rest." – Richard Branson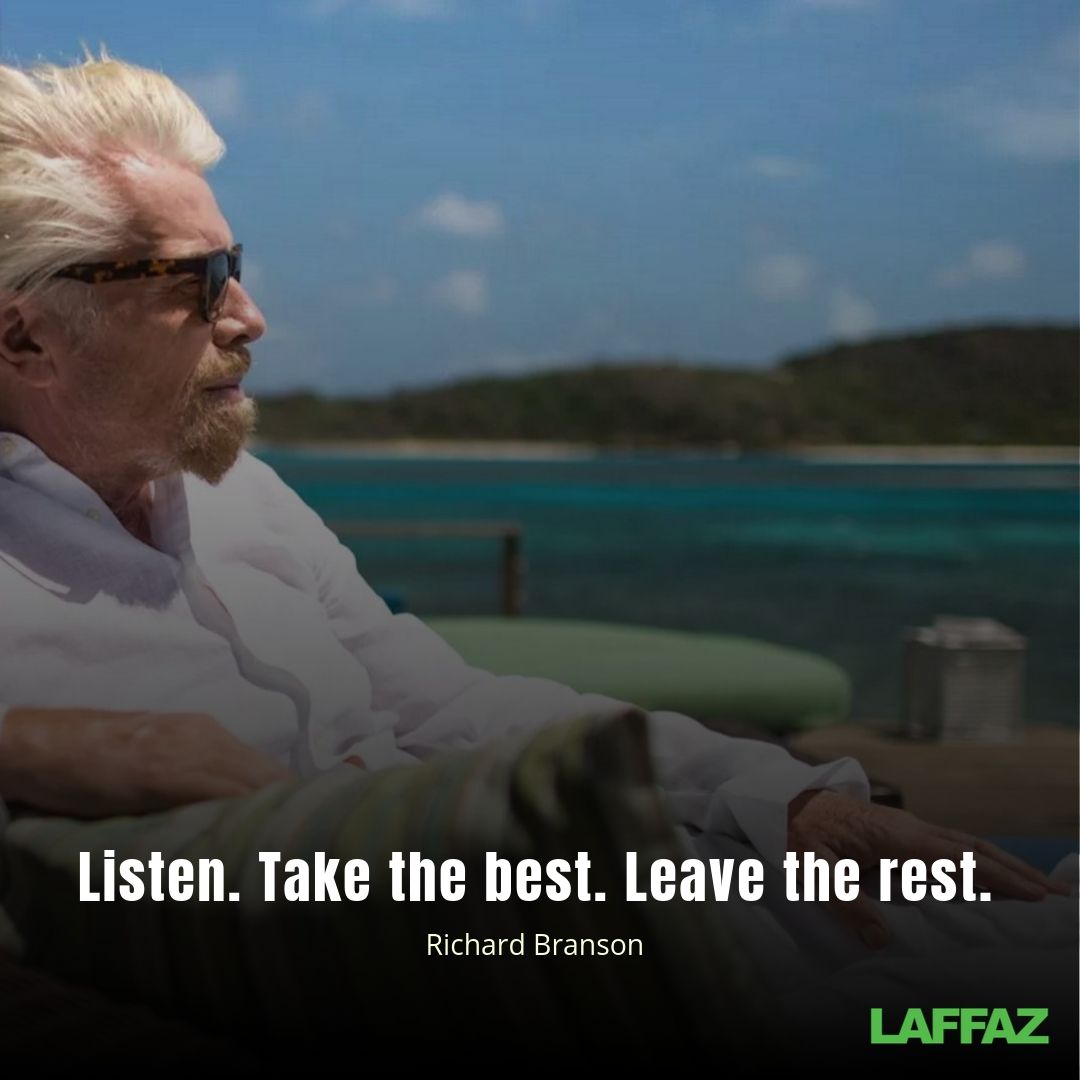 "If your dreams don't scare you they are too small." – Richard Branson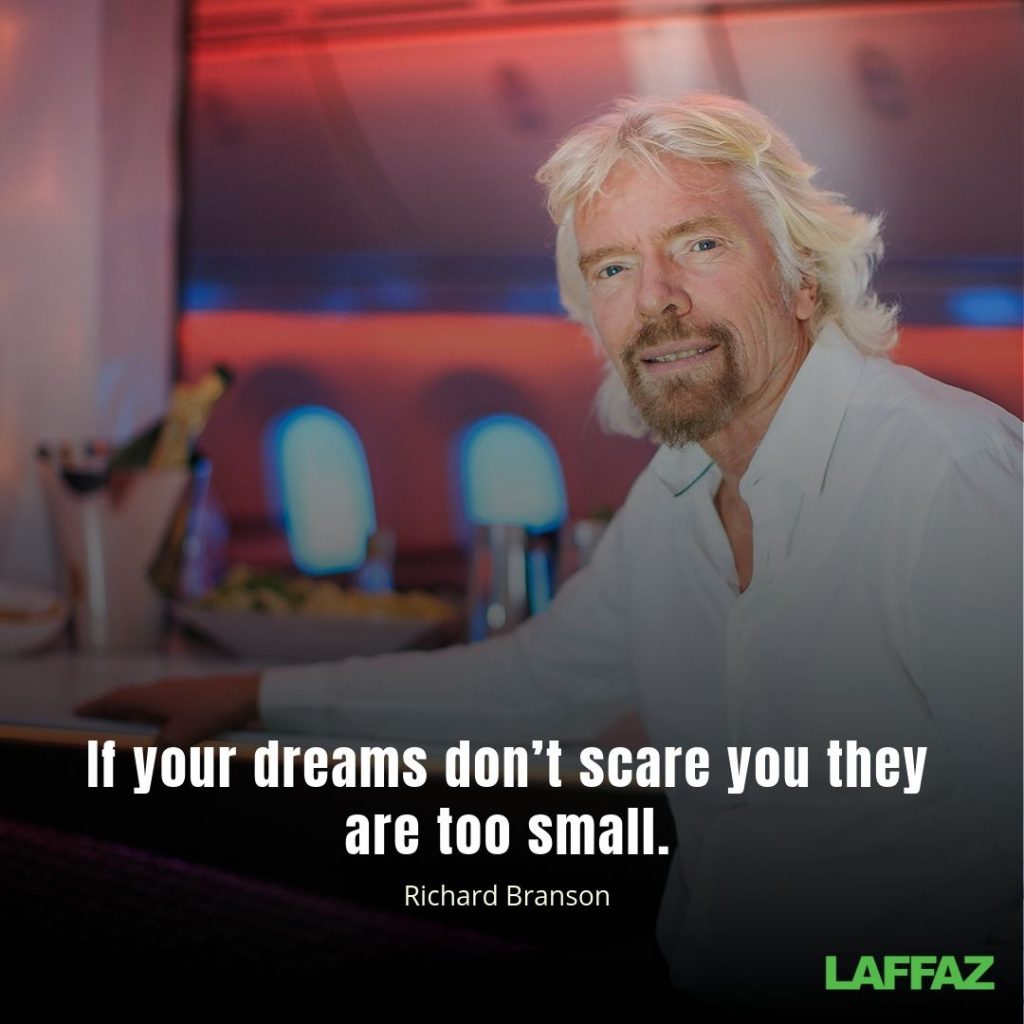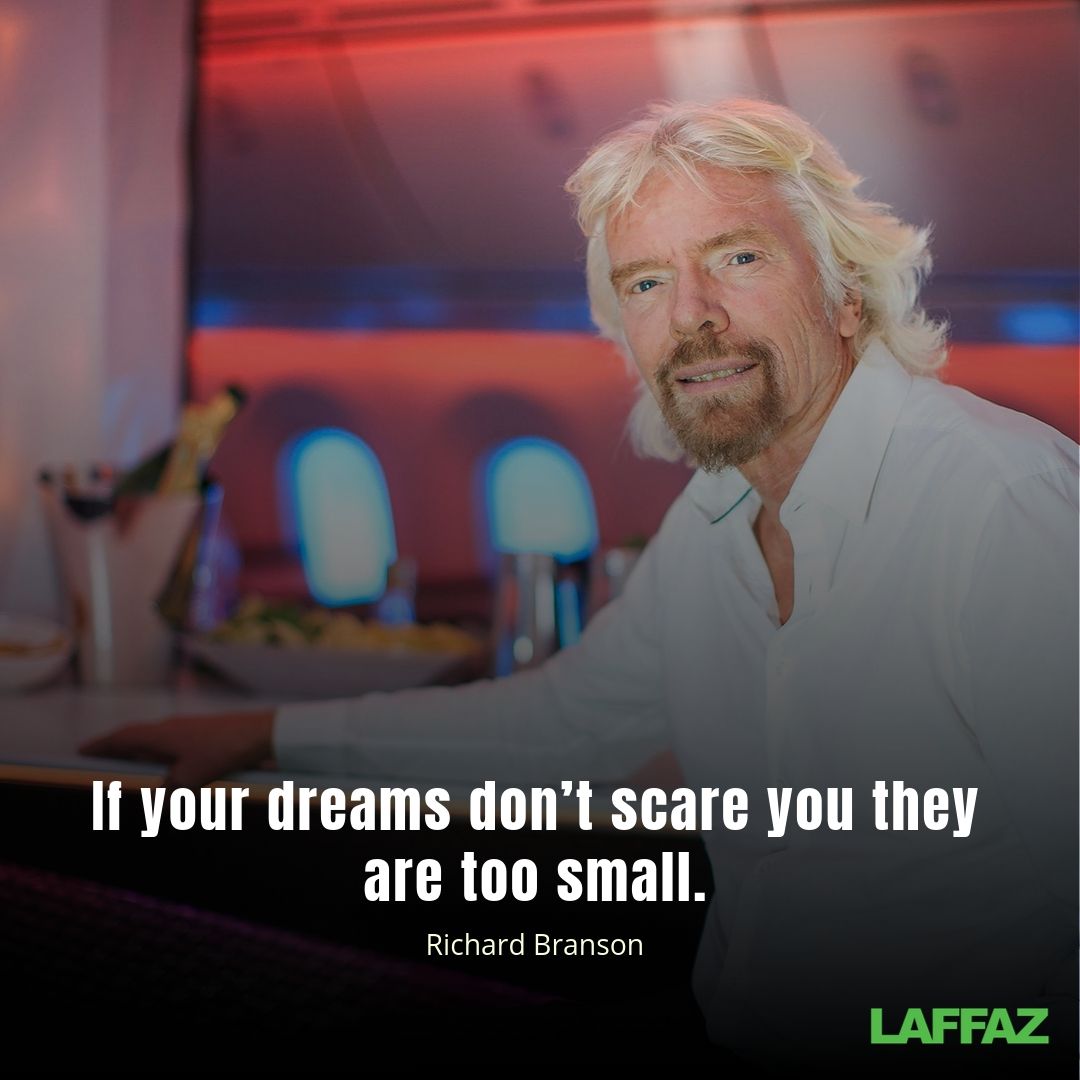 "The balloons only have one life and the only way of finding out whether they work is to attempt to fly around the world." – Richard Branson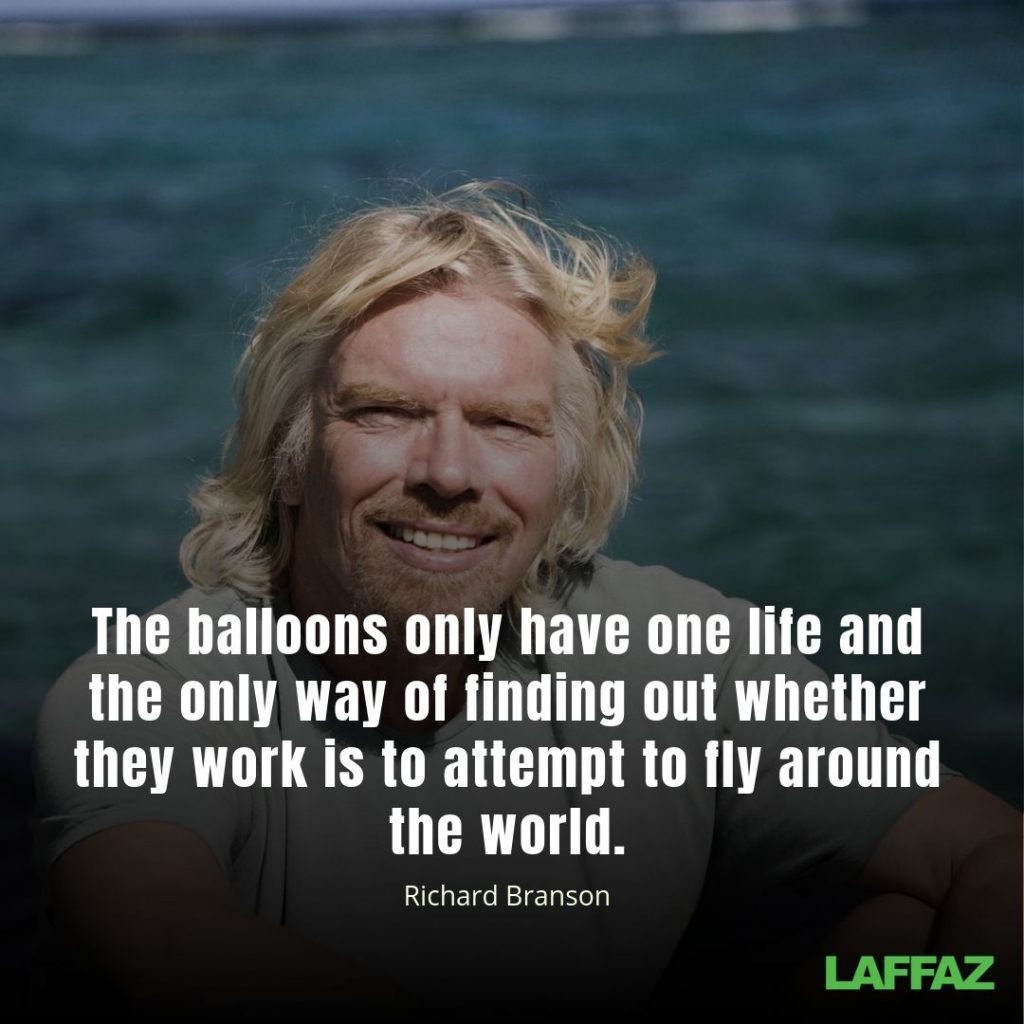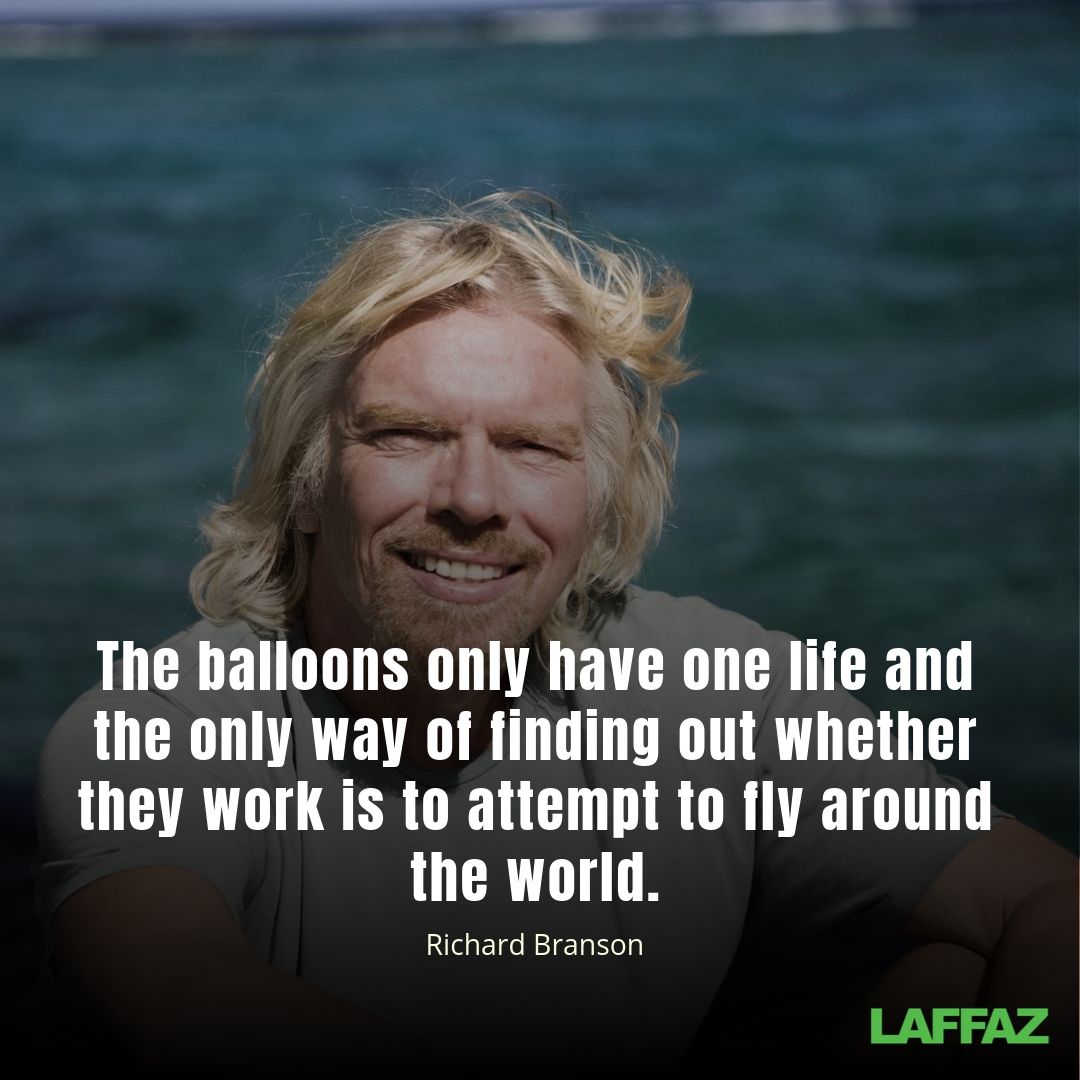 "For a successful entrepreneur it can mean extreme wealth. But with extreme wealth comes extreme responsibility. And the responsibility for me is to invest in creating new businesses, create jobs, employ people, and to put money aside to tackle issues where we can make a difference." – Richard Branson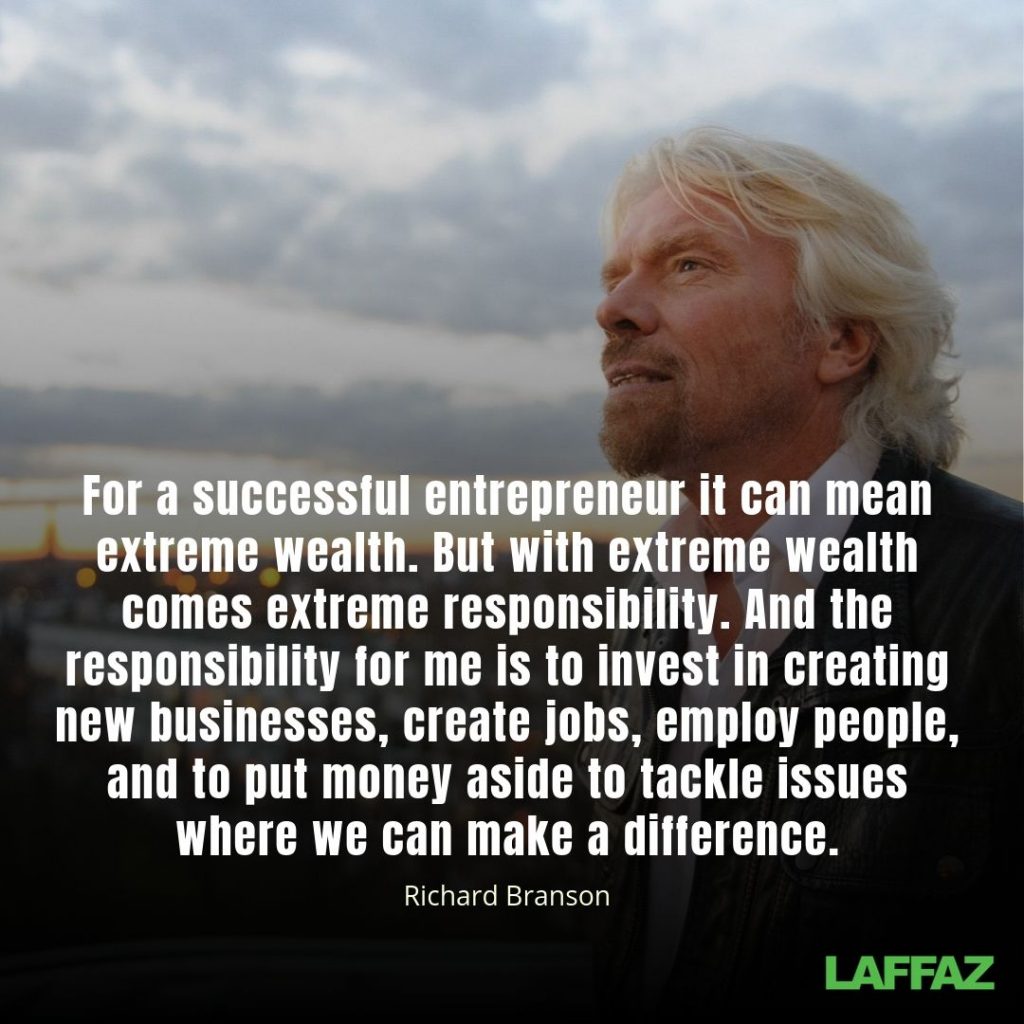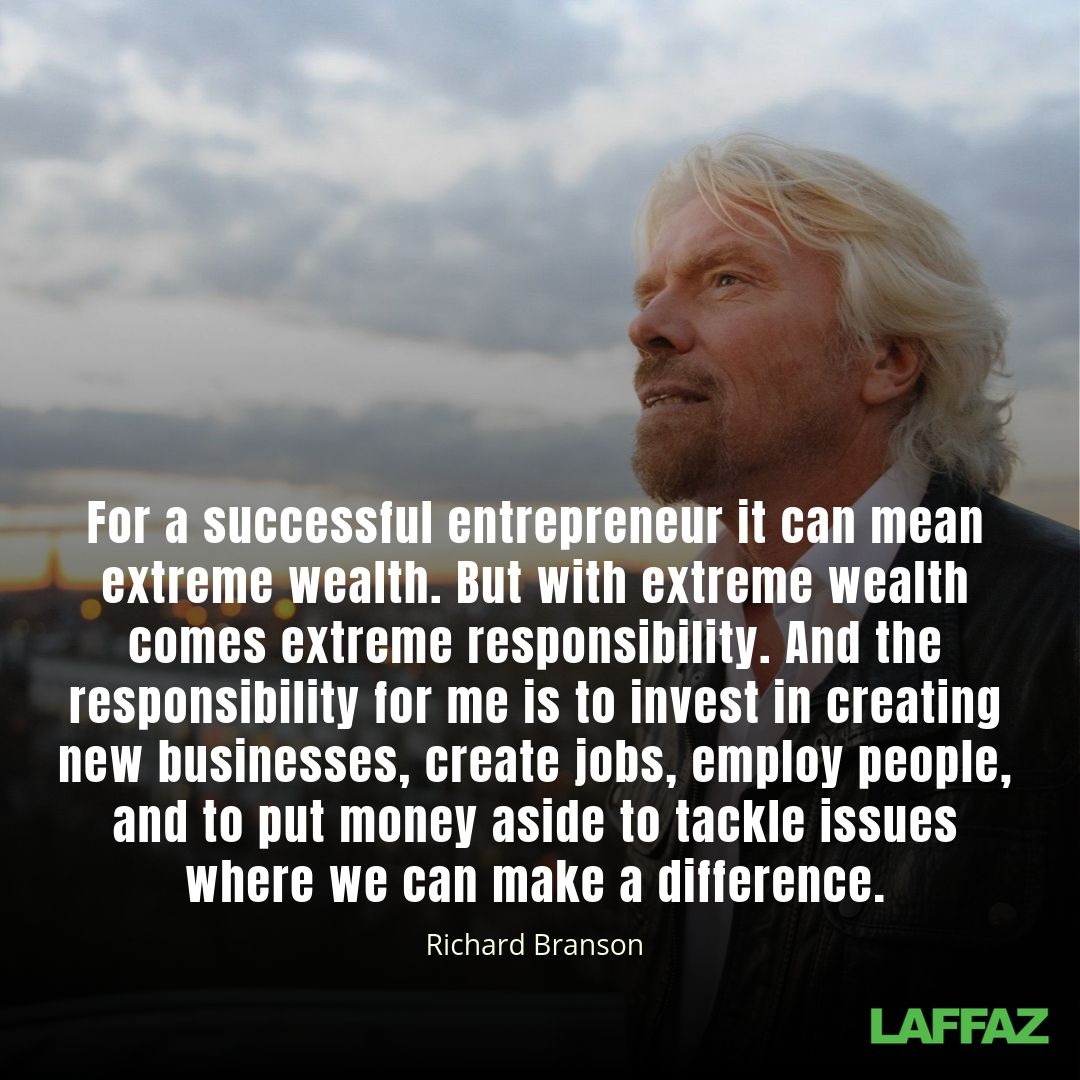 "Don't become a slave to technology – manage your phone, don't let it manage you." – Richard Branson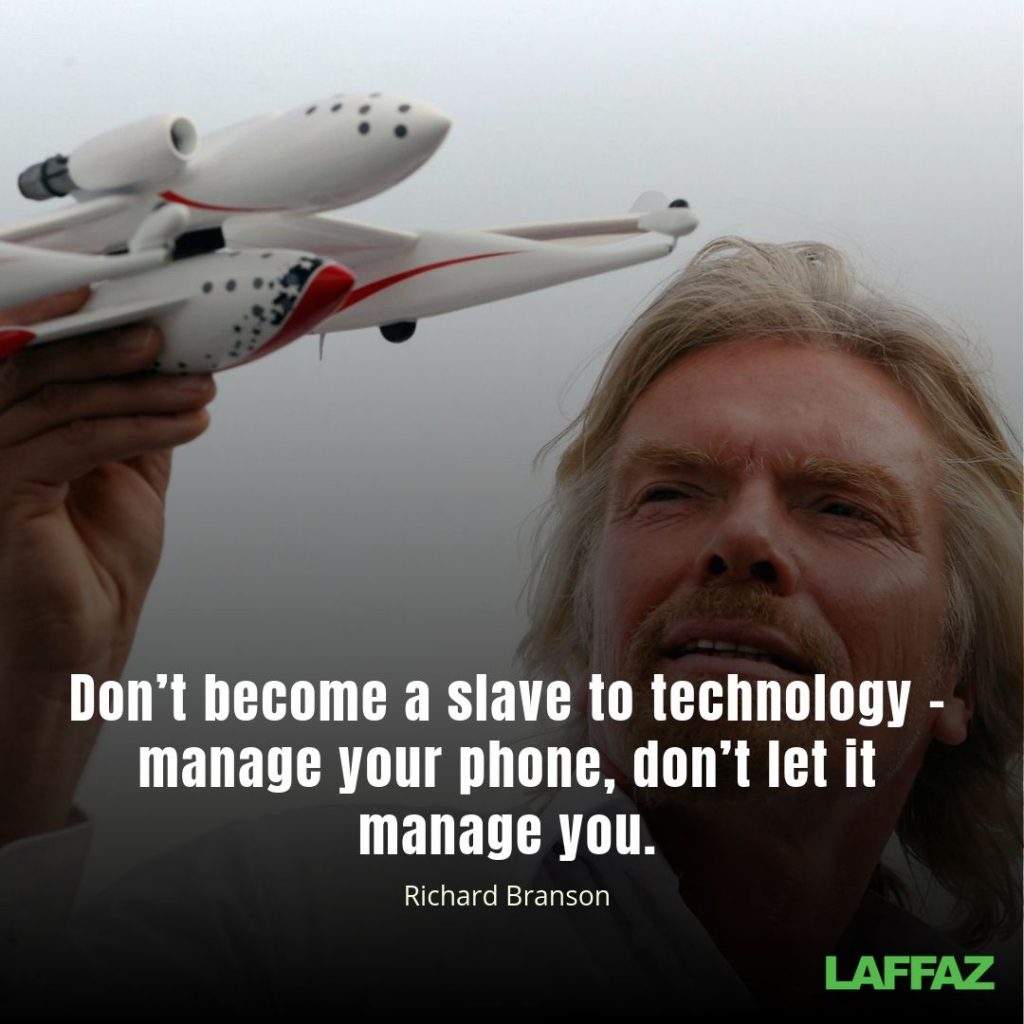 "There is no greater thing you can do with your life and your work than follow your passions in a way that serves the world and you." -Richard Branson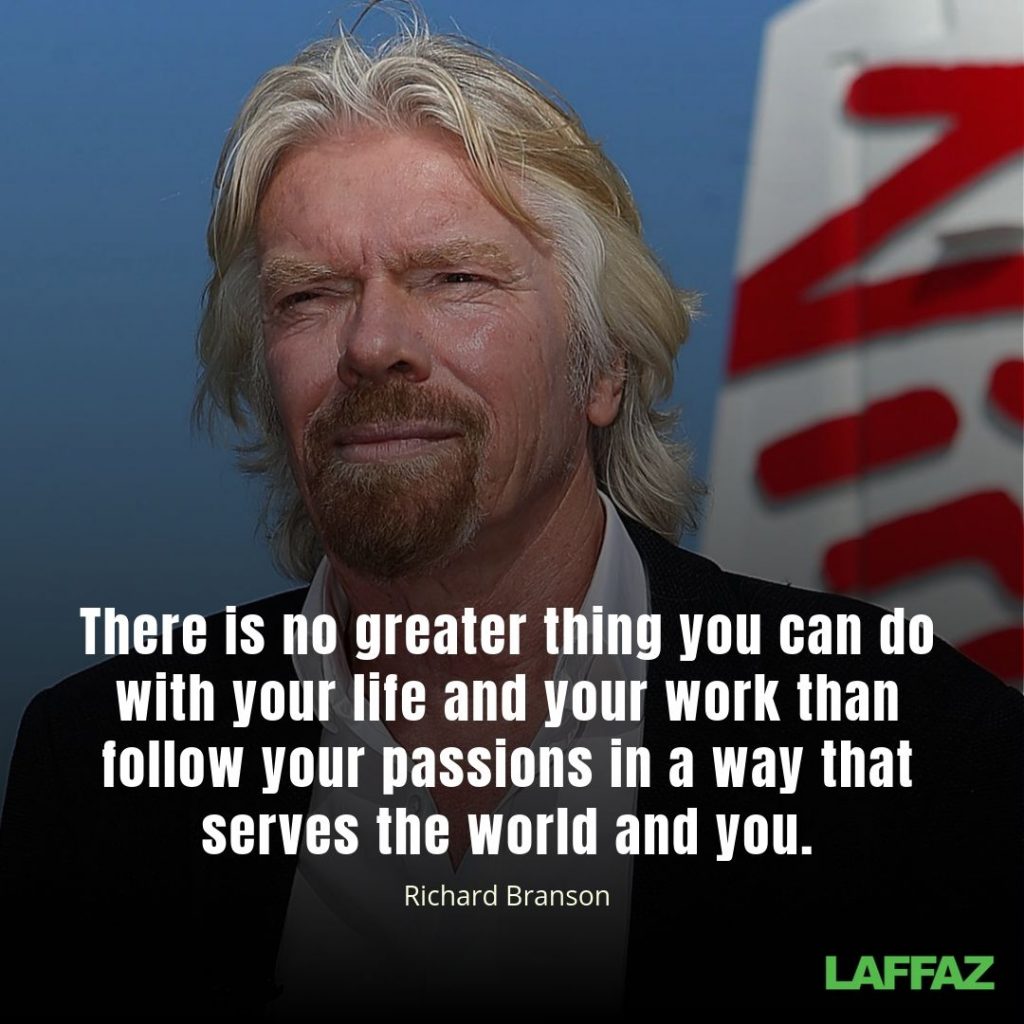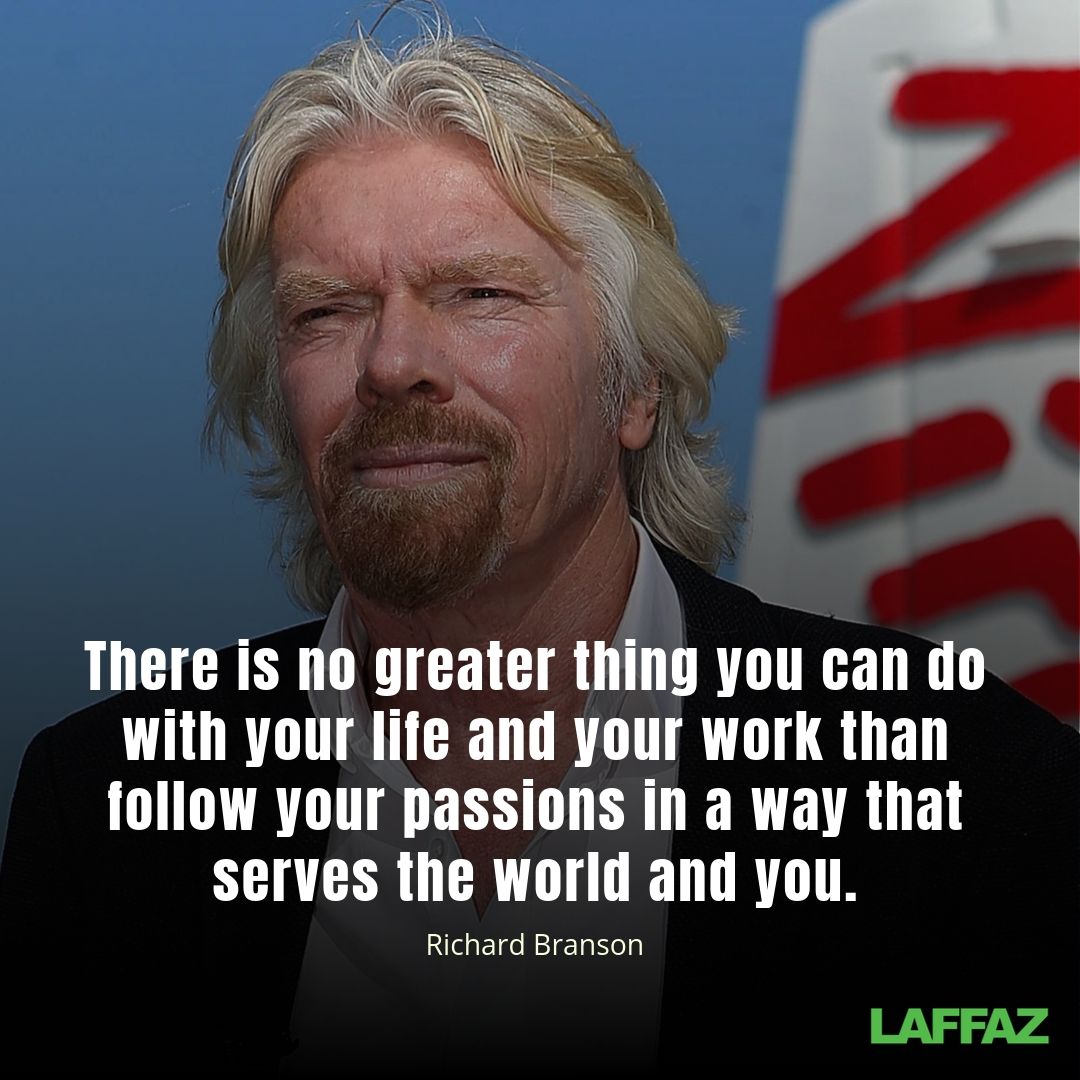 "An entrepreneur is an innovator, a job creator, a game-changer, a business leader, a disruptor, an adventurer." – Richard Branson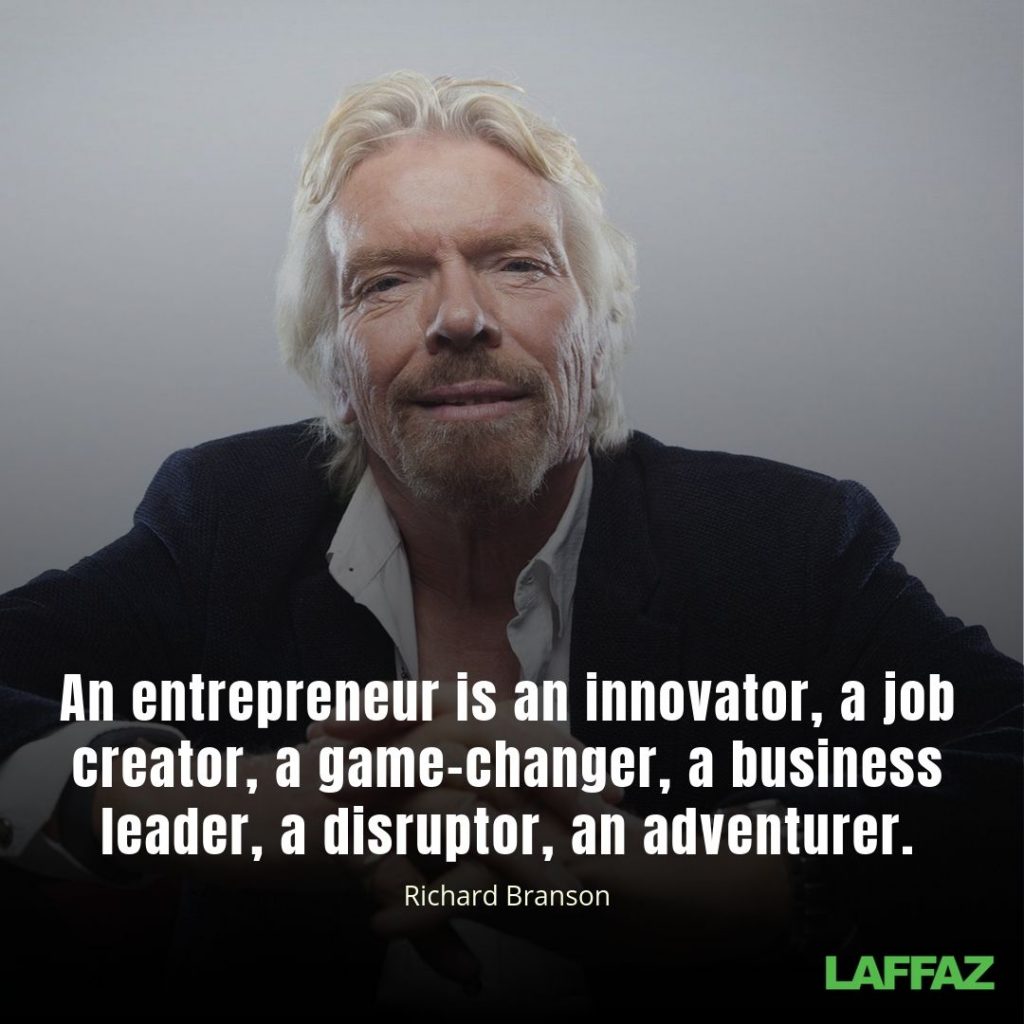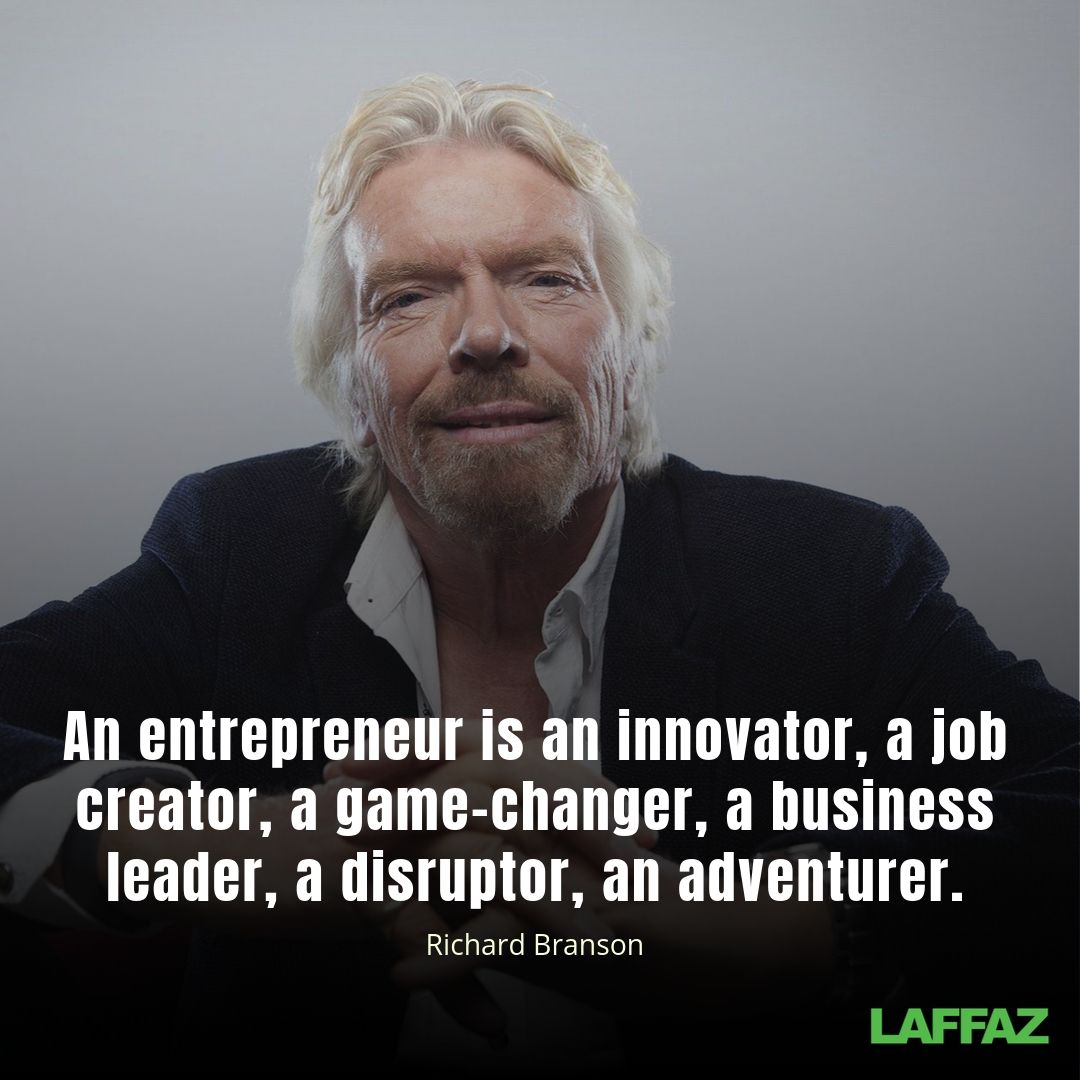 "If you don't succeed at first, there's no need for the F word (Failure). Pick yourself up and try, try again." – Richard Branson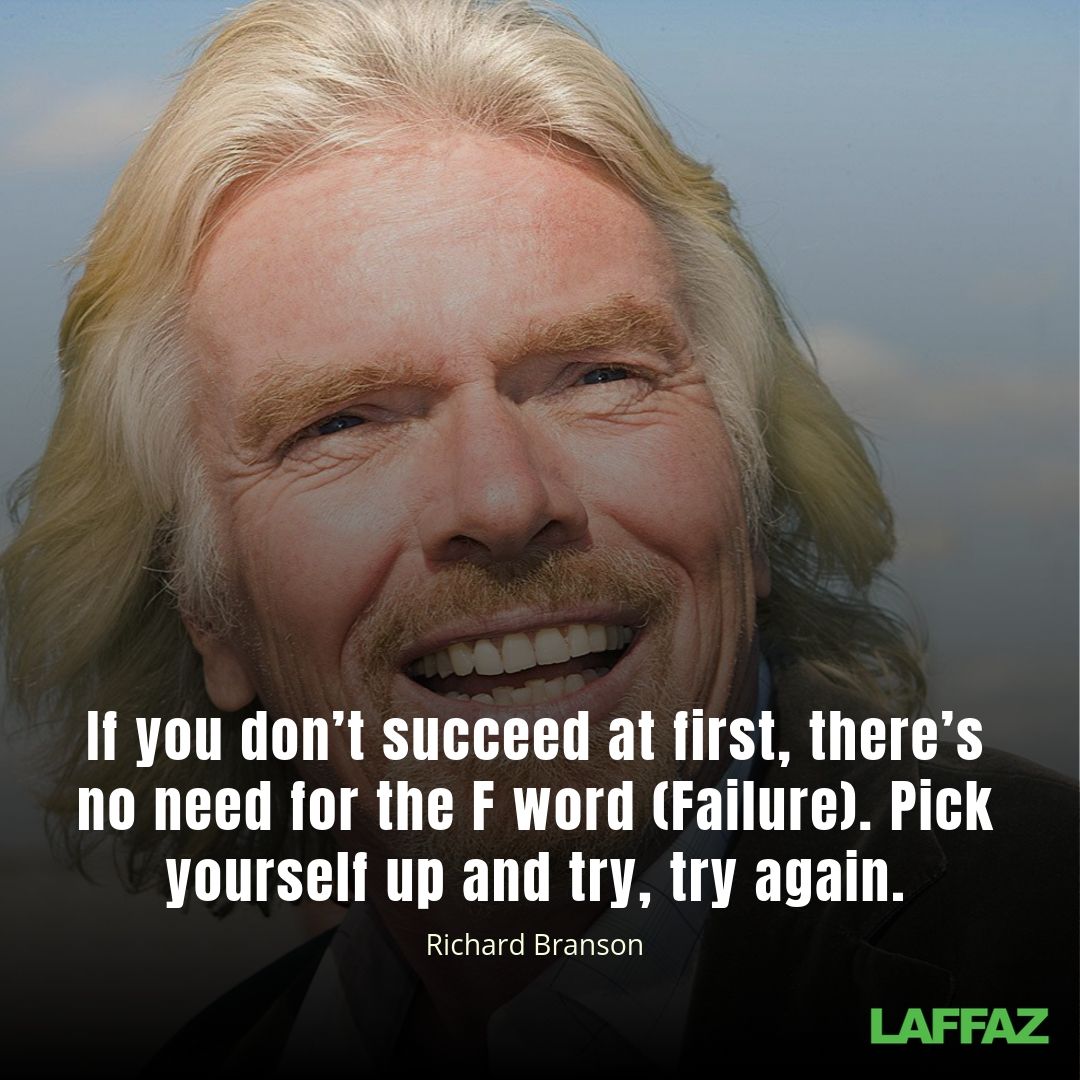 "Remember it's OK to be yourself." – Richard Branson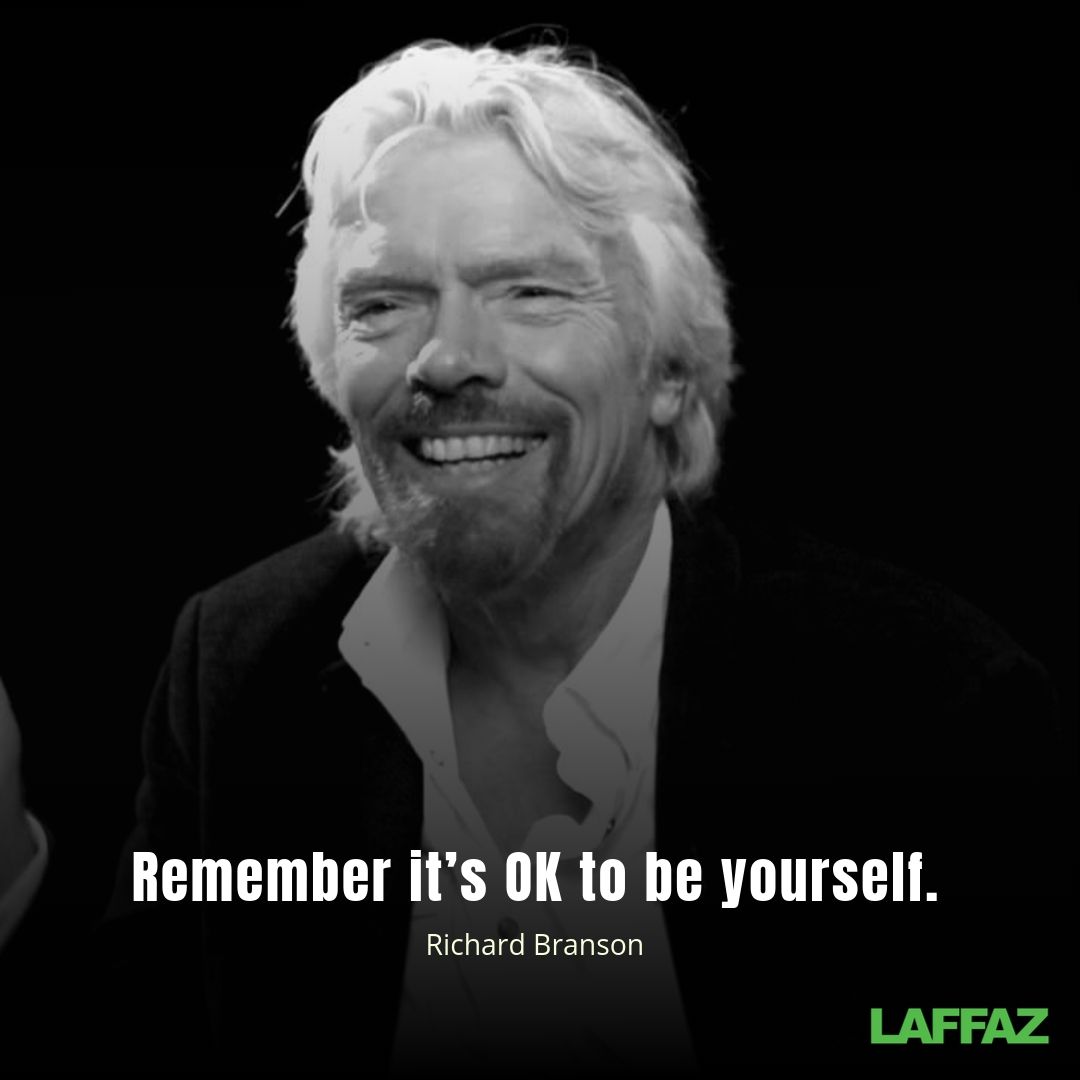 "If you want to be a Millionaire, start with a billion dollars and launch a new airline." – Richard Branson
"Do good, have fun and the money will come." – Richard Branson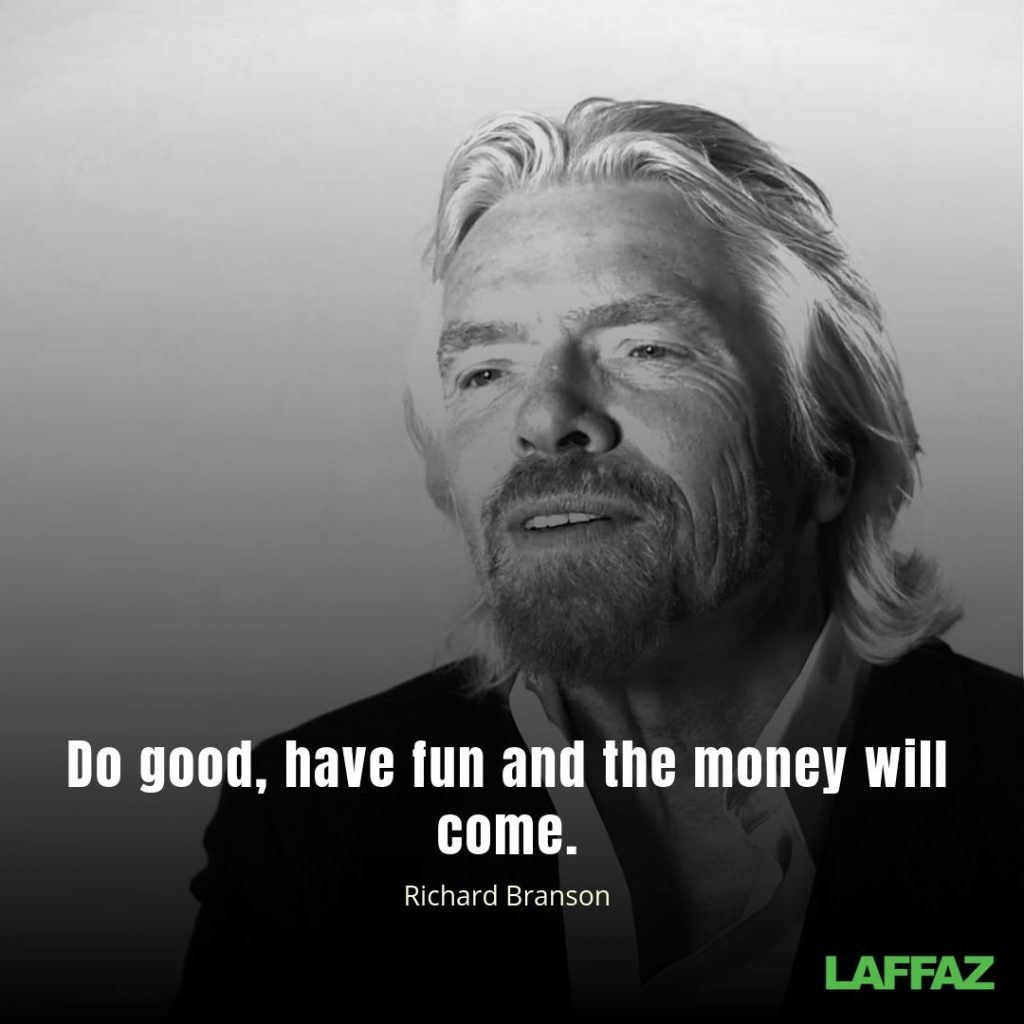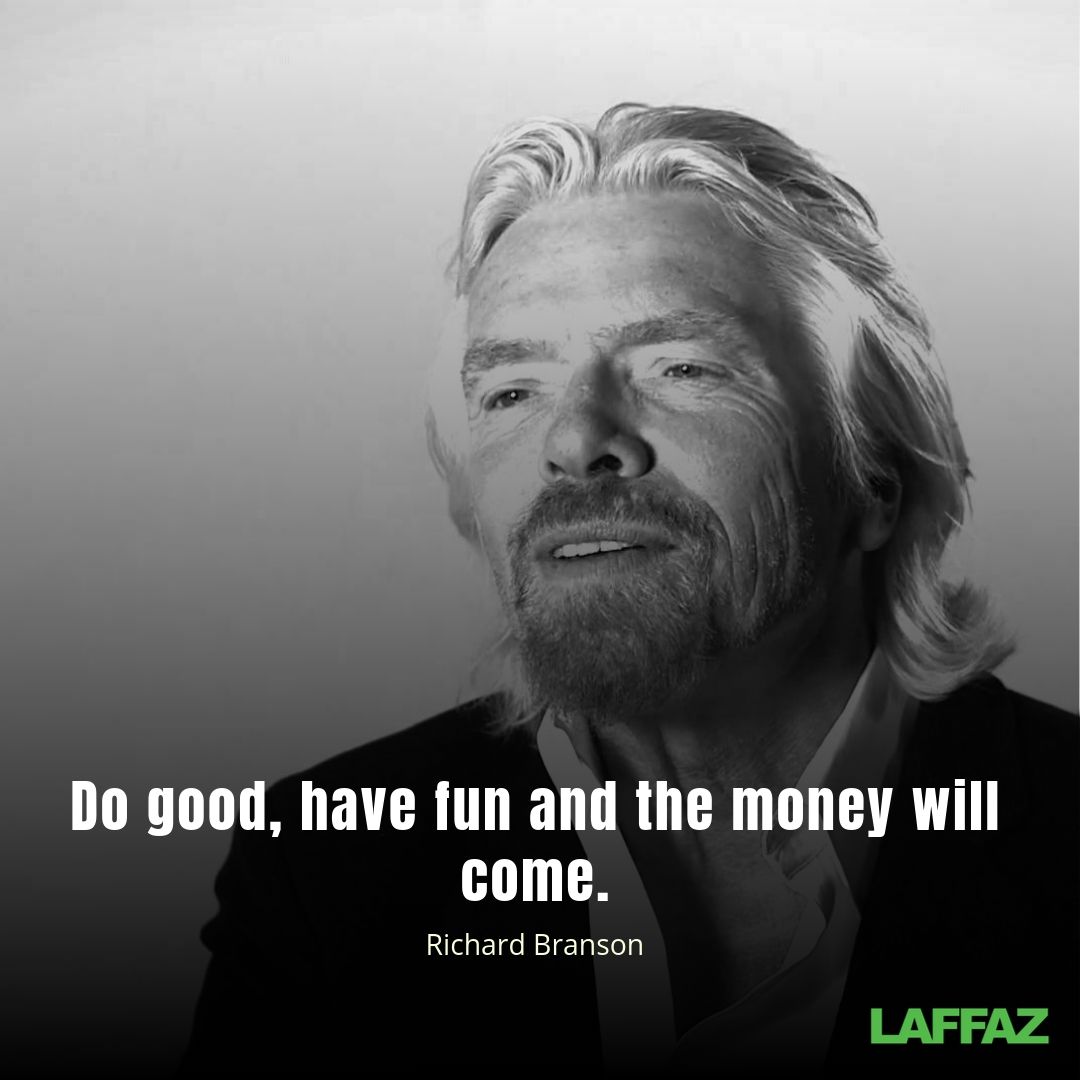 Richard Branson: Short Biography
It is important to note that the biographies of such personalities can't be read full in a matter of a few minutes. Thus, our objective is to bring the summarised counterparts of Richard Branson's biography that is quickly graspable.
Early Life & Family
Sir Richard Charles Nicholas Branson was born on 18 July 1950 in Blackheath, London to Eve Branson, a former ballet dancer and Edward James Branson (1918 – 2011) who was a barrister. Branson is the eldest of his siblings, two sisters Lindy Branson and Vanessa Branson who is an entrepreneur and the founder of Marrakech Biennale festival. Branson took his primary education from Scaitcliffe School, Surrey and Cliff View House School in Sussex.
Due to dyslexia, Branson had a very poor academic performance couldn't pursue higher studies. His headmaster told him that he would either end up in prison or either a millionaire, but he kept moving forward and ended up as a billionaire that we know today.
Richard married Kristen Tomassi in 1972 and divorced her in 1979. He has two children, daughter Holly and son Sam from his second wife Joan Templeman whom he met in 1976 and married in 1989.
Early career
Richard's mother had a successful business of wooden tissue boxes and wastepaper bins in London. He worked with his mother for a while, but out of his desire of becoming an entrepreneur, he started a magazine called Student when he was only 16 in 1966. In 1968, the first issue of the Student magazine appeared and after a year his net worth was estimated as £50,000. Richard ran the magazine business from a church and advertised music records through his magazine and eventually got levelled up. Later, he also started a record shop on Oxford Street but couldn't take it to success as it was labelled for selling records meant for export stocks, and due to restrictive marketing agreements.
Virgin Records
After earning some handsome income from Student magazine and his record business, he launched his record label under the name Virgin Records in 1972 with Nik Powell, a British businessman and one of the co-founders of the Virgin Group. He bought and old residential property in Oxfordshire to install his studio and established the same as The Manor Studio. The first release of Virgin Records came from Mike Oldfield's Tubular Bells for the Exorcist movie in 1973. Virgin Records then started signing agreements with controversial bands like Sex Pistols which other studios didn't work with. Branson's net worth was estimated at £5 million by 1979, and in 1980, Virgin Records went international.
Virgin Atlantic
In 1981 when Branson was travelling to Puerto Rico, his flight got cancelled. Out of frustration, he decided to own a plane of his own and offer a ride to other passengers for small fees to bear the cost. And that's when the seed of airline business got planted. He started Virgin Atlantic Airways and Virgin Cargo in 1984 and sooner in 1985 he also tapped into the travel business under the name Virgin Holidays.
Virgin Express and railway business
In 1992, Richard decided to focus entirely on his airline and travel business and sold Virgin Records to EMI Group for £500 million. In 1993, Virgin won the franchises of the InterWest Coast and cross-country sectors of British Rail and also acquired Euro Belgian Airlines and renamed it as Virgin Express.
In 1996, Branson entered the music industry again by launching V2 Records keeping 5 percent stake for himself.
Virgin Mobile
In 1999, Branson started Virgin Mobile as a joint venture with Sprint Corporation. In 2006, the company was sold to the UK-based NTL:Telewest for £1 billion. In 2007, NTL:Telewest got merged with Virgin to form Virgin Media, headquartered in Hook, Hampshire. Since 2013, Virgin Media has been a subsidiary to Liberty Global plc, an international television and telecommunications company, whilst Virgin Mobile USA is still owned by Sprint Corporation.
Virgin Galactic and VOX Orbit
After launching a series of successful businesses – practising philanthropy, Branson didn't stop there. He came up with the idea of space tourism through which he wanted to take tourists to space. He joined hands with Burt Rutan, an American aeronautical engineer and launched Virgin Galactic. Things went hapless and after a crash in 2014, Virgin Galactic had to postpone the date of the first space flight in the future. Until now, the company has signed over 700 clients for space flights.
Virgin also operates Virgin Orbit that provides plans and launch services for small satellites and VOX Space as a subsidiary of Virgin Orbit that is incorporated in US and provides the national security community of the USA and allied nations with responsive, dedicated, and affordable launch services for small satellites bound for low earth orbit. Virgin also owns The Spaceship Company that manufactures spacecraft for UK & US space missions. It which was started by Richard Branson and Burt Rutan in 2005 and it is now a subsidiary to Virgin Galactic.
Virgin Unite
In a tremendous move towards philanthropy, in 2004 Richard Branson started The Virgin Foundation, popularly known as Virgin Unite, an independent charitable arm of Virgin Group. The organisation has established programs such as the Branson Center of Entrepreneurship to teach entrepreneurial skills in developing countries, Virgin Fuels to make clean green fuels, Virgin Green Fund to help the environment and social activist projects to combat health problems, particularly HIV and AIDS.
Other work
Apart from a series of successful businesses, making Virgin the parent of over 400 companies and helping people as a philanthropist; Branson has also written a series of books starting from his autobiography Losing my Virginity in 1998 that encompasses the whole personal angle of his life, unfortunate events, how he survived and created his fortune.
Books by Richard Branson
List of all the books written by Richard Branson, most of which are published under Virgin Books itself.
Losing my Virginity: – 1998
Screw It, Let's Do It – 2006
Let's Not Screw It, Let's Just Do it: New Lessons for the future – 2007
Business Stripped Bare – 2008
Arctic Diary: Surviving on Thin Ice – 2008
Reach for the Skies: Ballooning, Birdmen and Blasting Into Space – 2010
Globalisation Laid Bare: Lessons in International Business – 2010
Screw Business as Usual – 2011
Like a Virgin: Secrets They Won't Teach You at Business School – 2013
The Virgin Way: How to Listen, Learn, Laugh and Lead – 2014
Finding my Virginity – 2017
Over to you
Whenever we come across successful people or talk about them, generally we focus on their life after success. Very few of us brave the passion to go into the details and read from scratch about what made such people successful to the extent that the whole world knows. As it requires a lot of searching and reading, which is why we have brought you this article as an easily readable and graspable resource.
This article in a way highlights philanthropy by covering Branson's The Virgin Foundation and social activism. At LAFFAZ, we always encourage philanthropy and give coverage and prominence to new startups, SMEs and NPOs. And we ensure to bring more features of this type to keep you motivated, active and passionate.
I certainly hope that these Richard Branson quotes and biography motivational. If you have any improvement or content related suggestions for this article or if you would simply want to share your views, the comment section below is awaiting your response ⬇︎
---